The Best Public Golf in Florida
By: Jay Flemma
Here's one of those undisputed truths I learned when I was young: January in New York City isn't so bad when you're in South Florida.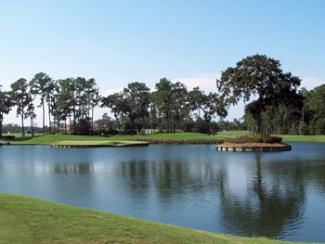 The Famed 17th at Sawgrass
If you're from the frozen north like I am, the Sunshine State is a wonderful place to spend the holidays. Florida may make a good case for the tackiest state in the union, but it has its fringe benefits: warmth, sand and golf while New York, Vermont and Minnesota are encased in ice and smothered in snow.

Surprisingly, the state's public golf map is relatively sparse. There is plenty of public golf - it's ubiquitous actually, but truly great affordable public golf is scarce. Never forget: anyone can find the great $100 course. The trick is to find the great $55 course or the expensive course that is actually worth the money it charges. So let's take a trip across Florida and discuss our options.
The Map

There are three "A-list" places to play in Florida as a public golfer. The problem is that they are all four hours away from each other. In order to do the trip right, each facility should be visited for at least two days and you should play 36 holes each day. Now remember, in January even Florida days are short, so you have no time to dilly-dally. You should be off the first tee by no later than 8:30 and take no longer than a half-hour for lunch if you want to get in 36. You should get around all these courses in no more than 4:20, but can finish in 3:45 with a reasonable amount of hustle.

The three facilities form a triangle - World Woods in Brooksville - halfway between Orlando and Tampa Bay, PGA Golf Club (Dye Course) in Port St. Lucie and Sawgrass's fabled Stadium Course just outside Jacksonville. The problem is that each of them is four hours away from the other, so logistically a week's trip with one day off for rest will allow the ardent golfer the opportunity to fully explore two of the three. You can do all three if you want to rush, but between keeping an enjoyable pace and fully exploring each facility - where you might want to take a side trip or play a change-of-pace round at a second course on-site - you should take the time to truly savor the absolute best golf in Florida, which is some of the best in America.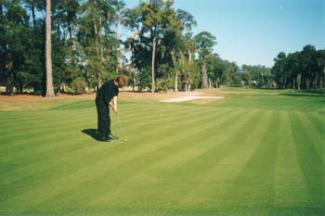 Jay Putts Out on No. 2 at Sawgrass
Sawgrass

The Stadium Course at TPC Sawgrass, simply known as Sawgrass to its friends, is the best public course in Florida. In fact, it is the Sunshine State's second best, behind only the venerable and highly private Seminole. Yes, it's pricey - anywhere from $145-$250, but, as a living golf museum it's worth the money and the trip.

There are countless reasons why:

History gets made every year here at the Players Championship, which has more world-class winners than any major save the Masters. Even when an obscure player wins, like Craig Perks for example, he does it in remarkable style, like two chip-ins in the last three holes;

With world-class green contours, a brilliant routing, some of the most memorable, historic holes in the game, and a yearly championship with a world-class field, it's a public Augusta National;
And, unlike Pebble Beach, it hasn't priced itself out of reach.

Nos. 16, 17, and 18 get so much ink that many of the other truly great holes are overlooked. Four is a terrific, short drive-and-pitch par-4, with trouble surrounding the green on all sides. It's a hole that can extract a six just as easily as it can yield a 3. The long-short-long sequence of par-4s at Nos. 5-6-7 keeps the pros from getting comfortable off the tee with driver, as does the sequencing of the par-3s, which further keep the player from getting into a repetitive rhythm where he can just fire and forget. At Sawgrass, the player constantly has to think on every shot.

"14 and 15 are the backbone of the inward nine and are designed again to keep the player from getting into a rhythm and just repeating the same swing over and over," explains Dye. "14 plays right to left off the tee, then left to right on the approach - an old Donald Ross staple of design, then 15 plays left to right of the tee, then right to left into the green."

Finally, playing the iconic closing run of 16-17-18 is the closest thing to Amen Corner that public golfers will get.

"They are three of the most famous holes in the world," agreed well-traveled golfer Chuck Cordova. "Every golfer in the world relishes their chance to play where the pros play, but they want to try 17 at Sawgrass in particular because it's unique, historic and all-or-nothing."

There isn't a weak hole at Sawgrass, even though one and 10 are exact mirror images of each other, right down to similar length. "They didn't want players complaining that starting on one side was an advantage, so both holes are the same, they just play the opposite way from each other," Dye chuckled from underneath his Whistling Straits baseball cap.

Dye jokes that he's rebuilt Sawgrass so many times over the years he's lost count. "They keep asking me to work on it, and this latest version is the same one I gave them the first time back in 1980. I'd say 'I told you so,' but I'm half of 164 years old, and I'm trying to get into Heaven now . . . There's nothing I can do to fight it. I went back softened all those greens. The speeds were getting too fast for the contours. They're happy with it, so I am too."

So are all the fans that make the pilgrimage to the course.

"It was everything I imagined it to be and then some," said Eduardo Pujals, an ardent golfer from Miami who plays Sawgrass every year. "We come up for the trade show every enero [January] and it's the highlight of our trip. Nothing in Orlando or Palm Beach or Miami comes close," he finished fervently. "It's every bit as much a bit of golf Americana as Pebble Beach or Hilton Head or Long Island. It just doesn't have an ocean, nor does it need one. It gets by on its design alone."

For more details, visit www.tpc.com/TPCSawgrass.aspx.

Second Course: The Valley Course: Generally overlooked because of its famous brother, the second course at the facility has even more water than Stadium. Water appears on every hole. In the opinion of your author, if you skip it, you won't miss anything earth-shattering. Spend two full days playing 36 at the Stadium course before moving on to your next destination.

Side Trip: Amelia Island Plantation (www.aipfl.com): While none of this Oceanside resort's three courses are world-class - for openers, they're too short, sporty and fun and the all-inclusive resort has great package deals for a romantic getaway for you and your golf-loving girl. Rent a suite overlooking the fifth or sixth holes of the Ocean Links to really impress her. The last time I was there, Newt Gingrich and his wife passed me on their way to 15 while I was walking to No. 11. He was nice enough to chat for 15 minutes.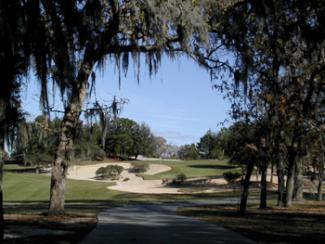 The Beautiful 12th at World Woods' Pine Barrens
World Woods (Pine Barrens)

Far off in the barely chartered backwaters of west-central Florida, Tom Fazio built a 36-hole golf oasis. Seemingly in the middle of nowhere (Tampa is roughly 90 minutes away and Orlando and Gainesville are about two hours distant), the two-lane roads that connect Brooksville with the rest of the world seem more remote the farther you drive. But this seclusion adds to World Woods Golf Club's charm, for hidden in this thinly-traveled recess is one of the world's greatest and most well-rounded golf facilities, headlined by two marvelous and inexpensive courses.

Pine Barrens, the flagship, is internationally celebrated not just as Fazio's first and still-best tribute to the venerable New Jersey classic, Pine Valley, but since its inception in 1990 the course has captured the hearts and imaginations of the golfing cognoscenti, admirably standing on its own as a modern classic. No weak sister, companion course Rolling Oaks exudes relaxing warmth, meandering through meadows, serene willow trees and farmland.

Nevertheless, World Woods still remains a well-kept secret, one of the lesser known "greatest" courses in the country. Few have it on their travel radar screen and fewer still make the out-of-the-way trek to play it, but make no mistake, the most knowledgeable and savvy golf travelers never miss a chance to play. Trading stories of rounds at the world's great courses is part of the après golf. Courses from all over the world have been collected by the clientele who also add World Woods to whatever other jet-setting golf adventures they've experienced. Connoisseurs who have played such masterpieces as Whistling Straits, Bandon Dunes, Ballyneal, Macrihanish, Kuari Cliffs or Barnbougle Dunes all agree - World Woods is world-class.

Neither course at World Woods overwhelms with breathtaking vistas. Instead, Pine Barrens may feature the best routing of any public Fazio design. Particularly at Pine Barrens, Fazio took otherwise lackluster surroundings - brush and sandy scrub - and crafted a track that is an archetypal masterpiece of strategic golf architecture. Holes appear intimidating from the tee with their vast sandy waste areas, but fairways are actually wide and welcoming. Risk-reward options abound. The approach shots, however, require precision and the large undulating greens may be Fazio's most interesting. The adventure on any given hole is not over upon reaching the putting surface as the greens' speeds are usually somewhere between "parquet floor" and "asphalt" on the Stimpmeter, and the internal contours are severe, but fun.
In typical Fazio fashion, "easy bogey, hard par" is the order of the day. While the waste bunkers that line the fairways are not excessively difficult, yawning chasms of sand await misplayed iron shots, especially on the short but terrifying par-5 fourth and the reachable but sand-studded par-4 15th. Best of all, with the woodland areas clear of debris and, due to the prevalence of the waste areas, novices will stand a strong chance of finishing their round without losing a single golf ball.

Every hole at Pine Barrens is interesting, but the par-5s are undoubtedly show-stoppers, especially the mighty fourth with its enormous chasms of sand to carry off the tee and on the approach.

For further details, visit www.worldwoods.com.

Second Course: Rolling Oaks: While better players and golfers who prefer your typical parkland style layout claim to prefer Rolling Oaks, its natural setting tends to outshine the architectural design of the individual holes. It's pretty, no doubt, but Pine Barrens is better from 1-18. I usually get the stay-and-play package they run with the nearby Plantation Inn and play a round at Rolling Oaks for every four I play at Pine Barrens.

Side Trip: Presently there is no solid recommendation for a side trip. However, Forrest Fezler, former design associate of the inimitable Mike Strantz, is building a course conveniently located halfway between World Woods and PGA Golf Club in Port St. Lucie, which will make trips to both facilities far easier and more accessible.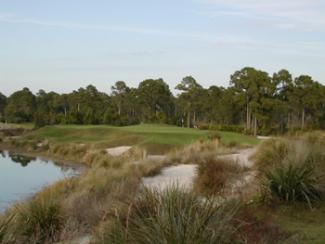 The par-3 6th at the Dye Course
PGA Golf Club (Dye Course)

In 1996 the PGA of America opened the 54-hole PGA Golf Club at the Reserve and the accompanying PGA Village Resort in Port St. Lucie. In doing so they not only opened a world-class facility with every golf amenity under the sun, but also paid homage to the game's egalitarian roots and provided families with a vibrant and affordable place to relax and immerse themselves in all aspects of the game.

PGA Golf Club is a celebration of all that is noble in our great game. The whole mission is to offer the optimum golf experience at an affordable price. A plaque at the entrance reads "Dedicated on September 17, 1996 as the home of the Professional Golfers Association of America and all who share the belief that golf is a game of a lifetime." They succeed beyond all expectations.

PGA Golf Club has everything - three golf courses by top designers (two by Fazio and one by Pete Dye), a six-hole short course, phenomenal practice facilities, an enormous learning center, impeccable conditioning, a warm inviting atmosphere, great weather year-round, a central village with housing and shopping and, best of all, value. Prices never top $90 in high season, but $55 greens fees or lower are the norm for most of the year. Relaxed and unpretentious, yet fully devoted to providing a premium experience, the facility may be the most well-rounded and affordable option in Florida.

Of the three 18-hole tracks, Fazio's South Course, now renamed the "Wanamaker" Course, is the most popular layout and billed as the centerpiece.

However, the strongest design on the property is the more intimidating Dye Course, a soaring polyphonic fusion of links elements boasting enormous pot bunkers, tall native grasses and open routes to most greens seamlessly woven into the natural wetlands setting. Because of its unconventional design features, it gets less play than the Wanamaker and flies below the radar screen, but should not.

People make the mistake of being intimidated by the Dye Course. Some are flustered by the linksy feel. Others are terrified by the rugged, deep bunkers or the forced carries over water. Others simply play the wrong set of tees. The gold tournament tees appear negotiable at just over 6,600 yards, but Dye demands accuracy as well as length and hazards are more lethal at the severe angles players face from these blocks. The white tees appear short at 6,030 yards, but approaches still need to be accurate.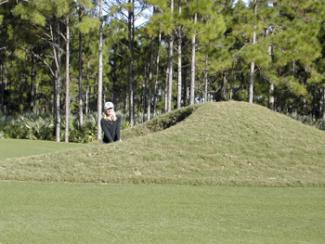 Stuck in a Dye-a-bolical Bunker on No. 5
at PGA Golf Club's Dye Course
Nevertheless, the course is easier than it looks and becomes ever more playable and lovable with each passing round. In true links fashion, the course does not return to the clubhouse after a loop of nine holes, unlike the other courses. Once players leave the first tee, they don't return to the clubhouse until the end of the round.

The first hole, a short par-4, presents the theme of the course admirably. Perhaps the widest fairway on the course is peppered by heaving mounds and vast sandy waste areas while being dotted with pot bunkers. The course begins in earnest at No. 4, a short, dogleg-right par-4 that curves cape-style around a lake. Any slice is wet. The long par-5 fifth features another water hazard along the right and an enormous ski-jump-shaped pot bunker 6 feet high in the middle of the fairway.

Holes seven through 13 continue to weave their way through expansive waste bunkers, devilish pot bunkers, fields of native grasses, towering dunes and natural wetlands. Highlights include an otherworldly-bunkered dunescape to play over at the par-5 seventh, the long and demanding par-4 ninth, and the serene Eden hole at the par-3 13th.

Dye loves a difficult and dramatic finish and the closing stretch of 14 through 18 is relentless. Experts have the worst of the challenge. From the tips, the last two par-4s - 15 and 18 - are 480 and 475 yards, respectively. Throw in a 225-yard par-3 over water at No. 16 and a 565 yard par-5 at 17 and players may wish they had the chance to creep off to safety after nine. From the middle tees, the distances are more manageable, with the last three par-4s all under 400 yards.

For more information visit, http://www.pgavillage.com/stlucie/index.cfm?page=pga_golf_club.

Second Course: The two Fazio courses look strikingly similar to each another, with the Ryder (formerly the North) being just a shorter, wider version of the Wanamaker (nee the South). Many people actually prefer the Wanamaker to the Dye for its serene natural setting, but neither of the other courses can match the Dye for architectural design. If you need a change of pace, play Wanamaker but only at about a 1-to-4 ratio with Dye.


Since launching his first golf writing website in 2004, http://www.jayflemma.thegolfspace.com, Jay Flemma's comparative analysis of golf designs and knowledge of golf course architecture and golf travel have garnered wide industry respect. In researching his book on America's great public golf courses (and whether they're worth the money), Jay, an associate editor of Cybergolf, has played over 220 nationally ranked public golf courses in 37 different states. Jay has played about 1,649,000 yards of golf - or roughly 938 miles. His pieces on travel and architecture appear in Golf Observer (www.golfobserver.com), Cybergolf and other print magazines. When not researching golf courses for design, value and excitement, Jay is an entertainment, copyright, Internet and trademark lawyer and an Entertainment and Internet Law professor in Manhattan. His clients have been nominated for Grammy and Emmy awards, won a Sundance Film Festival Best Director award, performed on stage and screen, and designed pop art for museums and collectors. Jay lives in Forest Hills, N.Y., and is fiercely loyal to his alma maters, Deerfield Academy in Massachusetts and Trinity College in Connecticut.