The Bethpage Open: Fireworks in the Rain?
By: Jay Flemma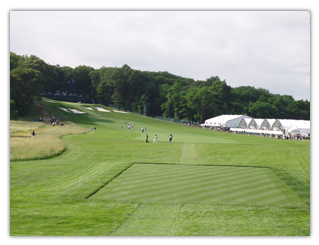 15th Hole at Bethpage Black
Had I been sitting down, I surely would have fallen out of my chair at the question: "So, Rees, is this going be the easiest U.S. Open in years?"
It was a moment that woke you up with a thunderclap. It was why I love covering sports: you're right there at the firing line in the heat of battle thinking and reacting to what's happening around you. The two writers sensed a story line was simmering right before their eyes, and now they had a few precious seconds with the man who could offer critical analysis on the key issue - if they could get an answer out of him.
The two journalists had cornered the golf course designer, but they didn't have him cornered, if you understand the distinction. Rees Jones is a bright and careful man. You know the architect who rescued Bethpage Black from the scrapheap of golf history can adroitly handle even shockingly direct questions from one, venerable old salty dog sports writer and his young, eager-beagle buddy.
Nevertheless, the old salty dog had only asked out loud what everyone else was wondering. Six weeks of steady rain had softened up Bethpage's Black course so that players could play lawn darts with their hybrids and long clubs. Additionally, the course features some of the flattest greens of any U.S. Open venue ever. Finally, kinder, gentler U.S. Open rough, has shifted the focus away from driving accuracy so that long bombers are encouraged to hit driver and not worry about the cloak-and-dagger claustrophobia that had them walking on eggshells for decades prior. After all, the top 10 players at last year's Open had driving accuracy stats that looked more like the also-rans when compared to previous years, and Angel Cabrera shot 69 at "Oakmonster" on Sunday in 2007 despite hitting only five of 14 fairways. That's the stat of a man who shoots 79 on U.S. Open Championship Sunday, not 69.
All that resulted in two jocks and a kiddie-pop singer breaking 90 over a reputed knuckle-dragging behemoth of a golf course that wasn't supposed to surrender 100 during last Friday's sugar-coated, made-for-TV fantasy golf challenge.
Still, Jones didn't miss a beat in responding. "I think they'll go low the first few days, but then the leaders will come back to the field," he said evenly.
The beagle was next with a fast follow-up: "Is it possible that the graded rough has taken some of the emphasis off of driving accuracy so longer hitters have an advantage and shoot some really low scores?"
To his credit, the harder the question, the more direct and analytical an answer you get from Jones. He loves to discuss the nuances of his craft. "The rough is lush, but it is wider than last year and also the last time they were here," he replied. "Long hitters won't have to worry about hitting it off line as much, so they'll hit driver more." He paused momentarily, and then added, "But yes, the long hitters will have an advantage in this set-up. After all, Zach Johnson won the Masters because they narrowed Augusta."
And so the conversation went, back and forth. The impromptu tag-team duo queried the softness of the course and the milder Mike Davis set-up parameters, and the golf architect provided keen observations from a man who has become a legend at sharpening world-class golf courses into challenging major championship tournament venues for over a decade, and who had overseen two sets of renovation to the Black Course for a pair of U.S. Opens.

"The ideal conditions here are firm and fast, but we may not see the course the way we want it to be played," he explained thoughtfully. "Rain changes the whole complexion of this championship."

It's clear the weather has been on the minds of U.S. Open officials as well. It's been raining bricks and bats in New York City for three months. The weather has proved British satire author Douglas Adams correct when he quipped, "there are 40,000 other places you'd rather spend spring than New York City, and that's just on the same latitude."

"Obviously, the weather has not been our friend," admitted USGA vice president Jim Hyler. "Right now it's extremely soft. It's rained in this area 30 out of 45 days. Dave Catelano [Black Course superintendent] who has been here for 40 years says he's not seen weather like this. We were hoping to get the greens around 14-14.5. This morning we were at 13.5."

With another one-half-inch to an inch of rain expected overnight and thunderstorms predicted for tomorrow, the adverse weather conditions have definitely affected the options available to the USGA. "We will not put any hole locations in the low areas of the greens. Teeing grounds will be decided in the morning based on what is happening in the morning and the forecast for the rest of the day," Hyler. They even have dry wells, green rollers, and big sponges called "water hogs" to soak up excess moisture.

The softness of the course and the easiest rough in recent U.S. Open memory has the long hitters chomping at the bit, and shorter hitters wringing their hands as the eve of the tournament fades to dusk. "It's a big advantage to the long hitters," said Kenny Perry. "These are seriously soft conditions. It's been ugly weather here for days. The greens are not very fast now. They are soft and receptive, and will hold anything you throw at them. I think they will stay soft all week."

Three-time major winner Padraig Harrington and 2006 U.S. Open champion Geoff Ogilvy agreed. "The gradient rough makes it easier than 2002, Harrington stated. "Also the course is a softer. I'd prefer to play a longer, softer golf course. With softer greens it's easier to play than a shorter course with very firm, tricky greens."

"Long and high is an advantage here, for sure," agreed Ogilvy. "The fairway rough is thick, but pretty doable . . . you'll see guys hitting 5-woods and rescues."

Even short-hitting Stephen Ames was optimistic. "It's one or two clubs longer than 2002, but it's the same soggy golf course as last time, so it's easier to stop the ball and easier on your short game. If it stays like this, we can attack it all day long."

Finally, Davis made a surprising but tell-tale observation that may ultimately hold the key to winning this year's Open in a recent Golf Digest interview. "There should not be as much wind as at Torrey, and the greens will be easier to putt."

That has Tiger Woods wide-eyed with the possibilities. Woods, who once said, "I hate greens with elephants buried under them," loves to hit to flat portions of greens even if he has a longer putt. His 63 at Southern Hills in the 2007 PGA was the textbook example as he rolled in straight 20-footer after straight 20-footer. "Obviously the greens are a bit flatter than normal," he said. "So just getting the ball on the green, you'll have a pretty good look at a putt."

So as we wait for sunrise to reveal just another leaden-slate sky from horizon to horizon and prepare for another day out of an Edgar Allan Poe tale, where dull, dark and soundless clouds hang oppressively low in the heavens, the pros know that they can go low. But can they balance out the advantage of the long bombers?

Look for two things in these conditions. First, a short hitter is going to have to play the best golf of his life to win. "It'll have to be fairways and greens and hope," said Rocco Mediate, who nearly stole last year's U.S. Open with that mantra. That's the only way to keep up with the long hitters: you'll have to match their birdies.

Second, someone may shoot 63, or at least get close. The only defense to this course right now is length and a couple of goofy pin placements. Yes, the course is longer, but players can charge their putts, attack pins, hit driver a little off line but without fear of six-inch rough, and get longer approach clubs to bite. We'll see fireworks in the rain, but they'll sparkle just as well against a grey backdrop as they would a night sky filled with stars.

Nevertheless, none of the conditions can be held against Jones or the USGA. Of all the courses Jones has renovated, Bethpage Black is best work in a portfolio full of successes. "Well, I just gave them the palette," Jones said. "The USGA does the painting."

That ordinarily would have been a great ending to the interview, but, the old salty dog of a sportswriter wasn't done with the "Open Doctor."

"Rees," he asked pointedly, "is this still a Tillinghast course?"

Time froze again. If this were a Western the old tumbleweed music would have hit a crescendo.

Jones didn't miss a beat. "If the U.S. Open hadn't come here, it would still be a Tillie course."

And that, young eager beagles, is how you conduct the interview. Anybody have any questions? Class dismissed.


Since launching his first golf writing website in 2004, http://www.jayflemma.thegolfspace.com, Jay Flemma's comparative analysis of golf designs and knowledge of golf course architecture and golf travel have garnered wide industry respect. In researching his book on America's great public golf courses (and whether they're worth the money), Jay, an associate editor of Cybergolf, has played over 220 nationally ranked public golf courses in 37 different states. Jay has played about 1,649,000 yards of golf - or roughly 938 miles. His pieces on travel and architecture appear in Golf Observer (www.golfobserver.com), Cybergolf and other print magazines. When not researching golf courses for design, value and excitement, Jay is an entertainment, copyright, Internet and trademark lawyer and an Entertainment and Internet Law professor in Manhattan. His clients have been nominated for Grammy and Emmy awards, won a Sundance Film Festival Best Director award, performed on stage and screen, and designed pop art for museums and collectors. Jay lives in Forest Hills, N.Y., and is fiercely loyal to his alma maters, Deerfield Academy in Massachusetts and Trinity College in Connecticut.