The Boulders - A True Arizona Desert Hideaway
By: George Fuller
No matter how many new and exciting golf resorts I visit in the world, I always feel at home when I get back to The Boulders in Carefree, Ariz. It's like visiting an old friend. And you couldn't pick a better time of the year to go than winter.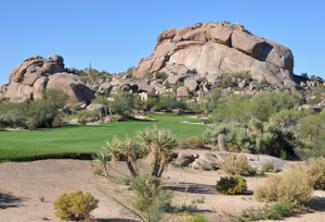 No. 5 at The Boulders' South Course
There's just something about the place that feels right. Situated on 1,300 acres in the high Sonoran Desert 15 minutes from downtown Scottsdale, The Boulders is a true hideaway. Twelve-million-year-old boulder formations dot the impeccably groomed landscape, many of the rocks so large they dwarf the surrounding homes, lending a sense of primordial sanctuary that immediately sets you at ease.

The resort is luxurious, but not at all stuffy. The 160 guest rooms - casitas, they call them - are comfortable, spacious, and modern, but not overly hi-tech. You get your 42-inch flat-screen television and high-speed Internet access, but also hand-hewn wooden ceiling beams, deep leather furniture, and a wood-burning fireplace with a carved stone facade.

Morrish Courses

The golf courses - there are two Jay Morrish-designed beauties here, the North and the South - aren't pushovers, but they are so playable and so much fun that you'll want to tee it up every day. Both measure less than 7,000 yards, short by today's championship standards. But then again, they were designed to be resort courses, not to host the U.S. Open, and by that yardstick they are among the best in the country.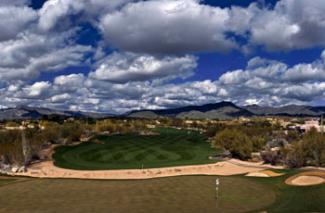 Hole No. 16 at North
Resort-level players will appreciate the generous landing room off most tees, giving them a good chance to keep their ball in play. The putting surfaces are eminently fair, sporting some movement but not so much they're impossible to read. Both layouts amble through some of prettiest high-desert terrain you'll ever see. Washes dissect some fairways, and lakes border several holes, causing you to play for position rather than bomb away on those holes. As such, these are easily called strategic designs.

The South Course features several holes where you'll want to have your camera at the ready, including the par-5 fifth, which plays to a green surrounded by sand bunkers and shadowed by massive mountains of boulders.
Innovative programs encourage everyone, including beginning golfers, to play a few holes. One such program is called "Fore at Four," which offers guests the opportunity to play four scenic holes as the sun begins to descend for only the $28 cart fee. Juniors (15 and younger) play free with a paying adult after 3 p.m.; and the resort has devised a shorter set of Pebble Tees designed for newer golfers or time-crunched business folks.

The Fore Ladies program is also popular. This focus has gained The Boulders wide acclaim as one of the top women-friendly golf resorts in the country. The program is designed to help new women golfers learn the game and to ease the intimidation newcomers often feel on the course.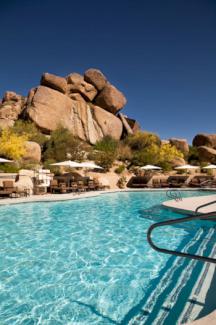 The Boulders Resort's Swimming Pool
Zen and Adrenaline

Another amenity for which the resort is renowned is its Golden Door Spa. This 33,000-square-foot facility opened in 2001, bringing to the resort the Zen-influenced philosophy of the original Golden Door in Escondido, Calif., but with distinct Southwestern treatments and regional influences.

One of the signature spa experiences, for example, is the Turquoise Wrap, an 80-minute treatment that begins with a turquoise clay wrap, followed by a wrap of pure honey, and concluding with a honey-butter application. This treatment is based on the Native American belief that turquoise is a color of protection and positive energy.

A full menu of massages - including several designed specifically for golfers, scrubs and wellness treatments is offered, along with facials and skincare. The Golden Door Spa also offers nutritional counseling and salon services.

For a bit more adrenaline, you can engage in the Spa Adventures, programs that include guided hikes and mountain biking through the Sonoran Desert, night bike rides on the golf course cart paths (a blast!), and for those seeking a real thrill, rock climbing clinics with experienced guides on the resort's boulder piles.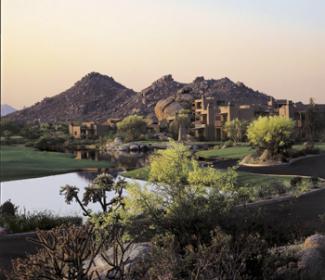 Homes at the Boulders Blend into Their Surroundings
Dining in Scottsdale is always good, with options ranging from upscale steakhouses to authentic Southwestern cuisine, from sushi bars to Mexican restaurants. If you'd rather stick closer to The Boulders, head to the Spotted Donkey Cantina at el Pedregal, the resort's adjacent marketplace, for good modern Mexican food and excellent margaritas.

Every time I unpack my bag at The Boulders, a feeling of tranquility settles in, along with anticipation of a few days of fun golf and good food. It's true: There's no place like home!
For more information, visit www.theboulders.com.
Award-winning publisher, editor, writer and photographer George Fuller has been covering golf travel and lifestyle for more than 30 years. From 1992 to 1997 he was editor of LINKS-The Best of Golf, based in Hilton Head, S.C. In 2005, after having spent several years in the Pacific starting two magazines for Continental Micronesia Airlines and writing two books, Fuller launched GOLF LIVING Magazine for the Los Angeles Times, a "super-regional" magazine of travel, real estate and the lifestyle surrounding the game of golf. In 2009, he helped redesign and re-launch TEXAS GOLFER, a magazine with 25 years of history in the Lone Star State. Most recently, Fuller partnered with Troon Golf to launch TROON GOLF & TRAVEL, a monthly eMagazine with an annual print component. In addition, Fuller's newspapers and magazines credits include TIME, Wall Street Journal, San Francisco Chronicle, The Los Angeles Times, Robb Report, Coastal Living, Palm Springs Life, Estates West, GOLF Magazine, Golf Digest, Travel & Leisure Golf, LINKS, Successful Meetings, Honolulu and many others. He has reported for Reuters, United Press International (UPI), written for Copley News Service and is a regular on-line travel correspondent for Cybergolf. Based in Pacific Palisades, Calif., he can be contacted at gfuller@earthlink.net or 310/245-9550.