The Cameraman Never Lies
By: Tony Dear
Editor's Note: Cybergolf's Tony Dear has a frank discussion with seven of the game's best photographers, the topics ranging from favorite images to mentors to how the business of golf photography has changed.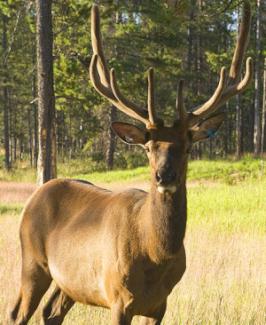 Aidan Bradley's Not so Friendly Elk
at Jasper Park
You'd think taking pictures of golf courses would be a pretty safe way to earn a living. Most of the time it is, but then there are those rare occasions you come face to face with a 1,000-pound elk sporting an impressive set of antlers but who doesn't think much of you or your $10,000 camera.

Aidan Bradley, an Irishman who has lived in the U.S. for nearly 20 years, found himself in just such a predicament in July 2008 when shooting Jasper Park Lodge Golf Course in Alberta, Canada.

"When the animal first showed an interest in my hide, I collected all my equipment, got back in my cart and started to move away," says Bradley. "I sped up and down the fairway as fast as the cart would go with my friend trotting alongside about four yards away and making the occasional lunge at me. When I got tired of his little game, we faced off in the middle of the 11th fairway. That's when I decided to take the bull by the horns so to speak, and charge. With Admiral Farragut's famous words in my head ("Damn the torpedoes, full speed ahead!"), I went straight for him. Thankfully he took the low road and I took the high road, which gave me just enough time to get to safety as he chased behind. I escaped with a couple of yards to spare."

The two met again a little while later, this time across a fence. "He recognized me," says Bradley, "and was clearly very angry. The fence was there but I still felt pretty uncomfortable."

Bradley got back to his hotel room at about 7.30 a.m., unscrewed the top of a bottle of 10-year-old Bushmills, which he refers to as "Mother's Milk," and poured himself a generous measure. His wife knew he liked his single malts but was surprised to see her husband drinking so eagerly and so early in the morning. "I described to her what had happened," says Bradley, who still shakes when recounting the story today. "She understood."

Bradley didn't get into golf photography for this sort of thing. In fact, after spending 16 years as an advertising photographer, he envisaged a fairly quiet life shooting the world's most beautiful golf courses in perpetual sunshine. What could be better than that, he thought. He didn't even fancy following the world's best players. "I did a bit of Tour stuff early on, but it was such a dog-eat-dog world," he remembers. "I'd find a good spot to shoot the action, but would soon find myself behind half a dozen other cameramen who had worked their way in front of me. It soon lost its appeal."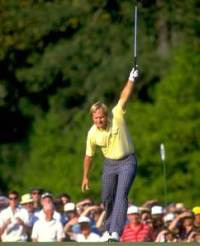 Jack Nicklaus at the '86 Masters
(by David Cannon)
One man for whom the thrill of capturing the sport's best in full flight never fades is England's David Cannon. On the staff at Getty Images and also the official photographer of the R&A, Cannon has covered almost 100 major championships, 40 women's major championships, every Ryder Cup since 1981, every Walker Cup since 1983 (except for 1985), every Solheim Cup that has been staged, and innumerable other golf tournaments, as well as eight World Cups (soccer) and six Olympic Games - four summer, two winter.

Cannon's first published image was taken during an East Midlands vs. New Zealand rugby match in his hometown of Leicester some time in the late 1970s. But soccer and golf in particular are his favorite sports to shoot. He was behind the camera when Jack Nicklaus won his sixth green jacket at Augusta National in 1986. Remember the shot of Nicklaus striding toward the hole with his left arm and putter raised toward the sky after just holing that crucial birdie putt at the 17th? That was Cannon's. And which golfer hasn't admired the brilliant image of Seve Ballesteros smacking a long-iron directly into the wind at Royal Lytham and St. Anne's 15th hole during the second round of the 1988 Open Championship?

"That's actually my favorite picture," says Cannon. "That Friday afternoon I was waiting on the 15th, which was the best hole for the light, picking off the best players in the 'marquee' groups. I remember the feeling when I saw where Seve's tee shot had landed. It could not have been in a more perfect spot for where I was working from."

Using what he describes as a very special camera - a Canon F1 High Speed - Cannon was able to take 14 frames a second, thus catching the entire swing in glorious Technicolor. "That speed of shooting guaranteed every split second of action was captured, as long as my manual focus was on form," says Cannon. "Fortunately it was, so I got this amazing frame."

The image certainly didn't confirm Cannon's genius - that had been established long before, but it was a seminal moment in his career. And every great photographer you ever speak to will tell you about their "moment," the one shot they will take to their graves.

Dom Furore, who's worked at Golf Digest for 25 years, remembers a lot of great assignments - Jack Nicklaus fishing in Russia, shooting Tommy Bolt, Byron Nelson and the Augusta caddies, but there's one shoot in particular, indeed one picture, that still gives Furore a chill when he thinks about it.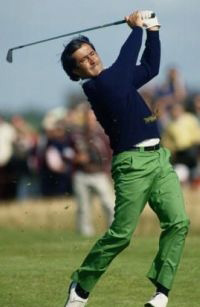 Seve Ballesteros on the
15th at Royal Lytham in 1988
(by David Cannon)
Sent at the 11th hour to Monterey Peninsula Country Club in California for a shot of architect Mike Stranz's last design job, Furore's patience was tested to the limit as heavy rain battered the course all day long. "I had a last-minute assignment to shoot the course, and if I didn't have good light that afternoon it just wasn't going to happen," says Furore.

"Mike had recently lost his battle with cancer, and his redesign of Monterey Peninsula had been his last and, many say, best work. It was raining and cloudy all day, and just before the sun was about to set, I looked up and said 'Mike, last chance. If you want a good pic in Golf Digest I need a minute of sunshine.' Right on cue, the clouds parted and a beam of light hit the course with stormy skies in the background. It was beautiful."

As you listen to guys like Bradley, Cannon and Furore, a picture emerges of what ingredients are necessary to turn a point-and-shooter into a world-renowned golf photographer. Immense talent is a requisite, of course. But in addition to the God-given gift of knowing what makes a memorable image and how to take it, a saint's patience, a bulldog's tenacity and an Irishman's luck are also required.

And though it's by no means essential - at least it wasn't back in the late 1970s when Cannon set out ("I never studied the subject . . . I just had a passion for sport and action photography and was lucky enough to learn under some brilliant sports photographers") - some sort of photography qualification certainly doesn't hurt.

Cannon's fellow Englishman Angus Murray, who began his career as a staff photographer at Emap Ltd., where he worked for 25 magazines and who now has a contract with Golf Magazine, earned a vocational qualification in black-and-white photography in black-and-white photography at Huntingdonshire Regional College in Cambridgeshire.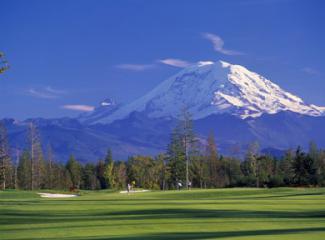 The View of Mt. Rainier from Druid's Glen GC
South of Seattle (© Rob Perry)
Steve Szurlej, a colleague of Furore's at Golf Digest, graduated from Bowling Green State University in Ohio with a B.S. in Journalism which included a few photography courses.

Larry Lambrecht, one of the world's finest course portraitists, studied at Denver University where he produced all the images for the school newspaper. Furore, Bradley and Seattle-based course photographer Rob Perry, meanwhile, all attended the world-famous Brooks Institute in Santa Barbara, Calif., earning degrees in commercial photography.

It's also significant perhaps that, to a man, today's golf cameramen will name a handful of celebrated photographers from the past as a source of inspiration. Like most of his contemporaries, Perry was a big fan of Ansel Adams. "His innovative work creating the 'Zone System,' his use of light and composition had a large influence on how I photograph golf courses," he says. "We studied his work in school and I hope that a little part of what I learned is reflected in my work."

Best known for his black-and-white landscapes and especially his mesmerizing pictures of Yosemite National Park, Adams gets several mentions, while Szurlej also goes for "conflict photographers" whose images "have such consequence."

And, as well as Adams, Murray lists Annie Leibovitz, O. Winston Link and Platon Antoniou, who has photographed several U.S. Presidents and other world leaders and shot numerous covers for Time magazine. "Not only do I admire how they all use light, they also have very distinct styles," says Murray. "You can tell a Leibovitz portrait immediately."

Furore says he is still a student of photography. "I always love looking at 'The Masters' like Richard Avedon, Ansel Adams, Irving Penn, Eugene Smith, Robert Frank and Cartier Bresson."

What really impresses Furore, Murray, Perry and the others about the great photographers of the past is that they produced unforgettable, spellbinding images using cameras that, compared with today's state-of-the-art digital tools, were somewhat lacking. Cameras with autofocus changed photography, and especially sports photography, forever. According to Wikipedia, the first mass-produced autofocus camera was the Konica C35 AF, a simple point-and-shoot model that appeared in 1977.

It wasn't until 1990, however, that David Cannon began using autofocus. "Before that, I used manual focus on a 400-ml lens with a depth of field of less than three inches," he says. "Today's photographers have no clue how tough it was. There were literally very few people in the world that could manually focus those big lenses successfully."

Szurlej agrees. "Autofocus allowed many less-skilled shooters to enter the market."

No question, autofocus had a profound impact. But the emergence of digital totally revolutionized golf photography and the life of a golf photographer. "Autofocus changed the game, making sports photography a lot easier," says Furore. "But digital changed the whole profession. It has taken a lot of the craft out of photography. It's a lot easier to shoot now. And we spend more time at a computer, which is ironic as most of us got into this career so we wouldn't be sitting at a desk. I miss the tactile part of it, the magic of having that one Kodachrome that holds 'THE shot.' "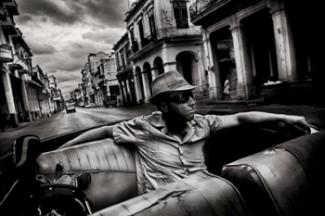 Black & White Cuban Scene (by Angus Murray)
Furore adds that while using a film camera gave the user little margin for error and you never knew what you had until the film came back from the photo finisher, it was very rewarding when you got the image you had hoped for. "I'm probably romanticizing a bit, and would hate going back to it," he says. "But I do miss it."

Of course, no one wants to go back to manual-focus film cameras, even if that would mean fewer golf photographers to compete with for space and assignments. And anyway, as is the case in all lines of work, the best will always identify themselves eventually no matter how good the technology gets.

"Taking a great photo is still an art," says Lambrecht. "It's not easy being an effective golf photographer these days because the business has changed so much and is evolving so rapidly. But you still have to have talent and be on your game the whole time. This isn't wedding photography."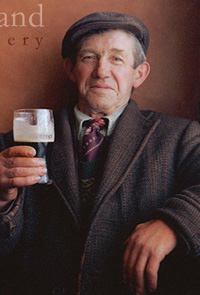 Eoin O'Riordan (by Aidan Bradley)
Q&A with Seven of Golf's Best Photographers

When did you become interested in golf photography?

Larry Lambrecht

I became interested in golf photography in the early 1990's. I'd made my first trip to Ireland in 1988 when I joined Ballybunion, but it wasn't until I got some assignments with Golf World and Golfweek in the late 1990's that I gained an appreciation for the subject. I was covering PGA Tour events on the weekends and shooting the courses in between.

Angus Murray

I was working as a staff photographer at Emap in England. The editor of one of the golf titles, Today's Golfer, asked me to shoot a class at one of the magazine's golf schools. I really enjoyed it and I sort of got hooked on the game and wanted to photograph it.

David Cannon

I suppose my interest in sports photography began as an 11-year-old with a Kodak Instamatic lying beside a salmon leap on the River Inver in North West Scotland. I was determined to get a fish in mid-air. My parents were amazed when I did manage to get a blurred picture of a salmon leaping. Then, when I was at boarding school in Oxford from the age of 13 to 18, my study walls were covered in posters of footballers (soccer) and golfers especially Tony Jacklin.

Steve Szurlej

In 1980 when I left my newspaper photographer position in New Jersey and went to work for Golf Digest and Tennis Magazine. I was more interested in tennis at the time, but soon learned to like golf photography more. When it comes to tournaments, in tennis, a photographer sits all day while the players run. A tennis photographer's movement is severely restricted. In golf, a photographer is on the move all day. His ability to move and find another background or composition is much less restricted. I prefer to keep moving.

Rob Perry

I became interested in photography when I was a teenager. I picked up the family's Canon AE-1 camera and photographed anything that caught my eye around the yard and woods. I didn't take it too seriously but was always looking to capture that "one shot" to share with the family.

Aidan Bradley

I studied law at University College Cork but decided I didn't want to get into law. I immigrated to the U.S. and spent time on both East and West coasts before ending up at Brooks Institute. I got a green card and became an advertising photographer. I was always a keen golfer and read all the mags and looked at the pictures thinking I could do that. After 16 years as a professional photographer, I decided I wanted to work in golf, but what area? I knew I wanted to be outside.

Dom Furore

I became interested in photography at age 12 after seeing the "miracle" of a print being developed. My parents bought me a little developing kit and I started shooting so I would have film to develop. I fell into golf photography through my job with the New York Times Magazine Group shooting for their various publications. Eventually, the company sold off all the non-golf titles and I became a "Golf Photographer," eventually ending up working at Golf Digest and Golf World for Conde Nast which had purchased the golf titles from the Times. It's a real privilege working for a company that has an emphasis on design, art and photography and wants to do things right. I work with a lot of unbelievably talented editors, designers and writers. It's an amazing team and we're a lucky to have our chairman, Jerry Tarde totally support what we do.

Did you take formal photography classes?

Lambrecht

At the University of Denver where I produced all the photos for the school paper. My roommate and I were both photographers and we had a full darkroom in our basement. When I moved into the new dorms, I was the administrator of the school's new darkroom.

Murray

I left school at 16, and went to work for Car Magazine for a year. My mom worked there and also Jeremy Clarkson, the Top Gear guy. When that finished, I took a City & Guilds, which is a British vocational qualification, in Huntingdon, Cambridgeshire. Then I contacted Bob Atkins who was the director of photography at Emap, one of Europe's largest media companies. He gave me a junior staff position.

Cannon

When I left school at 18 in 1973 I only wanted to play golf. I was a natural sportsman playing all sports, but golf became my real passion in the late '60s. When I left school, I had a 6 handicap which I eventually managed to get down to scratch. For five years I played serious amateur golf with a couple of top-10s in national championships. But in 1978 I realized it was not to be. My girlfriend at the time was the daughter of a local Leicester news agency owner named Neville Chadwick. The relationship with his daughter didn't last, but my love for sports photography really came to life when Neville took me along to Leicester Tigers rugby and Leicester City football matches every weekend. So I got my training in the field. I never studied photography at university or anything like that. I was just lucky enough to have a real passion for sport and action photography. I learnt entirely by looking at sports pictures and being lucky to have worked for amazingly helpful and really brilliant photographers like Neville, Bob Thomas, Steve Powell and Tony Duffy, one of the founders of AllSport.

Szurlej

In 1969 I was a junior at college. My roommate was taking a required photojournalism course which looked far more enjoyable than accounting, which I was studying with plans for going into the FBI. So I switched to Journalism. The curriculum was mainly reporting and print journalism, but there were some photo courses, too.

Furore

I was at *Brooks Institute in Santa Barbara, Calif., back when the Brooks family still owned it. It was one of the very few photography schools in the world offering a degree in commercial photography. I wanted to be a magazine photographer, but after Life closed I didn't really care what magazine.

(*Perry and Bradley also attended Brooks Institute.)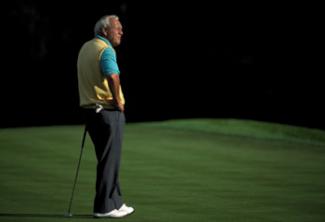 Arnold Palmer (© Rob Perry)
Do you remember your first official assignment?

Lambrecht

I was a neighbor of golf commentator Jack Whitaker in Rhode Island. He was at the 1976 Winter Olympics in Innsbruck but came back before it finished and gave me his media credential. I went over there with my camera and shot a portfolio of action images from the week. I made a set of 8 x 10 transparencies using my best images and got an interview with Neil Leifer at Sport Illustrated. He said I had a problem because I wanted to be a photographer, but he needed people to do all the leg work. But he put me on to the director of photography Jerry Cooke. My first assignment was with Jerry at Madison Square Garden covering the American Cup gymnastics tournament where Nadia Comaneci made her U.S. debut. She was a huge story, but I had no idea how significant the event was at the time.

Cannon

Just about. When I first carried Neville's bags at a rugby match between the East Midlands and the All Blacks, he told me to sit in the corner and just take pictures. He gave me two pieces of advice - fill the frame and focus on the eyes. It's still the best advice I ever had. Anyway, I just clicked away and we went back to his office to process the film. He said I got one nice one. Imagine my thrill when I saw my picture on the back page of the Sunday Express newspaper the next morning.

Szurlej

Hard to be certain, but it may have been a feature on the Amish in central Pennsylvania for the Courier News in New Jersey.

Perry

I set up my business after finishing at Brooks and returning to the Seattle area. I think the first assignment was for a golf course consultant who was working for Scott Oki, the former Microsoft man who had left the company to start his golf business. The consultant wanted images showcasing the views of downtown Seattle and the Olympics Mountains from the future site of the Golf Club at Newcastle. I made many visits during the winter months. It was beautiful but also extremely cold on top of that hill. Just ask Fred Couples (Couples was the co-designer with Bob Cupp).

Furore

I remember the first big job, a photo of Sam Snead holding two pigeons for a Golf Digest cover and a book cover. After shooting about 15 frames of 35mm Kodachrome, Sam said "OK, we're done," then he joked about twisting the heads off the pigeons off and eating them. A 10-year-old kid owned the birds and was obviously on the verge of tears.

I didn't sleep for 24 hours until that film came back. But the images turned out great and after that I was golden with the former design director at Golf Digest, Nick DiDio, who really gave me my big break and guided my early career.

How many assignments do you estimate you've had?

Lambrecht

I have no idea. I shot the NFL, MLB, PGA, USGA, soccer, golf courses and architecture for the past 25 years. Must be several thousand.

Murray

Probably somewhere between 3,000 and 4,000 with maybe 300 covers.

Cannon

Literally thousands.

Szurlej

I could tell you how many air miles I have ("millions, though not quite as many as George Clooney in 'Up in the Air' "), and how many Marriott points, but I have no clue how many assignments I've done.

Perry

No idea, but enough to keep me going.

Furore

No clue but after 25 years at Golf Digest it has to be in the thousands. I quit counting covers after my second year. Lost count of how many Majors I've done. I try to keep looking ahead, but sometimes I wish I'd written some things down. But I hate to write.

What was your favorite assignment, and do you have a favorite picture?

Lambrecht

Tough question to answer. My first day on the field at Yankee Stadium? 1993 Super Bowl at the Rose Bowl (Dallas hammered Buffalo). That was a perfect day for pictures - great light and a great occasion. It was just about the football with none of the pomp and extra stuff you get today. My first Masters in 2000 was pretty special, although it wasn't the most exciting Masters ever. Getting "Photo of the Year" at the NFL Hall of Fame induction with a shot of Rodney Hampton of the New York Giants going over the goal line at the L.A. Coliseum was obviously very special. And I once spent a week with Joe DiMaggio at Doral in Miami when I was working for a baseball card company. I had to make sure Joe signed everything and then look after the cards. I flew down to Miami with him, played golf a few times and had dinner every night. We got on great. He talked a lot about baseball, money and golf, but never mentioned Marilyn Monroe. I also spent a week with Mickey Mantle in Vegas, doing the same job. We went to dinner every night too. He was a country kid, great guy, but didn't know what to do after baseball.

Murray

A Golf Magazine shoot in Cuba with writer Josh Sens. We walked the streets of Havana and saw a load of kids playing soccer. Josh offered them a dollar each to pose for a picture. They loved it. I got them in front of some really cool Che Guevara graffiti. We hired a 1950s Buick. I took a picture of Josh who was wearing a fedora in the back seat with his golf bag. A stray dog ran past. It just worked really well.

Cannon

My favorite assignment was the 1986 World Cup in Mexico in 1986. My favorite golf jobs were the 1984 Open at St. Andrews, the 1987 Ryder Cup at Muirfield Village and the 1986 Masters. Tiger's win in 1997 was great too. My favorite picture is the one of Seve at Lytham in the second round of the 1988 Open. What a player he was. Absolutely my favorite to shoot.

Szurlej

Very hard to pinpoint one, but not because I can't remember. There have been many enjoyable and memorable assignments - New Zealand, Ireland, Korea. My favorite picture may well be the one of Tiger chipping in at the 16th in the final round of the 2005 Masters.

Perry

Hard to pick a favorite assignment. There are many and for different reasons. Each course offers something special, whether it's the people you work with, the location, weather conditions, backgrounds, course conditions, history, etc. I shot what is probably my favorite picture when I was finishing up my education at Brooks. I got a press pass to cover the Shark Shootout at Sherwood Country Club in Thousand Oaks, Calif. On the 18th hole during the third round, I got a shot of Arnold Palmer resting on his putter looking at the scoreboard and toward the sun. A year later when photographing the Senior Tour stop in Ojai, Calif., I gave Mr. Palmer a print and I later found out from his agent that he considered it one of the best photographs of himself he had ever seen. Quite a compliment from "The King."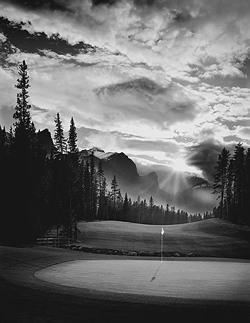 Stewart Creek GC (by Dom Furore)
Bradley

That's like asking me to name my favorite single malt - impossible to answer. That said, I do have a favorite non-golf image. I was over in Ireland from my brother's wedding and the reverend mother basically told me to make myself scarce for three hours. I went into Millstreet (County Cork), and went for a pint in McCarthy's where I got chatting with a lovely gentleman named Eoin Dominic Riordan. I took his picture and he attempted to give me five shillings saying, "You took my likeness. I have to pay you." That picture says so much. It will last with me forever.

Furore

I always look forward to the Masters. It's always good to see my media friends for the first time after the winter. Often my favorite assignments didn't necessarily produce a favorite photo. Going to Russia on a fishing trip with Jack Nicklaus was a great adventure, as was photographing courses in Nepal and going to Tiger's wedding. I can't believe the things I've seen and done being a golf photographer, but assignments like photographing the old Augusta caddies, or guys like Tommy Bolt are more fun because there's less pressure going into the job, and you have time to talk and get to know the subject(s) before you shoot. I remember doing a Byron Nelson shoot and afterwards going into his workshop and talking for an hour about dovetail jigs. Those are the days I really feel lucky to be doing what I do.

As for a favorite picture, I'd probably go for a black and white image of Stewart Creek in Canada, not because of the shot but the memory of it. I had my son with me. We waited in the rain all day. He thought I was crazy, but I just needed a minute of sun. It was a long day. But the sun literally popped out for 10 seconds, backlighting the clouds and mountains. It was amazing and lasted just long enough for me to shoot one sheet of 4x5 film. It was one of those "Thank you God" moments. (Furore also mentions the Monterey Peninsula CC shot described in the main text).

How has the business of golf photography changed in recent years?

Lambrecht

Technology has evolved so quickly, many people feel entering the photography business is effortless. And that's certainly more true than it was 20 years ago, but you still have to have talent to take a great picture. Processing of the image is so much more technical too. An ability to use a computer is a must today, and understanding photo-editing software is crucial. I also think the marketing aspect has become very sophisticated, with websites and social-networking becoming very important for expanding your business.

Murray

Equipment is the biggest change, the jump from film to digital. Digital gives you the shot instantly, there's no mucking around with Polaroids and film. You can have the cover mocked up by the time you finish the shoot. I photographed Graeme McDowell for Golf Magazine recently, and after the shoot we sat in a café looking at the images. Also, the players and their managers/reps are different. Nike was the first company to insist that photographers use digital. They didn't like us using Polaroids and film, saying it wasted too much time. These days, you have to get the cover and article spread in 45 minutes, so you have to be so focused.

Cannon

Golfers wearing hats - where have the characters gone? That image of Seve at Lytham wouldn't have worked so well if he was wearing a hat and his hair wasn't blowing all over the place. Same with the Nicklaus image at the '86 Masters. It wouldn't have been anywhere near as good if he was wearing a hat. Only Greg Norman could wear a hat and pull it off.

But seriously, cameras are so good now. Before the Canon 1D appeared in 2002, I still used film. Now, with digital, we send out images to editors minutes after taking the picture, not days. And it's so much cheaper than film, although we do shoot 10 times as much.

Szurlej

I think the industry has changed in three ways since I started. First, auto-focus cameras, which allowed many less-skilled shooters to enter the market. Second, the runaway train that is digital photography. Without the expense of film and processing, even more less-skilled photographers appeared. Third, the mega photo agencies. They are the Wal-Mart of photography, selling images for such a low price. They actually make it difficult for many good photographers to earn a decent living.

Perry

The emergence of digital, obviously. Ten years ago the technology in digital cameras was changing so fast cameras were becoming obsolete within a year. It's come a long way from when I was in school processing film in a darkroom, printing with the use of an enlarger, processing the prints in trays of chemicals, hanging them to dry and retouching them with the use of etching tools and spotting ink.

Bradley

Digital cameras and imaging software have brought a lot more people into the industry. That said, quality work will always rise to the top. Unfortunately, a lot of the decision-makers don't recognize the difference between good and adequate imagery. There is certainly a lot more competition, which is healthy because it pushes us all to do better. When I first started there was plenty of inventory. Now there is very little so everyone is struggling for their piece of an ever-shrinking pie. Would love to sugarcoat it, but that's the truth.
Tony Dear is an Englishman living in Bellingham, Wash. In the early 1990s he was a member of the Liverpool University golf team which played its home matches at Royal Liverpool GC. Easy access to Hoylake made it extremely difficult for him to focus on Politics, his chosen major. After leaving Liverpool, he worked as a golf instructor at a club just south of London where he also made a futile attempt at becoming a 'player.' He moved into writing when it became abundantly clear he had no business playing the game for a living. A one-time golf correspondent of the New York Sun, Tony is a member of the Golf Writers Association of America, the Pacific Northwest Golf Media Association and the Golf Travel Writers Association. He is a multi-award winning journalist, and edits his own web site at www.bellinghamgolfer.com.