The Choke's on U.S. - Ryder Cup Team Stunningly Collapses
By: Jay Flemma
"When something like this happens, the memory becomes completely black to you. You don't remember a single shot," said Tom Watson.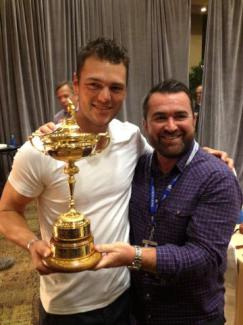 Martin Kaymer & His Caddie with the Cup
The eight-time major champion was talking about his disheartening collapse at Turnberry in the 2009 Open Championship, but he might as well be describing the 2012 U.S. team which suffered the most historic collapse in Ryder Cup history - even more disastrous than Europe's 1999 loss from the same 10-6 Sunday singles deficit, because this loss was at home and because we hadn't gaffed our line-up like Mark James did at Brookline. Meanwhile, Europe erases their worst Ryder Cup memory with the event's greatest comeback at Medinah Country Club's No. 3 course.

"This one is for all of Europe," said European captain Jose Maria Olazabal, who then also took time to praise the guardian angel of the team, legendary Hall of Famer Seve Ballesteros, who passed last year and whose silhouette graced the shirts of the European players. "Seve will always be present with this team. He was a big factor for this event for the European side, and Saturday night when we were having that meeting, I think the boys understood that believing was the most important thing. And I think they did."

Meanwhile, it was the Americans and their fans who left in disbelief.

"Stunned. Absolutely stunned," remarked a shell-shocked U.S. captain Davis Love after Europe's Martin Kaymer rolled in a six-foot putt to defeat Steve Stricker (who as a captain's pick went 0-4-0 on the weekend for zero points) and notch the 14th and clinching Ryder Cup point for the defending champions. A Francisco Molinari halve with Tiger Woods in the anchor match (which, therefore, became meaningless) provided the final half-point for Europe and a 14½-to-13½ final score. Europe has now won seven of the last nine Ryder Cups and will host the event when the matches are next contested at Gleneagles Resort in Scotland in 2014.

"We know what it feels like now from the '99 Ryder Cup," said Love. "We were playing so well, we figured it didn't matter how we sent them out there. We got a couple of matches flipped there in the middle that cost us."
Indeed, it wasn't anything that Love did that caused the worst collapse in modern Ryder Cup history. He sent out the stallions early and left some strength for the end if needed. The players just folded in the clutch.

Europe won the first five singles matches of the day including the first four against former major championship winners, two of whom, Bubba Watson and Webb Simpson, are the reigning Masters and U.S. Open champions. Then Europe wrested several crucial matches by shockingly reversing them late to surge past a suddenly nervous U.S. team that looked invincible only a few hours earlier.

Most shockingly, three European players won the 17th and 18th holes three times to turn the tables on the Americans. Webb Simpson, Phil Mickelson, and Jim Furyk all lost the 17th and 18th and Steve Stricker lost the 17th, with Furyk and Stricker agitatedly fiddling with six-foot putts before finally missing badly in the clutch. In those four tide-turning matches, the U.S. played 17 and 18 4-over to the Europeans 3-under. Of the six matches that went to the 18th hole, the American side claimed only a dismal 1½ points.

The tournament's most outstanding player was clearly Ian Poulter, who went 4-0-0 for the week, and is 12-3 overall in his Ryder Cup career and a perfect 4-0-0 in singles. He beat Chris Riley in 2006, Steve Stricker in '08 and Matt Kuchar in 2010. It was Poulter who gave Europe hope Saturday evening when he made five straight birdies to turn a loss into a win and swing momentum in Europe's favor.

But for long portions of the afternoon, the last seven matches were safely in U.S. hands. For several hours, Europe led in either one or none of the final seven. The U.S. looked safe for most of the afternoon with a projected 15-17 points had the matches held.

The tide turned when first Lee Westwood got control of his match with Kuchar. Westy cruised to a 3 & 2 win, spurring the bottom of the European order. Then Justin Rose flat-out stole his match with Phil Mickelson after being 1-down on the 17th tee. After Mickelson nearly chipped in to win it, Rose rolled in a double-breaking downhill bomb from 35-feet that proved the shot of the day to win the hole and tie the match. He then birdied 18 to win a full point.

Then Jim Furyk surrendered his match to Sergio Garcia after having control of it most of the day. Furyk missed two crucial short putts on 17 and 18, and allowed Garcia to turn a 1-down deficit into an unlikely 1-up win, setting the stage for Kaymer's heroics.

Explaining the putts, Furyk said "[On 17 I] left myself, what, about a 12-footer straight uphill that I misread. Then I heard that most players missed that putt out to the right today…[On 18] I hit my first putt exactly how I wanted; I thought I hit it within three or four feet, but it just kept trickling out; and hit my second putt pretty much exactly where I wanted to, and it never took the break. I hit it what I thought was right edge or outside, and it stayed there the whole time and caught a piece of the hole." It was this loss that gave Europe its first projected lead of the entire event, and the first time the U.S. effectively trailed.
The middle of the U.S. order held its own. Jason Dufner, Dustin Johnson, and Zach Johnson won their matches for the U.S. However, the anchor positions went out a combined 0-6 and returned a dismal 0-7-1 for a half point achieved after the issue was decided.

"No, I wouldn't have done anything different," explained Love afterward. "They played great. We had a couple matches get flipped there at the end that made it a little bit easier on them. We said we want to win every segment, and we got a halve out of a couple of them, and we got beat badly in this one. Any time you lose a segment that badly, it's going to cost you the Ryder Cup."

Said pre-eminent golf course architect Pete Dye, "It's nothing Davis or the players did, though. They just got beat. They just got outplayed at the end there. It's unfortunate, but that's golf."

Though there were missed opportunities for the Americans, the Europeans came out and took it. They dismantled the teeth of a front-loaded U.S. line-up, including two of the hottest players on the planet in Phil Mickelson and Keegan Bradley, who looked unbeatable after their first two days of Cup fireworks.

Heck, Rory McIlroy beat Bradley after nearly missing his tee time and without benefit of hitting a single warm-up shot on the range! McIlroy thought his match was at 12:25 p.m. Central, not Eastern time, which would be 11:25 Central, and needed a police escort to get to the course. He made it with 10 minutes to spare. Then he handed Bradley his only loss of the week.

"I got a call with 25 minutes to go," said McIlroy afterward. "It's no big deal because if I warm up for 40 minutes its unusual. I only warmed up for 25 minutes at the PGA."
"He was lucky to be playing at all," observed several sportswriters.
br> As a side note, some Chicago-area police officer can now dine out forever on the story of how he won the Ryder Cup for the Europeans! McIlroy's point was crucial, and he never would have made it from his hotel in time with all the traffic.

Still, Dye is right in his assessment. We can try to lay blame all we want, but this time, we might not want to. The U.S. got beat by a team that came out and took it…on foreign soil. Tip your hat to them. Sometimes there aren't losers, only winners.

"If I was an American I would look at every member of my team and be very proud of my country," said Olazabal.

And sentiments like that are why we play golf in the first place, aren't they? It gives us a chance to show our sportsmanship and valor. America may have lost the Cup, but all golf won with a story that will resound through the decades of this competition. "Ole ole ole," Ollie, you earned it.

News, Notes & Quotes

GCA

Medinah sent two great messages about golf course architecture this weekend: Cut down the rough and let's have fun! And shorter holes are sexier.

Gack!

This completes the "Year of the Choke" on the PGA Tour, where three majors and a fistful of PGA Tour events were fumbled away by players doddering around in the final rounds worse than rubber-suited Scooby-Doo villains. In fact, Furyk and Adam Scott are being fitted for their costumes right now . . . ruh-roh, Raggy!

Come Get the Cup!

The Ryder Cup ought to adopt the rule they have in hockey - the guy who clinches the cup gets to carry it into the locker room or present it to the team.

Choke Hill?

This debacle was even worse than the American face-plant in 1989 at Oak Hill when Europe climbed back from a 9-7 deficit.
Statistical Outlier

We normally get smeared in the doubles phases of the event, then dominate in singles. We may not see a result this skewed for another 75 years.

Somewhere, Bernhard Langer is Smiling

It's redemption for Germany. Langer blew a 6-footer for the cup in 1991.

Since launching his first golf writing website in 2004, http://jayflemma.thegolfspace.com, Jay Flemma 's comparative analysis of golf designs and knowledge of golf course architecture and golf travel have garnered wide industry respect. In researching his book on America's great public golf courses (and whether they're worth the money), Jay, an associate editor of Cybergolf, has played over 420 nationally ranked public golf courses in 40 different states, and covered seven U.S. Opens and six PGA Championships, along with one trip to the Masters. A four-time award-winning sportswriter, Jay was called the best sports poet alive by both Sports Illustrated and NBC Sports writers and broadcasters. Jay has played about 3 million yards of golf - or close to 2,000 miles. His pieces on travel and architecture appear in Golf Observer (www.golfobserver.com), Cybergolf, PGA.com, Golf Magazine and other print magazines. When not researching golf courses for design, value and excitement, Jay is an entertainment, copyright, Internet and trademark lawyer and an Entertainment and Internet Law professor in Manhattan. His clients have been nominated for Grammy and Emmy awards, won a Sundance Film Festival Best Director award, performed on stage and screen, and designed pop art for museums and collectors. Jay lives in Forest Hills, N.Y., and is fiercely loyal to his alma maters, Deerfield Academy in Massachusetts and Trinity College in Connecticut.