The Evolving Golf Club Model - Capturing the Character of a 19th Hole
By: Tom Hoch
The golf industry has faced many changes and challenges during the last decade. As a result, interior and architectural design standards have evolved to meet the broader, long-term service and economic demands of private and public golf clubs. Golf courses are fighting for a smaller market share among a demographic that has less time to spend with the game. To retain existing players and attract new ones, they have to reinvent and re-brand the dining and entertainment elements of the course or club.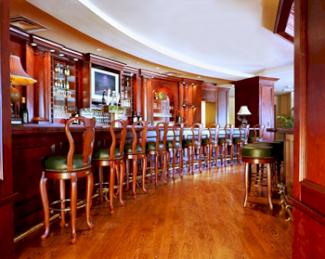 Rotunda & Lounge at Westwood CC
Marriott, Ritz-Carlton and other hotel- and resort-affiliated courses have an endemic hospitality philosophy. Their intimate knowledge of the hospitality industry and its nuances has allowed these brands to create a golf, dining and entertainment business that is experience-driven. Borrowing a page from that industry, golf courses throughout the U.S. have introduced a renewed focus on food and beverage. Whether implementing a chef-driven operation with seasonal menu changes, or rolling out group and banquet catering services and programs, this approach reveals a willingness to evolve and meet a rising demand for innovation.
Courses and clubs considering a clubhouse renovation, or owners/investors planning and designing new facilities, should consider the short- and long-term impact a memorable, well-designed food and beverage operation can have on the bottom and top lines.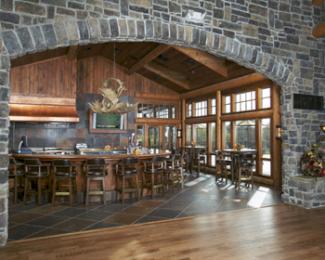 Ridge at Back Brook Bar
Fundamentally, we have to change the way we look at club design - both as designers and as owners. When a club is considering an interior renovation, the first question I ask the male member is: "What do you think about when your wife says 'Let's go to the club to have dinner?' "
The answers I get provide an insightful view into what sort of space is needed to capture the story of the club. In short, the clubhouse should be a remarkable, relaxing space that is at the forefront of their thoughts when members are choosing a dining experience.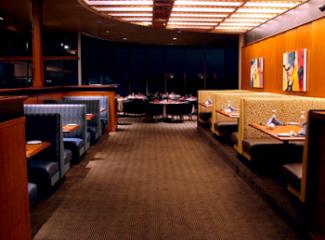 Quail Creek - Fixed Floor
Key Elements of Strong Design

Designers and owners understand that the clubhouse receives a lot of attention, positioning itself as the "trophy" to the rest of the club. There are three key components to designing the interior of a stand-out "19th hole." The first is the view. Players pay for impeccable green conditions, exceptional services and an outstanding experience. The 19th hole should add to this. Designing rooms that focus on available views - like overlooking the course or a nearby city skyline - enhances that overall aesthetic. It warms the space and creates a comforting ambiance that is naturally beautiful. This setting facilitates member consideration of the room for personal events, like weddings, birthdays and other celebrations.
The second component designers need to consider is style: what most people think of when they think of interior design. Its aesthetics - from color scheme to fixtures - define the lasting impression of the dining facility. Nineteenth holes should maintain a timeless style, reflecting on the lasting culture and traditions of the game. This means avoiding "trendy" for something casually accepted in modern design. It's not about pushing boundaries or reinventing the wheel, but capturing a relaxed, fashionable space that is comfortable. It can't feel "new" when finished; it should exude an aged and perfectly weathered veneer that is both inviting and unforgettable.
Finally, it should have character. Each 19th hole tells a story and shares in the spirit of the overall experience, the lifestyle of golfers. Great designs look to strong stories. For instance, my firm, Tom Hoch Design, did the renovation at The Ridge at Back Brook in Ringoes, N.J. The owner wanted to recreate the cozy environment of a nearby tavern with a Western-style lodge interior. The result is a clubhouse, recently recognized by Golf World in its Reader's Choice Awards, with a strong personality that matches the desire of the owner with the needs of patrons.
Efficient Space Planning

The best-designed 19th holes are efficient operations and spaces that do one thing and do it exceedingly well. Many clubs have attempted to be all things to all people, and they've failed. They lose their identity and are unable to meet those needs. By effectively utilizing the space a good 19th hole hits the customer emotionally and drives revenue. Focusing on a stand-out food-and-beverage operation can be the sort of targeted design choice for a club.

Depending on the space available, a club can narrow the design and focus on a notable bar with unique character and style, or a beautiful wine room with custom fixtures and recognizable ambiance. With proper space mapping and special care taken to address the keys of strong design, any club can create a signature room that its members and patrons will continue to enjoy for years.

Designing the clubhouse isn't about creating a sports bar; it's about the character, style and atmosphere. At a club like this, the rules of the game are established, and everyone there - waiters, bartenders, patrons - all know how to play.
Tom Hoch is the president of Tom Hoch Design, a leading design-build firm based in Oklahoma City, Okla. Founded in 1963 by his parents Tom (senior) and Joanne Hoch, Tom Hoch Design specializes in club, resort, hotel, restaurant and recreational spaces. The firm has utilizes a "revenue-based design" model, a space planning, sizing and mapping process for retail-driven spaces such as golf shops and food- and-beverage operations. For more information about the firm, visit www.tomhoch.com.