The Five Towns Country Clubs - Rockaway Hunting Club
By: Jay Flemma
[Author's Note: Today we continue our series comparing and contrasting the various Five Towns area courses, all greater NYC clubs with excellent architectural pedigrees. The "Five Towns Six" are Seawane, Rockaway Hunting Club, Middle Bay, Woodmere, Lawrence and Inwood. We've discussed Inwood (http://www.cybergolf.com/writerscorner), Seawane (http://www.cybergolf.com/golf_news/course_review_seawane_country_club_in_hewitt_harbor_ny), Lawrence Yacht Club (http://jayflemma.thegolfspace.com/?p=4707), and Woodmere (http://www.cybergolf.com/golf_news/dont_say_shoulda_woulda_coulda_go_play_woodmere). Now let's take a look at Rockaway Hunting Club.]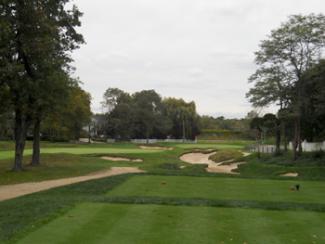 The Tiny par-3 5th with the 4th Green on the Left
Lucky Jack Aubrey used to tell an old story about Lord Nelson, the great British sea captain of the turn of the 19th century. When someone offered Nelson a boat cloak on cold nights Nelson turned it down, saying that his zeal for King and country kept him warm.

Aubrey then added, "I know that from another man you might cry out, 'Oh, what pitiful stuff,' and dismiss it as mere enthusiasm. But with Nelson, you felt your heart glow." The dinner table around Aubrey cheered.

Likewise, despite the golf industry overflowing with superlatives and hype, occasionally you play a golf course actually worthy of all the adulation. As anyone who loves golf knows, there are some courses that are so good, that when you go out to play you never want to come back. That's Rockaway Hunting Club, a club sleepily tucked just outside New York City in a charming Long Island neighborhood called Lawrence, but with an impeccable, indeed unique architectural heritage.

I chose that last adjective - "unique" -with precision.

Half the golf course is a one-of-a-kind seaside A.W. Tillinghast design. Of all the major championship venues he designed, all the Tour stops, all the mega-watt, ultra-highly ranked country clubs he built, Tillinghast got to design on true waterfront property exactly once: Rockaway Hunting Club. And his work here is almost diametrically opposed to anything he did anywhere else. Here we see a side of Tillinghast never seen before or again. (As an aside, Tillinghast did redesign two waterfront holes at Country Club of Fairfield. He handwrote "Merry Christmas" on the architectural plan he submitted to the club. It resides in their clubhouse. A tip of the cap here goes to Ron Whitten.)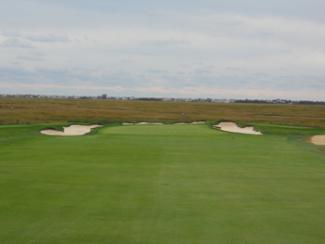 The First Hole Plays to the Water
The other half of Rockaway Hunting Club is as perfectly restored a Devereux Emmet golf course as you will find anywhere in the world. It's also another masterful Emmet restoration by Gil Hanse, the architect de jour the last two years.

Emmet is one of the most revered, yet still underrated designers in golf architecture because he so rarely ventured away from New York City and Long Island. But as ardent golfers know, his name must be spoken of in the same holy whispers as C.B. Macdonald, Alister Mackenzie, and Tillinghast. Macdonald and Emmet were not just contemporaries, but friends, and they often traded architectural ideas and consulted with one another. Indeed, Emmet's courses feature many of the same celebrated design concepts perfected by the Macdonald-Raynor-Banks Bloodline. Now that Hanse's restoration of Rockaway is all but complete, we can add a fourth precious stone to the Devereux Emmet diadem: His true gems are Garden City, St. George's, Leatherstocking and Rockaway Hunting Club.

As such, there is some wondrous classical architectural feature to marvel at on nearly every hole at RHC. Greens, bunkering, diagonal hazards, fairway undulations, green contours: there is a vast array of remarkable and fascinating features. Best of all, the golf course feels like a seamless whole despite having two imaginative, yet diverse architects' work laying side-by-side.

It's the ingenious routing that unifies the sum of Rockaway Hunting Club's considerable parts into an even greater whole. You visit the shore early, in the middle, and late in the round. In between, the course winds through a lovely neighborhood, making cunning use of not one, but two clever crossovers - once to get from the seaside homes to the bayside, the other to enable the golfer to play back from the shoreline holes to the neighborhood, before thrillingly playing back down to the water's edge at 17, and then turning back for the home hole.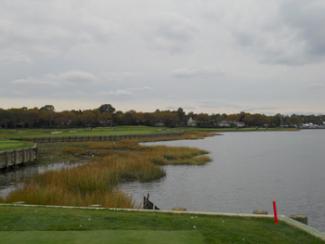 Another Great Use of the Water on a Tee Shot
The setting is also completely transporative as well as restorative. While the seaside holes have an unmistakably South Carolina Lowcountry feel to them, the neighborhood holes have an enchanting charm.

"It is a warm and intimate course, a property that has terrific character, a seaside course, but one with that's classy and understated. You have wonderful, expansive views across the waterfront holes on the one hand, and then the other holes that play through beachside homes and cottages," explained architect Jim Wagner, Hanse's right-hand man for the restoration work at RHC.

"It's the combination of the two that makes RHC unique and special. It's so relaxing; it reminds me of going to my grandparents' beach house and hanging out on endless summer nights. There's nothing cookie-cutter or mundane about it."

It took an expert at Emmet restoration like Hanse, still buoyantly riding the crest of a high wave of success from his work restoring St. George's Golf and Country Club in Toronto to its 1900s' Golden Age splendor, to tackle the distinctive Emmet bunkering, green contours and strategies.

"Hanse is absolutely one of my favorite architects and one of the most talented. He's taught me a great deal about architecture, especially that great golf architecture like you find at classic, Golden Age courses makes you think your way around the golf course," stated PGA Tour star Brad Faxon, one of the smartest Tour players when it comes to golf design.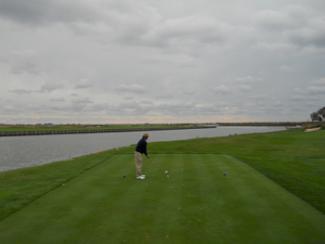 The 7th Tee and Its Diagonal Hazard
"You know how Tiger Woods is always saying in interviews that he likes courses where, 'It's all there in front of you,'? Well he needs to stop saying that, especially if he's going to design golf courses,, because great classic architecture is not 'all there in front of you.' You have to puzzle it out, and its not necessarily easy. Gil's a master of that."

One of Hanse's greatest successes was how he made the Emmet holes look like Emmet: severe mounding on three sides of the green encasing a wrap-around bunker, while the front of the green is open to the ground game, the apron being a seamless extension of the fairway itself. Best of all, all of Emmet's bold internal green contours are still present, making these greens proper rejoinders to his finest at Garden City or Leatherstocking.

"Preserve and restore was the order of the day. The brilliant routing and old-school design features speak for themselves, as does the setting. It's a unique golf course, and an absolutely superb members' club," Wagner noted. "Our goal was to tie it all together, bring back flavor that could have been lost over time, and we did that by widening fairways and bringing green complexes to their original size. Additionally, wind plays a large part of the course and we wanted to embrace that. The wind makes that course change not just every day, but perhaps even every hour."

Hanse and team already had significant experience restoring Emmet, both at St. George's and under Tom Doak's direction at Garden City. However, the blend of Emmet and Tillinghast presented the problem of unifying a whole of ideologically disparate men.

"We never found exactly what was Emmet and what was Tillinghast," Wagner explained. "Emmet's work was easier to spot due to the scale and positioning of the bunkering as well as the exposed sand and the shapes of some of the greens."

Meanwhile, according to Wagner, the bulk of the work on the waterfront holes was, similarly, limited to pulling green pads back to their full size and restoring angles of attack in the fairways. "Remember that it's believed Perry Maxwell did some work here as well in the '30s. Nobody knows what for certain right now, but perhaps 15 and 16 could be his," Wagner asserted. "Those green contours are really bold."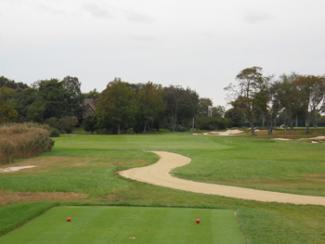 The Drive on No. 2 Plays over the Bunker
Wagner's hunch may be dead-on. No less a personage than quintessential golf course architecture editor Whitten agrees. "I interviewed Press at his Arabian horse ranch in Colorado, and he confirmed that his father worked at Rockaway," he declared, specifically naming 15 and 16. Letters from Perry himself apparently confirm his presence in Lawrence, N.Y., and his work at the club.

Head professional Ryan George and club historians are researching not only Maxwell's role, but also the exact dates and details of the work done by Emmet and Tillinghast as well as well as other club history. An excellent student of architecture himself, George agreed that the out-and-back routing recalls the links of the U.K. in that the property does indeed link the land to the sea, with its inner loop of holes going to and from the bay, and the outer loop hugging the shoreline. Yes, they are like two completely different experiences, but they are so smoothly intertwined by the charm of the neighborhood and the terrain, they flow naturally.

You open the round playing directly to the bay. The first green sits by the water's edge, surrounded on both sides and behind by a textbook example of one of Emmet's wrap-around bunkers, set within a sea of heaving mounds. It's an exhilarating start to the day, heralding an epic round on a course of great architectural significance as well as a sparkling natural setting.

In one of the routing's endearing quirks, the second hole - your author's favorite on the golf course - returns you back to the clubhouse. The optimum drive is a fade around (or a bomb over) the right fairway bunker. The fairway swerves around the bunker and up the hill to a green that features not only a severe false front, but a wondrous horseshoe-shaped ridge in it.
"It's exactly what you see at many of the great Golden Age courses, usually on one of the Macdonald Bloodline's 'Short' holes," explained golf architecture expert Bruce Moulton. "They have the same thing at Forsgate's 17th, for example." At Rockaway, the open end of the horseshoe points to the right side - as opposed to the front, which is far more common (i.e. pointed back down the fairway).

After crossing the entrance road, "the short par-3 third plays through what used to be an old polo field," explains Wagner. It also brings the golfer to the middle of the neighborhood and the first of the crossovers. While the fourth hole plays through the homes, it is never crowded by them. Calling for a draw off the tee, this long par-4 - the No. 1 handicap hole on the course - also plays into the teeth of the prevailing wind.

You have to watch for more than three-putts on the fourth green, because although the short-iron, par-3 fifth doesn't play directly over the putting surface, "it's close enough for Jazz" as they say. If you blade-pull one badly enough (or hit a goofy hook), you might send the group behind you scurrying. Still this little hole is as prim as a cameo, nestled snugly between the dunes and cottages, and the last we'll see of civilization for nigh on nine holes.

The sixth tee signals the beginning of the seaside holes, each one better than the last. Six, with it's green newly extended to its former size and shape, takes you to the edge of the bay, while seven, eight, and nine - all par-4s and each incorporating different angles and carry distances for tee shots over the water - play out to a point, before turning home. The stretch of 10-13 is equally thrilling, and over the course of the shoreline holes, the golfer plays shots into every wind direction and from many different angles over and around the water. It's a primal setting and, when the wind is up, a round here is the quintessence of golf.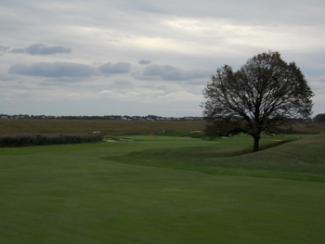 The 17th Fairway Plays to the Water One Last Time
The par-3 14th is the second of the crossovers, bringing the player back to the neighborhood and the possible Maxwell holes at 15 and 16. No. 15 is interesting. Another short par-4, this 90-degree dogleg swings hard around some houses, but also plays over a creek that crosses the fairway in two dangerous places. Hanse and Wagner cut down a number of trees, increasing the airspace and angles of attack. But the fairway is still tiny and the green one of the smallest and most contoured on the course.

"15 works now even though a couple trees still don't allow you to see all the way around the corner, but it's a members club, and the tee angle is set that way, so we preserved what was there," said Wagner. "We had to keep the unique character and quirk. And it is drivable."

Wagner may be a little optimistic with that sentiment. There's precious little room to place your drive, and absolutely nowhere to miss. The hole boomerangs around houses and creek. Plus, the green is the size of an acorn. Drive it, Jim? You'd need you need a satellite GPS missile guided from NORAD to hit that green. I'm not sure the temptation outweighs the penalty for missing enough to entice many golfers to try it. But if they moved the tees up a set and improved the angle, that might tempt everyone into taking a shot, with big numbers still a possibility because of the green complex.

You know how some greens have elephants buried under them? Or a hippopotamus? Or a rhinoceros? Well at 15, Maxwell (or whoever) buried the whole damn zoo. There's just not a straight putt on it. And if that's not enough, it's miniscule. Still, it certainly does exemplify the golf's architect's strategic tenet of, "I'll give you a chance to hit a green in one stroke less than regulation, but I certainly won't help you do it." You don't help a guy make an eagle, but you do help a guy decide he wants to go for eagle, thereby enticing him into a nine. For such a tiny little hole, there's a lot of trouble to get into at 15, but short holes with the potential for wide scoring swings are far more interesting and exciting that long, straight, penal, center-line slogs.
The par-4 17th, a fade-off-the-tee and draw-into-the-green, plays one last time to the water's edge before you turn home.

The land for Rockaway Hinting Club was meant for golf. With its brilliant use of the land, it's not only the crème de la crème of the Five Towns courses, it's one of the best courses on the entire Eastern seaboard and a design of national significance and importance: required study for any true student of golf architecture.

It's not just a golf course, it's a museum piece, incalculably valuable due to its one-of-a-kind architectural heritage and painstakingly detailed (and successful) restoration. Better still, RHC is one of those country clubs so magical, so inspiring, that even if the golf course adds a lot of graphite to your scorecard, the golfer wins every day anyway.

Is Rockaway quirky? Of course it is. Is that what makes it so good? Absolutely. It boasts both character and intelligence, two critical attributes to any truly great golf course.

Faxon is right, Tiger: When "it's all right there in front of you," it's boring. And to those of you concerned that "quirky" is a negative of any kind, well you best guess again. All "quirky" means is "unusual." The real problem is that PR people started defining what was "usual" without knowing what they were looking at, and in the '50s through the '80s that turned out all-too-frequently to mean "boring!"

Remember, back in the days of Emmet and Macdonald and Maxwell, quirk was considered normal. Quirk made golfers think and was therefore an excellent natural, organic defense to a golf course. The search for fairness, (along with too much hype of how pretty courses are), dumbed down golf architecture for many decades. We are only now just pulling out of that nosedive.

Rockaway Hunting Club is now an example of how looking back to the past is the way forward for golf course design and the industry. In an age where everything is over-hyped and over-packaged with a saccharine-sweet veneer, we still have some things that are pure.

Sure, you could take everything I've said and dismiss it as pure enthusiasm, but once you play Rockaway Hunting Club for yourself, you'll agree. You'll feel your heart glow every bit as much as Lucky Jack Aubrey did. And that's what a round of golf is supposed to do in the first place.
Since launching his first golf writing website in 2004, http://jayflemma.blogspot.com, Jay Flemma's comparative analysis of golf designs and knowledge of golf course architecture and golf travel have garnered wide industry respect. In researching his book on America's great public golf courses (and whether they're worth the money), Jay has played over 220 nationally ranked public golf courses in 37 different states. Jay has played about 1,649,000 yards of golf - or roughly 938 miles. His pieces on travel and architecture appear in Golf Observer (www.golfobserver.com), Cybergolf and other print magazines. When not researching golf courses for design, value and excitement, Jay is an entertainment, copyright, Internet and trademark lawyer and an Entertainment and Internet Law professor in Manhattan. His clients have been nominated for Grammy and Emmy awards, won a Sundance Film Festival Best Director award, performed on stage and screen, and designed pop art for museums and collectors. Jay lives in Forest Hills, N.Y., and is fiercely loyal to his alma maters, Deerfield Academy in Massachusetts and Trinity College in Connecticut.