The Forced-Curve Tee Shot
Most great courses are said to "require all the shots." Certainly, fades and draws are among the shots that create a well-rounded test of golf.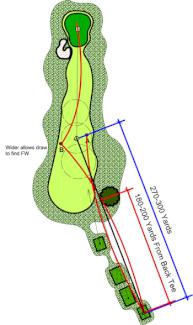 While trees were not a part of Scottish links golf, those old golfers - as well as many new ones - think it should be kept that way. They believe that trees should be a backdrop at best, and that there should NEVER be a vertical element disrupting a straight aerial shot at the target.

In reality, as golf has adapted its playing grounds around the world, most natural sites contain trees. If you believe in natural golf courses and using natural elements as hazards, as most do, then you accept that trees can and should be used as hazard and strategic elements.

Specifically, ground features and hazards may suggest, but don't force, a curved shot. Well-placed trees can dictate a flight pattern. Most believe that a curved shot might be required to get you to some desirable fairway area, but since many cannot work the ball at will some portion of the fairway should be available to those who merely hit it straight.

And those who play with a constant fade or draw may demand being able to hit the fairway with their shot pattern, resulting in very wide fairways. As shown, using the proper shot pattern leaves a shorter approach shot, and green design may further amplify the advantage of curving around the tree.
Modern golf shots reach maximum curvature - both horizontally and vertically - about two-thirds through its flight. For a 270- to 300-yard tee shot, a tree encroaching into the fairway at 180 to 200 yards from the tee allows players to bend shots around it, and minimizes the additional width required to allow all shots a place to land. Trees placed closer to the tee require wider fairways, and to hookers, seem particularly uncomfortable. They also reduce the option of using fairway woods to clear the tree with a higher shot.

Since some players will have problems curving their drives, a steady diet of such shots isn't recommended (although many good courses do require it) and balance - one left for every one right - is desirable. To provide that "complete test of golf," a few examples, especially on wooded courses, should be included.
Jeffrey D. Brauer began his career as an apprentice in the Chicago area in 1977. His first project was Kemper Lakes, which shortly after hosted the 1989 PGA Championship. He formed GolfScapes in Arlington, Texas, in 1984. In the last 29 years he has designed and consulted on a wide spectrum of projects, ranging from partial renovations to international resorts. His recent work includes teaming with the design team of Pascuzzo and Pate on a remodel of the world-famous La Costa Resort & Spa in California, and renovations at Superior National Golf Course in Lutsen, Minn., and Mesquite Municipal Golf Course in Mesquite, Texas.

He has been a member of the American Society of Golf Course Architects since 1981, serving as President during its 50th Anniversary year in 1995-96. Jeff still studies the classic works - both old and new, and has played more than 75 of the best courses in the world.

Jeff gives many presentations and is a regular architecture columnist for many publications and websites, including Golf Course Industry and Cybergolf.com. He has also been a strong advocate for the "Tee it Forward" campaign and strives to make his courses fit the description of "fun to play every day."

Jeff's work has been spotlighted in most of the world's major golf magazines. Golf World ranked him as one of the top-20 golf course architects and Golf Inc. ranked him as the world's fourth-best value in golf architecture in 2010. Jeff's portfolio and reputation keep him at the forefront of desired designers for new courses, reconstruction and renovation projects. For more about Jeff, visit http://www.jeffreydbrauer.com/sites/courses/layout.asp?id=859&page=48451.