The Funny Thing About Golf
By: Elisa Gaudet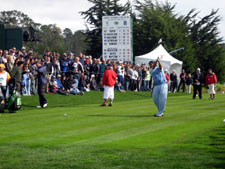 Although golf has traditionally conjured up snooty and uptight images, there have always been funny men who love the game and players who love to have fun. Whether you enjoy high-brow or low-rent guffaws, golfers and comedians have always had a secure place on the golf course.
The godfather of this kinship was Bob Hope. Since 1960 the Bob Hope Chrysler Classic has attracted the biggest celebrities while becoming an iconic event. The tournament's first winner was Arnold Palmer, whose total of 22-under-par 338 set a tournament record that would not be broken for nearly 20 years. It was also the first of his eight victories in 1960 - Arnie's best-ever year as a professional.
Other comedians with less than stellar golf skills have also hosted events. Jack Lemmon and Walter Matthau were the marquee names of the Lemmon/Matthau Golf Classic at Wilshire Country Club in Los Angeles. While he never played well, Lemmon loved the game. Never was that more apparent than his annual participation with partner Peter Jacobsen in the AT&T Pro-Am at Pebble Beach, which he once said caused more angst than the most difficult acting role.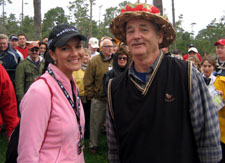 The current darlings of the AT&T are George Lopez and Bill Murray, the latter of whom has the largest gallery at the annual event. The former star of Saturday Night Live who now commands leading roles in feature films, Murray never fails to entertain the crowds that swarm his foursome -including long-time and long-suffering playing partner Scott Simpson - with his high jinks and surprisingly refined golf skills honed as a teenager at a course in Evanston, Ill., where he Murray and his brothers caddied.
Bill's brother Brian Doyle-Murray co-wrote "Caddyshack," widely believed to be the best golf film ever made. The movie gave us the Al Czervik, played by Rodney Dangerfield, the rich but vulgar slob who wore ultra-bright plaid jackets and disliked the prissy members of Bushwood Country Club. His main objective is to win enough money betting to buy the club and turn it into a brothel. Dangerfield's outrageous role was a slap in the face to stodgy old, traditional golf.
It seems that the day of the comedic professional golfer is long gone. Primarily due to the multi-million-dollar purses on the PGA Tour, golf is much more serious than it used to be and there just isn't much room for laughs - other than the occasional pratfall by Woody Austin. Golfers known for comedic flair such as David Feherty, Gary McCord and Lee Trevino have faded away. Trevino was called the "Merry Mex" for his nonstop chatting during rounds. But the native Texan had plenty of game. In 1968 he won the U.S. Open, the first of his six major titles. By 1970 Trevino was the Tour's leading money winner, while also being a showman who delighted galleries. Trevino, once struck by lightning on a golf course, was the one who came up with the famous quote: "If you're caught on a golf course during a storm and are afraid of lightning, hold up a 1-iron. Not even God can hit a 1-iron."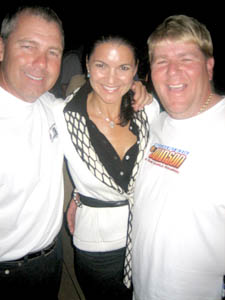 John Daly may be the last player who represents the good-time guys from yesteryear. With a lion as his symbol and a motto of "grip it and rip it," the Arkansan is often seen on the course with a cigarette and off the course with a beer. His off-course drama reads like a soap opera, and many fans can't help but be attracted to his story. Daly tells it like it is and his followers during tournaments rival Tiger's. Adding to the mystique are his mammoth drives and an even bigger personality that led him to pen a memoir entitled, "My Life in and out of the Rough." Daly's book is an often shockingly candid take of a pro athlete battling assorted demons (alcohol, gambling, chocolate, sex and weight), and, after four marriages, divorce lawyers. In an age when most touring pros travel to tournaments by private jet, Daly drives to most events in a large RV.
Feherty, an Irishman, spent most of his playing career on the European Tour, where he won five titles. Now better known as an on-course reporter and golf analyst for CBS Sports, Feherty's column on the last page of Golf magazine is funny and candidly witty. You might have seen Feherty in the Cobra commercial where he shows off his trampolining skills dressed as a cheerleader, an antic few men would attempt.
Here's hoping more comic personalities come along to spice up the game.

"We have a pond in the back. We have a pool and a pond. The pond would be good for you." Ty Webb (Chevy Chase) in "Caddyshack"
Elisa Gaudet brings a wealth of entertainment and golf experience to Cybergolf. Elisa has spent the past several years in the golf industry in the U.S., Latin America and Spain. She worked for the PGA Tour and the Tour de las Americas before founding Executive Golf International, a golf marketing company that works with clients to develop strategies using golf as the medium. Often referred to as the Maria Bartiromo (a business analyst for CNBC) of golf, Elisa says: "Golf, as a marketing tool, has been around for years. It's amazing how many new ways companies can align their brand with the golf market to reach their target audience. Our goal is to create alliances and establish cross-border relations." Elisa also worked in the entertainment industry for over 10 years, including five in Los Angeles as a model and actress. She can be seen at many celebrity golf events and often gets the inside scoop from PGA Tour players. For more information about Elisa, visit her websites at www.onthelip.com or Executive Golf International www.execgolfintl.com.