The Future of Golf Equipment is Near
By: Tony Dear
In the 1966 sci-fi thriller, "Fantastic Voyage," starring Stephen Boyd, Raquel Welch and Donald Pleasance, a team of medical experts and a CIA agent are shrunken to microscopic size and injected into the blood stream of a brilliant scientist from behind the Iron Curtain who has mastered the theory of miniaturization but who has slipped into a coma following an attempt on his life.
Reviews of Isaac Asimov's classic adventure mention the gripping action (the team has an hour to get in, destroy a blood clot on Benes's brain and get out before nasty white blood cells start attacking), sophisticated dialogue and the ingenious special effects which earned the film an Oscar.
Human beings the size of cells swimming around in another man's body was viewed as somewhat far-fetched in 1966, of course, and it still seems implausible today. But, according to Ray Kurzweil, an inventor, entrepreneur, author and futurist, the concept of atomic-sized robots hunting down viruses and other aliens in our anatomies is just around the corner.
In his highly speculative 2004 book, named after Asimov's film and subtitled "Live Long Enough to Live Forever," Kurzweil identifies three bridges which, when crossed, will supposedly enable man to live indefinitely. The first two involve optimizing diet and exercise, aggressive supplementation and the continued development of disease-modifying therapies, while the third focuses on the construction of materials atom by atom – nanotechnology (a nanometer is one billionth of a meter) – and its enormous potential in the field of medicine.
"As we peer a couple of decades into the future, nanotechnology will enable us to rebuild and extend our bodies and brains and create virtually any product from mere information," says Kurzweil. "Within a quarter-century, non-biological intelligence will match the range and subtlety of human intelligence. It will then soar past it because of the continuing acceleration of information-based technologies, as well as the ability of machines to instantly share their knowledge. Intelligent nano-robots will be deeply integrated in our bodies, our brains, and our environment, providing vastly extended longevity, full-immersion virtual reality incorporating all of the senses, and vastly enhanced human intelligence. The result will be an intimate merger between the technology-creating species and the technological evolutionary process it spawned."
That's nice, but what on Earth has it got to do with golf?
Well, the same technology Kurzweil suggests will one day allow 'nanobots' to destroy pathogens, remove debris from our arteries and even correct shortcomings in our DNA is currently being scrutinized by the likes of Nike, Callaway and Titleist with a view on curbing your slice and adding 10 yards to your drives. Indeed, a handful of golf equipment manufacturers are already using it.
Nanotechnology, or the concept of it at least, has been around for decades. In 1959, the great physicist Richard Feynman suggested it should be possible to build machines small enough to manufacture objects with atomic precision. Supporters of the theory faced accusations of science fiction for many years. But the creation, in 2000, of the United States National Nanotechnology Initiative, which currently enjoys $982 million worth of federal funding, convinced a skeptical world there was definitely something in it.
Sales of products incorporating emerging nanotechnology are expected to rise from less than 0.1 percent of global manufacturing output today to 15% in 2014, totaling $2.6 trillion. Applications range from ski wax, digital cameras, anti-reflective sunglasses and stain-resistant fabrics aimed at the consumer, to less glamorous industrial components such as metals, composites and ceramics that can now be made considerably stronger, yet lighter.
Strong and light sounds like the perfect recipe for a golf club, of course, which is why so many golf club manufacturers are now devoting big bucks to nano R&D. Thus far, the only company among the big boys to convert research into tangible products is Wilson, which offers three drivers, a fairway wood, four balls and even a golf bag made using nano-materials.

The Chicago-based firm began looking into the potential of nanotechnology six years ago, but didn't come out with a product – the NCODE series of tennis rackets – until 2004. Later in the year, it started shipping drivers and fairway woods, the Pd5, Dd5, Td5 (MSRP - $300) and FwC (MSRP - $200), whose crowns are constructed with nano carbon which, Wilson claims, creates a low-density, high-strength clubhead. Angus Moir, global business director, says use of nano materials sets Wilson apart from the competition. "They make our products more user friendly," he says.

Director of research, Bob Thurman, is obviously a big believer too. "The benefits of a nano-titanium composite clubhead are numerous," he says. "The nano-treated carbon is 1,000 times stronger than steel and one-sixth the weight. The nano-tubes [tiny, hollow cylinders with an outside diameter of a nanometer] stiffen the carbon providing a lighter, more rigid structure that's better able to withstand high-speed collision. It also prevents small localized voids in the crown, which make it perform more consistently."

That's not all it does. "The use of the nano crown allows us to free up almost 10 percent of the head weight," Thurman adds. "We can then relocate that weight low and deep in the head, which lowers the center of gravity, moving it further from the face. That produces the ideal combination of high launch and low spin."

The manufacturing process is proprietary, so details are for Wilson's eyes only. But it basically involves multi-wall nano-tubes being applied to layers of graphite using heat, before construction and shaping of the head begins.

Matt Savard, marketing communications manager at Grafalloy, a True Temper-owned brand whose Prototype CompNT nano shaft was released late last year, sheds more light on the process. "We impregnate the resin system in the shaft with nanotubes," he explains. "The nanotubes come in the form of a powder, which is mixed with the resin. The resin which holds the carbon fibers together is really the weak link in a typical shaft but the nanotubes help bind the fibers together much better, leaving no voids. The shaft is consequently much stronger."

Rival shaft firm Accuflex was the first company to introduce a nano composite shaft. The Evolution, which debuted last August and, according to the firm's vice-president, Tom Cassidy, is currently being used by the 30-35 PGA tour professionals. 'They like the reduced torque and increased stability," says Cassidy. "But the Evolution will help any golfer because it allows you to drop a flex but maintain the same level of control."

Control, stability, strength, consistency; the golf club appears to be covered. But what about the ball? What can nanotechnology do for it?

Bob Thurman at Wilson believes introducing nano particles to the ball's core has a major impact on the way it performs. "We infuse the nano particles into the rubber chemistry of the Tx4, Px3, Dx2 and Lx2 balls. The result is an extremely soft and lively core," he says.

Going several steps further than Wilson in the nano ball business is NanoDynamics (ND), a leading manufacturer of nano materials based in Buffalo, N.Y. As well as making portable solid oxide fuel cells the size of a brief case which, says CEO Keith Blakely, could potentially power a small village in a remote area, and copper, silver and nickel nano powders with wide-ranging applications for industry, the company has also produced a nano-metal core golf ball, the NDMX, which was exhibited at this year's PGA Merchandise show in Orlando. (According to the manufacturer, the NDMX ball was approved by the USGA in early February 2006.)

The reaction of punters on the show floor was extremely positive, says Blakely. "It looks like any other ball on the outside, but when you open it up you see the core is made of metal. And that raised a few eye brows," he says. "But when delegates tried it, they loved it."

The ND ball focuses on the physics of rotation. Rotation of a golf ball increases turbulence, generating lift, which is a good. But when the rotation of a ball is off-axis, it will hook or slice, which is a bad. By engineering the golf ball in a way that the energy transfer from the club head to the ball is more efficient, says NanoDynamics, you have the possibility of generating lift and distance without as much spin. The net result is that the ball can travel as far but without the amount of off-axis spin, so less sideways curve.

In an effort to publicize the ball and the technology behind it, and help the company steer through the highly complex and competitive golf industry, Blakely enlisted the services of Frank Thomas, former technical director of the United States Golf Association (USGA) and now president of Frankly Golf, a consulting service for the golf industry based in ChampionsGate, Florida.

Thomas describes NDMX technology as one of the most significant steps in golf ball construction in the past 50 years. "The benefits," he says, "will be reduced spin velocity which in turn reduces the tendency of a golf ball to hook or slice, increased moment of inertia to provide straighter drives and truer putts, and better roll characteristics on the green thanks to less initial 'hop' off the putter face."

This is all well and good. The only problem is that the USGA doesn't like it.

In recent years, golf's ruling body in the U.S. and Mexico has been consumed with its effort to limit distance. In July 2002, the organization set a limit on a club's Co-efficient of Restitution (COR), or spring-effect, to 0.830. Then came limits on head size (460cc) and shaft length (48 inches). Now the USGA's current technical director, Dick Rugge, wants to explore spin rates and a club's moment of inertia with a view to possibly implementing new laws that might restrict the distance a golf ball travels.

It was thus no great surprise when the USGA called for a June 10th meeting in which NanoDynamics officials could meet with the USGA Equipment Standards Committee to discuss the ball's properties. After a 15-minute presentation, the committee remained unconvinced about the ball's legality and NanoDynamics, having plunged millions into its development, appealed. The legal rumblings are still going on, but it's unlikely we will be enjoying the extra distance and promise of reduced slice the NDMX claims it can provide any time soon.

Rugge, though, is quick to point out he has no problem with nanotechnology per se. "We consider every item of equipment we are given, be it a ball or a club, in conjunction with the limits and restrictions we already have in place," he says. "I'm not going to comment on any ball specifically, but if it meets the criteria set down for size, weight, velocity, symmetry and distance, then there would have to be a unique reason for it not to conform. Certain companies are making shafts with nano materials and I believe some balls have nano materials in them already. But we haven't seen anything yet that concerns us. We won't rule anything out just because it is made using nanotechnology. But we will continue to be vigilant."

NanoDynamics could, of course, seek to market the ball in the rest of the world. But Steve Otto, assistant director of the R&A's research and testing unit, says that while he is aware of the ball's design, it hasn't yet been submitted for approval.

Where all this leaves the NDMX remains to be seen. But Rugge's stance should encourage golf's largest companies to plow ahead with research. Research that won't necessarily seek to discover the potential benefits of nanotechnology, which are already becoming known, but how those benefits can be brought to the marketplace more cost-effectively than those associated with polymer-based development which, says Thurman, nano engineered metallurgy is lagging behind.

At present, nano powders cost roughly $1,000 a gram. "The stuff is incredibly expensive," says Thurman. "But we are taking advantage of some of the early commercially available nano materials that have come down in price."

As the technology develops, those prices will continue to drop, meaning more and more companies will begin building nano-based products.

Those biding their time include TaylorMade. Benoit Vincent, chief technical officer, describes nanotechnology as a wonderful buzz word. But he's reluctant to commit to it just yet. "Yes, nano materials are available, but at such great cost. You could use cheaper grade powders, but there would be no benefit to the golfer. I doubt nano materials will become common in golf for another five to ten years."

Titleist's Chris McGinley concedes it is an "emerging technology with several potentially interesting applications," but he also says the company has no immediate plans to introduce nanotech clubs.

And while Nike admits to actively researching the opportunities the new technology presents, it believes that technology just isn't ready for commercial use in the golf industry. "There is a nano craze going on in the market today," says Gary Tavares, Nike's advanced R&D manager for clubs. "There have been several articles in newspapers and magazines about it, and the government has spent hundreds of millions of dollars on the future development of nano-materials.

"The key word here is future," Tavares continues. "Nearly all experts in the field believe this is the technology of the future. At the present time, however, it is not mature enough to realize the full benefits. So the current state appears to be more sizzle than substance. There are several things to consider, such as ease of production and marketability, and it's difficult to tell if the performance benefit will significantly outweigh the cost. Nano-technology is coming fast certainly, but the real potential is not here yet."

Bob Thurman at Wilson, Matt Savard at Graffaloy and Tom Cassidy at Accuflex would probably disagree. These nano pioneers are reporting very healthy sales of their nano-based products. It would be preposterous to suggest someone as highly regarded in the field as Thurman would introduce a new technology to his company's merchandise if he didn't think it was ready.

When the nano revolution in golf will occur is unclear. What can be assumed is that it definitely will. And when it does, expect it to have every bit as profound an influence on the game as feathers, rubber, hickory, steel, Surlyn, graphite and titanium all did.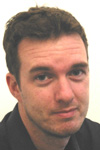 Tony Dear has been writing about golf for 11 years. A former assistant club pro from Sussex, England, Tony started out as a freelancer in 1992 before taking a staff writer's job at Fore!, a magazine based in Peterborough. As the magazine's chief instruction writer, it was Tony's job to compose instructional articles aimed at a youngish readership whose letters to the editor suggested they often got confused by technical jargon and theory. Tony brought his simple approach to teaching golf to the magazine, helping boost sales by 10,000 issues. As a result, he was nominated within the company and nationally for Young Writer of the Year awards.

From there, Tony moved 20 yards across the Emap UK office to join Today's Golfer. There, he was soon promoted to a senior editorial position, focusing on equipment, and became a significant part of a team that saw sales figures double within the magazine's first 12 months.

After three years at Emap UK, Tony was dragged kicking and screaming across the Atlantic by his American wife ("not really, I love it over here") and, after short spells in Phoenix and Denver, wound up in Seattle in May 2003. He recently moved to Bellingham in the far northwest corner of the far Northwest of the U.S. and became a father to a son on whom he has already staked £5 for the 2029 Open Championship. At present, he is freelancing for a number of print and online publications back in England including Today's Golfer, Golf World, Bogey, The Open Championship Magazine and Casino.com. He is also a contributing editor for Denver-based Colorado AvidGolfer.

Recent features include a look at Colorado's self proclaimed 'links' courses, an interview with Suzy Whaley, with whom he played nine holes ("and got soundly thrashed") and a 64-page instruction supplement for Today's Golfer.

Tony has authored three books in the last five years and been nominated for several specialist and young writers awards. "Although I've never actually won one," he admits. He is a member of the Northwest Golf Media Association and the Golf Travel Writers Association based in London.