The Gallery on Dove Mountain & Those Wicked Snack-Food Greens
By: Robert Ronning
It's a Monday in February, the first practice round of the WGC Accenture Match Play Championship at The Gallery Golf Club, South Course, near Tucson. I'm standing by the putting green, watching a few of the world's 64 top-ranked players when, suddenly, Tiger Woods casually strolls across the practice green.
I hardly notice his presence until someone in the crowd whispers "There's Tiger," and others chime in. Amid a general chant, "There's Tiger . . . follow Tiger," I duck out of the way, almost swept along by the surging crowd following him towards the driving range, then on down to the first tee for his practice round. Hundreds of fans tracking the player who's putting Marana, Ariz., on the (golf) map. Arnie had his Army; Tiger, the marquee name in golf, has his troops of adoring fans.
Earlier that morning, I followed 53rd-ranked Thomas Bjorn around the course (no army, no troops), apparently the first player to make the practice circuit on South. As I tracked Bjorn, taking a good walk unspoiled along the cart path, I pass private chalet tents, reserved for prime viewing along the middle section of the course where many matches will be contended, won and lost. These cushy spectator spots are a big part of the whole Match Play experience, primarily a corporate and charity function that includes a charity of sorts for the 32 first-round losers who each will walk away with a cool $40K just for showing up for a day. In a total $8 million purse, the winner alone would take $1.35M. But enough of that . . . it's only money.
I watched Bjorn fiddle through some fast fairways and quick greens. Every pro has his routine; Bjorn seemed not much interested in his putting game - he did have one great chip-in, but mostly several practice putts on each green. I think I could see what might have troubled him: the greens, purportedly a blend of three different bentgrasses, appeared lightning fast - PGA-Tour fast - but there was probably another, bigger issue. These are plateau-type greens, with a falling-off factor that would deflate many a pro this week. Bjorn and 31 other golfers imploded in Round 1; by Round 2, almost every top player and most of the favorites were gone.
The Gallery South Course is a beautiful desert layout and it's easy to see why the WGC/PGA chose it: it's yet another of the media-configured courses played weekly on the PGA Tour - venues staged for TV exposure and coverage. Even Golf Channel's Nick Faldo had the cheek to suggest, in a deadpan tone, that it's odd that the hazards are made so "perfect" for the pros, with the inference that the South Course accommodates this pro-tour course perfection.
More signs of perfection as I tramped across one of the fairways in a long sheep-like line of spectators. I'd been hearing how pristine The Gallery was for the competition. How carefully such courses are created or groomed to please the pros and keep the media and sponsors contented.
I play regularly in the area, but until you trod a fairway like this - The Gallery is "semiprivate" (which means it's pricey to play), you don't realize how short the grass is cut and how fast and far a PGA pro can get a ball to roll. It's amazing, almost shocking, to pad across a fairway that has a turf consistency of a putting green at your local muni. And by extension, it's a bit bizarre to stand on a so-called "rough" or "first-cut" that's of a quality you'd expect on a fairway at your average public or even private course on a dry summer day. Still, I was relieved not to find any fairways painted green for the TV coverage. The immaculate perfection on the South Course requires no green coloring.
Course perfection abounds in every way but one: those dastardly fall-off greens. So it's on those tricky, deceptively-commodious greens that you'd expect the real drama of the Accenture Match Play to unfold. Course designer John Fought intended the 7,466-yard, par-72 South to be a thinking player's course. Modeled after Pinehurst No. 2, as Fought explained in a recent Cybergolf interview, he advised pros to play smart, understand risk-reward, and position the ball well; in short, qualities we don't always see on the PGA Tour and sadly, but increasingly, qualities that aren't even much called for.
These consequences - with putting ultimately determining Match Play winners - were much on the minds of the TV commentators at The Gallery. Faldo on the greens: ". . . humpy and bumpy with lots of fall-off." Johnny Miller: ". . . that trickle effect" as the ball rolls toward the valley from greens with "lots of undulations . . ." greens with "false edges" and the center of greens often the flattest spots.

So it might very well have been the effects of those snack-food-shaped greens on the South Course - rippled potato-chip contours, undulating surfaces, taco-chip curves and ground swells, burger-bun roll-off edges from the plateaus - that could have proved fateful for many a fine player.

And a good thing too. Any little ripple that puts a crimp in the PGA Tour's misguided quest for the perfect course is fine by me. The pros' strategy of choice - the rip-it and wedge-it game - has been monotonous and robotic far too long. Perish the thought, but maybe some day the Tour game will pull back from this fantasy, NeverNeverLand picture-perfect golf; maybe the powers-that-be will find ways to make big money with a different sort of game; maybe even rediscover or move toward a grittier, unpredictable and ultimately exciting course and format.

Will golf for the armchair spectator ever be anything but a relentlessly long ball-short wedge competition that it is today? Aside from the odd flop shot or long multi-directional putt that miraculously drops in, what is there in the current Tour format that quickens the pulse? Call me old-fashioned, but what if the PGA banned those 60-degree, square-grooved wedges? Or banned wedges entirely?

Faldo . . . Miller . . . Feherty . . . stay on your guard . . . there may be changes ahead. One of these days, the cameras on those fairway towers could be angled or reconfigured to show a whole new look at this royal and ancient game. You know, I heard tell about this here old shot they call a bump and run - maybe Tiger will bring that out of his big bag of tricks again - but that's another story.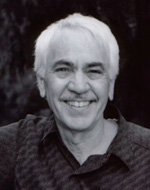 Robert Ronning writes among many disciplines, including articles in the arts, academic, and business worlds. With an early interest in theater and film, including obtaining a Ph.D. in theatre arts, he has taught communications and writing at several colleges, including City University of New York. His career in the arts has taken him many places - he studied theater in London, and later wrote and consulted in cable TV and developed film and video projects in the U.K. - before returning to roots in the Pacific Northwest. He is currently writing a book about Rod Whitaker (a.k.a. Trevanian). He now lives in Tucson where he occasionally teaches writing at Pima College and publishes pieces on humor, often appearing in Tucson's "DesertLeaf" magazine.