The Gift of Golf for Father's Day
By: Nancy Berkley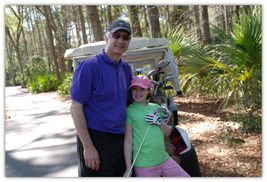 For the dad or granddad in your life, think "golf." The perfect Father's Day gift is actually two gifts - one for dad and one for the young future golfer in your family especially if it is daughter or granddaughter. But, sons will work, too.
There is no parent-child time like golf-time whether you are just hitting balls on a range or playing out on the course. Giving someone the game of golf is a gift that will keep on giving.
About Buying Junior Clubs: In buying a set of junior clubs, the most important point is to buy the right-sized club. The junior club manufacturers have made that pretty easy by either using height or age as a buying guide. To understand the height system, go to www.uskidsgolf.com. Many junior sets will say right on the box, for ages 3-5 or 6-9.

A driver, iron and putter is all a young child needs to get started. Like adult clubs, children's clubs come in many different price ranges. An inexpensive starter set of around $60 will be just fine. And, remember that golf clubs are very easy to pass along to young siblings. Many golf shops now offer junior sets - for all ages. But another good place to browse and learn about junior clubs is www.amazon.com.

You are probably already asking: What is the right age to introduce golf to a child? The PGA and LPGA purists generally advise to wait until a child is seven when coordination is good. But, many parents and grandparents, myself included, have found that whenever a child can reliably follow directions (such as where to stand so as not to hit anybody and how to hold a golf club), go for it. Please see my previous article about family golf at http://www.cybergolf.com/golf_news/why_teach_golf_to_kids.
Back to gift-buying - for dad. If dad already has a set of golf clubs, then his gift can be a dozen new golf balls or a new specialty club such as a "lob wedge" or a "hybrid" club, a new golf bag or a subscription to Golf Digest Magazine from www.golfdigest.com.

But if he is a beginner and does not own a golf set, now is the time to buy one. This golf season every golf store should have experienced sales people and bargains. The industry reports that rounds are down, which means that there should be extra inventory around that shops want to move at good prices.
Here are my shopping suggestions for dad: First be honest about his athletic ability, prior golf experience and price range. If you belong to a golf club or there is a good semiprivate club or active driving range near you, visit the professional at the pro shop for advice. Most on-course golf shops will carry major brands and be at the expensive end of the spectrum.

If that option is too pricey, my next stop would be the large national golf stores such as Edwin Watts or Golfsmith. (See their websites for locations). Next would be the large sports stores such as the Sports Authority or Dick's Sporting Goods. And one of my favorite places for good sports equipment at decent prices is Target (www.target.com). Also check other big discount stores.
The price range for a complete set of men's golf clubs is huge. You can find sets for $200 all the way up to $2,000. In my opinion, if your dad is just starting to play golf, there is nothing wrong with a starter set at starter-set prices. Every year there will be another Father's Day and if dad gets hooked on golf, buying next year's gift will be a piece of cake.

If dad is willing to go shopping with you, that's great. But if not, a gift certificate might be the best choice. Then he can go back at his convenience and pick his favorite set.

About Golf and Girls. In the first paragraph I mentioned girls. There is definitely something special for dads and daughters that golf together. In fact, one of the brightest spots in the golf industry is the growth in girls' golf.
When searching for junior golf clubs, you will be amazed how many sets are pink and very cute. Check out the Barbie™ Golf Clubs for 4-year-old girls at www.amazon.com. I am very familiar with these clubs and know that these are real golf clubs made by an established golf manufacturer. And the price is right.

In the way of background, one of the most important reasons that girls golf participation is increasing is due to the passage of federal legislation in 1972 - Title IX - which required that sports programs be offered equally to boys and girls. Today's moms and dads went all the way from kindergarten on in physical education programs where girls played sports - just like the boys. Today's moms and dads want that for their daughters, too.
A new magazine founded by a San Diego dad with three daughters who golf is Golfer Girl Magazine (www.golfergirlmagazine.com). I am an advisor to this magazine and, indeed, am partial to it. A subscription to Golfer Girl Magazine will make a nice along with that set of clubs you buy her.

About Moms, too. I don't want to leave moms out of Father's Day. It's okay perhaps if you want to let dad and his kids have a golf day together on Father's Day. But, as a mother and grandmother, I can't tell you how wonderful it is to be with your whole family playing golf.

So, moms, reading this - pay attention: If you aren't a golfer yet, give yourself the game of golf. When you are you are out shopping for dad's set of clubs, sneak a peek at all the great golf equipment and clothes for you as well.
Happy Father's Day and many happy family-golf days in the future.
Nancy Berkley, President of Berkley Consulting, is an expert on women's golf. Her book, "Women Welcome Here! A Guide to Growing Women's Golf," published by the National Golf Foundation, is an industry reference on marketing golf to women. She is a contributor to Golf for Women magazine and Chair of the Advisory Board for Golfer Girl Magazine where she writes a special series on careers in the golf industry. She is a resource for golf-industry trends and marketing advice on her website www.nancyberkley.com. Nancy also offers a Quick Question-Free Help Line on her website. After a career as a lawyer and business executive, Nancy founded Berkley Golf Consulting and The Woman's Only Guide® to Golf to share her long-time passion for golf and to help grow the game. Nancy describes herself as a bogey golfer who is too busy to play enough golf. Contact Nancy at info@nancyberkley.com or on www.nancyberkley.com.