The Gifted Life of a Young Golf Course Architect
By: Blaine Newnham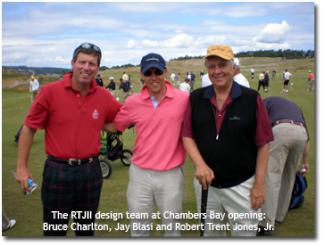 The kid architect handed me a golf ball. "Your goal," said Jay Blasi, "is to bring it back."
I was playing my first round at the wild and woolly Chambers Bay, the upstart Northwest muni that in its first year of operation was awarded both the U.S. Amateur (2010) and the U.S. Open (2015). Blasi was 28 when he wrote himself into golf history by sharing design credits for Chambers Bay with Robert Trent Jones Jr., and Bruce Charlton. The facility is on everyone's "best-of" lists; it's the only course built in the past 45 years to be anointed with a U.S. Open.
It was Blasi's first design effort. The first time he stepped on the property he was 25, a kid literally playing in a massive sand box in what would become an acclaimed $20- million project. "I couldn't have dreamed of a better opportunity," he said. "The site cried out for a great links course."
And a dream would soon come true. Not of winning the U.S. Open, but of designing a course on which it was played. "I was a well-behaved kid, especially when we traveled and ate at one of those restaurants where they brought out the crayons," said Blasi. "I'd flip over the menu and draw a golf hole."
His directive to me had more to do with his faith in the design of Chambers Bay than my ability to hit the ball straight. Blasi, who was on-site during construction more often than his cohorts at the firm, Robert Trent Jones II, knows every slope and shoulder of every nook and cranny on the expansive site overlooking Puget Sound. A big part of the design's success is very wide fairways that, while giving poorer golfers safe landing spots, demand impeccable placement by those trying to make par. Each hump and bump in them is - in effect - a hazard.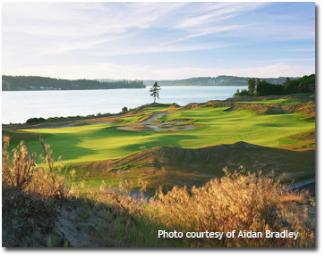 We looked closely at No. 5, a gorgeous, downhill par-4 that seems to run right into the Sound. The fairway seems impossible to miss. But the key is a bunker that sits smack in the middle-front of the green. To get to a right pin placement, you must drive along the right side of the fairway - and vice versa for a left pin location, in each case working the ball off mounds that drain into the green.
The slope from the back tees at Chambers Bay is only 133. There are almost no forced carries, very little rough and, yet, on tumbling greens with diabolical pin placements, the course can and will be devilish for the entrants in next summer's U.S. Amateur.
By the way, I didn't lose the ball Blasi gave me.
He's now finishing up work on The Patriot, the brainchild of Dan Rooney, a PGA golf pro and F-16 pilot who will move the headquarters of his association, the Fallen Heroes Foundation, to the facility outside Tulsa, Okla., when it's completed later this summer. The course winds through property that involves canyons and outcroppings. Blasi also crafted a splendid 30-acre practice facility at Stanford University that features practice greens true to the designs of Pete Dye, Alister Mackenzie, A.W. Tillinghast, Donald Ross, Tom Fazio and both senior and junior Robert Trent Jones.

"You are limited in practice only by your imagination," said Blasi, whose thoughts and those of his dad, Jac, never loomed far from golf. "He brought a couple of little plastic clubs to the hospital when I was born," said Blasi of his father.

Jac, a teacher, worked summers at a county club near the family home in Chicago. He learned enough about greens to build one in the backyard. When the family moved to Madison, Wis., the next home had two greens with bunkers. At one point, Jay drew up a scorecard for their backyard "nine."

Jac and Jay made golf pilgrimages to Harbour Town in South Carolina, Pebble Beach in California and, later, St. Andrews, Carnoustie, Royal Dornock, Cruden Bay, Nairn and Kingsbarns in Scotland.

OK, many of us love golf. And who wouldn't want to design a golf course? But how is it accomplished? Like anything else, you just go for it.

A near scratch player, Blasi played high-school golf but wasn't good enough to continue in college. He looked to enroll at the University of Wisconsin in search of a degree in business and eventually get a job. He knew how precious few golf architect jobs were available. Like none.

His parents said "Whoa." They didn't forget his written published goal in the high school newspaper, not just to design a golf course but one that would host a U.S. Open. "They challenged me to chase my dream," Blasi said gratefully. "They knew what I really wanted to do."

In reading the bios of the great architects he decided that the college major he needed was Landscape Architecture, which Wisconsin offered. "I knew something about golf holes," he said, "but I knew nothing about soils and trees, about irrigation and drainage. Landscape Architecture was perfect."

His senior project involved designing a second course at the university's golf course, University Ridge, which fortuitously had been designed by the staff at Robert Trent Jones Jr.

After college, Blasi applied everywhere. He had a good phone interview with Charlton, the president of RTJII, but nothing developed. After graduation, he went to work for a landscape firm in Baltimore. Three weeks later came a call from California. Blasi journeyed to Palo Alto to meet with Charlton, who in the meantime had been called away from the office on an emergency.

"I was just sitting there alone when Bobby came into the office," said Blasi of Robert Trent Jones Jr. The two talked and talked. They chatted about University Ridge, the one he played, the one he added 18 holes to in the college project, and the one Bobby designed in the first place. Mostly they talked about the love of the game shared by an older man and a younger one.

Blasi was hired. He did anything and everything in the office. He went back through old plans and designs in the RTJ archives. "I would have been happy to work on any course, anywhere," said Blasi. "When I saw the pictures of the site at Chambers Bay, I couldn't believe I could be a part of something so special."

A purist even at such a young age, Blasi pushed for a par-free Chambers Bay. He said he will continue his personal war on par, rough, cart paths, carts and artificial ponds. All but the par-free element are no part of Chambers Bay, as pure a course as architects and the movement of 1.5 million cubic yards of sand and dirt could produce.

Just after Chambers Bay opened, Blasi played a round there with his dad, brother and uncle. At one point, they all stopped and looked over the course that Jay helped build. They peered over the dunes, across the railroad tracks and westward into the blue waters of Puget Sound.

Jay summed up the group's feelings. "All my dreams have come true," he said. Indeed, they had.
Blaine Newnham has covered golf for 50 years. He still cherishes the memory of following Ben Hogan for 18 holes during the first round of the 1966 U.S. Open at the Olympic Club in San Francisco. He worked then for the Oakland Tribune, where he covered the Oakland Raiders during the first three seasons of head coach John Madden. Blaine moved on to Eugene, Ore., in 1971 as sports editor and columnist, covering the 1972 Olympic Games in Munich. He covered five Olympics all together - Mexico City, Munich, Los Angeles, Seoul, and Athens - before retiring in early 2005 from the Seattle Times. He covered his first Masters in 1987 when Larry Mize chipped in to beat Greg Norman, and his last in 2005 when Tiger Woods chip dramatically teetered on the lip at No. 16 and rolled in. He saw Woods' four straight major wins in 2000 and 2001, and Payne Stewart's birdie putt to win the U.S. Open at Pinehurst. Blaine now plays golf at Wing Point Golf and Country Club on Bainbridge Island, Wash., where his current index is 12.6. In 2005, Blaine received the Northwest Golf Media Association's Distinguished Service Award. He and his wife, Joanna, live in Indianola, Wash., where the Dungeness crabs outnumber the people.