The Glories of Pinehurst
By: Joel Zuckerman
I've been covering the Hilton Head golf beat for more than a dozen years. Time and again, I have espoused an ongoing theory in a wide range of various travel features. One can have a full-volume Lowcountry golf vacation, and never once peg a ball on the namesake island itself, so prevalent are the options in the surrounding communities.
Among others, there are numerous fine options in the gateway town of Bluffton, which is just west of Hilton Head. Daufuskie Island (unlike Hilton Head, which is connected by bridge to the mainland, is only accessible by boat) offers some championship caliber golf. The nearby seaside community of Beaufort, S.C., has good golf. Even Savannah, Georgia, little more than a half hour's drive, offers several compelling golf venues.

This same theme was running through my head on a recent golf-intensive foray to Pinehurst, N.C. Sure, it's the venerable Pinehurst Resort with its eight big-time courses (including famed No. 2, site of the 1999, 2005 and 2014 U.S. Opens) which give the Sandhills its golf imprimatur. But there is so much going on throughout the region golf-wise, that, much like Hilton Head, an avid player can swing to their heart's content (and to their spine's detriment) and not once trod the grounds of the esteemed Resort itself.

Here are a half-dozen of the more noteworthy courses to be found in and around Pinehurst, but not at the Pinehurst Resort.
Bayonet at Puppy Creek

This is an oddly-named, unpretentious, somewhat out-of-the-way, but highly worthwhile golf detour on the very outskirts of the Sandhill Region. It's about 30 minutes off I-95, and a bit more than that to Pinehurst itself. This meandering Willard Byrd design, making occasional use of its namesake creek, opened 15 years ago in 1995. It was the brainchild of Joe Poole, owner of the nearby Carolina Turf Company. His goal was to build a quality course without the extravagance of an expensive country club or grand clubhouse. It is an excellent venue, surprisingly so, given its somewhat remote location, to begin or end a visit to the Sandhills. www.bayonetgolf.com
Little River

In a contracting golf economy, it comes as a shock that some well-run courses are actually increasing revenue and annual rounds, but such is the case at the impressive Little River, in the town of Carthage, N.C., not even five miles from Pinehurst. It's the first American foray by the European holding company Oceanico Group, a leader in luxury golf, beach and leisure properties. The faltering economy hasn't allowed the development of 1,000-plus condo units, town-homes and single-family dwellings, as Oceanico has master-planned, but the golf in and of itself is well worthwhile.

This 1996 Dan Maples design has a rolling, pastoral quality hearkening back to its dairy farm and thoroughbred horse-farm roots. Clay-based as opposed to sand-based, there's more undulation to the fairways and elevation changes tee to green than what is typically found in the region. "Every course has 18 holes, green grass and white balls, "explains head professional Marvin Waters. "It all comes down to customer service. People are excited to come here, and it's our job to keep them that way." www.littleriver.com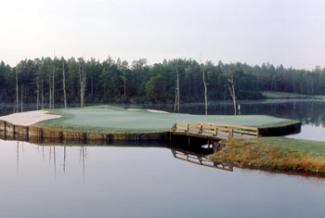 No. 12 at The Pit Golf Links
The Pit

This is a somewhat regrettable and partially accurate name for a hardscrabble facility with just a couple of redeeming features. Set on the site of a major 1920s excavation project, where sandy material was mined for the construction of the Blue Ridge Parkway, The Pit appears to be a decade or more removed from its prime. There are some interesting water features on holes 11 through 13, where players must go up and over the hazard repeatedly. But overall, this isn't a shining example of the prime of Pinehurst-area golf, at least not in its current, rough-around-the-edges iteration. www.pitgolf.com
Tobacco Road

The late Mike Strantz was truly an iconoclast, and of the handful of original designs he completed before his untimely death some years ago, nothing illustrates that sensibility more than Tobacco Road. The opening tee shot - downhill between two massive, shaggy dunes - is reminiscent of either Ireland's Ballybunion or Scotland's Cruden Bay. Strantz tucks greens down in glens and atop sand hills, some are more than hidden; the par-5 13th green belongs in the witness-protection program. The ninth green is so far above the fairway a golfer is tempted to plant, not remove, a flag upon reaching the surface. The par-3 third roils and shimmies to the point that walking on it, never mind putting on it, requires a balancing act.

Two thoughts in closing. One, it's no accident that a course maxing out at 6,500 yards carries a sky-high slope rating of 150. Second, try and play it with a veteran, someone who has been here several times before. Either that, or treat the yardage book like it's a survival manual. In many ways, it is. www.tobaccoroadgolf.com
Pine Needles

Unlike every other modern marvel under discussion, Pine Needles is a Golden Age classic dating from 1928 and designed by Pinehurst's "Patron Saint" of golf course architecture, Scotsman Donald Ross. It's also a three-time host venue for the U.S. Women's Open (and with a stellar roster of champions at that - Annika Sorenstam, Karrie Webb and Christie Kerr having laid claim to the titles).

Pine Needles is a rolling landscape dotted with maples, holly trees, azaleas, dogwood, blackjack oaks and loblolly pines. It is a straightforward, relatively simple test of golf - no bells, whistles or artifice, but its length, and upslope topography in the landing areas, which serves to kill the forward momentum of one's tee shots, provides plenty of challenges. The course has a noteworthy history aside from its USGA pedigree, in that it was once partially owned by three-time major champion Julius Boros. Even more significantly, it remains the home facility of LPGA Charter Member Peggy Kirk Bell, widely regarded as one of the greatest golf instructors ever. www.pineneedles-midpines.com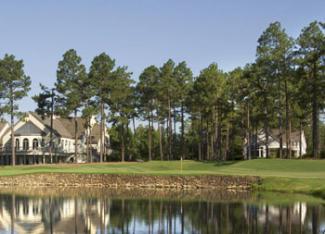 9th Green & Clubhouse at National Golf Club
The National

This is a Jack Nicklaus toughie with wide fairways, puzzling greens and all sorts of variety from hole to hole. This course doesn't get nearly as much attention as some of the more prominent creations in the Nicklaus oeuvre, but it is a stern and formidable test of the game, while being a beautiful walk in the woods. The front-side par-3 holes are water-laden, and some of the shorter par-4s are just as testy as the longer ones due to the proliferation of strategically placed trees and bunkering. One unusual feature is that the on-course yardages are marked to the front, not the center of the green. It takes a careful examination of the day's pin sheet to determine if the pin is plus-five, plus-15, or even plus-25 or more yards from the front edge. It takes some getting used to, but will keep a golfer thinking throughout, and that's always a good thing. www.nationalgolfclub.com
Where to Eat in Pinehurst

As any football hopeful can tell you, "two-a-days" aren't particularly conducive to relaxed dining. And while golf "two-a-days" doesn't involve running tires or full-contact drills, subsisting on instant oatmeal by dawn and power bars between rounds isn't the life of the gourmand. Thankfully, there's always dinner. Greater Pinehurst might not have as many fine restaurants as golf courses, but it's closer than one might think.

Here are five superb dinner choices, either in Pinehurst itself, or the neighboring community of Southern Pines:

Ironwood Café, under the direction of Chef-owner Nathan Continenza. This handsome indoor/outdoor eatery just a few minutes from downtown Pinehurst specializes in casual fine dining. Salads, seafood, meats and desserts are all exceptionally prepared. http://www.theironwoodcafe.com

Elliotts on Linden offers what management refers to as eclectic cuisine, European technique, and southern hospitality all rolled into one. It's well worth a visit, and only a mile or so from downtown Pinehurst. www.elliottsonlinden.com

Ashten's is located in the heart of nearby Southern Pines. They serve what they refer to as global cuisine from a southern perspective, and do so in a charming series of rooms reminiscent of an old English manor house. They also emphasize using local suppliers for as many menu items as possible. www.ashtens.com  

CorfuTaverna is traditional Greek food, located directly across the street from Ashten's in Southern Pines. It's casual, relaxed, with a convivial atmosphere and all sorts of Greek favorites like dolmades, plaki, feta cheese, calmata olives, tzatziki and lemon potatoes. (910) 693-1839

Ten-Ya, directly on one of the two or three small boulevards that make up the brunt of downtown Pienhurst, doesn't just offer great sushi for a land-locked little village. It offers great sushi, period, end of sentence. It's a laid-back eatery with attentive service and extremely fresh food. (910) 695-1085ý
Joel Zuckerman, called "One of the Southeast's most respected and sought-after golf writers" by Golfer's Guide Magazine, is an award-winning travel writer based in Savannah, Ga., and Park City, Utah. He has written five books, including the epic "Pete Dye Golf Courses" in 2008. Joel's course reviews, player profiles, essays and features have appeared in more that 100 publications internationally, including Sports Illustrated, Golf, Continental Magazine, Travel & Leisure Golf, Sky Magazine, Golf Connoisseur, Golfweek, Estates West, Millionaire and Golf International. For more of Joel, visit www.vagabondgolfer.com.