'The Golf Observer 2009 PGA Tour Preview' by Sal Johnson
By: Jay Flemma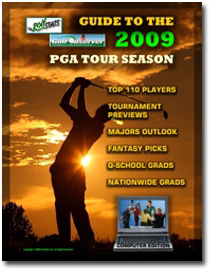 How would you like to have every program from every PGA Tour event for the entire year, from Kapalua to the last silly season cash-grab? What if you also could have had every stat you could possibly need, whether it's for answering that pesky trivia question or for handicapping the field for a tenner or quid wager with Paddy from Doonbeg? But wait, there's more! What if you could find it all in one book written by the PGA Tour's go-to stats man? The guy major networks and the tours have trusted since Roone Arledge and Howard Cosell roamed the airwaves?
Once again Sal Johnson, Golf Observer's founder, publisher, and very own James Joyce, has completed his yearly Tour preview, and - just like every other year - he has everything you need in one place. For decades, Sal's name has been synonymous with statistical analysis on the PGA Tour. In one volume, Sal breaks down the top 110 players, the Q school grads and the best Nationwide Tour players, analyzes every single course, and has articles from wily, veteran, award-winning golf writers like David Barrett and Len Shapiro. You could collect the individual program from every weekly tour stop, spend 40-50 times as much as you would for the Golf Observer guide, and still not get anywhere near as much information and analysis.
Dave Seanor and Sal give you a season's worth of handicapping data and analysis in their predictions section, Tommy Bonk who has written for G.D. and the L.A. Times has a great preview piece on Tiger's rehab and comeback expectations (hint: Tiger led the PGA Tour in scoring each year from 2005-07 and was leading last year with his lowest average ever before his injury). Sal also analyzes each golf course with keys to winning at that particular as well as cross-referencing players who had success there in the past, and whose game's fit the course's strategy.
Finally, Len Shapiro previews each of the majors, everything from the new changes to Augusta and how they'll affect play, to those who'll have the best chance at Tillinghast's masterpiece at Bethpage Black, from the sunny links at Turnberry and who'll reprise the great "Duel in the Sun" from '77 to Hazeltine's changes over time and how she turned from a horrible U.S. Open venue, to a more player-friendly PGA championship venue, and another in the long line of excellent Midwest venues the PGA Championship has showcased. (Like Southern Hills and Whistling Straits. Of course that big ugly dog, Medinah, is another matter altogether. I like what Dan Jenkins wrote about Medinah: the Arabian style clubhouse "looks like something designed by a Shriner or after the architect put on a Fez and hit every bar on Rush Street." If you think that's scary Dan, you should see the golf course. Happily, even though Jones designed both, Hazeltine is nothing like Medinah…)
Anyway, for only $14.95 it's a bargain all day long. You can't beat that price with a stick. The book pays for itself in bar bets and handicapping within the first month and for those in the media, it's easier to use and easier to carry on the road than either the USGA or PGA versions of the same product. If there are drawbacks, it won't have as much on the majors as those two media-only insider guides. But on another note, the main drawback from last year - coverage of European Tour players - has been remedied and now you can find as much on the Euros as the Yanks.
"The Golf Observer 2009 PGA Tour Preview," by Sal Johnson, 182 pages, $14.95, available only online at: http://www.golfobserver.com/features/Sal/Salblog09.php


Since launching his first golf writing website in 2004, http://www.jayflemma.thegolfspace.com, Jay Flemma's comparative analysis of golf designs and knowledge of golf course architecture and golf travel have garnered wide industry respect. In researching his book on America's great public golf courses (and whether they're worth the money), Jay, an associate editor of Cybergolf, has played over 220 nationally ranked public golf courses in 37 different states. Jay has played about 1,649,000 yards of golf - or roughly 938 miles. His pieces on travel and architecture appear in Golf Observer (www.golfobserver.com), Cybergolf and other print magazines. When not researching golf courses for design, value and excitement, Jay is an entertainment, copyright, Internet and trademark lawyer and an Entertainment and Internet Law professor in Manhattan. His clients have been nominated for Grammy and Emmy awards, won a Sundance Film Festival Best Director award, performed on stage and screen, and designed pop art for museums and collectors. Jay lives in Forest Hills, N.Y., and is fiercely loyal to his alma maters, Deerfield Academy in Massachusetts and Trinity College in Connecticut.