The Golf Rum Diaries - Great Golf, but Fear & Loathing of the Food in Cabo San Lucas
By: Jay Flemma
[Editor's Note: We interrupt Jay's series on Casa de Campo…again . . . for another installment of his "Golf Rum Diaries," this time on Cabo del Sol (Part 1). The Casa series will conclude shortly, further continuing his analysis of golf in the Mexico/Caribbean/U.S. Offshore/Central America region. In the meantime, here's the first piece on Mexico. As for the end of the Casa work: Jay get your laptop humming!]

[Author's reply: Yes, Dad.]

The Mexican sunrise over the Sheraton Hacienda del Mar silhouettes tall swaying palm trees and swerving sea gulls in tableau against a rainbow palette of pastel colors: soft pink, burnished gold, velvety purple and soothing aquamarine. All the beach lies in restful silence, hushed before the coming morning. With the sun still waiting to crest over the horizon, all you see is shadows - just serene outlines of the shapes of the leaves of the palms, the perfect curve of the hotel dome soaring to its apex, and the rugged, rocky promontory topped by the lighthouse standing sentinel over the majestic Baja cape.

It's just after 6 a.m. and in exactly six hours I will be winging back to the Northeast to the frantic mania of New York City and the breakneck pace of an American law practice. But for a few more blessed minutes I can hear absolutely nothing but the whisper of the world as the waves of the Sea of Cortez crash in their tumult against the surf, as they have since the Great Deluge receded and the Baja Peninsula was raised from the depths. Despite the excellent golf, the incomparable weather of this tropical paradise, and the accommodating generosity of my hosts, right now is the moment of grace, the blessed peace I sought most earnestly in this assignment, solace and solitude amidst the traffic of the world, exactly what one looks for in a vacation destination.

When you stop and listen, you can hear nature speak to you, and that's worth more than any oro y plata.

It's been a schizophrenic whirlwind of a trip. Six rounds of golf over five solid golf courses in five days, but also a series of interminable dinners, pointless whirligig tours and, worst of all, lock-horn tests of will involving one person doing her best to starve me to the point of absurdity, foisting upon me some of the zaniest food options the region has to offer, culinary terrors so cockamamie they should be banned as illegal human experimentation. But we'll get to that later . . .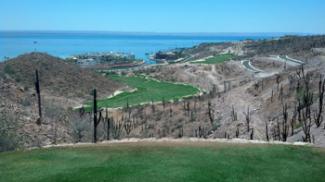 The View from the 14th Tee at Costa Baja
Travelogue

Cabo San Lucas and its sister city of San Jose del Cabo lie roughly at 22 degrees 53 minutes north, 109 degrees, 55 minutes west, well within the tropics and also within a region once confusingly referred to as the Republic of Sonora, but unrelated to the Sonoran desert of Arizona. It truly is a paradise, if a hot one. Golden, sun-drenched days fade into peaceful, azure nights and both sun and moon reflect off the violently churning surf of the Sea of Cortez as it makes its way to meet the Pacific Ocean.

The weather makes it - both literally and metaphorically - one of the hottest tourist destinations in Mexico (and indeed the Western Hemisphere), and everyone visits, from drunken college students to families seeking a restful respite, come to get away from it all. Also here are the super-rich, who rent townhouses and time-shares at extortionist prices - sometimes as high as $50,000 a week. By way of example, on the plane ride down several rows of drunken, ugly American tourists were whooping it up loudly and lewdly. The most horrifying was the noisy, morbidly obese women directly behind me who, at one point, in front of everyone, grabbed her boyfriend's head and smothered it in her breasts, announcing loudly enough for three rows in either way to hear her pronouncement, "When we get there I'm going to [***CENSORED***]."

Ever the irreverent wag, I turned around and replied, "Well that would be nice, but I think my girlfriend might object." Everyone from rows 12-20 then guffawed hysterically, and the guy in the seat next to me bought me a drink for my puckishness. Sometimes it pays dividends to be unfiltered.

By contrast, the more sedate town of La Paz lies 2 and a half hours to the north and is a more laidback option - smooth jazz compared to the KISS-rock-concert Cabo San Lucas.

There is a rich wealth of diversions - everything from undersea exploration (Jacques Cousteau called La Paz "the aquarium of the world" and the whale-watching is among the best on earth) to surfing, bird-watching, fine dining, and just plain raging till dawn. The population of the area exploded a whopping 300 percent between 1990 and 2000 and still grows at an astonishing rate.

Along with oil and banking, tourism has become the leading industry for the region and one of its hopes for elevating the lives of the locals, some of whom still live humbly and in stark contrast to the uber-rich Hollywood lifestyle of the jetsetters who wing there way here for weeks to months at a time. This contradiction lies at the heart of Mexico (and indeed all of the western Latin world), as posh five-star hotels sit sometimes within mere yards of cement-dirt hovels, a stern division that underscores the love-hate relationship between the locals and the gringo and the working class and the well-monied jefes, some of whom, according to iconic and iconoclastic writer Hunter Thompson, keep pistols on their desks - ostensibly as paperweights, but really to intimidate everyone into seeing that they mean business.

As an illustration of the dichotomy, here is a sure bar-bet winner for you: did you know that the richest man in the world is from Mexico? Can you name him? (The answer is Mexico's Carlos Slim, the Telcom baron.)

Where once the Mexican government and its pet developers were rightfully accused of land rape in the name of tourism and expansion, the reproach of the world's disdained eyes has achieved great change of late, and now the ecological and archaeological wonders of the area are more strongly protected. But the battle still must be fought with diligence and vigilance.

The climate is unique. It's the only place in the world where desert flora bloom so close to the sea or ocean, making its natural setting one of ineffable, yet stark beauty - it's Scottsdale-by-the-sea. Cactuses, palm trees, agave and succulents sit beside sandy beaches and ruggedly rocky shores, while some of the most violent waves on the planet crash against steeply sided beaches, making swimming in the ocean a dangerous proposition due to a viciously churning riptide. But hey, why swim or snorkel when you can play golf at some of the best courses outside the U.S.?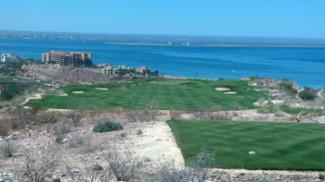 The 6th at Costa Baja
The Golf

Golf has exploded in the region. Over a dozen resort courses or private reserves have opened in the last 20 years and it takes at least two trips to play everything of architectural importance and properly classify them in the Caribbean/Mexico/Atlantic/Central America region. This trip, we here at Cybergolf/AWITP played five of the major destinations. In order of quality, they were:

1. Cabo del Sol (Ocean), (Jack Nicklaus) 2. Diamonte (Dunes), (Paul Cowley, but Davis Love's name is on it)
3. Costa Baja, (Gary Player)
4. Cabo del Sol (Desert), (Tom Weiskopf)
5. Cabo Real, (Robert Trent Jones, Jr.).

Cabo del Sol - Ocean Course

Usually the name Jack Nicklaus and the term golf architecture are linked together in some sort of joke. The book on Nicklaus is that he designs for himself, with a heavy emphasis on natural setting and difficulty (and expense!). Of all the myriad designers to study under Pete Dye, it's astonishing how little of Dye's talent for designing strategically got passed on to Nicklaus.

However, author Darius Oliver called the Ocean Course Nicklaus's best, and while I haven't played an extensive amount of Nicklaus courses, I can't disagree with him. The greatest credit should go to Nicklaus's design associate Jim Lipe, the real architect here, with a long nod and round of applause to CdS director of golf Greg Tallman, himself an excellent student of architecture and perhaps the most reliable, indeed invaluable source, for all things Cabo - from golf to dining to diversions.

The Ocean course is wider, and therefore more forgiving, than most Nicklaus layouts. Better still, it has slightly more undulating fairways, more interesting greens and a solid routing taking good advantage of both the terrain and the coastline. While Oliver is wrong in saying it has eight oceanside holes (it has four), the combination of routing and natural setting make it the equal of anything in Mexico. It's also the varied playability of the turf that places it above the prettier Diamonte (Dunes) and Costa Baja. With Bermuda grass you can play the ground game. With the well-watered paspalum at Diamonte and Costa Baja, you can't, and that limits options for non-expert golfers, an important strike against and the main reason they must be ranked beneath Ocean.

The axis of several greens point perpendicular to the fairway, not parallel to it, so some holes test distance control, while others test accuracy, an excellent and intelligent feature. The strongest stretches are Nos. 4-8, and 13-17. Each side plays to and then along the seaside, balancing the adventure. The course has two par-3s and two par-5s a side - following the tired but sadly still in-vogue Doctrine of Symmetry. But, happily, the two par-3s on the front are back-to-back and beachside, similar to Tom Doak's routing of Pacific Dunes. It's a trick more designers should employ when the terrain calls for it. The more you break outside the box, the more interesting a golf course becomes.

Your author's favorites are four (a reachable, but dangerous par-5 with an arroyo bisecting the fairway in front of the green; indeed, besides the beach holes the par-5s have the most interesting architecture); the long par-4 fifth playing down to a beachside green; the par-3 seventh - a short hole with elements of both a Redan and a Biarritz (with a shallow swale in a green set idyllically amid the sand dunes); 15 and 16, which play to the water with three-masted schooners sailing by; and the par-3 17th, the closest thing to any of the gorgeous seaside par-3s Pete Dye's Teeth of the Dog has to offer.

Your author's other favorite moment - and all the other golfers agreed with me - was the taco stand at the 10th tee: fish, beef, and shrimp, habaneros, pico de gallo, and guac, corn or flour tortilla, however you like 'em.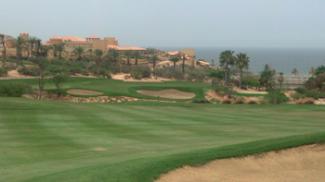 The Fourth Hole at Cabo del Sol's Ocean Course
"Now this is more like it!" gushed one starving golfer, who was almost relegated to bread and ice cream the night before. (But we'll get to that later . . .) One bite and you understand why the club had to remove the chairs and couches they one had set up there so people could sit down.

"They're so good, people would just sit here for 45 minutes, and we could never get everyone back into place," recalled Tallman with a grin. We agreed, and happily devoured our tacos like velociraptors mawing down on a hapless Jurassic-era herbivore. Your author may have even given him an idea for a catchphrase: Putting a sign on the seventh tee that reads, "Three holes to tacos!"

If there are drawbacks, there are several forced carries and uphill approaches. Moreover, the Ocean course is almost prohibitively expensive, anywhere from $230 to $355 per round. Further, the reason why I rank both Dye Fore and Teeth of the Dog higher in the pantheon of great off-shore courses is because both play more strategically than Ocean, and because, while really good, Ocean doesn't show you anything you haven't seen before, it just does what you've seen before extremely well.

Diamonte Dunes

People always get dazzled by the natural sand dune setting of the extremely private Diamonte (Dunes) and its perfect verdant fairways, undulating greens, and all-world stretch of 14-17, and deservedly so. But 1) Natural setting only counts for 25 percent in our rating system (otherwise we'd be ranking the courses exclusively by beauty, and that's just wrong), and 2) while the Dunes looks like a links, it doesn't play like a links. You can't play the ground game over the spongy, clingy, grabby paspalum turf at Diamonte, and that's why we have grave objections to its being somewhat overrated in rankings.

Is it outstanding? Of course. Should it be ranked highly? Yes. Is it unique and a bucket list course? Definitely. Will the finish thrill you to the depths of your golfing soul? Absolutely.

But the way the wall-to-wall paspalum turf is maintained here is a serious drawback because it limits both the ground game and greenside options, making it tougher for the average golfer. It will be better when they fix that and clear out the underbrush in the dunes (which eats golf balls and scorecards).

"If you manage it correctly you can keep paspalum firm and fast," explained architect Bruce Charlton. "But a lot of people overwater it and that's when it gets especially clingy. At Princeville we have it fast and firm, and the same is true of other places in Hawaii. But also other courses, in the name of beauty and color, overwater it and then you're stuck playing the aerial game. It's a maintenance issue."

"Paspalum is stickier than any kind of grass, it's really tough to get it firm and fast like fescue," agreed architect Mark Voss. "It's not as sticky as kikuyu, but it's also not bent. You need a magician super to get it fast and firm." Indeed, maintenance may be the issue, only time will tell, but as players start to see more clearly than through the dazzling opening look of its superficial appearance, more even-keeled reviews may be less gushing than the hosannas given the course due to its physical appearance.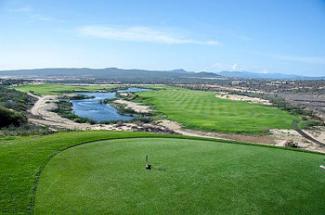 Diamonte Dunes 12th (Photo by Tony Korologos)
Moreover, while there are some holes that are among the best in the world (most notably the par-5 17th), there are some abominable holes as well, i.e. the ludicrous 568-yard par-5 10th, a green straightaway with no bunkers, a hole which even Diamonte looks to change or eliminate, and the disappointing denouement of the jackknife-shaped 18th, a bland finisher after the pure adrenaline rush of 14 through 17.

The rest of Diamonte is mostly hits, but with a few swings and misses as well. Architect Paul Cowley, who designed the course so Davis Love could put his name on it, is an interesting cat to say the least. "He's a character, he's definitely outside the box," said one architect who knows him well from ASGCA meetings and from Cowley's prominent participation on golf bulletin boards.

But as Chief Inspector Dreyfus rightly noted in "The Pink Panther Strikes Again," quirkiness does not preclude achievement, and although Cowley is as quirky as his work, the depth of his talent shows. As a designer, Cowley is an obscure yet creative guy who clearly knows what good golf architecture looks like, and tries to reproduce it. Sometimes, he hits a home run, and sometimes he grounds out to the second baseman. His work at Albany's Orchard Creek ranks among the worst courses I've played in years, but much of the work at Diamonte is excellent. You can't believe the two were designed by the same guy.

Superficially, it looks like a sort of Mexican version of Ballyneal or Kingbarns. You play out into the heaving sand dunes for the front nine, some of the most wild, windswept terrain for golf anywhere. You just want to get lost out there and never return to the world, it's primal and exhilarating . . .

. . . until you start losing ball after ball in the scrub and brush covering the dunes, and your scorecard looks like a phonebook listing. If you miss a fairway, it's a 50 percent chance you've lost the ball, a further 20 percent chance of an unplayable lie, and only a 30 percent chance of playing back to the fairway. It's penal architecture on a links setting - the antithesis of the links golf concept.

Among the good features of the course, it's clear Cowley used the natural features he found there and played into the teeth of the most interesting and difficult parts of the property. The routing is, happily, asymmetrical, carded at 35-37 with three par-5s on the back, but also the insane 568-yard par-4, really a par-5, so there are, in truth, four par-5s on the inward nine for what plays to a weighty par-38 for nine holes.

Nevertheless, the par-5s are the best work here, along with several excellent diagonal hazards to be traversed off the tee. The green contours range from good to terrific, with spines, hog-backs and bowls. There is a lot more right to left than left to right and far more uphill than downhill on the approaches. There is even some reverse camber, with the fairway turning one way. But the natural landscape runs in the other direction, limiting technology effectively, yet naturally, much like Olympic Club, the 2012 U.S Open venue.

The course is an engineering marvel, and state of the art, so long as they can get the paspalum more playable. But the penal nature of missing a fairway and lack of ground game make comparisons to Kingsbarns, Ballyneal or Irish links slightly hyperbolic and definitely superficial. Anyone can tell you what a golf course looks like and states the obvious. The important thing is to explain how it plays and whether the playability accomplishes the designer's goals and intent.

The Dunes is also a murderous walk, with extremely long hikes between greens and tees (especially to the 10th tee, where you need a cart or you won't get to the box by the time the group behind catches you).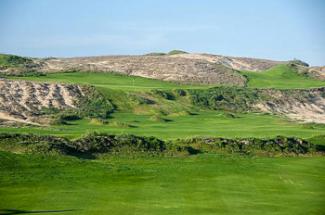 The Astounding 17th at Diamonte
(Photo by Tony Korologos)
That needs to be changed for another, far more important reason: the 10th hole is a bad joke and needs to be replaced immediately. A 568-yard par-4, straightaway with no bunkers? Cowley and Davis, what were you thinking? How is that good for golf? How is that good for golf architecture? How is that fun? Or even reasonable? The best solution would be to break it into two holes - a par-3 and par-4, and end at the incredible 17th (which would become, in the re-sequencing, the 18th, and one of the best finishing holes in all of golf).

Finally, on summer afternoons you play the best holes, 14-17, directly into the blazing face of the setting sun, so visibility gets tough the later it gets. It's the same reason you don't build a ski slope on the western face of a mountain (much more dangerous, but equally tough on the athlete).

Still, everyone likes Diamonte, and it is rightfully at the top of their list of courses to play in Cabo, a feather in its cap since it only opened in 2009. It's really good and a bucket-list course, but Teeth of the Dog and Dye Fore are both far superior. Plus, you can't help but lament what might have been had Tom Doak won the gig instead of Cowley.

A second course designed by Cowley, El Cardonal (a type of cactus), will open next summer with Tiger Woods's signature on it. Won't that be interesting?

Costa Baja

Okay, so architecturally it's a little rudimentary, but so what? The mountainous terrain makes it unique even among the Cabo courses, because nowhere is there as much up and down as at Costa Baja. The views are even better than at Diamonte (and rival Casa de Campo in the natural setting category), and it's short with really wide fairways so you can score well. It's a great change-of-pace course, low impact and really fun! It's a cross between Coeur D'Alene and Bayonne - part CdA for it's short, quirky, forgiving nature and unbelievable waterside setting, and part Bayonne for the industrial backdrop that actually adds to the character of the place, if somewhat left-handedly. If you "just go with it," you'll find it neither distracting, nor detracting.

Like Nicklaus, Gary Player designs courses for his own golf game. "It's draw, draw, draw," explains head professional Luis Rangel, as affable, colorful and laidback a playing partner you could ever have. Heck, we cranked rock and roll and jazz all away around the back nine. Everything turns to the left, and where there are any shot requirements, a draw is called for almost exclusively.

Much like the wonderful Rockaway Hunting Club, the first hole takes you straight to the sea, with the harbor, ships and the Sea of Cortez as a backdrop on this downhill hole, a wonderful opener. Hole Nos. 2-5, the "Gauntlet" as Player calls them, climb uphill to the highest point on the golf course.

"Gary thought those were the hardest stretch on the course," notes Rangel. After that, the remainder of the front nine is three short, downhill par-4s with epic views of the sea, and a tricky par-3 at the eighth that plays much longer than it looks. The green shape and bunker placement are an obvious recreation of 12 at Augusta National (6:00 in front of the green, 10:30 and 1:30 behind it).

Once again there's a taco shack at the halfway point (with a dazzling former "Miss Baja California" serving them up along with bright eyes and a demure, winsome smile). They come in handy, as Costa Baja features an out-and-back routing, returning to the clubhouse only at 18, so it's your only chance to fuel up for the climb up to the magnificent panoramic view from the 14th tee. Indeed, everyone must climb to the back tee box at 14 for a look-see and a photo. Yes, natural setting only counts for 25 percent in a proper rating system, but you still can't help being deeply moved. From a dizzying height of several hundred feet, the fairway winds below you in the valley floor, with the hotel set in tableau against the sapphire waters of the Sea of Cortez.

When God looks down to earth from heaven, this is what His view must be like.

Yes, Coeur D'Alene and Costa Baja aren't places where golf architecture junkies will congregate to discuss minutiae of excellent design principles, but if there are any places where it's okay to say, "It's worth coming here just for the views," those are two.

From an architecture standpoint, there isn't a lot that's noteworthy. Fairways are so wide you'd have to be hitting looping hooks or goofy slices to end up in the desert, and there are a few 90-degree doglegs (seven and 11, which both turn hard left, so you better be able to draw the ball hard ala 16 at Olympic Club), and some strange arroyos bisecting fairways in awkward places (again seven and 11). It's a murderous walk, with long distances between tees and greens. (Some might even call it "cart golf," and they would, in this instance be right. You need the cart to get from seven to eight, nine to 10, and again from 13 to 14.)

Still, it's a Troon Golf facility, and as everyone knows, Troon does their places right (if a little expensive).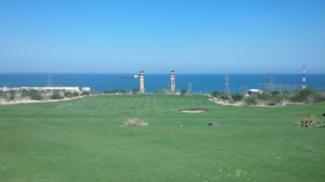 The First Hole at Costa Baja
As a side note, I couldn't resist asking people their opinion of Player posing naked in a magazine. "Ego!" offered one person. "Ego, ego, ego . . ." Many others agree. Some shake their heads, some laugh out loud, and I have to wonder if this won't haunt Player going forward. Is it possible he'll never get away from it? Already some in the golf industry are ridiculing him to his face. Peter Alliss, the great ABC broadcaster, saw Player at the British Open just a few days ago and greeted him with a snide, "Oh . . . I didn't recognize you with your clothes on."

I understand the talking point of fitness. Yes, many Americans eat too much junk food and exercise too little. But a 77-year-old golfer posing naked isn't going to be the inspiration to an innercity kid to put down the french fries and Little Debbies and slowly back away. I ask again, qui bono? Who benefits?

"Qui gives a shit?!" retorted my girlfriend Britt. "Naked men! Woo hoo!"

And with that, I put my face in my hands and shook my head. I love ya, Britt, but God help us all if that's what we've devolved into . . .

Cabo del Sol (Desert Course)

The Desert course is exactly like every other Weiskopf course I've ever played: the first five or six holes are nothing to write home about, but the back nine is good. I don't care where you are - Nevada, Michigan or Ohio, The Falls, Forest Dunes, or Quail Run, Weiskopf employs the same obsolete tenet Trent Jones, Sr. used: give them a few holes to get warmed up. The only exception to this your author has seen anywhere is at Troon North in Scottsdale. Both the Monument and Pinnacle courses are good from start to finish, but the same can't be said anywhere else about Weiskopf in our experience.

The same is true at CdS. While the front nine underwhelms the back nine is much better. There's a great stretch of holes at 13-17 which showcase excellent strategic ideas and showcase panoramic views of the sea and shoreline, but the 18th doesn't fit the rest of the golf course. A miniaturized version of the closer at Carnoustie, a burn crosses the fairway in three dangerous places. There is a pond right if the green and desert underbrush left.

Moreover, where the Ocean course is walkable, the Desert course is not. There are too many hills to climb, arroyos to traverse, and looooong walks between tees and greens.

Cabo Real

As everyone knows, I'm good friends with Bobby Jones Jr., have written some poetry with him, and even offered him legal advice from time to time. Therefore, any questions as to my objectivity should forever be put to bed by this next sentence (if they haven't already been put to bed by things I've written about other courses of his I didn't like): Cabo Real isn't his strongest course. It's nothing you haven't seen before.

Cabo Real was built just before Bobby had his "links epiphany" and designed Chambers Bay: his greatest masterpiece, host site of the 2015 U.S. Open, and the springboard for his new direction a designer, a direction that vaulted him into the conversation of the generation's greatest designers, along with Dye and Doak, (and a few others).

Bobby has never been a better designer than he is right now. Chambers Bay is stratospheric, almost universally acclaimed, an instant classic and a time capsule moment in the game's history. Following similar themes of maximizing coastline golf, allowing for the ground game and infusing strategy on every shot as opposed to his father's penal architecture style, the course Jones submitted for the 2016 Olympics in Rio was nothing short of genius, and had they picked it, that design would have far outstripped the one Hanse submitted and is trying to build. He gave them, in essence, "Chambers Bay South America."

It was rejected by Rio, but Bobby employs similar themes at his planned new West course at Dorado Beach, and it will be a complete game changer in the offshore U.S. region, resonating all the way from Baja to Bermuda when it opens. It's possible that Peter Dawson never made a worse mistake than turning up his nose at Jones's Olympics design. (But with all he problems they are having down there with land disputes and old unpaid environmental fines, it may be the best thing to happen to Bobby - and the others who weren't picked - it may be for the best that they didn't get the gig.)

That being said, Cabo Real is only pretty good, not truly great. Good terrain, a fistful of good holes and interesting ideas, like the long and thin green at 18, the dunes guarding the second green, and some interesting tee shots are the highlights.

So after having played much of the Dominican Republic, Jamaica, Puerto Rico and half of Cabo, here's what the leaderboard looks like so far:

1. Dye Fore (Casa de Campo) 2. Teeth of the Dog (Casa de Campo)
3. Cabo del Sol (Ocean)
4. Diamonte (Dunes)
5. La Romana C.C. (Casa de Campo)
6. Dorado Beach (East)
7. Costa Baja

(I have yet to play Bermuda, Punta Espada, Corales and the north shore of Puerto Rico, along with the other half of the Cabo courses. Obviously Mid-Ocean will find it's way onto that list, and it's likely Dorado Beach West will as well when it gets built.)

Lodging

The Sheraton Hacienda del Mar is quite comfortable and convenient. It has much more warmth and charm than some huge concrete monstrosity you might find in, say, Cancun. The staff is great - accommodating and intelligent. The villas all have Jacuzzis (a huge plus!), there is plenty of beachfront, several large pools, and an Old World mission-style feel to the place. There are several restaurants on-site offering sushi, Italian, fine dining and breakfasts. I had both sushi and pizza and was really happy with both.

It's also a comfortable, if expensive place to stay. It's Cabo, so expect everything to be ridiculously priced no matter where you stay. Wherever you go, sodas are $5, rolls of sushi are $10-20, personal pizzas are $18-20, and fine dining will be a $50-100 a night for the food alone. Drinks are outrageous. A double shot of tequila and a coke cost me $25. And if you want wine, the bill can skyrocket quickly. Resort pricing has increased steadily and significantly in the last few years alone and certainly more than doubled in the last 20 years, while everyone's disposable income has decreased, so inquire into all inclusive plans wherever you go. They're your best bet. Even so, the most important consideration is comfort and convenience and the Hacienda scores high points on both.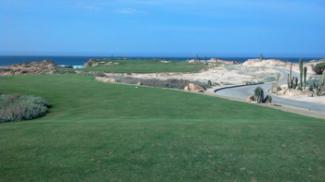 The Idyllic 16th Green at Ocean
Food Glorious Food (We're Anxious to Try It)

Dan Jenkins, the greatest golf writer in history, is right: the worst words in the English language just might be, "I've taken the liberty of ordering for everyone." With that, at various points in his life, Jenkins was served prairie oysters, liver and onions, tripe, haggis and sushi tacos. On each occasion he gave the waiter 50 bucks, had him order up a cheeseburger and fries, and told him to keep the change. Numerous people joined him.

I'm a foodie. I live in NYC, the culinary capital of the world. I'm known for hitting every sushi, Mexican, Greek and Italian restaurant of any note in Manhattan, so much so that my friends jokingly call me "Jaygat's" (a riff on Zagat's), and my phone goes off like clockwork once a week with a friend on the other end inquiring where to eat. I know my food, and I'd love to tell you about the food in Cabo . . . but I never got to try any of it!

I had Jenkins's worst nightmare come true: Our tour operator picked the places where we ate, as well as the "limited menus" and "tasting menus" we had to endure, menus that were weighed heavily in favor of the spa people we did the tour with. As such I lived in constant fear of the next gibbering horror to come belching forth from the kitchen in all its apocalyptic wrath and vengeance. Over the course of three days, I was served the following hare-brained, half-baked contraptions:

A carrot juice margarita;

One baby shrimp tempura topped with prickly-pear cactus foam in a shot glass of coconut milk gazpacho;

One oyster smothered in watermelon foam and mint;

A rice cake topped with microgreens (microgreens??!!), dried apricots and syrup;

Beet carpaccio (not beef…beet!);

Squash blossom soup;

Shrimp and lettuce pizza (no sauce or cheese);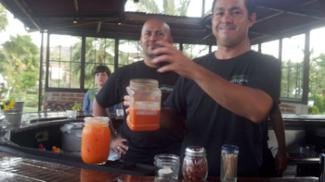 Carrot Juice Margarita Anyone?
Risotto poached in mushroom broth swimming in chorizo and foam. Yes, like a slasher in a horror movie the foam returned. How does the song go?

I'm looking through
And it all would be so crystal clear
If it wasn't for the foam!
But the foam keeps getting thicker!
And it just keeps getting harder!
And I'm falling into a deep well . . .

In another debacle, the first night was all seafood and one writer, Tony Korologos of the Golf Space, can't eat seafood, so after five courses went by and he ate nothing, he had this humorous exchange with the waiter:

Tony: Does the bread have much fish in it?

(Laughter)

Waiter: (Who good-naturedly played along with the joke.) Yes.

(More laughter)

Tony: I think I have some Tic Tacs in my pocket.

The next day we had a three-and-a-half-hour tour and dinner at Flora Farms, the "farm to table" commune where rich SoCal posers spend $25,000 per week to live in faux Amish-esque condos. I could go on and on about how passe both the "farm to table" and molecular gastronomy crazes (foams and flavored droplets) have become and about how much of what it attempts to pass as "culture" is really just a commercial. But I'll sum up Flora Farms this way: If you like having a free-range art sculptor or out-of-work ballet dancer serving you organic, grass-fed nonsense, Flora Farms is your place.

The spa girls were dazzled, however.

"I'm having a food orgasm right now," moaned one of them rapturously. Well in that case, make sure you're facing away from me.

"You're crazy, Jay. I love Flora Farms," gushed Nicole the lawyer from NYC who ate there, calling it one her best meals ever. Fine, duly noted counselor, but given the choice I'd date Crazy Agatha (the clingy girl from hell who won't take no for an answer) before I'd eat another meal there again.

I ate Dominican creole in the D.R., I ate Jamaican dishes in Jamaica, and I had down-home gumbo in Mississippi - all were awesome. But only the golf courses had the sense to serve me Mexican food in Mexico.

So happily here I am, safely back in New York City, culinary capital of the world, where I get mussels marinara at Nick's or Girello, fresh fish at Milos or Avra, and the best wood-fired brick oven pizza on the planet, and I don't have to worry about getting cold-jumped by a watercress-maple rice cake, an asparagus droplet or the "foam of the week." As for you foodies, you're all invited over to my place for dinner . . . I'm serving haggis, and I'm eating steak.
Since launching his first golf writing website in 2004, http://jayflemma.thegolfspace.com, Jay Flemma 's comparative analysis of golf designs and knowledge of golf course architecture and golf travel have garnered wide industry respect. In researching his book on America's great public golf courses (and whether they're worth the money), Jay, an associate editor of Cybergolf, has played over 420 nationally ranked public golf courses in 40 different states, and covered seven U.S. Opens and six PGA Championships, along with one trip to the Masters. A four-time award-winning sportswriter, Jay was called the best sports poet alive by both Sports Illustrated and NBC Sports writers and broadcasters. Jay has played about 3 million yards of golf - or close to 2,000 miles. His pieces on travel and architecture appear in Golf Observer (www.golfobserver.com), Cybergolf, PGA.com, Golf Magazine and other print magazines. When not researching golf courses for design, value and excitement, Jay is an entertainment, copyright, Internet and trademark lawyer and an Entertainment and Internet Law professor in Manhattan. His clients have been nominated for Grammy and Emmy awards, won a Sundance Film Festival Best Director award, performed on stage and screen, and designed pop art for museums and collectors. Jay lives in Forest Hills, N.Y., and is fiercely loyal to his alma maters, Deerfield Academy in Massachusetts and Trinity College in Connecticut.