The Grand Slam of Golf in the Twin Cities
By: Jay Flemma
The football world is shaking its collective head because Brett Favre has thrown aside his walker, Depends undergarments, Ensure and has turned traitor. After becoming a timeless football icon at Green Bay, he's now stabbing Wisconsin in the back by signing to play for its archrival, the Minnesota Vikings. Hey Brad Childress: with just two years left on your contract are you a little desperate? News Flash: It won't work; the Vikings always find new and unfathomable ways to underachieve.
Oh well, at least Favre's a better quarterback than Daunte Culpepper. I heard a great "nerdcore" rap song lampooning Culpepper while I was in Minnesota for the PGA Championship:

I took a sea cruise, and I stand real tall,
And I got no clue where I'm throwin' the ball.
Receivers run routes I don't even know,
Mostly I close my eyes when I throw.

They had that in rotation with "Circus" by Twitney Spears and that horrible "Puker Face" song by Lady Ka-Ka.

Happily, what Minnesota lacks in football they more than make up for in great golf. Four superb private clubs in the greater Twin Cities area form a Grand Slam of their own: a glorious golf pedigree equal to perhaps any city in the country, except New York. Hazeltine National in Chaska is a present-day major championship venue and site of the 2009 PGA Championship. Interlachen in Edina saw Bobby Jones win the 1930 U.S. Open, the third leg of his Grand Slam. Minikahda Club in Minneapolis is a former major venue as well, hosting the 1916 Open and the 1927 U.S. Amateur. Finally, White Bear Yacht Club in White Bear Lake may be the best design of the quartet, even though it's too small to be used as a venue for a national event.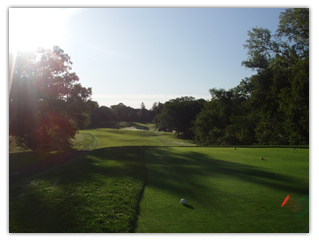 No. 1 at White Bear Yacht Club
The Best - White Bear Yacht Club

Surprise! Despite the major tournament pedigree and more famous reputation of the other clubs, White Bear Yacht Club is my favorite of the four. Founded in 1889 and featuring a cunning Donald Ross design, nearly every hole is memorable. Although short, the rolling terrain and insidious greens (that get tougher as the round progresses) defend par admirably. Fairways are generously wide, so the out-of-bounds on several holes only affect shots that are grotesquely off-line.

There are five par-5s and five par-3s, three of each on the front. The course crosses Dellwood Road in two dangerous places. I say dangerous because the players on the blue tees at Nos. 5 and 12 must take care to avoid hitting cars as they go speeding by.

The course starts well right out of the gate. The first green is guarded by a huge mound, almost like a Knoll hole from the Macdonald-Raynor school of architecture. Both first and second fairways rumble like ski runs over rugged terrain. The third is refreshingly unique, with its green benched into a hill, and with a pulpit bunker looming over the front right edge: simply amazing and one-of-a-kind.

After crossing the road at the fifth (with your tee shot!), the second is blind over a huge mound. The par-3 sixth is a great early version of a Short, while the par-3 eighth has a Redan-like feel, with a huge hill with which to carom a ball onto the green. Nine is a great par-5 finisher, rollicking up and down along heaving contours before finishing at the foot of the clubhouse.

The greens just get better one after the other on the back. No. 10 has a wicked false front; 11 has a punchbowl feel, although the bowl has been folded horizontally so as to be long across, but thin in depth. After crossing the road again with your drive on 12, the green runs away from the player. Nos. 14 and 16 have two severe tiers, with 14's being along a long axis of the green as opposed to bisecting it perpendicularly. No. 15 has a hog's back and is steeply canted back to front. The pretty 17th is followed by the anti-climactic 18th, the only bland hole on the course, with a green too closely guarded by water and sand.

The greens are kept at about 10.5 to 11 on the Stimpmeter. You also have to love that kids are the caddies. Harry Vardon's brother was the head pro here many years ago.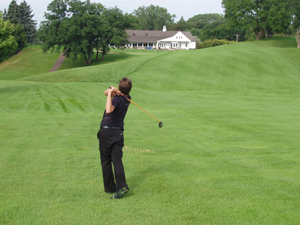 Jay on No. 9 at White Bear Yacht Club
Design - 6 stars (all ratings out of seven): I took a point or so off for all the out-of-bounds (the worst hazard on a golf course), but everything else is terrific, and the whole is greater than the sum of its considerable parts. Great terrain, a brilliant asymmetrical routing, the best greens of all the courses discussed here, and a warm, cheerful membership genuinely proud of their little jewel: they have successfully preserved Ross's work and captured the flavor of old-time golf. Even though it maxes out at 6,500 yards, the course proves you don't need length or major championships to have a truly great golf course. Tom Doak did a restoration recently but said, "there really wasn't much for me to do - they really had the course in great shape."

Other members said they were glad to see Doak. "We had a habit for a while of planting trees to confound a former member who kept besting the course record. Thankfully, we've cut down those trees and will continue the campaign." Good. To this writer, trees are nothing more than big nets, bunkers in the sky. Cut 'em all down or replant them elsewhere.

Natural Setting - 5.5 stars. Interlachen may slightly prettier, with its lake views, but this is close.

Conditioning - 6 stars

Overall - 6.5. White Bear Yacht Club has interesting holes and devious greens that the other courses just don't have.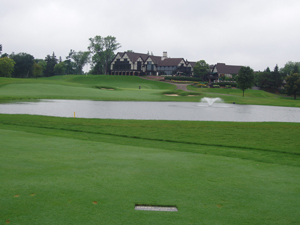 No. 18 at Interlachen
The Rest

Interlachen Country Club

Interlachen stands just a bit taller than both Hazeltine and Minikahda. While the club itself was founded in 1909, it wasn't until 10 years later that Donald Ross created the present-day design, with a few renovations by Robert Trent Jones and Geoffrey Cornish/Brian Silva. As we all know, Bobby Jones's U.S. Open and Grand Slam in 1930 were supposedly saved from a watery grave by a lily pad on the ninth hole (18th in tournaments) when the ball skipped across the pond and onto the green. Tom Doak writes in his "Confidential Guide to Golf Courses," that Interlachen is "an historic course, thankfully not substantially changed from that Saturday in 1930." Interlachen has also seen a Women's Open, a Walker Cup, and the Solheim Cup.

Interestingly, the course returns to the clubhouse at six as well as nine, meaning Ross picked the best green sites - regardless of their location - and routed the course toward those sites and into the teeth of the rugged natural features. The layout is an asymmetrical 37-36=73, with three of the par-5s on the front. Fairways frequently slope severely one way or the other and several greens are pedestals, making the course play longer then the scorecard indicates.

Interlachen is wonderful, with its inward side (the front for tournaments) being one of the best nines I have ever seen anytime, anywhere. The entire course has too many trees, and the front has too many useless ponds, but between the cunning routing, great greens and epic history, the club is one of the greatest in American golf and is a must-play far more than Hazeltine will ever be.

The course builds slowly and smoothly, like a symphony. There are a few interesting moments on the front, most notably the double tee for Nos. 2 and 9; the pretty, parkland par-3 third; the false front at 4; and several serene green settings that give the course a natural easy-going feel like the back nine at Philly Cricket Club (Wissahickon Course).

I'm not a fan of the way the fairway slopes right into a pond on the second shot for short hitters at the par-5 4th hole, especially if the shot is played partially blind by someone visiting for the first time. Also, the trees on both sides need to be thinned considerably.

The back is just glorious and downright sublime. The 10th tee is right at the edge of the clubhouse and plays to a gull-wing green fronted by two deep bunkers which must be carried.

Players then cross Interlachen Boulevard on Clinton Modell's bridge before coming to what one staff member called "The Controversial Hole." This long, dogleg-right par-5 has its knee guarded by a pond and a stand of tall trees. Experts can carry the trees and make a mockery of the hole, but average players are disadvantaged and must play safely left. The club tried the hole as a par-4 but the members complained and it returned to a par-5 shortly thereafter. With its elevated green, deep bunkers and out-of-bounds it proved too difficult to hit in regulation.

I'm of two minds about the hole. The trees are the only thing that evens it out for average players, who must hope their opponent makes a ghastly error. Cutting them down, however, would result in a huge advantage for longer hitters.

One more thing needs to be corrected on the back. The green at the par-5 12th has a wonderful, severe false front. But members got so frustrated taking a 50-yard walk of shame back down the fairway when they putted off the green or hit a poor pitch they encircled the green with rough to catch balls before they rolled all the way back down the hill.

I call this "ring around the collar" and it is as unsightly as its clothing counterpart. Besides erasing a hazard the architect intended, a terrific false front, it also dumbs-down the golf course to the level of the worst player. Lakota Canyon Ranch in western Colorado committed a similar atrocity around several of Jim Engh's punchbowl greens. I take a medieval attitude about this issue: if you don't like having the ball roll back to your feet, hit a better shot.
The rest of the round is delightful. Mirror Lake is a gorgeous backdrop for the par-3 13th. The 16th green is severely canted right to left, the par-3 17th has the look and feel of a reverse Redan, and the 18th green has another outstanding false front, one which is not watered down with a collecting collar.

Design - 5.5 - 6 stars. The back is one of the best nine hole stretches in the country, every hole is strong, even 11. Get rid of the trees and it will be even better. Also, the interior contours of the greens start to become more severe as the round progresses.

Natural Setting - 5.5 - 6

Conditioning - 6.5 - 7

Overall - 5.5-6 stars. Truly great, but the ponds on the front put it a half point behind White Bear Yacht Club.
The Minikahda Club

When you see the tall white columns and tasteful Colonial décor of the clubhouse one word leaps to mind: stately. Historically, Minikahda is an important club. It was where Chick Evans, founder of the Evans Caddie scholarship, won the 1916 U.S. Open, and where Bobby Jones win the 1927 U.S. Amateur, his third of five.

Founded in 1898 by old Minneapolis families and featuring a Donald Ross layout with subsequent changes by Ron Pritchard and Geoffrey Cornish, the club is too short to host a major men's event, but the greens are still excellent and the setting by the lake is sublime, especially on a sunny weekend day. Minikahda is the Sioux term for "by the side of the water."

Design - 5.5 stars. The greens make the course. No. 12 has some interesting plateaus, while nine and 13 have a severe false fronts; 16 has terrific internal contours, and 17 is an excellent kidney-shaped green, much like seven at Crystal Downs in Michigan. The club likes them fast - anywhere between 11 and 13 on the Stimpmeter, depending on the event.

Again, like most Minnesota courses, there are too many trees. Old pictures of the course show nary a tree in site and you can see clear across vast expanses. One hole, 15, has a stand of trees all along the left side, but looking at the axis of the green it's clear that side was to be left open for play. Sadly, I was told there is a "tree-replacement program" underway rather than a tree-removal program.

Natural Setting - 5.5. The lakeside setting is glorious and idyllic.

Conditioning - 5.5-6

Overall 5.5-6
Hazeltine National Golf Club

We reviewed Hazeltine extensively during the 2009 PGA Championship, like here in my PGA Championship preview (http://www.cybergolf.com/golf_news/hazeltine_national_its_gonna_be_a_long_week_at_the_pga_championship). It may host majors and Ryder Cups, but as a home course it would grow tedious. Too much water, too repetitive, too penal and not enough interesting use of the terrain that makes it underwhelm. However, the greens have more interior contour than most Jones courses, and the fickle but strong winds make it play differently from shot-to-shot, let alone day-to-day.

Design - 4-4.5 stars. There's just too much penal architecture here to make it fun. The finish is great, but little else besides hole nos. 1, 5, 9 and 10. Too long, too much water, and nowhere to miss.

Natural Setting - 5

Conditioning - 6.5

Overall - 5 stars


Since launching his first golf writing website in 2004, http://www.jayflemma.thegolfspace.com, Jay Flemma's comparative analysis of golf designs and knowledge of golf course architecture and golf travel have garnered wide industry respect. In researching his book on America's great public golf courses (and whether they're worth the money), Jay, an associate editor of Cybergolf, has played over 220 nationally ranked public golf courses in 37 different states. Jay has played about 1,649,000 yards of golf - or roughly 938 miles. His pieces on travel and architecture appear in Golf Observer (www.golfobserver.com), Cybergolf and other print magazines. When not researching golf courses for design, value and excitement, Jay is an entertainment, copyright, Internet and trademark lawyer and an Entertainment and Internet Law professor in Manhattan. His clients have been nominated for Grammy and Emmy awards, won a Sundance Film Festival Best Director award, performed on stage and screen, and designed pop art for museums and collectors. Jay lives in Forest Hills, N.Y., and is fiercely loyal to his alma maters, Deerfield Academy in Massachusetts and Trinity College in Connecticut.