The 'Inland Golf' of Great Britain
On golf excursions to Great Britain, one can't initially fault travelers for desiring to only play "links" golf. Links refers to seaside courses on duneland with few trees, stiff ocean winds and cavernous sand bunkers - some big enough to contain a decent-sized home. Courses such as Scotland's Old Course at St. Andrews or Northern Ireland's Royal County Down define classic links golf.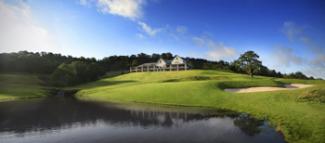 The 18th Green at the Twenty Ten Course
However, gems of Great Britain's golf scene don't border the sea and fall under the heading of "inland." Inland golf can be just as compelling with bubbling creeks, thick forests and tranquil lakes offering all the beauty and challenge a traveling golfer will ever need.
Here are the "Top 5 Inland Golf Courses of Great Britain" (please note that some are easier than others to secure tee times):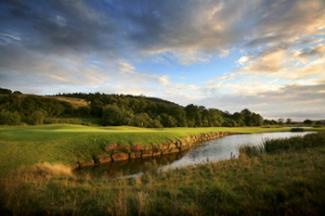 The 14th Hole at Twenty Ten Course
The Twenty Ten at Celtic Manor Resort - Newport, Wales

Set in the verdant countryside of Wales is the Twenty Ten course at Celtic Manor Resort - host of the 2010 Ryder Cup and a luxury retreat less than two hours outside London. Built as the first course in history with holding the Ryder Cup in mind, the Twenty Ten is inland golf at its pinnacle, featuring holes along the floor of picturesque Usk Valley. Known as the "Gateway to Wales," this is lyrical land with grand trees - looking as if they've been rooted through the millennia - standing sentinel. Lakes encroach on fairways and sloped greens pose danger. Celtic Manor embraces traveling golfers with open arms. For more information, visit www.celtic-manor.com.
Loch Lomond Golf Club - Dunbartonshire, Scotland

On the shores of the lake for which it's named, Loch Lomond Golf Course offers some of the best scenery in the Scottish Highlands. The 7,100-yard parkland track is the annual host of the Barclays Scottish Open. Features include streams, stately trees of multiple variety and views of Loch Lomond. The course, alas, is private, so you'll need to know a member to experience its glory. For more details, visit www.lochlomond.com.
Sunningdale Old - Sunningdale, England

In his book "All Courses Great and Small," author James W. Finegan says of this layout: "It is pure enchantment that characterizes Sunningdale Old. Virtually every hole is played in splendid - and beautiful - isolation, and in harmony with nature." This grand semiprivate parkland track welcomes visitors Monday through Thursday. Like the Twenty Ten, it's well worth a visit. For more, visit www.sunningdale-golfclub.co.uk.
The Kings Course - Auchterarder, Scotland

Designed by seminal golf architect James Braid in 1919, the Kings Course at The Gleneagles Hotel is superb. Set amid the rolling countryside in the hills of Perthshire, the Kings Course is a splendid setting for the ancient game in golf's homeland. Out on the course you're more likely to see a bevy of quail than trappings of modern life, an impressive place in the hearty Scottish air. The Kings Course and Gleneagles welcomes all. For further details, visit www.gleneagles.com.
West Course at Wentworth Club - Virginia Water, England

Site of numerous championships, Wentworth's West Course enjoys a thoroughly natural locale for golf. The fairways are surrounded by woodlands of pine, oak and birch. In spring and summer, vibrant rhododendrons add brilliant color. Designer Harry Colt used the undulating topography to create an enduring classic. Just ask the greats of the game who've teed it up here. Traveling golfers may also. For more information, visit www.wentworthclub.com.