The Insider's Guide to Oak Hill Country Club for the 2013 PGA Championship
By: Jay Flemma
[Editor's Note: Cybergolf's Jay Flemma and Marino Parascenzo are in Rochester, N.Y., for this week's PGA Championship. Here's Jay's second installment.]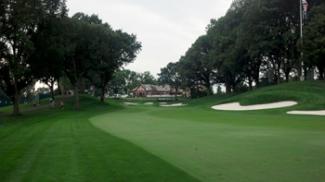 The 600-Yard 13th
"Horrible! Horrible!" snarled Golf World's Geoff Shackelford when I asked him about Oak Hill. "There's nowhere to miss on 15 but short and so many people have taken scalpels to the place you can't tell who designed it any more," he quipped angrily. He fulminated even more on his blog: "The number of different design styles and the complete lack of any attempt by the chiselers who've carved away at Donald Ross' original should be studied by aspiring architects to better understand how not to practice the profession."

I can't go quite that far, but I also can't agree with a recent major magazine's assessment that Oak Hill is the 11th best golf course in the United States - far from it, I can name 11 better courses in the time you can say "Shinnecock."

My conclusion is that Oak Hill is a middle-of-the-pack major venue, possibly lower half, a la Congressional or Torrey Pines. It's not as horrific as the ghastly Atlanta Athletic Club, but it's definitely overrated.

What's bad about it? Too tricked up with senseless rough, too dictatorial -requiring too many center-line shots, too many trees, too many weird doglegs, too many holes that look alike ("You feel like you're playing the same hole over and over again," said one player), too many uphill approaches, too many pinched fairway landing zones, too much Tom Fazio lackluster strategy, too many boring "five o'clock-seven o'clock greenside bunkers," too little character of any sort, and too bad we're not at Oakland Hills instead . . . or Oakmont . . . or Winged Foot . . . or National Golf Links . . . stop me any time. The biggest problem might be if you cut all the trees down you might leave the course defenseless.

"The trees define the playing corridors here," opined fellow Cybergolf pundit Marino Parascenzo, who agreed that if you cut the trees down you erase a significant part of the course's defense. "That's what makes Oakmont so good," he chortled amusingly. "They cut all the trees down and you still can't best it!"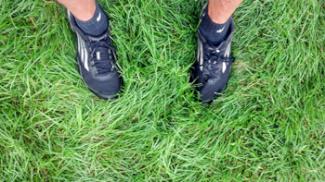 The Rough - Graded my Foot
What's good about Oak Hill? It has excellent rolling terrain, the few Ross greens that are untouched are terrific, the small greens defend par well without needing ludicrous length, there are some canted fairways and wickedly tilted greens, the stately clubhouse is one of the best in the world, and Rochester is a slammin', bumpin' town - perhaps one of the most underrated in the U.S. In fact, the Buffalo Bills are also in town for training camp and Watkins Glen is revving up for speedway action. Besides that, you have concerts at Weedsport and FLIPAC (Finger Lakes Performing Arts Center), great food (try Tapas 177 for authentic Spanish), and nice people.

But as for "Soak Hill" and the intermittent rain . . . well, let's take a close look at what the players will face:

1. 460-yard par-4 - A terrible opening hole. Doglegging in an awkward place and with trees to block out the approach if you stray right, it's a dismal opener architecturally, but it also does not give you any "statement of place." It doesn't shout at you, "Welcome to Oak Hill, this is what we're all about." You could be anywhere, but it certainly doesn't look anywhere special.

2. 401-yard par-4 - The third shortest par-4 on the course pretty much requires players to club down since the fairway pinches near the bracketing fairway bunkers. Dull. "The course makes you lay back to the fat part of the fairway and face a longer shot in, or hit driver into a narrow neck," said Jim Furyk, and he's right. You'll see a repeat of this theme all day.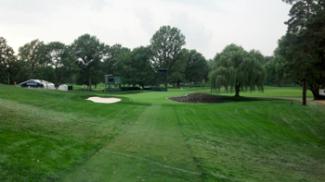 The Short but Dangerous 15th
3. 214-yard par-3 - Again, nothing you've never seen before. A slowly rising uphill par-3 with a bunker severely sloped back to front. There are some interesting back pin positions, specifically in the center as either side has mild rolls in either direction.

4. 570-yard par-5 - The first really interesting hole on the course as it can dole out 3 or 7. A center-line dogleg right with OB left may have killed Phil Mickelson's chances for back-to-back majors in the crib as he took a double after driving out-of-bounds into someone's yard, except that it's Phil. Happily, he's staging a post-rain rally and - as we got to press - has it back to even after a plus-3 start.

5. 428-yard par-4 - Appropriately called "Double Trouble," I'm of two minds about the hole. We all hate driving through chutes of trees (cut 'em all down!), but Allen's Creek makes its first appearance - though penally, not strategically. It does cut in front of the green, so players can't just bomb it over the trees for a gimme birdie. It's nice to see a relatively short hole still have some teeth.

6. 173-yard par-3 - Four players made aces here in the span of 117 minutes in 1989. Nice hole, Fazio. You blew up a great hole for this hot mess?

7. 461-yard par-4 - Arguably, the worst hole on the course. A ramrod straight, tree-lined prison with water on the right and an elevated green. Golf architecture at its worst. Blow it up and build a better Ross template instead. There are plenty to choose from.
8. 428-yard par-4 - See hole 7 . . .

9. 452-yard par-4 - Another hard dogleg, another pinched driving zone, another severely uphill approach. The green, however, curls at the edges and has several subtle ripples.

10. 429-yard par-4 - A great fairway tilting first one way and then the other, cascading down, then up and bisected by Allen's Creek to keep the long bombers honest. Great terrain for golf!

11. 226-yard par-3 - Back to "meh" for this par-3. Boy, did Rory hit a stinker here today en route to making chopped salad of the hole . . . short, duff, push, bogey, groan, eye roll.

12. 372-yard par-3 - Some people may like these short but severely uphill Ross par-4s but I don't. 14 is the same - straight, but uphill to make up for the lack of distance. The green, however, has many subtle, but dangerous, knobs and ridges. With both macro and micro movement, the green defends the hole admirably without needing length.

13. 598-yard par-5 - The reverse of 10, just longer. But choked by rough, players will play dink-and-dunk golf, bunting their way to a green almost totally encircled by bunkers. Woods said you had to play the hole in "sections," and Poulter raved about having to play it 3-iron, 5-iron, 9-iron. "Who designs like that," he steamed angrily.
Look for brutishly long Gary Woodland to be the first player in major history to reach this behemoth in two. He did it yesterday in practice with a drive that carried 310 over Allen's Creek. What is it Feherty said in those Cobra commercials? "Easy boy! Have a banana!"

14. 323-yard par-4 - See hole 12 . . .

15. 181-yard par-3 - Shackelford thinks it's an abomination. I'm no fan either. He's right - there's nowhere to miss, and you may play safe to the left only to find yourself chipping into the water you tried to avoid in the first place.

16. 439-yard par-4 - I hate this hole, but you get a lovely close-up view of the maintenance shed from the green. "They just moved it there," said one tournament staffer. "Thanks a lot," I say in reply.

17. 495-yard par-4 - Another dogleg, another bunch of trees, but the best green on the course. Almost a Biarritz!

18. 482-yard par-4 - As nondescript a finisher if there ever was. A great hole is supposed to be a summation of all that came before. Let's see - rough, overhanging trees, severely uphill approach, weird doglegs. Well, at least it summed up what came before. Next year can't get here fast enough. What? We're at Valhalla next year? Scratch that last . . .
Since launching his first golf writing website in 2004, http://jayflemma.thegolfspace.com, Jay Flemma 's comparative analysis of golf designs and knowledge of golf course architecture and golf travel have garnered wide industry respect. In researching his book on America's great public golf courses (and whether they're worth the money), Jay, an associate editor of Cybergolf, has played over 420 nationally ranked public golf courses in 40 different states, and covered seven U.S. Opens and six PGA Championships, along with one trip to the Masters. A four-time award-winning sportswriter, Jay was called the best sports poet alive by both Sports Illustrated and NBC Sports writers and broadcasters. Jay has played about 3 million yards of golf - or close to 2,000 miles. His pieces on travel and architecture appear in Golf Observer (www.golfobserver.com), Cybergolf, PGA.com, Golf Magazine and other print magazines. When not researching golf courses for design, value and excitement, Jay is an entertainment, copyright, Internet and trademark lawyer and an Entertainment and Internet Law professor in Manhattan. His clients have been nominated for Grammy and Emmy awards, won a Sundance Film Festival Best Director award, performed on stage and screen, and designed pop art for museums and collectors. Jay lives in Forest Hills, N.Y., and is fiercely loyal to his alma maters, Deerfield Academy in Massachusetts and Trinity College in Connecticut.