The Journey at Pechanga Readies for 2008 Debut
Course construction is complete and a 2008 grand opening scheduled for The Journey at Pechanga, the latest design from architect Steve Forrest.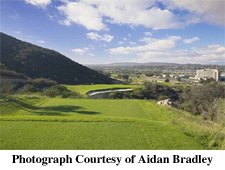 Photograph Courtesy of Aidan Bradley
Forrest, a principal with Toledo, Ohio-based Arthur Hills/Steve Forrest and Associates and the president of the American Society of Golf Course Architects (ASGCA), designed this southern California track fresh off a pair of award-winning projects in Sweden. The Journey at Pechanga - the centerpiece of the Pechanga Resort and Casino in Temecula, Calif. - marks a departure in style and setting from the Swedish courses, but not drama.
"I've never worked a site quite like this one. The Journey sets out at the base of a large mountain, crosses the Pechanga River, a dry wash where I have not yet seen any water, then basically sets off into the sky," says Forrest, who estimates the layout rises and falls some 300 feet in the course of 18 holes. "With that much elevation change, you're going to be in a cart anyway, quite frankly. So we made the decision early on in the design process to take full advantage of the terrain - we created some spectacular holes we could never have accessed or achieved on a 'walking' course."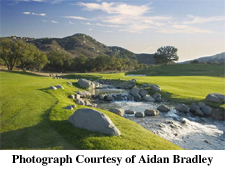 Photograph Courtesy of Aidan Bradley
To illustrate his point, Forrest cites the par-3 17th, called "Island in the Sky," with its green perched at the terminus of a high-desert ridge and its tee boxes benched into a hillside across a steep-sided canyon. He's also a fan of the 18th, a par-4 of modern construction that finishes at a classic Biarritz putting surface; and the inimitable 420-yard 6th, which drops some 300 feet tee to green. "The hang time there is stupendous, between 8 and 10 seconds," the architect says. "If you hit just right, you can almost drive the green thanks to the speed slot we created on one side of the landing zone."
Forrest and his colleagues at Arthur Hills/Steve Forrest and Associates excel at this sort of intriguing design. It's what distinguishes the firm's recent work: the new Forrest designs in Sweden - Sand Golf Club, just more than year old but already ranked by Golf Digest as among the world's Top 100 courses outside the United States (No. 82); Hills Golf Club, named by Travel+Leisure Golf magazine among the top 10 courses to open worldwide in 2005; and Wolfdancer Golf Club at the Hyatt Regency Lost Pines Resort in Austin, Texas, designed by Hills/Forrest partner Chris Wilczynski and named to Golf Magazine's 2006 list of "Top 10 New Courses You Can Play."
Forrest sees the same potential in The Journey at Pechanga, whose challenging yet sensitive construction has progressed alongside that of the ever-expanding resort complex (http://www.pechanga.com/home.asp). "It's a very impressive place that has probably tripled in size during my two years on site," Forrest says. "It's really become a destination, with the casinos, a comedy club, so many restaurants and the hotel towers. Everything has been done first class, from their telecommunications capabilities, to the traffic flow, to the accommodations, to the golf.    
"However, because it all took shape on Native American land, everything was done with extreme environmental and cultural sensitivity. Pechanga culture believes that spirits reside in oak trees and elderberry bushes, so they must be respected and protected. We moved 150 oak trees, as opposed to cutting them down. Some were simply untouchable, as were several burial grounds, of course, and so holes were carefully routed to accommodate them."
Forrest brought this emphasis on environmental responsibility to his term as president of the ASGCA, which began in April 2007 and will run for a year. Indeed, the Forrest administration will issue the ASGCA's third edition of "Environmental Approach to Golf Development" handbook in October (visit www.asgca.org for details).    
Forrest delights in The Journey's on-course cultural exhibits such as wooden teepees and cedar houses that tell the story of the Pechanga people. He loves how the exhibits contrast with the layout's contemporary design touches: the man-made water features on the 5th and 13th holes and the impressive bridges that span the property's many canyons and dry washes. "The bridges are features on the golf landscape that normally an architect attempts to hide," he says, "but these are very unique and attractive structures."
For more information on Arthur Hills/Steve Forrest and Associates, call 419/841-8553 or visit www.arthurhills.com.