The King & I
By: Joel Zuckerman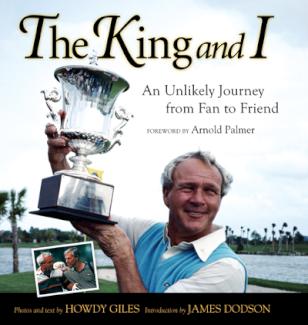 Howdy Giles isn't a Mafioso, nor is he affiliated with any element of the criminal underworld. But all one needs to do is spend 20 minutes conversing with this affable, garrulous dentist from Delaware, and you will quickly have an entire new appreciation of the word "connected."
Howdy is many things. He's a husband, father, grandfather, medical professional, successful business owner and loyal friend. But he is known throughout the golf world as the unquestioned No. 1 fan (with a bullet!), unofficially official photographer, and close personal friend of "The King," Arnold Palmer. This association, which began in the late 1960s, is the subject of a delightful new book by Howdy, cleverly titled "The King & I - An Unlikely Journey from Fan to Friend."
To say Howdy's deep association with Palmer has enriched his life is a bit like saying that paying attention in math class eventually helped Albert Einstein figure out a few scientific theories, or that learning to read the stock tables ultimately made Warren Buffet a couple of bucks. Simply put, Howdy knows everyone, has been practically everywhere, and has had more sports-and-celebrity-related fun experiences than practically anyone else on earth who's not a billionaire, prominent royal, or well-known celebrity in their own right.
His new book is an intriguing combination of text and photos, emphasis on the latter, as he chronicles by decade his life and good times with Arnold Palmer. Arnie deigned to write the Foreword; well-respected golf writer James Dodson the Introduction; and there are reminiscences from many golf luminaries within the text, including Brad Faxon, Ben Crenshaw and Peter Jacobsen, and television's Jimmy Roberts and Jim Nantz, among others.
But it is the photos and their captions that really tell the story, and keeps an engaged reader turning the pages. They are candid, personal, familial and often tender. It is like leafing through a family scrapbook, but instead of stills of Aunt Gertrude and Uncle Morty, most of the subjects are well-known themselves, some of them stars, all in orbit around Palmer.
Amid the recovery period after the whirlwind of parties celebrating Palmer's recent 80th birthday bashes both in Latrobe, Pa., and Orlando, probably nursing a sore "shutter finger" after taking another couple thousand photos, Howdy broke away from the whirlwind of his life to answer some questions. We discussed his early obsession with all things Palmer, his enviable position in the King's Court, and how, among other things, it has led to friendships with "A list" celebs like Jack Nicholson and Joe Pesci, and memberships at a pair of the world's most desirable golf clubs.
You had unusual goals as a young man. You wanted to meet, befriend, and ultimately become Arnold Palmer's dentist. Improbably, all three things happened. How?
"I began dental school in 1962, and Arnold Palmer was The King. I had just taken up the game, and he was a natural idol at that time, someone to look up to. We didn't actually meet until 1970, but over time we became very close friends. Pretty amazing, isn't it? The impetus for our relationship came through his late wife, Winnie. She sensed I was just an avid fan, didn't want anything from him, but just wanted to be a friend. Winnie brokered the friendship between the four of us - the Palmers, and my wife, Carolyn, and I."
Which came first: The obsessive collecting of Palmer memorabilia, or the friendship?

"When I was in dental school, my wife bought me some Arnold Palmer-endorsed slacks. Then I got some Arnold Palmer-endorsed alpaca sweaters. Then Carolyn bought me some Palmer irons, manufactured by Wilson. This was all in the mid-'60s, long before we ever met. Over time, you might say I've added significantly to that collection! One time we were hanging around his garage and he offered me a pair of unique Johnston & Murphy Anteater golf shoes he had worn in the first Senior Skins Game. It had special meaning because he had hit my brand-new driver so well a couple of times when we played at Bay Hill prior to the event, he asked me to borrow it to use in that Skins Game. Of course I was happy to accommodate the request, and happy to take the shoes once he offered them to me years later!"

Is it true you've taken about a quarter-million photos of Palmer?

"Yes it is. And over the course of the five days of 80th birthday celebrations earlier this month, I'm sure I took a couple thousand more."

And it's safe to say you've been a regular golf partner of his over the years, and flown with him on numerous occasions.

"Both true. I've played well over 300 rounds of golf with Arnold, and probably flown with him on his jet at least 50 times. I've also had the privilege of going to dinner, or having cocktails with him hundreds of times, probably about the same amount of times we've played golf together."

How often do you speak to him?

"Generally speaking, every couple of weeks, but there are stretches, like when Carolyn and I are down at Bay Hill during the winter, when I spend time with him or see him on a daily basis."

You have met hundreds, of accomplished people through your long association with Mr. Palmer. Who are some of your favorites, and what individual moments stand out in your memory?

"Peter Jacobsen, Rocco Mediate, Greg Norman, Lee Janzen, Payne Stewart, Jack Nicklaus, the first President Bush, Jack Lemmon and Bob Hope come immediately to mind. At the '83 PGA Championship we flew out with Arnie and Winnie, and were with the Palmers when we went to dinner at Bob Hope's house and Jack Lemmon's house on consecutive nights. I remember thinking, 'I'm just a country dentist from little old Wilmington, Delaware, and here I am hanging around with this Hollywood royalty!' "

Your wife was very friendly with Winnie Palmer, which precipitated your friendship. How does everyone get along with Arnie's second wife, Kit?

"We are very friendly. She is a lovely person, and we enjoy being with her very much. She also happens to be a photographer, which is something we really have in common!"

You must have a storage facility with all your Palmer memorabilia.

"I'm not as organized as I should be, but I'm trying to catalogue everything, and get all the photos on disc. In their paper form, they take up a ton of space in my basement, as you can imagine."

You are the head of a busy dental practice with 17 other dentists. Which takes up more of your time - work, or being Arnold Palmer's great pal?

"Normally I would say dentistry, but with the book's recent release I have to say it's more like half and half! Lately, I've been working at the office from about 7:30 until 1:00 or so, and then leaving."

You aren't quite in danger of breaking the 14-club rule, but you do have some pretty sweet memberships.

"That's true. I belong to Wilmington CC, Bay Hill and Latrobe CC. Carolyn and I went down to Bay Hill after the '71 Masters. We had just met Winnie at that tournament, having been introduced to her by a friend of ours who had rented his home in Augusta to the Palmers for more than 20 years during Masters week. The Palmers didn't come down to Bay Hill after the Masters, but Winnie called down to make sure we were having a good time. I said to my wife, 'That's it - we are definitely joining here, I don't care what it costs.' The cost at that time was $250. I came down and played in the Bay Hill Member-Guest a few times after I joined, hoping to get to know Arnie a little better. A couple of years go by, and then Arnie said to me, 'Howdy, you come all the way from Delaware to play in the tournament. You should join Latrobe, it's much closer to your home.' So I did."

You were like a stalker.

"Well, I hate to use that word, but back in the early '70s, it wasn't used in the context it is today. So yes, I guess I was! But I was sincere, I was honest, and Winnie trusted us, she knew we didn't want anything from them, other than to befriend them both."

You are also a member of Pine Valley. Did your fellow member have anything to do with your admittance to the world's most desirable golf club?

"No, not true. I was a member of Pine Valley about 20 years before Arnie became a member."

How about the Royal and Ancient Golf Club in St. Andrew's? Did you get in there on your own?

(Laughing) "No - Arnie definitely helped my cause there!"
Joel Zuckerman, called "One of the Southeast's most respected and sought-after golf writers" by Golfer's Guide Magazine, is an award-winning travel writer based in Savannah, Ga., and Park City, Utah. He has written five books, including the epic "Pete Dye Golf Courses" in 2008. Joel's course reviews, player profiles, essays and features have appeared in more that 100 publications internationally, including Sports Illustrated, Golf, Continental Magazine, Travel & Leisure Golf, Sky Magazine, Golf Connoisseur, Golfweek, Estates West, Millionaire and Golf International. For more of Joel, visit www.vagabondgolfer.com.