The Last Sunset at Beechtree
By: Jay Flemma
The heartwarming glow that is The Sportlight dimmed briefly as night fell over Aberdeen, Md. Beechtree Golf Club, a Tom Doak design conceived and built before Pacific Dunes catapulted his meteoric rise to stardom, hosted a somber yet eager gathering on this warm Saturday in early fall. Fourteen ardent golfers - dutiful students of golf design, enthusiastic supporters of Doak's work, and intrepid travelers all - came to pay their last respects to a dying Golf Magazine top-100 course and a well-celebrated gem. Beechtree closes its doors forever on December 7 to become a housing complex. It's a dark day for the game; a great light soon goes out.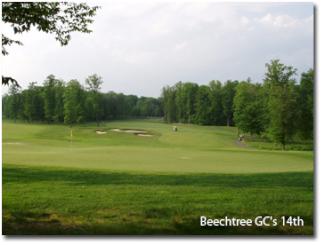 They came from all walks of life, different professions, and every point of the compass: from Quaker to Christian, from lawyer to entrepreneur, from Tennessee to Boston. "It was a nine-and-a-half hour drive from Nashville," said Eric Smith, who carpooled with a friend, "but since we don't have much great public golf in Tennessee, and since it's so widely respected among our friends, we had to make the trip before it closed forever."
Closed forever - after only 10 short but successful years - Beechtree deserved a better fate. Yet, it closes with one rousing curtain call after another. Rightfully earning, then basking in the esteem of thousands of golfers, in her swan song it draws players in droves for one last round.
Opening in 1998, Beechtree quickly outshone all its competition in the greater DelMarVa region with its cunning design features, tranquil natural setting, ingenious green contours, and competitive $95 high-season price tag. "Only nearby Bulle Rock, host to the LPGA Championship, can hold a candle to Beechtree, but Bulle Rock charges $50 more," remarked Gerald Mirotti, a D.C. area golfer I met randomly at dinner in Adams Morgan the night before the gathering. "Because of Doak's stature, the course has a place in golf history," he continued. "Whether it was for a tournament or just a fun round, playing that course was one of my fondest memories of the game. It's a terrible loss to golf."
Golfers from across the country agreed. Organized by members of Golf Club Atlas, (GCA, an online think tank that analyzes and discusses the nuances of course architecture and includes Doak himself among its 1,500 members), members expressed widespread dismay and quickly scrambled to make one last pilgrimage to pay their respects.
Chip Gaskins, also from D.C., who has played golf at such fabled venues as Pine Valley, Royal County Down, Pacific Dunes Turnberry, Ballyneal and Cypress Point, helped organize the meet-up. "What drew me to Beechtree?" he asked rhetorically, "Tom Doak. When I heard Beechtree was closing, I thought, 'You've got to be kidding. An architect at the top of his game with several top 100 courses to his credit has a course closing? That can't be right.' When you play your first Doak course, it's like reading Ernest Hemingway; you love it so much, you can't wait to see the next one."
Like many, Gaskins felt it was terrible for golf to lose a Tom Doak course. So he rousted up several colleagues online for one last round. "I was shocked when I heard," said a disappointed Phil Benedict, one of many who answered the call. "In this economy, I can't understand how the proposed housing is a higher economic use," he adds as he hits a drive with a long, sky-high ball flight.
Benedict may be right. Beechtree Golf Club will become housing for some of the thousands of government contractors and civilians impacted by Base Realignment and Closure (B.R.A.C.). Specifically, many workers are transplanting to Aberdeen Proving Grounds from Ft. Monmouth in New Jersey.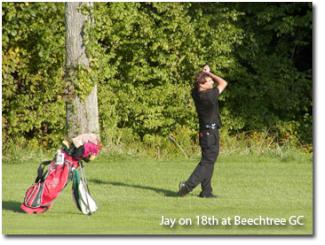 The Proving Grounds are an important military and governmental cog. They are "the science behind munitions, and they're really good at it," said one relocatee, who spoke on condition of anonymity. "But many of us still lose in the long run. I'm not happy about this. I'm just starting a family and I'm deeply concerned about the school system. Aberdeen, Havre de Grace and the other nearby districts are not as strong as other areas such as Belair or Fallston," he adds, the concern showing on both his face and that of his pretty young wife.

"They're also certainly not as strong as where we lived before," she adds, frustration edging into her voice. "We may have to send the kids to private school, but the costs are staggering to a young family." Rolling waves of relocatees such as this young family will arrive between 2010-12, so the loss of Beechtree is a fait accompli; December 7 is a hard deadline.

Still, players and staff alike are finding it hard to say goodbye because Beechtree feels so natural, so understated. It's comfortable, welcoming, and charming: it's like a warm cable sweater on a cold winter day in New England. "To quote Paul Simon," began one player from Boston, whose name I didn't catch, " 'losing love is like a window in your heart, everybody sees you're torn apart.' This feels like losing a friend."

The sentiment is not hyperbole, it was shared by everyone. The course's death watch has stirred the hearts of myriad players and depressed the course's staff. Still, they were chipper as our group arrived. We got a glorious day, especially for fall; it was clear blue skies from horizon to horizon "It's not going to rain on the last hurrah," cheered starter Bob Pruitt as we gathered on the first tee Indeed, the Golf Gods and the sun smiled broadly on us all day, we played in shirt-sleeves. Even though the gathering was mulled by the course's grim, inglorious fate, noble, charming Beechtree, at the last, was as she always has been: steadfast, stoic and sweetly serene, a course of surpassing excellence, with interesting surprises at every corner.

"That's right!" agreed peppy Michael "Mayday" Malone, a life-long golfer who calls storied Rolling Green Golf Club in Philadelphia home. A seasoned veteran who has played everything from Pine Valley to Ballyneal, from Merion to Ballybunion, Malone had a respect, even a soft spot for Beechtree. "Part of the allure of Beechtree is that the course is understated," he adds intelligently. "All the holes flow naturally with the land. Some greens are even mere extensions of the fairway, that's how subtle, how soft-spoken the course was. It felt like it was here much longer then just 10 years. Moreover, all the holes are so strong, that it's hard to pick a favorite."

Malone's comments are accurate. Wide off the tee, yet demanding on the approaches and showcasing Doak's typical undulating, intricate green complexes, the course appeals to a wide range of golfer, from rabid to casual. Are you a hardcore golf architecture junkie? Beechtree is as intelligent as any other prominent Doak design. Do you just like a pretty natural setting? Beechtree, with its varied hardwoods, pastoral creeks and gentle pastures of fescue is as soothing as any golf course in America. Do you care about conditioning? The course is in immaculate shape to this day.

Moreover, the course is by Tom Doak, the designer who has taken the golf world by storm ever since his epic Pacific Dunes opened and swatted Pebble Beach from its lofty, long-time perch as the greatest course in America with a resounding thud. Doak delivers masterpiece after masterpiece, seemingly effortlessly and with surprising but welcome frequency. "After Ballyneal, Pacific Dunes, Cape Kidnappers and all the other stunning successes-to-be coming on-line time after wonderful time, it's time to speak Doak's name as reverently as Mackenzie and Ross. And we get to play them all!" mused Charles Cordova, a longtime Beechtree player who always stopped by the course to and from his trips to Pinehurst and Myrtle Beach. "Well," he added sadly, pausing almost reverently, "all except Beechtree now."

GCA's Joe Bausch echoed Cordova's comments about both the course and Tom Doak. "I'm disappointed. There isn't another Tom Doak course on the Eastern seaboard that's so convenient and so inexpensive," he surmised. "$95 for a Doak course is a bargain."

"He's right," agreed Benedict. "In the greater New York area, we start at $125 and go up from there. Pound Ridge is even asking $235," he adds.

"There isn't a lot of inexpensive public golf in this area, but we got our money's worth here," said Arlington, Va.'s Jimmy Chandler, repeating Benedict's and everyone else's sentiment about the reasonable fee for the DelMarVa area. "There are munis and private clubs, but everyone could enjoy this."

"Doak did a great job with the land," he continued. "The holes here have more strategy than meets the eye, like the par-5 eighth hole. The cross-bunkers make you think about strategy. They test accuracy and distance control. You can't just bomb it out there, you have to think and think carefully. Other courses may look similar, but aren't as well thought out."

That's the Doak difference: craftsmanship and quality. Soft as butter off the tee (so even marginal players can stay in the game), yet tough as tree roots on the approaches and with greens that swerve every which way, the course is soft on higher handicappers, yet stern on experts. Even Doak remarked in passing on the GCA bulletin board that the course was better than he remembered

Additionally, the routing - the flow and sequencing of the holes - was both well thought out and reflective of what nature put there initially. Doak has no problem making a course asymmetrical (Beechtree plays 36-35=71 and features only three par-5s) and includes a rarity in this age where we sometimes cling blindly to symmetry, back-to-back pa-5s: one short, one long. On the latter, the eighth, although the tee shot is blind, playing over a hill the steeple of the clubhouse serves as the target line. It's a thrilling, inspiring shot: a shot that, sadly, many modern designers dogmatically and blindly eschew in the name of fairness. That's the Doak difference too: he crosses every "t" and dots every "i" and does it with a grand flourish.

You have to admit Doak's got style. Intricacies and surprises await at every turn. The green at the tiny par-4 fourth hole runs away from the golfer, confounding the careless player. The par-4 ninth features a devilish hump in the front of the green, shedding balls ruthlessly in every direction. The strong, long back-to-back par-4s at 14 and 15, "the sturdy backbone of the golf course," as Doak once observed, feature a stunning Sahara bunker complex, followed by a gorgeous dogleg around a creek and hardwoods. Finally, Doak called the par-3 13th "the best Eden Hole I've designed yet," referring to the epic par-3 at the Old Course at St. Andrews, which was his inspiration.

Okay, so the second hole sticks out like a sore thumb. It's not typical Doak at all, with water tee-to-green on a medium length par-3. However, a trained eye recognizes that Doak was in a strangely shaped corner of the property and needed a place to put the water for the course's irrigation. Also, No. 2 triggers my least favorite memory of the course. Trying to impress my girl with my golf prowess, I plunked two in the water. My laconic comment to Britt said it all: "Throw me another ball and wipe that smirk off your face."

Finally, everyone will miss the superb, rolling greens, greens which sometimes required playing 15 to 20 feet of break. "The greens are my favorite aspect of the course," says Bausch. "The internal contours are fascinating and the pin positions are intricate to say the least. And the greens don't just run back to front, they are more intelligent. Some run front-to-back, others run side-to-side."

"Yeah!" chirped Jimmy Chandler suddenly, recalling a personal horror story. "On the 10th green the middle is the hardest place, it breaks 6 feet off that hill in the middle. Who else but Doak would do that?"

"I also think that's a good thing that sometimes gets overlooked," added another attendee. "That gives the course much of its character. I get fooled here all the time and I've played here seven times. I keep coming back because I lived close by and the twilight rate of $50 bucks was a great deal for the money, and especially for a Doak. It's a tough loss. What's left to replace her?"

That's what really drew everyone here, the sentiment that nothing could replace Beechtree. Although everyone was cheerful and excited to play golf, we were sad for golf and for public golfers. In a way, writing this piece was like sending postcards from a wake. Too soon she'll vanish into memory, fading like smoke in the wind.

Still, we'll all look back at this era with longing. We saw Beechtree. We played it and celebrated her. The memory is truly bittersweet, fond affection, but sorrow for our collective loss. I can recall precious few moments in my golf life that were as moving.

Sure, although a great golf course dies golf doesn't. Doak actually has a great attitude about all this. "Yes, it's saddening," he began, "But Ross, Mackenzie and Macdonald, they all had courses that now are NLE (No Longer Exist). I look at this as a natural progression for an architect. On the bright side, I'm in good company."

Despite Doak's pragmatism, losing a course with such a great design and a historic pedigree is a loss that should never be countenanced. What if it were a Mike Strantz course next? Mike died after a mere nine courses. His legacy is precious. The loss of any one of his courses would be a catastrophe.

What if it was your favorite course? Beechtree was many people's favorite course and Doak their favorite designer. Worse still, the employees have to spend many days with the same pangs of loss players feel when they come to pay their last respects. You could see it in everyone's eyes as we gathered on the veranda to watch the sunset, players and staff alike.

As if on cue, the sun gave one final blaze of brilliant gold, dimmed slowly to a last burst of burning orange, smoldered to soothing cherry ember, cloaked itself in deep, velvety purple, and then dipped below the horizon as the stars winked on, one by one, as they have since Genesis. All that was left was the broadest sky, the clearest night and a gnawing sorrow.

And then she was gone from us. It was the last time our eyes beheld beloved Beechtree. We had her all to ourselves, and now we don't have her at all.

"It won't hit us on December 7," said one employee sadly as he watched the last light fade. "It'll hit us next spring, when we're longing for her, and she's not here. I know change is good and something we should embrace, not fear, but it's still a loss. There's a hole in our hearts for a warm place that gave us such cheer and joy. Beechtree will be tough to replace. There was no place on Earth quite like her."

The Things We do for Golf

My road to Beechtree was hectic and hair-raising. I spent the night before the round at the townhouse of my on again-off again-on again-off again-on again-off again paramour, Britt, who insisted on Ethiopian food for dinner.

I took two bites of a dish made with something called "Magma-Hot Tektonic Sauce," and set my whole body on fire. Good thing my legs still worked so I could run out the door screaming to submerge my head in the nearest fountain. So that's what they do in countries with no food. Two bites of that and you won't eat for three days.

Then, after returning to her place and falling asleep, we were violently rousted out of bed by Britt's roommate, who came home from bar crawling at 2:36 a.m. with Foghorn Leghorn, Daffy Duck and Petunia Pig for drinking buddies. These four loudmouth, lunkhead Looney Tunes proceeded to keep us awake until 5:00 a.m. playing "Guitar Hero" at a volume that could've passed for a devastating thunderstorm. One of them, an aging hippie who gestured wildly with a cigarette in his hands as he said, "Hey man, it's all good," nearly set the apartment on fire when he knocked over a pot of oil they were boiling to cook French fries. Finally, after plinking and plunking their drunken way through Kwame West's hit "Thug Thizzle," they passed out in a pile on the couch. Had I been 15 years younger, I would've taken a Sharpie and drawn all over their faces as they slept. That's idiot's justice.

Hey! Jay's got an early morning tee time tomorrow! Let's go rage at his place!

Then things got worse - as they say in the infomercials, "But wait, there's more!" The next morning, a tractor-trailer with hazardous material jack-knifed across I-95, shutting down traffic both ways on the most important north-south arterial on the Eastern seaboard. I called the course and they gave me alternate directions, simply saying "get off at Route 40 and take that to Old Philadelphia Road/Rte. 7."

There's just one problem: there are two such exits - one right after you get on 40 and another 10 miles down. They didn't tell me take the second and not the first, and I made that mistake. "What's the problem?" you ask? Well there's no re-entry back to the highway once you get off. So I had half an hour following a rolling chicken coop, half an hour behind a tractor, and half an hour not moving at all on the two lane road. So there I was, stuck in a stinking crossroads called Abingdon going nowhere. See the city, see the zoo, traffic light won't let me through (where have I heard that before?).

As a result, I made my tee time by six minutes, whereas if my plans hadn't gone haywire, I would have made it by 90 minutes. Hit the range? Properly introduce myself? Get a leisurely breakfast? Ha! I didn't even get a chance to spread the butter on my morning toast, I just wrapped the triangle of bread around the thick pat, shoved it in my mouth like Quentin Tarantino eating that whole donut in one bite (from "Four Rooms"), and dashed off spitting crumbs as I ran to the first tee.

The girl steals the covers after burning my innards, the roommate's boy-toy of the week bellows like a wounded rhinoceros all night, and a manure spreader crashes across I-95. Next time, I'm sleeping in the car.


Since launching his first golf writing website in 2004, http://www.jayflemma.thegolfspace.com, Jay Flemma's comparative analysis of golf designs and knowledge of golf course architecture and golf travel have garnered wide industry respect. In researching his book on America's great public golf courses (and whether they're worth the money), Jay, an associate editor of Cybergolf, has played over 220 nationally ranked public golf courses in 37 different states. Jay has played about 1,649,000 yards of golf - or roughly 938 miles. His pieces on travel and architecture appear in Golf Observer (www.golfobserver.com), Cybergolf and other print magazines. When not researching golf courses for design, value and excitement, Jay is an entertainment, copyright, Internet and trademark lawyer and an Entertainment and Internet Law professor in Manhattan. His clients have been nominated for Grammy and Emmy awards, won a Sundance Film Festival Best Director award, performed on stage and screen, and designed pop art for museums and collectors. Jay lives in Forest Hills, N.Y., and is fiercely loyal to his alma maters, Deerfield Academy in Massachusetts and Trinity College in Connecticut.