'The Legendary Evolution of Pinehurst' by Richard Mandell
By: Jeff Shelley
A total redesign and updated version of his 2007 history covering one of America's great golf resorts, Richard Mandell's second go-round of this title is vast in scope and delicious in detail.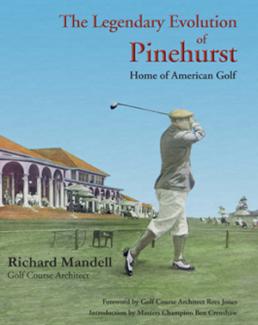 Cover of Richard Mandell's Pinehurst Book
Mandell, a 45-year-old golf course architect based in Pinehurst, has crafted many new courses and overseen remodels of several others, mostly along the East Coast. His trained eye for detail is keen, as is evidenced by this thorough chronicling of Pinehurst in North Carolina's ideal-for-golf Sandhills.

This is not the type of book that one casually reads in bed before nodding off. I once co-authored and published a mighty tome (both in heft and title length), "Championships & Friendships: The First 100 Years of the Pacific Northwest Golf Association," that was 438 pages long and weighed in at a hefty 5.6 pounds. Mandell's title is the same coffee-table size, and is maybe even a few ounces heavier.

But such ponderousness is necessary as Mandell's topic is a place that has made history for a century and will pad its heritage this year. For the first time ever, Pinehurst No. 2 - the most fabled course at the resort - will host both the U.S. Open and U.S. Women's Open, in consecutive weeks and on the same course.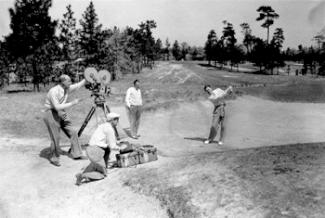 Byron Nelson Being Filmed Hitting out of a Bunker
With those championships in mind, "The Legendary Evolution of Pinehurst" should be required reading for the players, officials and volunteers, along with the thousands of attendees arriving there in June.

With a Foreword by Rees Jones, an Introduction by Ben Crenshaw - who, with architect-partner Bill Coore, restored Pinehurst to its original Donald Ross design tenets, and a thoughtful Prologue by Mandell, the book eases into the long and storied area that grew from a remote, health-oriented getaway for East Coasters into a region now called the "Cradle of American Golf."

In addition to his thoughtful, well-crafted prose, Mandell has assembled incredible early-day drawings and photos of Pinehurst. He was greatly assisted in this effort by the folks at the Tufts Archives in the Village of Pinehurst. This unparalleled collection of material has been gathered, donated, rescued and written since Pinehurst was founded in 1895 by the Tufts family.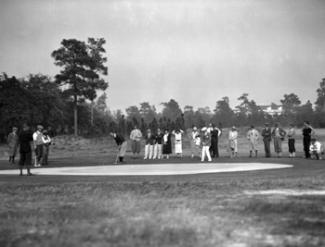 Wiffy Cox's 12th Hole at No 2, 1931
The book takes readers through the evolution of the retreat in Moore County, starting 10,000 years ago when the North Carolina Indians - known as Paleo-Indians - first settled, to its place in American history during the 1700s, to the establishment of neighboring Southern Pines - originally called "Vineland," to the acquisition of the property that eventually became Pinehurst, by Bostonian James Walker Tufts.

First dubbed "Tuftstown," the property soon became the Village of Pinehurst, and thus began its advancement as a recreational destination - and residential enclave - visited by travelers worldwide. Eventually, eight golf courses were built at Pinehurst, each identified simply as Nos. 1 through 8.

The most famous is No. 2, which Ross called, "The fairest test of championship golf I have ever designed," which says a lot coming from this preeminent golf architect.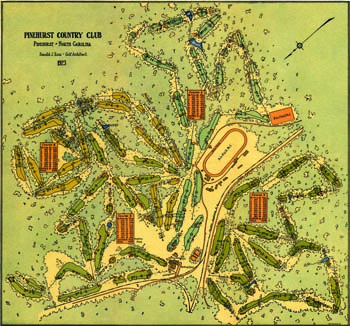 Layout of Courses 1-4 in 1923
(all Photos Courtesy of Richard Mandell)
The 2014 U.S. Open will be the facility's third time it holds that championship. It's also hosted a PGA Championship, the 1951 Ryder Cup, a couple of Tour Championships, a U.S. Senior Open and two U.S. Amateurs. Remarkably, No. 2 has been the site of the North and South Men's Amateur since 1901, as well as the women's version of that prestigious tournament since 1903.

Mandell's book is simply the most thorough ever written about Pinehurst. It's beautifully designed - with eye-popping graphics throughout, lovely color and period sepia-toned photographs, and boasts a broad, appealing and accessible layout that invites the reader to turn the pages and explore all of the tasty tidbits found within.

Though you can't put "The Legendary Evolution of Pinehurst" in your golf bag as a handy reference, you should certainly find a place in your library for this powerful, comprehensive story of one of America's true golf Meccas.
"The Legendary Evolution of Pinehurst," Richard Mandell, T. Eliot Press, 412 pages, ISBN 978-0-879436-9-1, $75. For ordering details, visit http://www.golf-architecture.com/news.php?id=61.