The Mighty Quinn Still Swinging
By: Dave Droschak
[Editor's Note: Cybergolf's Dave Droschak is in Pinehurst for the 114th U.S. Open. Here's Dave's second report.]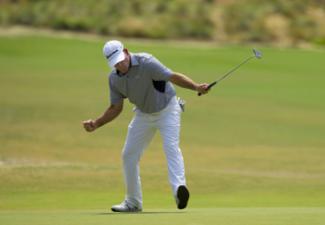 Fran Quinn Celebrating a Putt During the First Round
(Photo by Steven Gibbons - Copyright USGA)
Owen Quinn thought it was "cool" bragging to friends growing up that his father was a professional golfer. And then was the downside, of not being able to share special moments with his dad, who has been a two-decade-long journeyman on the Web.com Tour, traveling from town to town trying to regain his elusive PGA Tour card.

"Sometimes it was like I didn't see my dad in two months, he was gone all the time," said Owen, now a 15-year-old aspiring golfer himself as a high school sophomore in Massachusetts.

The two are making up for lost time this week with a memory of a lifetime. Fran Quinn, who last played in the U.S. Open 18 years ago and entered the hallowed grounds of Pinehurst No. 2 without the sniff of a world ranking, made the cut on Friday with Owen on his bag.

"If you play 25 tournaments a year you are gone for 25 weeks, but when I'm home I'm home and I tried to make up for lost time in those weeks," Quinn said. "That aspect of the job (traveling) is a little bittersweet, but having said that I feel my wife and I have done a pretty good job with what we've accomplished as a family."

The elder Quinn is certainly making "the family" proud. He didn't just make the 36-hole cut but was the U.S. Open media darling on Day 1 with a 2-under 68. He then proceeded to start his second round with two birdies in his first three holes to actually get close to runaway leader Martin Kaymer before fading to a 4-over 74.
Quinn sits at 2-over for the tournament through two rounds on this rigid Donald Ross test. But no matter where he finishes, Quinn knows one thing is certain: He'll be walking up the 18th fairway on Sunday - Father's Day - side-by-side with teenage son Owen.

I talked to both on Friday and they'll convince you the senior Quinn won't be hanging his head either, that he'll be in contention over the weekend.

"I expect to go out and play well Saturday - period," Quinn said. "There is nothing that would tell be otherwise. If I go out and play my game, put the ball in the positions I want, I'm going to have a great weekend."

Of course, we all know how 99.9999 percent of these U.S. Open "feel-good stories" end - badly. I vividly remember Olin Browne and Jason Gore here in 2005. Do I need to continue?

Quinn is 49 years young, having qualified for the 114th U.S. Open in Purchase, N.Y., tying for medalist honors with a pair of 69s. He has limited access on the Web.com Tour as a past champion, where he has won four times and broke the $1 million earnings mark in what is considered the minor leagues of golf.
The most money he ever made in any season on the PGA Tour was $47,199, and has made just 20 cuts in 72 career starts. Coming into Pinehurst, he had played just once this season.

Talk about a journeyman and the ultimate long shot.

"Anybody who has played for 20 or 25 years probably four or five times in their career thought about not playing anymore," Quinn said when I asked why he was standing in front of the media Friday afternoon in such a surreal moment. "I love the game; I know I have the ability to complete and I love the challenge every day of going out and trying to beat the best players in the world."

Quinn got it to 4-under early Friday and was alone in second place, but had bogeys on Nos. 4 and 5, then carded a double-bogey from the middle of the fairway on the seventh - a hole he also bogeyed Thursday. It looked as if Quinn maybe had hit that proverbial wall many "unaccomplished" golfers on a major stage succumb to.

Walking off the seventh green dejected, fans yelled "Let's Go Frannie" from the bleachers and he stepped away from his tee shot to consult with Owen for a second in order to line up his attempt at keeping his round together. "It was a lot of fun . . . I heard it on every hole all day long," Quinn said of the fans.
"We had a four-to-five-hole stretch where we were over par but we got it back on track," Owen said of the front nine. "He basically four-putted No. 7 even though he was off the green, so to get up there and stripe one down the middle on No. 8 I thought to myself, 'OK, he's still there, he's still in it. He's not throwing it away.' "

Walking off the eighth tee the senior Quinn turned around several times to look at the preceding green over his shoulder.

"I was saying to myself, 'How could you be that stupid?' " he said. "If I just did my due diligence and walked under the hole I would have known anything breaking underneath that hole is going off the green. I paid the penalty. It was a careless mental error. My bad and my fault for hitting a bad shot, but that's Pinehurst and that's the U.S. Open."

Quinn played in the 1992 U.S. Open in which Gil Morgan bolted to a 9-under score through two rounds, but didn't finish in the top 10.

"The bottom line is it's the U.S. Open and you're got to play four days," Quinn said of Kaymer's huge lead. "And it's hard sleeping on an eight-shot lead and it's hard playing with an eight-shot lead. I've been there before and it's not easy."

Not in these circumstances, with the entire world watching.
"When you're 49 years old you don't know how many chances you're going to get," his teenage son said. "Being here, 18 years since his last one, is unbelievable. When we got here the first thing we did was go to the range and the second I set foot on the range I was like 'Wow, I am inside the ropes at the U.S. Open. It's an unbelievable feeling.' "

And still, with more golf to play . . . another unbelievable feeling. "I'm just one good round away from being in the mix," said Quinn, his piercing blue eyes staring down some golfing conviction. "That's my goal. I still feel very confident."

After a steak dinner Thursday, the Quinns will be on another quest for chowder and lobstah.

"I got to bed late was my only problem," Quinn said when asked if it was hard to sleep with all the excitement surrounding his Open success. "You know after dinner I had to talk to everybody and then go back to the normal world and talk to everyone back in the house and put out a few fires."

Quinn certainly won't be in a normal or expected place Sunday. Whether he cashes the biggest paycheck of his checkered golfing career is unknown at this point, but he is guaranteed to bank something truly more special.
David Droschak has covered golf in the Carolinas for three decades, mostly with The Associated Press, where he worked for 20 years as AP sports editor in North Carolina prior to launching Droschak Communications, a full-service marketing and PR firm based in Apex, N.C.

Dave, 53, has covered numerous major golf tournaments, including the 1999 and 2005 U.S. Opens at Pinehurst Resort, and is a longtime member of the Golf Writers Association of America. Dave will represent Cybergolf to provide coverage of the historic back-to-back 2014 U.S. Men's and Women's Opens at Pinehurst No. 2 in North Carolina's Sandhills.

Dave was honored with the Sports Writer of the Year award in North Carolina in 2005, and is currently editor of Triangle Golf Today (www.trianglegolf.com), a print and online publication regarded as the "No. 1 Source for Golf News in North Carolina." He is also golf editor for Pinehurst Magazine, an award-winning glossy publication.

Dave grew up in Penn Hills, Pa., about five minutes from famed Oakmont Country Club and was introduced to the game of golf as a caddie at Green Oaks Country Club in nearby Verona, Pa. Dave was the co-captain of the 1978 Penn Hills state championship baseball team, was a pitcher for the 1982 Atlantic Coast Conference champion University of North Carolina Tar Heels, and pitched professionally for two years in the St. Louis Cardinals organization. He is a member of the Penn Hills High School Sports Hall of Fame, which also includes NBA coach George Karl and former four-time Pro Bowl offensive lineman Bill Fralic.