The NBA Playoffs - Hardwoods & Fairways
By: David Wood
The NBA's "second season" tips off this weekend and, while the Miami Heat and San Antonio Spurs are expected to meet in the finals for a second straight year, there are many upstart teams (Hello, Clippers, Bobcats and Grizzlies!) with realistic hopes of knocking off the heavy conference favorites.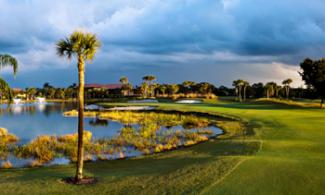 No. 18 on The Palmer Course at PGA National
The good news for NBA fans who are also avid golfers: Every city that will host a playoff game is also convenient to a top-notch course. So, if your favorite team is still alive and vying for the Larry O'Brien Championship Trophy and you're making the road trip along with them, there is good reason to pack your golf clubs.

Miami Heat
PGA National Resort & Spa in Palm Beach Gardens, Florida
www.PGAResort.com

The only thing more exciting than watching King James and the defending NBA champs tear up the court at American Airlines Arena is following it up with a round on the famed Champion Course at PGA National. The resort is also home to four other tournament-ready courses designed by the biggest names in golf course architecture, including golf's very own king, Arnold Palmer.

PGA National Resort & Spa is a veritable golf-mecca. Since 1981 PGA National has been home to some big moments in the sport's history, including the PGA Tour's Honda Classic, the 25th Ryder Cup, the 69th PGA Championship and nearly two decades of Senior PGA Championships.

Fresh off a comprehensive $100-million revitalization, PGA National is a AAA Four Diamond hotel featuring 379 rooms, a 40,000-square-foot European Spa with 32 treatment areas and the "Waters of the World" outdoor mineral pools, a 33,000-square-foot health and racquet club with 19 Har Tru tennis courts, and nine on-site restaurants and lounges.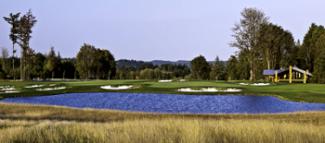 Salish Cliffs Golf Club
Portland Trail Blazers
Salish Cliffs Golf Club in Shelton, Washington
www.Salish-Cliffs.com

The Trail Blazers drew a tough first-round match-up against the Houston Rockets but are guaranteed at least a pair of home playoff games. The best way to spend the off day (Saturday, April 26) between the two games at the Rose Garden is to make the two-hour ride up I-5 north and tee it up at one of the country's newest courses.

Since opening in 2011, Salish Cliffs Golf Club at Little Creek Casino Resort has soared to top-10 status in Golfweek's "Best Casino Courses" and Golf Digest's "Best-in-State" lists, and for good reason. The Gene Bates design features outstanding conditioning - particularly the greens - on a secluded layout boasting 360-degree views of the Kamilche Valley.

Owned and operated by the Squaxin Island Tribe, the course is just one of many amenities recently introduced at Little Creek Casino Resort. After golf, you can treat yourself to a massage at Seven Inlets Spa or try your hand at blackjack, roulette or slots on the newly renovated casino floor that features the largest non-smoking area in the region. The best spot to catch some of the other NBA Playoff action is in one of the comfy leather chairs inside the Skookum Creek Cigar & Wine Lounge.

And with stay-and-play deals that start at $129 per night, per golfer, you'll have plenty left in the bankroll to visit the resort's popular poker room.
Dallas Mavericks Old American Golf Club in The Colony, Texas
www.oldamericangolfclub.com
The 2011 NBA Champs had a down season, but the quality of golf in the Dallas area remains top-notch.

With easy access through two airports - Love Field and DFW International - the "Metroplex" is easy to get in and out of. "Big D" is all about business, so golfers in search of a traditional golf resort experience have limited options. Those who appreciate high-quality daily-fee and semiprivate courses, however, will find an embarrassment of riches spread throughout the region.

Old American opened in 2010 to acclaim by Golfweek, Golf Digest and LINKS, and is located about 40 minutes north of DFW on Lake Lewisville. The layout was designed by Oklahoma-based Tripp Davis and PGA Tour and Ryder Cup star Justin Leonard. Its architectural elements were inspired by the "Golden Age" of golf course architecture, from 1910 to 1937.

Old American's "core" golf experience is such that homes only brush up against one hole, as the balance of the layout bobs and weaves along a peninsula jutting into the lake. Owner Jack Matthews is driving home the "Classic American" theme with unique additions like a turn-of-the-century Red River railroad bridge connecting the second and third holes, and a restored Midwestern farm barn serving as the cart storage area.

For traveling golfers, Old American teams with the NYLO family of boutique hotels, the closest of which is the Plano location near shopping, dining and entertainment options at the Shops at Legacy. Packages start at just $213 per player, per night. Those looking to double down for two rounds in two days can tee it up across from Old American at The Tribute Golf Links, another Davis design ranked among the top courses in the area.
San Antonio Spurs
Cordillera Ranch in Boerne, Texas
www.cordilleraranch.com
Don't look now, but the Spurs have grabbed another No. 1 seed. Duncan, Parker and Ginobili host the Mavericks in the first round. Cordillera Ranch, just north of the Alamo City in Boerne, grabbed a No. 1 ranking of its own. The Jack Nicklaus-designed course and private club was named "Course of the Year" by the National Golf Course Owners Association.

Suffice it to say, the members are proud. One of them is white-hot PGA Tour player Jimmy Walker, winner of three events since October and currently No. 1 in the Tour's FedEx Cup Standings. Walker was attracted to the tournament-caliber Nicklaus Signature Course, ranked No. 5 in the state by the Dallas Morning News, as well as the Tour-level practice facilities turfed with Zeon Zoysia.

While Cordillera Ranch is private, guests are able to play with members, and a Discovery Weekend package is available for prospective members. Opened in 2007, the layout has consistently been ranked among the best in Texas, most recently placing fifth on the Dallas Morning News' annual poll. Its par-3 16th has claimed the No. 1 spot as "Most Beautiful Hole" by the same publication for the past five years.

The layout meanders through the rugged Hill County landscape, skirting native grasses, limestone ravines and bucolic prairieland. Zeon Zoysia covers its tee boxes and fairways; the same advanced grass strain, noted for its drought resistance and stellar teed-up lies, will be used on the 2016 Rio Olympics course.
Brooklyn Nets
Pound Ridge Golf Club near NYC
www.poundridgegolf.com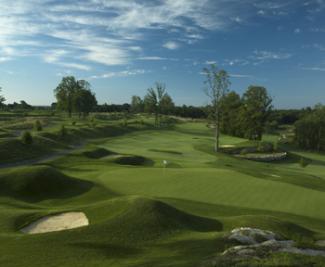 The 16th at Pound Ridge
Spring in the Hudson Valley means Technicolor blooms, wonderful vistas and (hopefully) shirt sleeves. Brooklyn Nets fans - both visitors to and residents of the Big Apple - will delight in discovering the only Pete Dye-designed course in New York: Pound Ridge Golf Club.

Opened in 2008, Pound Ridge is situated in upscale Westchester County, roughly an hour from Manhattan and just minutes from the financial and business hubs of Greenwich, Stamford and Norwalk, Conn.

Crafted by Dye, his son Perry (of Dye Designs) and long-time construction manager/lead shaper Michael Langkau, Pound Ridge is a full bentgrass facility, hewn from 172 acres of cliffs, streams and woodlands. In a region populated by famous private clubs, Pound Ridge stands out as a beacon for daily-fee play.

Dramatic rock formations and boulders were left onsite, creating one of the most visually stunning settings for golf in the U.S. More than 14,000 linear-feet of rock wall surround trees, wetlands and water hazards.

Pound Ridge houses a practice range, short-game area and putting green. All guests receive a complimentary yardage book, bottled water and complimentary range balls. Carts are now equipped with GPS to dead-aim-accurate yardages from any position.
In addition to writing on golf and travel, author and noted speaker David Wood has made several appearances on "Late Night with David Letterman" as well as dozens of other television shows. His book - "Around the World in 80 Rounds" - can be found at www.Amazon.com. Currently he works in public relations with Buffalo Communications in Vienna, Va. His website www.authordavidwood.com.