The Official Death of The Pit
By: Dave Droschak
When Pinehurst Resort owner Robert Dedman Jr. purchased The Pit Golf Links and its surrounding 900 or so acres in February 2011 many speculated about the eventual fate of the Dan Maples layout. Well, now we know the final spike is being hammered into the coffin of one of the most innovative designs of the last 30 years.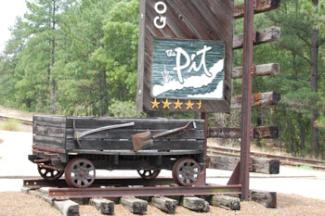 Entrance to The Pit Golf Links
(photo by David Droschak)
Architect Bill Coore, who along with partner Ben Crenshaw performed the recent wonderful renovation of Pinehurst No. 2, has worked up a land plan for an eventual No. 9 course on the land Dedman purchased last year. While the opening of a new resort course is in the future, and likely won't happen before the USGA converges on the Sandhills for its men's and women's Open championships in 2014, it is coming down the pike sooner than later, and The Pit will cease to exist.

What a shame.

Like it or loathe it (as many wrote of their golfing woes in a book in the clubhouse), The Pit had character and charisma, carved out of an old sand quarry by Maples in what amounted to a "if you dare" type of links layout. There were pinhead-sized greens (one even with a tree guarding the front-left portion on No. 8), blind shots, zigzag fairways, mounds, dunes, an island green, forced carries, no carries (as in the 90-yard par-3 on the back nine), wonderful golf cart rides and a clubhouse perched on a hill overlooking all of the golfing craziness.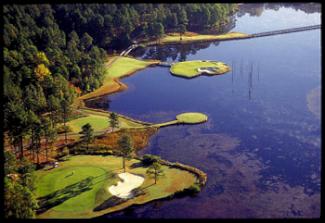 Aerial View of 11th & 12th Greens at The Pit
When The Pit opened in 1985, Tom Stewart, who now owns a noted golf memorabilia store in the Village of Pinehurst, was a golf pro and general manager of a course in his home state of Michigan. He recalls all the hoopla surrounding the Maples design.

"It was a hot property. It broke barriers," Stewart said. "The Pit was kind of breaking new ground for architecture at that time, in effect going back to the old stuff. When people talked about Pinehurst everyone would say, 'Oh, you've got to play that new place called The Pit.' It had such a fun factor. Unfortunately, it never had enough money to manicure it or groom it to reach its full potential. Nobody needs to tell us that golf is overbuilt, so it was probably inevitable."

What hurt The Pit more than its money woes was direct competition on the zany golfing meter. Just up the road in Sanford, the Mike Strantz-designed Tobacco Road opened in 1998 and, as many would say, "out-pitted The Pit" in terms of a more creative, daring and innovative golf challenge.
The Pit slowly began to bleed, its novelty no longer a draw, and with its course condition deteriorating with each passing year it was painful to watch this slow death.

At least we now know The Pit's fate.

Pinehurst Resort president Don Padgett II recently told me that Coore has routed a golf course on part of the land that once housed The Pit, and that the potential Pinehurst No. 9 course would go along the eastern portion of the property and only use land where two or three holes from the Pit are now located. None of Coore's No. 9 routing uses the back-nine lake, where the 12th hole's scenic island green was designed by Maples.

I guess thousands of golf balls will be spared a watery grave.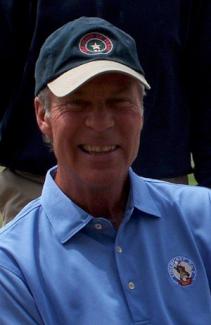 Ben Crenshaw of Coore-Crenshaw
"Right now Pinehurst No. 2 is driving a lot of interest," Padgett said. "Over a period of time as people travel to different resorts and all the different opportunities they have, to add a Coore-Crenshaw ninth golf course would give you another shot in the arm like the restoration of No. 2. Before that happens, though, we have to have greater demand than we have right now or we would just be shifting revenues. General business levels have to come up quite a bit."

Padgett said the resort has had a strong spring, but said as of now fall corporate play appears weak. "If our resort business started to pick up and got back to where it was in 2007 and 2008, somewhere near there, then yes, absolutely we would entertain moving forward on a ninth golf course," Padgett said. "Bill Coore tells us the land there is pretty dramatic."

Coore has yet to go on the record with a comment about the potential the land possesses as Pinehurst Resort has attempted to deflect publicity over a new course since the likelihood of anything being built soon is remote. The last golf course expansion came in 1996 when the Tom Fazio-designed No. 8 was opened to commemorate the resort's 100th anniversary.
Prior to 2008, there were no Coore-Crenshaw designs in Moore County, which is home to more than 40 golf courses and some of the game's all-time best architects like Ross, Ellis Maples and Fazio. However, the two principals are drawing rave reviews for their work on No. 2 and for the area's newest design, Dormie Club.

"I have nothing but great respect for Coore and Crenshaw," Stewart said. "Next to Tom Doak they are right on the cutting edge to building what I call appropriate courses for our time. I grew up in an era where I watered fairways at night and I mowed greens by hand, back then we didn't have all this fertilizer. We've been sold a bill of goods; the large corporations have sold golf clubs a bill of goods that was never good for the game.

"When real estate became a component in golf everybody became obsessed with the color green. You know, 'I want a green golf course outside of my new home.' But I love to play overseas because the courses are a better look to my eye than Augusta (National)."

Knowing Pinehurst Resort, and its propensity to underscore the game's history, a new Coore-Crenshaw design would likely be a 180-degree departure from The Pit's place in golfing lore.

Stay tuned.
David Droschak has covered golf in the Carolinas for three decades, mostly with The Associated Press, where he worked for 20 years as AP sports editor in North Carolina prior to launching Droschak Communications, a full-service marketing and PR firm based in Apex, N.C. Dave, 51, has covered numerous major golf tournaments, including the 1999 and 2005 U.S. Opens at Pinehurst Resort, and is a longtime member of the Golf Writers Association of America.

Dave was honored with the Sports Writer of the Year award in North Carolina in 2005, and is currently editor of Triangle Golf Today (www.trianglegolf.com), a print and online publication regarded as the "No. 1 Source for Golf News in North Carolina." He is golf editor for Pinehurst Magazine, an award-winning glossy publication, and was instrumental in helping launch Triangle Golf Deals powered by Twongo (www.trianglegolfdeals.com) in the fall of 2011.

Dave also is the co-founder of www.HurricanesBeat.com, a website devoted to coverage of the Carolina Hurricanes, an NHL franchise he has covered since the team moved to North Carolina from Hartford in 1998.

Dave grew up in Penn Hills, Pa., about five minutes from the famed Oakmont Country Club and was introduced to the game of golf as a caddie at Green Oaks Country Club in nearby Verona, Pa.

Dave was the co-captain of the 1978 Penn Hills state championship baseball team, was a pitcher for the 1982 Atlantic Coast Conference champion University of North Carolina Tar Heels, and pitched professionally for two years in the St. Louis Cardinals organization. He is a member of the Penn Hills High School Sports Hall of Fame, which also includes NBA coach George Karl and former four-time Pro Bowl offensive lineman Bill Fralic.