The Outstanding University Courses at Duke, North Carolina & NC State
By: Dave Droschak
With nearly one-third of the national basketball championships over the last 30 years shared between three schools in a tiny pocket of central North Carolina dubbed the "Triangle," no concentrated, 30-mile area in the nation can match the prowess and star power of the hoop programs at Duke, North Carolina and NC State.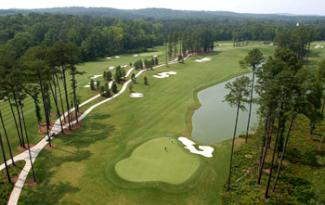 Aerial View of Nos. 13 & 15 at UNC's Finley Golf Club
The basketball names are legendary: Michael Jordan, David Thompson, Dean Smith, Mike Krzyzewski, Jim Valvano . . . as are the "Cameron Crazies" at Duke and the Tar Heels' "Dean Dome."

The yearly ACC hardwood battles are beyond intense as fans of each school root like hell against each other, paint their faces, chests and other body parts for games, camp out in frigid temperatures to secure tickets, and cling to every bit of hot recruiting news they can lay their eyes on.

In the gentlemanly game of golf, the pride of each university doesn't quite hit such extremes, but the battle heats up when talk turns to the links . . . and just which school has the best college layout.

NC State recently joined the fray with the 2009 opening of the Arnold Palmer-designed Lonnie Poole Golf Course. It, along with Duke University Golf Club in Durham and UNC Finley Golf Course in Chapel Hill, were all ranked in Golfweek magazine's top-25 university golf courses in 2010. And just like on the basketball court, each can drop the name of its architect at a frat party or job interview and feel confident in its product.
While the Palmer design team gave the Wolfpack a rugged-looking, supreme test of 7,358 yards, Tom Fazio retooled Finley in 1999 and Rees Jones massaged his father's classic Duke layout in 1993. You can't get a better trio in the business, and the result is "Game On" when it comes to school bragging rights.

"It keeps the rivalries a year-round, seasonal competition," Fazio said. "And it's something great for the state of North Carolina to have three fine universities with great golf facilities."

"Yeah, there is a rivalry underneath the blanket," added Duke's general manager Ed Ibarguen, who was hired away in 1988 from the Tar Heels by the Blue Devils on, of all days, April Fool's Day. "But when we're closed I'm recommending both of those golf courses. We help feed each other.

"One thing that we're very, very stern with our staff about is to promote the university golf courses; don't ever have any bad word to say about the other guy. These are three of the best university golf courses you can find in any area and they are all considerably different."

Distinct yes, but all three share three appealing qualities - they are open to the public, are void of homes and priced right. While each is considered among the top-50 courses in the golf-rich Tar Heel State, golfers pay less than $100, depending on the season.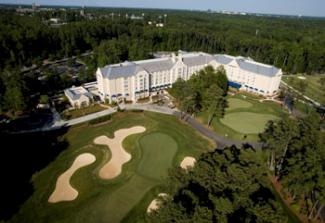 Overhead Look at Duke University GC
(courtesy of Duke University Photography)
Robert Trent Jones Sr. designed Duke in 1957, building the golf course in and around stunning Duke Forest with the help of the school's football players for a total of $500,000. In contrast, each hole was endowed for $100,000 when son Rees agreed to update his dad's work in the early 1990s.

Ibarguen tells a funny story about how he had to practically beg Rees Jones to take the job. Even though Jones played on his dad's design for Yale in the 1962 NCAA Men's Golf Championship, he had no desire to help out the Durham school since his wife went to rival UNC. But that all changed a year later, when daughter Amy applied to Duke.

"We have no influence on admissions at all, but I told a friend to keep an eye on the application and if she got in to call me and let me know," Ibarguen said. "I get the call that she's in and I immediately called football coach Steve Spurrier, who was a good golfer, and said: 'Coach I need one of those pullover jackets that have the V-neck with Duke across the front.' He gets me a large and I sent it in a FedEx package with a little note to Rees saying, 'Amy's in school. Welcome to the team.' He loved it."

With his daughter in Durham, Jones added special attention to the project with repeated trips from his New Jersey home, resulting in some truly special green complexes. He also made Duke more generous off the tee, improved the shot values into the greens and brought the hazards more into play.

"He very lovingly took his father's design, touched it up and left the routing," Ibarguen said. "It still very much feels like a Robert Trent Jones golf course."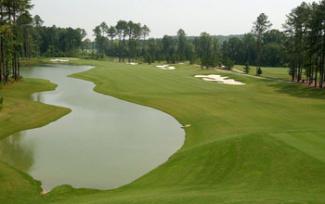 The 15th at Finley GC
Meanwhile, Fazio was slated to build NC State's golf course, but red tape delayed the project and he was instead introduced to the Finley re-design project, a course which at the time was nicknamed "Finley Flats" for its unimaginative layout.

"You can say basketball is a priority at the University of North Carolina and be correct, but golf is a big deal, too," Fazio said of a school that has produced great amateur Harvie Ward, PGA Tour players Jim Ferree, Davis Love III, John Inman and Mark Wilson, and was the school of choice for Jack Nicklaus II. "There was a feeling that the golf course didn't measure up to what the university is all about, so they asked me to take a look at it and come up with some ideas."

Fazio essentially blew up the old "Finley Flats" and created one of the top courses in the state. Towering pines now line most fairways, and there are four lakes and numerous natural areas and native grasses to provide for a visually pleasing round of golf.

"Yes, there was a golf course on the property, so what you have to do is literally put blinders on to attain your ultimate goal for the project," said Fazio. "The goal was to have a world-class golf facility. The most important factor was thinking outside the box and not allowing yourself to be committed just because something happens to be there, even if it's a good golf hole. You have to start with a clean slate, keep an open mind and not have preconceived ideas. You are looking for total effect."

"When you have Tom Fazio as your architect and you mention that name you don't really have to go any further," Inman said. "It's all first-class."

Lonnie Poole GC (Photo by Dave Droschak)
In Raleigh, 25 miles down Interstate 40, the Wolfpack had produced such pro golfers as PGA Tour winners Carl Pettersson and Tim Clark, but didn't have a home course to call its own until the Palmer design became a reality a few years ago.

"It was particularly a lot of pressure for me as an alumnus. And with it being an Arnold Palmer Design, that always comes with a certain amount of expectation," said Erik Larsen, who led the Palmer team.

Named after an alumnus who donated $3 million for the project, Lonnie Poole Golf Course has seven sets of tees, but put on your big-boy shoes if you decide to head to the tips, which has a 74.8 rating, 140 Slope. Also of concern are 72 waste bunkers involving more than 200,000 square feet of sand.

"The terrain of the golf course is completely unique to North Carolina, particularly around Raleigh with great rolling hills that drop down into these blue-line streams in the bottom with some good vegetation and open areas," Larsen said. "It really was a pretty rugged site. All we did was parlay that feeling into the overall features and characteristics of the golf course by isolating what are meadows or large natural areas.

"We did not want to have a formal golf course," he added. "The land just didn't speak that way. Plus it was something different. We were given the direction of producing a tournament golf course, something unique and different, particularly different from UNC and Duke. And this course provided that."
Larsen says the 552-yard par-4 third hole (recently changed to a par-5 in the fall) is on his top-10 lists of hardest holes he's ever designed. "And I've designed a couple thousand golf holes," he said.

And then there is the 662-yard 11th hole, which heads downhill with a clear view of downtown Raleigh off in the distance.

"How cool is that?" Larsen said. "The thing about this golf course, which is unique to contemporary design, is that it is a core golf course. There is no housing at all. It is pure golf, it's nature and it's open space, but you have a distant view of the urban, downtown area. That's some pretty neat stuff."

For more information about these courses, visit http://golf.duke.edu, http://www.tarheelblue.com/finley/unc-finley.html, and http://www.lonniepoolegolfcourse.com.
David Droschak has covered golf in the Carolinas for three decades, mostly with The Associated Press, where he worked for 20 years as AP sports editor in North Carolina prior to launching Droschak Communications, a full-service marketing and PR firm based in Apex, N.C. Dave, 51, has covered numerous major golf tournaments, including the 1999 and 2005 U.S. Opens at Pinehurst Resort, and is a longtime member of the Golf Writers Association of America.

Dave was honored with the Sports Writer of the Year award in North Carolina in 2005, and is currently editor of Triangle Golf Today (www.trianglegolf.com), a print and online publication regarded as the "No. 1 Source for Golf News in North Carolina." He is golf editor for Pinehurst Magazine, an award-winning glossy publication, and was instrumental in helping launch Triangle Golf Deals powered by Twongo (www.trianglegolfdeals.com) in the fall of 2011.

Dave also is the co-founder of www.HurricanesBeat.com, a website devoted to coverage of the Carolina Hurricanes, an NHL franchise he has covered since the team moved to North Carolina from Hartford in 1998.

Dave grew up in Penn Hills, Pa., about five minutes from the famed Oakmont Country Club and was introduced to the game of golf as a caddie at Green Oaks Country Club in nearby Verona, Pa.

Dave was the co-captain of the 1978 Penn Hills state championship baseball team, was a pitcher for the 1982 Atlantic Coast Conference champion University of North Carolina Tar Heels, and pitched professionally for two years in the St. Louis Cardinals organization. He is a member of the Penn Hills High School Sports Hall of Fame, which also includes NBA coach George Karl and former four-time Pro Bowl offensive lineman Bill Fralic.