The Pacific Northwest's Great - but Largely Unknown - Golf Trail
By: Tony Dear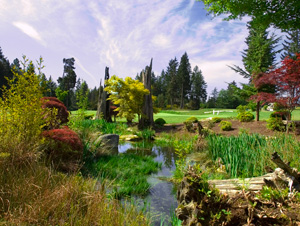 The Lovely Grounds at McCormick Woods
Washington's Kitsap Peninsula is home to a small collection of first-rate golf courses. But unless you live there or across the water in Seattle, you probably didn't know that.
After dreadful - though not altogether atypical - January storms plus an unsolved case of arson that destroyed the course's 50x100-foot maintenance building along with most of the machinery inside, you'd forgive McCormick Woods Golf Course in Port Orchard, Wash., for not looking its tip-top best just now. Jeff Mehlert, the facility's director of golf, will tell you it's in good a shape as it ever was, however.
"Seriously, I can't tell the difference between how it looks now and how it was a year ago," he says. "Our superintendent Scott Schenk and his crew of 10 did a superb job improvising through a tough situation."

Thankfully, no one was injured in the March 29th blaze, but so many vehicles and mowers were, Mehlert says, it would be easier to list what survived than what didn't. "A dozen triplexes, seven walk-behinds, shovels, rakes, blowers, aerifiers, utility vehicles you name it," he says. "We lost a total of about $800,000 worth of equipment."

McCormick rebounded quickly. John Deere and Toro reps were at the course at six the next morning with a selection of demo vehicles, and Schenk borrowed a few from the greens staff at nearby Gold Mountain who were quick to lend a hand. No one has yet been arrested for the crime but, Mehlert stresses, that isn't a major concern. "To be perfectly honest, it was never our focus to find the culprit," he says. "We were really more interested in growing the grass again and tending to the course for our customers. We're not getting that involved with the authorities' investigations."

Mehlert has been at McCormick Woods for nearly six years and manages it with his business partner Shawn Cucciardi, the club's general manager. The pair became friends through a common interest in junior golf and purchased the course for roughly $3.5 million in September 2003. Reluctant at first to make wholesale changes, Mehlert and Cucciardi did set about establishing a junior golf program that led to the formation of the Northwest Junior Golf Tour. The youth circuit has eight events scheduled for 2009, culminating in the Washington Games Junior Match Play Championship the first week of July.

"I love teaching kids and we now have a very strong junior program," says Mehlert. "But we have evolved into a family golf center I think. Juniors will probably always be a priority, but we are becoming increasingly keen to promote family golf and become an asset to the community."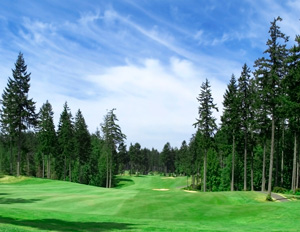 The 18th Hole at McCormick Woods
Now 22 years old, McCormick Woods was designed by Jack Frei and is as Pacific Northwest as December rain and good fish. The evergreens are dense, the views awesome. Green fees never top $59 and, together with nearby neighbors Gold Mountain and Trophy Lake, it forms part of what is surely one of the great golf getaways in America.

After the blinding success of the country's original golf trail - Alabama's Robert Trent Jones Golf Trail, construction of which began in the late 1980s and which has played a significant part in tripling the Yellowhammer State's revenue from tourism to over $6 billion a year - it's no surprise that other parts of the country latched onto the idea that collective marketing of golf courses offering stay-and-play packages is a good idea. An hour's search on the Internet throws up 27 such trails, some located in familiar golfing hotspots such as Florida and California, with others in somewhat less obvious locales like Utah and Nebraska.
The Kitsap Peninsula's own version, the Kitsap Golf Group (www.kitsappeninsulagolf.com), was formed in 2004 and offers that core package of three Bremerton courses that you could throw a blanket over. It would need to be quite a big blanket admittedly but, according to Mapquest, the longest drive between any of them is 16 minutes.
"I believe the collection of courses is right up there with the best in the country," says Cucciardi. "Each of them has won numerous awards, including Golfweek's 'Best Public.' Lodging is included at either the Silverdale Beach Hotel or Hampton Inn and Suites both of which sit on the shores of Puget Sound. For $349 plus tax, you get two nights' accommodation, breakfast and a round at each course with cart and range balls."

Considering the golf alone at three courses of a similar standard elsewhere in the country could cost upwards of $600, this is a sensational value. And for those put off by the 90-minute trip from Seattle, bear in mind 60 of those are spent relaxing on a Washington State Ferry (either the "Hyak" or "Walla Walla") crossing Puget Sound with Mt. Rainier and the Olympic Range in full view.
After a game at McCormick Woods, the next stop is probably Oki Golf-owned and -operated Trophy Lake Golf and Casting, a John Fought design ranked the second best public-access course in the state by Golfweek three years ago. At age 10, its 7,206 yards are maturing nicely. Fought visited last month and came away very pleased. "I had the opportunity to visit both Washington National (his other Evergreen State design) and Trophy Lake," he says. "Trophy Lake is looking better and better as the conifers continue to grow. It is a roughed site with lots of interesting contour and the center lake at the heart of the property is a wonderful feature."

Fought's favorite holes on the front nine are the 609-yard second, the long par-4 fourth and the par-5 seventh. "Seven is probably the most photographed hole on the course because the second shot is played sharply downhill with the Olympic Mountains in the distance," he says. "It is really one of the most stunning shots on the course."

On the back, he likes the stout par-4 10th and short 17th, which he rates as one of the best short holes he's ever built. "I've always liked the 17th," Fought commented. "While Trophy Lake has plenty of long powerful holes, this small hole is as interesting and beautiful as any on the course. At its longest, it isn't much more than 150 yards, yet the small, raised green can be a challenge to hit with the approach. I think it's great that it falls near the end of the round."

Trophy Lake, adds Fought, improves every year and is, in his opinion, better even than the highly acclaimed Washington National. "While I think Washington National is a fine course, I do think I prefer Trophy Lake," he says. "Some of the holes at Washington National are becoming dwarfed by the enormous homes that have sprung up, and much of the natural vegetation has been removed. Trophy may never have homes around the course so I think it will continue to retain its natural elegance."
The city of Bremerton-owned Gold Mountain Golf Complex will probably never have houses spoiling the visuals either. There are two courses at this location a few miles west of the Puget Sound Naval Shipyard, off Highway 3. "Cascade," designed by Ken Tyson and Jack Reimer and opened in 1971, is certainly worth driving out from Bremerton to play. And the John Harbottle-designed "Olympic," in 1996 and is worth driving out from Miami to play.
For most of its early life, Gold Mountain and the Cascade Course struggled, failing to excite local golfers and taking significant losses. In 1984, however, Seattle University alum (and a recent Hall of Fame inductee for the school) Scott Alexander arrived and helped turn the place around, ensuring Gold Mountain got its second course and assuming a pivotal role in attracting top national and collegiate tournaments.

In July 2006, the Olympic Course hosted the U.S. Amateur Public Links Championship in which Casey Watabu overcame Anthony Kim 4 and 3 in the final. Last year, it staged the NCAA West Regional in which the host University of Washington Huskies finished fourth. Later this year it will be the venue for the Ping/Golfweek Invitational, and in 2011 the best juniors in the land will arrive for the U.S. Junior Amateur Championship. It has also staged the Husky Invitational and, in 1999, a U.S. Open qualifier.

"I believe the Olympic Course sits just underneath the nation's top tier of municipally-owned courses, which basically consists of Bethpage Black, venue for the U.S. Open in a couple of weeks, and Torrey Pines which staged last year's U.S. Open," says Alexander. "We really don't think of ourselves as a typical muni. We think we deserve to be compared not just with publicly-owned courses but private, semiprivate and top resort courses too. We don't want visitors going home saying they think Gold Mountain is great . . . for a muni. We just want them to say Gold Mountain is great."

Don Atkinson, Director of the Kitsap Sports Council at the Kitsap Visitor and Convention Bureau and President of the Bremerton Athletic Round Table, recognizes the benefits Gold Mountain and its Kitsap Golf Group brothers have had in the county. "I believe the courses attract an additional 4,000 to 5,000 golfers a year through the joint marketing effort," he says. "That's significant certainly, but we believe it could be a good deal more. These three courses are special and when you add others in the area, which I know most visitors do, then it really becomes a great trip."

The other courses in the area Atkinson is referring to are Chambers Bay, 30 minutes south of Bremerton on Highway 16, Kingston's White Horse Golf Club, an excellent layout designed by Pete Dye's niece Cynthia Dye-McGarey but which is currently experiencing a lot of financial strife and could possibly end up being auctioned off, and Port Ludlow, a winding but beautiful two-and-a-half hour drive up the west bank of the Hood Canal on Highway 101.

For many years Port Ludlow was one of Golf Digest's best public courses in Washington, and Esquire magazine once placed the Robert Muir Graves-designed layout among the world's five most scenic. It's likely that whoever wrote that Esquire article was thinking primarily of the par-3 second hole on the Trail Nine while ruminating over his listing, as the 176-yarder that pointed north toward Mt. Baker across Ludlow Bay and Admiralty Inlet was an absurdly attractive hole. Graves added the Trail Nine to his original 18, made up of the Tide and Timber nines, in 1992, but sadly it closed earlier this year, another victim of the ongoing economic downturn.

Truth is, the Trail Nine got the chop simply because it wasn't as good as its older siblings, that second hole notwithstanding. Timber had long been the locals' favorite and Tide has wonderful variety. Plus, a few of Trail's holes were considered a little goofy early on, leading to the closure of the course shortly after it opened.

"We looked at our three nines separately and decided to close Trail," Diana Smeland, president of Port Ludlow Associates, said in a press release dated March 9th. "Closing the Trail course will allow us to devote attention to the more popular Tide and Timber nines. The possibility does exist however for us to reopen the Trail Nine when the economy improves. Our strategy for now though is to ensure a high standard of course maintenance and value to our members and guests."

The Kitsap Peninsula, with its central triangle of superb but surprisingly inexpensive courses, is the great undiscovered American golf trail. Add Port Ludlow, White Horse and Chambers Bay and you have the makings of a truly memorable tour. And it's not as if playing badly matters either. The views in these parts have a knack of making the third straight seven on your scorecard seem utterly inconsequential.
Tony Dear is an Englishman living in Bellingham, Wash. In the early 1990s he was a member of the Liverpool University golf team which played its home matches at Royal Liverpool GC. Easy access to Hoylake made it increasingly difficult for him to focus on Politics (his chosen major) and, after dropping out, he ended up teaching golf at a club just south of London where he also made a futile attempt at becoming a "player." He moved into writing when it became abundantly clear he had no business playing the game for a living. A one-time golf correspondent of the New York Sun, Tony is a member of the Golf Writers Association of America, the Pacific Northwest Golf Media Association and the Golf Travel Writers Association. In 2009, Tony won first place for Editorial/Opinion in the ING Media Awards for Cybergolf. The article (http://www.cybergolf.com/golf_newsa_euros_take_on_the_2008_ryder_cup_matches) that impressed the judges was the one about Europe's Ryder Cup team and Captain Nick Faldo's decision to pick Paul Casey and Ian Poulter rather than Darren Clarke.