The Past & Future of Golf in British Columbia
By: Blaine Newnham
In the span of three days and a few hundred miles, we saw the past and future of golf in Canada. And, eh, it looked good.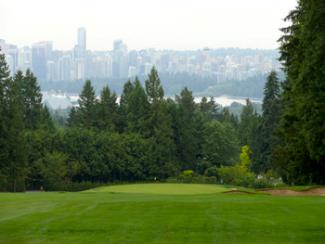 Downtown Vancouver on View from Capilano
Not professing to have played them all, but of those I have seen Capilano Golf Club in West Vancouver is the best of the classic Pacific Northwest courses - yes, better than Eugene Country Club, Royal Oaks, Fircrest, and Portland and Seattle golf clubs, even a late-comer that has hosted major championships, Sahalee.

This is old Canada golf, the 1930s masterpiece of Stanley Thompson, who did Banff and Jasper and Royal George in Toronto, who had the uncommon wisdom to make a golf course big enough for all time.

Capilano, host to next week's Pacific Coast Amateur, has a billion-dollar setting - almost a perch, with views in one direction of Grouse Mountain and in another downtown Vancouver and the islands beyond.

The old-growth trees are massive, but so are the fairways. There is no claustrophobia here, just a terrific routing that features as many short par-4s as long ones, a tiny par-3 and then one that demands everything in the bag. It is a course that simply mesmerizes you, altered little since Thompson ordered trees cut down to make room for golf holes.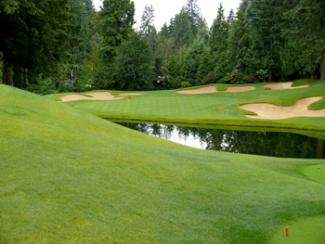 Some of Stanley Thompson Stellar Bunkering
When you stop taking a look at the views and start studying the course, you understand that Thompson didn't rush to endorse the penal philosophy, instead developing bunkers that could eliminate as many lost balls as lost shots. His bunkers at Capilano have been described as "amoebic."

Part of what were called the British Properties, Capilano - or "Cap" as it is dubbed locally - was tied into the development of a span to the north that crosses Burrard Inlet, Lion's Gate Bridge, which, according to lore, was limited to three lanes to keep the riffraff from pouring into the naturally blessed area.

Guinness Brewing Company put up the money to develop the area, and set aside 160 acres for golf. Thompson used the site to the utmost. There have been criticisms of the early par-5s as being too short for today's players. But the round finishes very strongly and, in every way, is playable for the members who, for the most part, walk a course that has only a few cart paths, and honors the tradition of the game as well as any I've seen.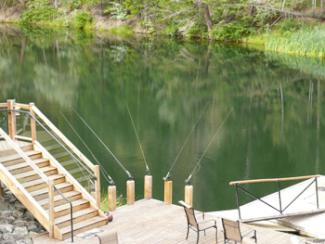 Near Terry's Hideout
Sagebrush

To the east, near the Okanagan and a two-and-a-half-hour drive away from Capilano, is Sagebrush Golf and Sporting Club, a course that honors the past in a different way, using a minimalist approach in its design and care.

The course wants to remind you of a links with rough-and-tumble bunkers, and fescue fairways that get British-Open firm as holes tumble along the side of Nicola Lake.

This is a rich boys' getaway, where for $300 a day you can play as much golf as you want, catch as many fish as you can, and enjoy a course that has no tee markers - just tee areas, no rakes in the bunkers, a course that crawls over hills and at times looks more like a pasture than a golf resort - which is the way the developers wanted it.

A busy day at Sagebrush might involve 60 golfers. There are some lovely accommodations alongside the course for overnight visitors. The old cowboy hotel down the road has bullet holes in the bar to see if you doubt the authenticity of the place.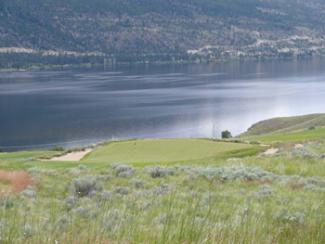 One of the Beautiful Par-3s at Sagebrush
You don't mind the yurt that acts as the Sagebrush pro shop, and another yurt on property, Terry's Hideout, where you can take a break and cast for fish after 12 holes.

The course was the dream of former Canadian Tour player Dick Zokol, who wanted to do something like Sand Hills in Nebraska. Sagebrush is about having fun. About making shots you never dreamed of attempting. It is a great match-play course with so many ways available to attack it.

Because of the elevation gains to get the gorgeous views of the lake and beyond, a cart is in order. That distracts from what otherwise is a wonderful throwback to another time.
Blaine Newnham has covered golf for 50 years. He still cherishes the memory of following Ben Hogan for 18 holes during the first round of the 1966 U.S. Open at the Olympic Club in San Francisco. He worked then for the Oakland Tribune, where he covered the Oakland Raiders during the first three seasons of head coach John Madden. Blaine moved on to Eugene, Ore., in 1971 as sports editor and columnist, covering the 1972 Olympic Games in Munich. He covered five Olympics all together - Mexico City, Munich, Los Angeles, Seoul, and Athens - before retiring in early 2005 from the Seattle Times. He covered his first Masters in 1987 when Larry Mize chipped in to beat Greg Norman, and his last in 2005 when Tiger Woods chip dramatically teetered on the lip at No. 16 and rolled in. He saw Woods' four straight major wins in 2000 and 2001, and Payne Stewart's par putt to win the U.S. Open at Pinehurst. In 2005, Blaine received the Northwest Golf Media Association's Distinguished Service Award. He and his wife, Joanna, live in Indianola, Wash., where the Dungeness crabs outnumber the people.