The Peaks Resort & Golden Door Spa
By: George Fuller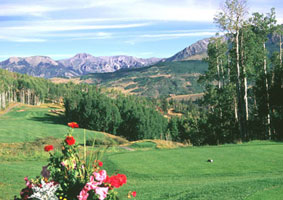 You'll need a calculator for this story.

First, punch in a 10 for the fact that you're in Telluride, Colorado, one of those exquisitely cute little mountain towns from the 1880s. Like Durango to the south, or Park City, Utah, to the northwest, Telluride has over the years had the good sense, good luck and relative isolation to preserve much of its original character and charm.

The town is essentially a Main Street – in this case called Colorado Avenue – where many of the cafes and restaurants, art galleries, boutiques and businesses are found, and a couple of dissecting streets where people live in 1880s-styled houses. It's quaintsy and downright fun.
Then, score another 10 for Mountain Village, a resort area 15 minutes up the mountain – and a whole different world – where modern luxury lodges stand next to private mountain castles, and a town square shopping area caters to golfers and nature lovers in the summer and skiers in the winter. This is where you'll find The Peaks Resort & Golden Door Spa, a cozy, pastel-colored, 174-room hotel with Southwestern décor overlooking one of the most scenic golf courses you'll ever play, Telluride Golf Club.
An additional set of luxury accommodations, The Cabins at The Peaks, opened in late 2000 adjacent to the resort. These 11 log-and-stone cabins are rustic on the outside, but plush on the inside. Offered are three- to six-bedroom units with stone fireplaces, kitchens, sound systems and steam showers, perfect for longer stays, small groups and families.
What makes the town, resort and golf course so dramatically beautiful, of course, are the imposing peaks of the San Juan Mountains, a 10 score without question. Part of the southern Rocky Mountains range, this tantalizing backdrop is snowy white in winter, red and golden from the aspen leaves turning in fall, bright green in spring and hues of brown in summer.
Bringing the whole package together, literally, is a gondola that runs from downtown Telluride up to Mountain Village. The gondola operates from early in the morning until late at night, so folks wanting to sample the wares and fare in town – and they should – can rest assured that their chariot awaits. Might as well score a 10 for the gondola, too.
Your stay at The Peaks is accentuated by the fact that all the activity is steps from the elevator to your room, summer or winter. The golf shop and starting area is downstairs from the hotel lobby. A cup of coffee later you're on the first tee, still shaking your head at the splendor of the surroundings.
Golf here is like getting a big dose of wasabi with your sushi: You don't know what to do first, shout or shuck corn. It's so darn beautiful that your swing can disappear like a deer into the forest if you lose concentration. Plus, at 9,545 feet of elevation, your ball travels considerably farther than you are used to. A 144-yard par-3? Hmmm . . . sand or lob wedge?
Extra distance is a good thing most of the time, as some stout carries are required from several tees. You can definitely use driver most of the time, but on the par-3 holes (and from the fairways), gear down one to two clubs. Instead of a 7-iron, try an 8 or 9.

The course is more of a tango than a waltz: There's a lot of motion and sway, give and take, dramatic head movements, beauty and unbridled passion. The design is a little unusual in that there are six par-3s, five par-5s and but seven par-4s. (That's par-71 since your calculator is busy.) In two instances, Nos. 2 and 3, and Nos. 16 and 17, the par-3s are back-to-back. So are the par-5s at Nos. 5 and 6.

But aside from these little design quirks, the course is right there with the prettiest you'll ever play. From the back tee box of the par-3 17th – to which you hike up some 35-40 stone stairs – your view is a picture postcard. The green is only 137 yards away, but it looks like a mile as it traverses a small gorge, with the peaks of the San Juan Mountains rising behind the putting surface. Shoo the furry marmots – Rocky Mountain squirrels – off the tee box, drink in the view and swing away. You almost don't care where your ball goes . . . unless you miss the green.

Golf season runs from late May/early June through late October, depending on weather, so plan accordingly.

One thing you should definitely sample in any weather is Appaloosa, the dining room at The Peaks. Chefs Bill Blakeman and Bud Thomas have some fun with this menu, using mostly Colorado ingredients to prepare such dishes as Colorado rack of lamb with carmelized mashed potatoes, roasted local Ulethera sweet corn and poblano chilies in a delightful soup, or a hard-crumbled, locally made blue cheese and butter lettuce wedge salad. Although the menu shifts seasonally, according to what ingredients are available, you'll find the fare to be creative and well prepared, as is the friendly staff. High marks for Appaloosa.

Another high mark goes to the Golden Door Spa at The Peaks. Patterned after the original Golden Door in Escondido, Calif., the spa here incorporates a variety of techniques and ingredients. Services include all types of massage, body work, body treatments and skincare. Indulge in a chamomile scrub, which is said to calm the mind and body. Or a Szekely body wrap, a detoxifying treatment where you are wrapped in steamed muslin sheets which have been steeped in herbs. Is there a better way to loosen the golf-weary muscles?

Are you still adding up the score? While you're at it, mark me down for a 10 at Hole No. 17, where my ball just barely missed the cup, coming up short by about 20 yards, where it landed in the ravine from which I hacked and hacked and hacked, finally got it out, chipped it up and three-putted.

Hey, like most 10s, I said it was gorgeous – not easy.

For more information on The Peaks Resort & Golden Door Spa, call 800/789-2220 or visit www.thepeaksresort.com. For more information or a tee time at Telluride Golf Club, call 970/728-6157.
Photographer and writer George Fuller has been covering golf and adventure travel for more than 15 years. His assignments have taken him throughout the United States, Asia, Polynesia, Europe and Mexico.

As an author, he has eight books to his credit, the two most recent being "California Golf – The Complete Guide" (11th edition, 2004, Avalon Travel Publishing) and "Discover Hawaii's Best Golf" (second edition December 2001, Island Heritage Publishing). Others include "Hawaii: Adventures In Nature," (October 1999, John Muir Publishing).

A former editor of "LINKS – The Best of Golf," he has contributed stories to many newspapers and magazines, including TIME, San Francisco Chronicle, Coastal Living, GOLF Magazine, Travel & Leisure Golf and others. Based in Marina Del Rey, Calif., George is a monthly travel correspondent for the PGA Tour (pgatour.com), and a Contributing Editor to The Golfer. We're very happy George is part of the Cybergolf team.