The Perfect Summer to Visit Scotland
By: George Fuller
If you are contemplating a Scotland trip this summer, I have one word of advice: GO! With the Open Championship at St. Andrews and one of the best new courses in the world having recently opened near Inverness, there's no better time to get back to the Auld Country. Take two weeks, as my brother Dave and I did last year.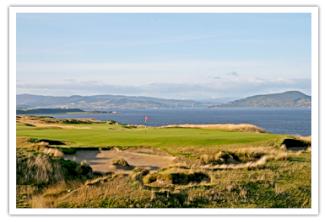 Castle Stuart's 16th with Kessock Bridge in Background
We went last July for the Open Championship (at Turnberry) on our annual brothers' golf trip. We spent 12 days prior to the Open playing as many courses as we could and loving life. So I don't tee the end of the story first, for now I'll only say that we ended up playing the Ailsa Course at Turnberry on the Monday after the Open, with Sunday pins, and I ended up facing the exact same putt for par that Old Tom Watson (as the Scots affectionately call him now) had to win the championship the previous day. Drum roll . . . back to that later.

First, let me tell you about the best new course to open anywhere in the world in the past 12 months, Castle Stuart Golf Links. Situated on the banks of Moray Firth just outside the lovely town of Inverness in the heart of the Highlands, Castle Stuart was developed by an American, Mark Parsinen, whose previous success was at Kingsbarns Golf Links near St. Andrews.
A visionary in the golf world on par with Mike Kaiser at Bandon Dunes, Parsinen and course designer Gil Hanse carved - much of it by hand out of fertile farmlands - a course that draws raves from everyone who has played it. Six holes, the first three on both the outward and inward nines, play right beside the sea, offering panoramic views across Kessock Bridge (which leads to Royal Dornoch) in one direction and stately Chanonry Lighthouse in the other.

After Dave and I played the course and were sitting in the thoroughly modern Art Deco-inspired clubhouse, I was hard-pressed to think of any other course that had six holes abutting the water as Castle Stuart does.

The design features wide fairways to account for the wind and weather that come off the firth, and an American-influenced layout that, for the most part, shows you the entire hole from its tee. Though the waterfront holes are most striking visually, many of the holes away from the sea are memorable as well, particularly No. 4, a par-3 whose green is back-dropped by the old castle after which the course is named. Built in 1625 and proudly flying the blue-and-white Scottish flag over its turrets, the castle today offers its eight bedrooms to guests looking for authentic, beautifully restored accommodations (reviews on TripAdvisor.com call it "magic," romantic" and "amazing").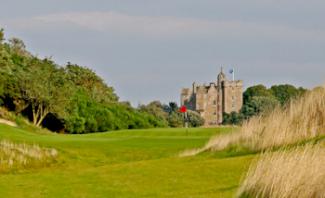 4th Hole at Castle Stuart
Dave and I stayed instead in bustling Inverness at a contemporary hideaway called Rocpool Reserve. Described to us in advance by PerryGolf, who planned our trip, as "hip," Rocpool features 11 individually decorated rooms that met our expectations of hipness: designer materials and furnishings unique to each room; rich color schemes; informal check-in; a staff that felt more like we were visiting family; and one of the best and most popular restaurants in town, Chez Roux.

Open just over three years ago, Rocpool Reserve is centrally located and overlooks the River Ness that flows through the city. We sampled some local brews at Castle Pub - next to Inverness Castle - and spent time chatting with some locals who provided evidence of what I've suspected all along: Scots seem genuinely to like Americans, which if you've traveled the world you know is not always the case. One young gentleman we encountered attributed our kinship to the historical fact that both Scotland and the United States are rebels with a cause against jolly old England.

Staying in Inverness also gave us quick enough access (about an hour over the Kessock Bridge) to Royal Dornoch Golf Club. With its rumpled fairways, seaside setting and trademark deep pot bunkers (two of which cost me triple-bogeys on par-3 holes), Royal Dornoch jumped into my personal top-10 list immediately. We sat in the classic clubhouse after our round enjoying fish and chips and watching the Open Championship . . . don't I wish I was there right now!

Making Inverness a must-visit golf destination like St. Andrews is the fact that surrounding the city are true gems: Castle Stuart, Royal Dornoch, Brora, Tain, Boat of Garten and Nairn, as well as many castles and historic cultural sites to see after golf.
From Inverness, we drove down to majestic Gleneagles, which is preparing for the 2014 Ryder Cup Matches. The Gleneagles hotel opened in 1924, although the first two golf courses - the King's and Queen's - were laid out by James Braid a few years earlier in 1919.

Set upon 850 acres, Gleneagles is a grand country estate that offers recreation suited to please everyone. In addition to golf, guests can play tennis, ride horses, hike the surrounding countryside, attend falconry and gun-dogging courses, go lawn bowling or shopping. A sign above the entrance to the high-end shopping arcade reads: "Retail Therapy Starts Here." Made me wish my wife was along, as my credit card wasn't getting enough of a workout. (An astonishing aside - two burgers and two iced teas in the Dormy Clubhouse cost us $80!)

The venue where the Ryder Cup Matches will be played in a few years is the newer Jack Nicklaus design called the PGA Centenary Course. Hole renovations are already underway that will lengthen and stiffen play from the tournament tees. But this scenic, parkland-style course remains a playable favorite for the rest of us visiting golfers.

It was here at Gleneagles, sitting in the Dormy Clubhouse restaurant, that we watched Watson's Sunday misfortune at Turnberry. We viewed with great interest, not only because of the magnitude of the moment, but also because we were scheduled to play at Turnberry the next day . . . Sunday pins, tourney tees, everything but the cheering crowds (although the grandstands were still in place).
So early Monday morning we set off for the Ayrshire Coast and Turnberry Resort. If you watched the Open on TV, you may recall the announcers discussing the complete makeover of the hotel. For anyone who has been to the resort before, it's remarkable to see.

The new owners spent $65 million to update and renovate the property. The work included opening up the check-in area and main lobby bar to sunlight and views, completely new and modernized guestrooms and bathrooms, a new sports bar on the main lobby level called Duel in the Sun (after the famous Sunday performances of Watson and Nicklaus in the 1977 Open), a new Chef's Table in the main restaurant and a new main lounge called Ailsa Lounge & Bar where drinks and casual dining ("Scottish tapas") are served.

The Ailsa Course was in better shape than ever, as it too had been closed to play since November 2008 while the hotel was under renovation. Dave and I were privileged to be included with a few members and tournament sponsors who were able to play on Monday following the Open. We challenged many of the holes from the tournament tees, just to see what the pros faced.
Although we lost more than a few balls in the deep fescue grasses - all four in our group stocked up in the pro shop just in case - we had decided in advance that score didn't matter. As we came down to the last few holes, after battling Ailsa and the elements all day - and indeed, Dave and I had played nine out of the previous 10 days of our journey - we were running out of gas.

After a woeful 17th - the "birdie hole" they called it on television, though you couldn't prove it by me - I managed to get my drive into the fairway on 18, which left some 220 yards to the green. From there I hit a 3-wood as hard as I possibly could - it sparked as the clubface struck the ball - and landed just over the bunker short left of the green, on a narrow patch of grass between the sand and some deep fescue. Feeling magic in the air, I chipped my third shot up to a spot some 6 feet short of the hole . . . remarkably, the exact same putt Old Tom Watson had faced the previous day to win the Claret Jug and be named Champion Golfer of the World once again.
As my playing companions reached the green just before a squall was about to hit, I marked my ball and stood looking at the empty stands around me, trying to imagine what the old warrior Watson must have been going through 24 hours previous. The television commentators were proclaiming it the greatest sporting achievement ever . . . there was $1 million on the line . . . . four days of pressure had come down to this one stroke of the putter. . . the galleries were ready to explode . . . his career about to take on mythic proportions.

It's impossible to put ourselves in his shoes. But in my own way, at the end of a Scottish odyssey of my own, my brother by my side, what I felt at that moment was a sense of peace and accomplishment just to be in the Auld Country, on a tremendous golf course, and to have made it to the last hole with a putt for par. I hope Old Tom felt that, too.

Of course, with all due respect, it may have been a bit be easier for me . . . I made the putt.
Award-winning publisher, editor, writer and photographer George Fuller has been covering golf travel and lifestyle for more than 30 years. His book and magazine assignments and projects have taken him throughout the United States, Canada, Europe, Asia, Polynesia and Mexico.

From 1992 to 1997 he was editor of LINKS-The Best of Golf, based in Hilton Head, S.C. In 2005, after having spent several years in the Pacific starting two magazines for Continental Micronesia Airlines and writing two books, Fuller launched GOLF LIVING Magazine for the Los Angeles Times, a "super-regional" magazine of travel, real estate and the lifestyle surrounding the game of golf. After a successful year of publication, he purchased GOLF LIVING from the newspaper and sold it to Media That Deelivers of Scottsdale, Ariz., with a contract to operate it for them.

In 2007, he launched TEE IT UP Magazine in partnership with the nationally syndicated radio show of the same name; and in 2009 he gained the contract to redesign and re-launch TEXAS GOLFER, a magazine with 25 years of history in the Lone Star State.

He has nine published books to his credit, the most recent being I Golf, Therefore I Am...Nuts! (2008, Human Kinetics Publishing). Others include Discover Hawaii's Best Golf (2001, Island Heritage Publishing) and California Golf: The Complete Guide, (11th edition, 2005, Avalon Books). He has contributed to many guidebooks, notably the Berlitz Travelers Guide, Birnbaum Guide, Citibank's Great Resorts of the World and several city editions of Guest Informant.

Fuller's newspapers and magazines credits include TIME, Wall Street Journal, San Francisco Chronicle, The Los Angeles Times, Robb Report, Coastal Living, Palm Springs Life, Estates West, GOLF Magazine, Golf Digest, Travel & Leisure Golf, LINKS, Successful Meetings, Honolulu and many others. He has reported for Reuters, United Press International (UPI), written for Copley News Service and is still a regular on-line travel correspondent for CBS Sports.com.

George Fuller is based in Newport Coast, Calif. He can be contacted directly at: gfuller@earthlink.net; 310/245-9550 (cell).