The Phoenician - An Arizona Classic on Top of its Game
By: George Fuller
Sitting around the fire pit on the balcony of JG Steakhouse on the top floor of The Phoenician on a warm December evening, with a glass of wine in your hand, looking out across the "Valley of the Sun" as the lights in Phoenix begin to twinkle through the pink sky, you realize there's not a better location in town. It's magical up here.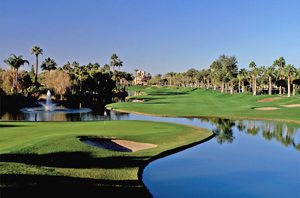 The Phoenician - Canyon Hole No. 9
Set into the southeastern flank of Camelback Mountain, this iconic, 643-room resort has recently completed several upgrades that will keep it on top of its game for years to come. Included are three new restaurants, including JG Steakhouse (which replaced Mary Elaine's, longtime standard-bearer for formal dining in Phoenix); Il Terrazzo, a three-meal-a-day eatery with Italian themes for dinner; and the fun new Relish Burger Bistro in the golf clubhouse, where 400 tequilas (with a Tequila Bible to tell them apart) and gourmet burgers are on the menu.

Equally exciting, all 27 holes here are open for the first time in two years, including two new holes that Phoenix-based architect Forrest Richardson designed, one of which - Oasis No. 9 - features a unique island green. Only instead of being surrounded by water, the putting surface rests in the middle of a moat of sand. As Richardson describes the risk-reward par-4 of just over 300 yards: "The tee shot will be a matter of options; the golfer will be able to play conservatively, or go for it - and the final hurdle will be the exciting approach to a narrow green rising up from a 'sea' of sand."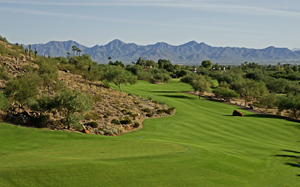 The 7th Hole at Phoenician's Desert Course
Richardson says working on The Phoenician has been both satisfying and nostalgic. "It's homecoming for me," he says. "Many years ago, during high school, I played golf here when the property was home to the old Jokake Inn, and the course was known as the Valley Club." Richardson's mentor, the late Arthur Jack Snyder, created the first edition of Phoenician Golf Club in the 1980s, eventually paving the way for the 27-hole modern classic that now darts around the base of Camelback Mountain.

Though the combination of any of the three nines just barely tops 6,000 yards from all the way back, it plays longer than that for men. On the other hand, it plays just perfectly for women, who traverse roughly 4,800 yards and typically report a very enjoyable round.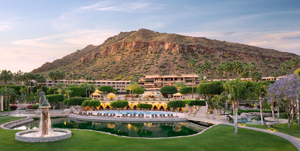 The Phoenician
Not only is the conditioning exceptional, but the views are superb. Several holes on the Desert course boast vistas similar to those found at the fire pit at JG Steakhouse. Holes No. 4 and 8, for example, are majestic par-3s that play from elevated tee boxes cut into the side of Camelback Mountain and peer out across the valley.

The golf course has been called a work of art for its skillfully sculpted desert-scape, but the fairways are not the only place art is found at The Phoenician. More than $25 million worth of artwork is displayed around the resort, including sculptures, paintings, tapestries and more. Around every corner and seemingly on every wall is a piece of art that begs a few minutes of your time. An art walk is offered and a program including admission to the local museum is also optional for guests.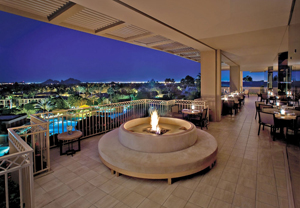 View from Phoenician's JG Steakhouse
Cuisine is also an art form here also. In addition to the three new restaurants noted above, the Cafe & Ice Cream Parlor serves specialty coffee drinks and fresh breads are baked daily (the chocolate cherry sourdough is a favorite) and a specialty retail shop called Grape & Grain offers daily wine-tastings with cheese pairings.

With all that to offer, The Phoenician will make an art lover of you quickly.

For more information, visit www.thephoenician.com.
Award-winning publisher, editor, writer and photographer George Fuller has been covering golf travel and lifestyle for more than 30 years. From 1992 to 1997 he was editor of LINKS-The Best of Golf, based in Hilton Head, S.C. In 2005, after having spent several years in the Pacific starting two magazines for Continental Micronesia Airlines and writing two books, Fuller launched GOLF LIVING Magazine for the Los Angeles Times, a "super-regional" magazine of travel, real estate and the lifestyle surrounding the game of golf. In 2009, he helped redesign and re-launch TEXAS GOLFER, a magazine with 25 years of history in the Lone Star State. Most recently, Fuller partnered with Troon Golf to launch TROON GOLF & TRAVEL, a monthly eMagazine with an annual print component. In addition, Fuller's newspapers and magazines credits include TIME, Wall Street Journal, San Francisco Chronicle, The Los Angeles Times, Robb Report, Coastal Living, Palm Springs Life, Estates West, GOLF Magazine, Golf Digest, Travel & Leisure Golf, LINKS, Successful Meetings, Honolulu and many others. He has reported for Reuters, United Press International (UPI), written for Copley News Service and is a regular on-line travel correspondent for Cybergolf. Based in Pacific Palisades, Calif., he can be contacted at gfuller@earthlink.net or 310/245-9550.