The Race to Dubai Now Underway
By: Tony Dear
Back in the 1970s and '80s, George O'Grady was the European Tour's background, backroom guy. In his thick, dark-rimmed spectacles, he was Ken Schofield's nerdy No. 2: efficient and businesslike for sure, but hardly a gregarious front man. When, at the end of 2004, he took over from Schofield as the chief executive, some wondered if his reserved, almost bashful, reticence was really what the European Tour needed, especially at a time when its main rival across the Atlantic was becoming so eminent with the help of one Tiger Woods.
It would be wrong to suggest O'Grady took on a sinking ship - Schofield had been responsible in no small measure for the success that European golfers Seve Ballesteros, Nick Faldo, Bernhard Langer, Ian Woosnam, Sandy Lyle, etc., enjoyed in the U.S. and around the world in the latter stages of the 20th century. The Scot negotiated the tour's successful expansion into the distant corners of the globe: Australia, Africa, Southeast Asia, Russia and, of course, the Middle East. But at the same time, the Tour was fast losing ground to the PGA Tour in terms of financial clout and prestige, the Mediterranean events, of which there were several, were becoming less than marquee to put it mildly, and a number of Europe's best young players - Luke Donald, Justin Rose, Sergio Garcia - were setting up shop in the States and making only the occasional appearance on home soil.
O'Grady knew he faced an uphill struggle and set out on the long road to stability and prosperity by continuing where Schofield had left off. He developed new events far away from the European mainland in China, Abu Dhabi, India and Korea, then set about forging long-term partnerships which he insisted would not be adversely affected by volatile markets. Even more significant, he made the most of the tour's growing relationship with oil-rich Persian Gulf states by creating his epic masterplan, "The Race to Dubai," which starts today in Shanghai of all places.
The Race to Dubai is Europe's version of the FedEx Cup. This week's HSBC Champions event is the first tournament in a 53-tournament strong season during which players will seek to earn enough cash to qualify for the 60-man Dubai World Championship to be played at the Greg Norman-designed Earth Course at Jumeirah Golf Estates in November next year. Those in that top 60 will already have banked something in the region of $750,000, and they'll play for a $1.66 million first prize in the $10 million Dubai World Championship, at the end of which a $10 million bonus pool will be divided up between the top-15 ranked players, with $2 million going to the winner.
These are not insignificant sums, large enough in fact to have aroused the interest of several of the world's elite players, some of whom might not necessarily be playing so far from home, or the U.S., and who might not have hinted at a desire to become a member of the European Tour were it not for this extra incentive. World No. 2, Phil Mickelson, is defending at Sheshan International GC this week. Masters champion Trevor Immelman is in the field as are Sergio Garcia, Padraig Harrington, Adam Scott, Geoff Ogilvy, Anthony Kim, Camilo Villegas, K.J. Choi, Ian Poulter, Paul Casey, Graeme McDowell and Henrik Stenson.
With so classy a lineup, it's no surprise the tournament, and indeed The Race to Dubai, is attracting so much positive press. To a man, the players have been singing O'Grady's praises and stating how excited they are about the season ahead.
It was very different two years ago, of course, when the FedEx Cup, devised by PGA Tour commissioner Tim Finchem, otherwise known as "Finchem's Folly," was launched. Two years on, the format is still confusing for both players and fans who remain unconvinced not only by the complex and seemingly arbitrary points system, but also the end of season playoffs which might work for the NFL and NBA but which have not enjoyed the smoothest of transitions into golf.
In contrast, not a single critical word has been uttered in reference to the Race to Dubai's far simpler format. After the Hong Kong Open next year, those top-60 money earners will head west to the United Arab Emirates where they will scrap it out at the Dubai World Championship for a place in the final top 15. No one will be scratching their heads wondering how many points they won, whether or not they have enough of them to make it into the next event, or if their second-place finish will win them enough points to overtake the player ahead of them in the standings.
Identifying O'Grady's biggest motivation for introducing his Race to Dubai is a matter of speculation. Unlike Finchem, he was not so compelled to take on other pro sports in a TV ratings war. So it's likely the European chief simply felt the need to match the PGA Tour, or possibly trump it, with a big season-ending finale of its own. One wonders if the Race to Dubai would have happened without the precedent of the FedEx Cup, and it would also be interesting to know how much of it is personal.
It's no secret O'Grady and Finchem don't see eye-to-eye on a number of matters - Finchem's rather arrogant refusal to take World Golf Championship (WGC) events out of the U.S. probably the stickiest issue. But O'Grady vehemently denies he is eager to put one over on the PGA Tour or for the European Tour to become its bitter rival. Instead, he hopes Europe can become a serious "alternative" to America and suggests he is open to potential collaborations between the two tours in the future, most notably in a combined effort to have golf reinstated as an Olympic sport, something that will only happen if they and the game's other ruling bodies can at least appear united.

That said, there's little doubt O'Grady is enjoying a wry smile at the considerable increase in attention his Tour is receiving just now, and how he is being lauded in the media while Finchem seems unable to avoid consistently harsh criticism.

But, for all the good vibes surrounding the start to the Race to Dubai, O'Grady still lacks the game's greatest money-making, attention-grabbing, news-making asset. Tiger Woods is an American who plays the PGA Tour and who, it is believed, has not yet made an approach to O'Grady regarding membership. O'Grady says Europe must produce its own Tiger and hopes Ireland's Rory McIlroy or Germany's Martin Kaymer may yet provide the spark for European golf that Seve Ballesteros did nearly 30 years ago.

That's several more bumps along O'Grady's uphill struggle though. For now, the serious and deliberate Englishman, born in Singapore 59 years ago, is enjoying a decidedly flat stretch. Interest is at an all-time high, the money is rolling in and the Tour has an elegant new logo as well as an exciting new schedule that culminates with the world's richest tournament. The Race to Dubai probably won't be the death of the PGA Tour, but for the first time in a long time, it does at least have some competition . . . genuine competition.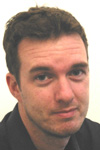 Tony Dear has been writing about golf for 11 years. A former assistant club pro from Sussex, England, Tony started out as a freelancer in 1992 before taking a staff writer's job at Fore!, a magazine based in Peterborough. As the magazine's chief instruction writer, it was Tony's job to compose instructional articles aimed at a youngish readership whose letters to the editor suggested they often got confused by technical jargon and theory. Tony brought his simple approach to teaching golf to the magazine, helping boost sales by 10,000 issues. As a result, he was nominated within the company and nationally for Young Writer of the Year awards.

From there, Tony moved 20 yards across the Emap UK office to join Today's Golfer. There, he was soon promoted to a senior editorial position, focusing on equipment, and became a significant part of a team that saw sales figures double within the magazine's first 12 months.

After three years at Emap UK, Tony was dragged kicking and screaming across the Atlantic by his American wife ("not really, I love it over here") and, after short spells in Phoenix and Denver, wound up in Seattle in May 2003. He recently moved to Bellingham in the far northwest corner of the far Northwest of the U.S. and became a father to a son on whom he has already staked for the 2029 Open Championship. At present, he is freelancing for a number of print and online publications back in England including Today's Golfer, Golf World, Bogey, The Open Championship Magazine and Casino.com. He is also a contributing editor for Denver-based Colorado AvidGolfer.

Recent features include a look at Colorado's self proclaimed 'links' courses, an interview with Suzy Whaley, with whom he played nine holes ("and got soundly thrashed") and a 64-page instruction supplement for Today's Golfer.

Tony has authored three books in the last five years and been nominated for several specialist and young writers awards. "Although I've never actually won one," he admits. He is a member of the Northwest Golf Media Association and the Golf Travel Writers Association based in London.