The RBC Heritage at Sea Pines - A Total Success
By: David Wood
From Carl Pettersson's commanding victory to his fellow Tour players' enjoyment of staying at Sea Pines Resort, the 2012 RBC Heritage turned out wonderfully. With temperatures hovering in the low- to mid-70s, sweet ocean breezes wafting off Calibogue Sound and blue skies overhead, the word "ideal" comes to mind. Spring on Hilton Head Island is about as good as it gets.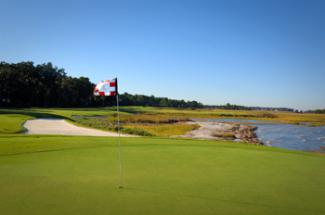 18th Green at Harbour Town
"The weather couldn't have been better," says Cary Corbitt, director of sports division of Sea Pines Resort. "Plus, not only were player compliments on the course very good but Pete Dye himself was ecstatic about the conditioning."

When at Sea Pines, it's not hard to see why the contestants enjoy the resort. Accommodations include the Inn at Harbour Town - a 60-room boutique hotel - as well as 300 villas and 100 rental homes, ample options for players and their families to stay within the confines of the resort. And that's exactly what they do.

As Matt Kuchar, who is accompanied by his family every year, said earlier in the week, "You never really need to leave Sea Pines."
Australian Tour stalwart Robert Allenby brings his boat up from Florida and docks in lively Harbour Town - which has numerous locales to dine or have a cold one outside in the elements. It's one of few Tour stops where players and fans mingle "after hours" throughout the week. Several stages are set up for live music and dancing. It's a frolicking scene of Lowcounty fun - kind of like Spring Break for golf lovers.

Then there's the tournament and classic Harbour Town Golf Links - which the players love despite its challenge. Most of the holes are cut through ball-gobbling swaths of stately oak trees. Amicable Englishman Gary Christian - a Tour rookie - laughed when describing the course, saying, "It's like trying to hit your ball down the corridor of a Holiday Inn."
Plus Dye has numerous water hazards framed by his signature railroad ties awaiting shots not struck with full authority. Rather than "grip it and rip it," Harbour Town requires cunning and the touch of a cat burglar. Whoever dons the tartan-plaid jacket awarded the victor on Sunday afternoon earns it, and Pettersson's five-shot victory certainly falls in that category.

Sea Pines also has the distinction of not one, but two outstanding Pete Dye designs. Opened in 2007, Heron Point winds through knotted hardwoods, lagoons and salt marshes teeming with wildlife. At 7,000 yards from the tips, the course is a fusion of short and long holes. Golfers will be challenged by fairways that move toward and away from hazards and Dye's ubiquitous mounding and swales framing target areas. Playing a Dye course demands a plan of attack; his creations almost smack of outdoor chess.
It's grand fun to try and match wits with the diabolical master of course design. Sure you'll want to play where the Tour stops annually, but Harbour Town Golf Links has a costar demanding attention as well. Heron Point makes for an unforgettable golf experience, but what else would one expect from the design genius of Pete Dye?

For more information about golf at Sea Pines, visit www.seapinesgolf.com.
In addition to writing on golf and travel, author and noted speaker David Wood has made several appearances on "Late Night with David Letterman" as well as dozens of other television shows. His book - "Around the World in 80 Rounds" - was just released in paperback on www.Amazon.com. Currently he works in public relations with Buffalo Communications in Vienna, Va. His website is www.DavidWoodSpeaking.com.