The 'Re-Hipping' of Palm Springs Golf
By: George Fuller
Palm Springs may have been your grandfather's favorite golf hideaway back in the day - as it was for Frank Sinatra and crew - but today it could be yours. This iconic desert community that once served as the playground for "Rat Packers" and Hollywood celebs is welcoming a new generation of travelers who are coming to discover haunts made famous long ago, and new ones as well.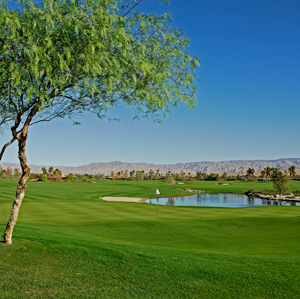 Escena's 10th Hole
You can book a suite at "the Riv" - Riviera Resort & Spa - where Old Blue Eyes once performed; stay in Marilyn Monroe's favorite room at Rendezvous Bed & Breakfast; and shop for retro-hip 1960s and '70s furniture at one of several boutiques in the trendy Uptown Design District.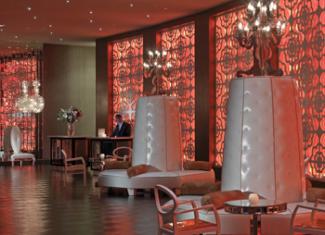 The lobby in Riviera Resort & Spa
Even golf has gotten all groovy, with the November opening of Escena Golf Club - a daily-fee Nicklaus Design. "We have recaptured that old school Palm Springs feel," said Mark Tansey, president of Sunrise Golf Company, which manages the facility. "Escena marks a return to what made desert golf great."

Though Dean Martin and Sinatra won't be there to greet you at the bag drop, one look at the Mid-Century Modern clubhouse will spin you backwards in time. Though it brags all the 21st Century toys such as flat screens broadcasting sports events, the open beam construction, lack of interior support walls, ample windows and low-slung roof overhangs provide a distinctly 1950s and '60s in feel. Even the 50,000 plants and palm trees that were added around the course are the exact same species used in classic 1960s' Palm Springs landscaping.
Once on the course, wide fairways afford golfers plenty of room to hit the ball, which is very welcome on windy days. And standing on the first tee, gazing at the phalanx of windmills that populate San Gorgonio Pass at the north end of the Coachella Valley, one realizes that it can get pretty windy here at certain times of the year.

Par-72 Escena stretches 7,173 yards from the tournament tees. The par-3 holes are all strong, several playing to elevated greens or against the wind. Palm and pepper trees add visual flair to the surrounds and colorful flowers and shrubs adorn the edges of fairways. Panoramic mountain views are enjoyed throughout and water is in play frequently on the back nine, with a large lake and waterfall making things exciting on holes 14 and 15.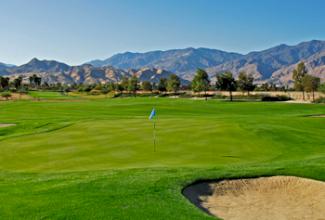 Escena's 17th Hole
With high-season rates ranging from $88 (Monday-Thursday) to $98 (Friday-Sunday), Escena is one of the better bargains in the region. Offseason rates (starting at the end of May) are $35/$40. Partner hotels include the Riviera Resort & Spa, where the 1950s' vibe is carried on in full force, thanks to a $70 million rejuvenation completed in late 2008.

Just 10 minutes away in downtown Palm Springs, Riviera is also near Palm Springs' other two golf facilities, Indian Canyons Golf Resort (36 holes) and Tahquitz Golf Resort (36 holes), and discounted tee times are available when booking a room. If that's not enough golf, dozens more courses are found in neighboring cities. (Tip: The 36 holes at Indian Wells are superb; and PGA West in La Quinta has five must-play public designs, including the legendary TPC Stadium Course, now in its best shape in years.)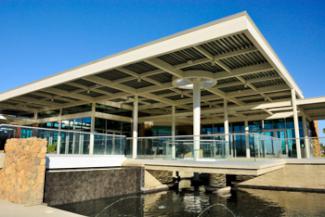 Escena's New Clubhouse
In addition to golf, Palm Springs has long been recognized for its bounty of restaurants, so don't plan on getting much rest when the sun goes down. If you're booked at the Riv, have dinner one night at Circa 59, where an eclectic menu tempts with such classics as veal ribeye Oscar, Roquefort-crusted beef filet and braised pork shank; as well as signature dishes such as chorizo-stuffed locally grown Medjool dates (appetizer).
Longtime favorite area restaurants are still there to greet you and your fedora, such as Las Casuelas (authentic Mexican food in an adorable 1920s' adobe building) and Spencer's (American cuisine with Pacific Rim influences in an indoor/outdoor setting). And newer venues will have you coming back for more, such as The Tropicale (decidedly retro-hip décor with a menu heavy on Pacific Rim specialties such as Chilean sea bass with Thai shrimp curry or Kahlua-barbecued pork chops).
Bottom line: After decades of being upstaged by newer valley destinations such as Indian Wells, Palm Desert, Rancho Mirage and La Quinta, Palm Springs is reasserting itself as the cool spot to play for a new generation of hip cats.
Contacts
Riviera Resort & Spa - www.psriviera.com  
Escena Golf Club - www.escenagolf.com
Indian Canyons Golf Resort - www.indiancanyonsgolf.com
Tahquitz Golf Resort - www.tahquitzgolfresort.com
PGA West - www.pgawest.com
Award-winning publisher, editor, writer and photographer George Fuller has been covering golf travel and lifestyle for more than 30 years. His book and magazine assignments and projects have taken him throughout the United States, Canada, Europe, Asia, Polynesia and Mexico.

From 1992 to 1997 he was editor of LINKS-The Best of Golf, based in Hilton Head, S.C. In 2005, after having spent several years in the Pacific starting two magazines for Continental Micronesia Airlines and writing two books, Fuller launched GOLF LIVING Magazine for the Los Angeles Times, a "super-regional" magazine of travel, real estate and the lifestyle surrounding the game of golf. After a successful year of publication, he purchased GOLF LIVING from the newspaper and sold it to Media That Deelivers of Scottsdale, Ariz., with a contract to operate it for them.

In 2007, he launched TEE IT UP Magazine in partnership with the nationally syndicated radio show of the same name; and in 2009 he gained the contract to redesign and re-launch TEXAS GOLFER, a magazine with 25 years of history in the Lone Star State.

He has nine published books to his credit, the most recent being I Golf, Therefore I Am...Nuts! (2008, Human Kinetics Publishing). Others include Discover Hawaii's Best Golf (2001, Island Heritage Publishing) and California Golf: The Complete Guide, (11th edition, 2005, Avalon Books). He has contributed to many guidebooks, notably the Berlitz Travelers Guide, Birnbaum Guide, Citibank's Great Resorts of the World and several city editions of Guest Informant.

Fuller's newspapers and magazines credits include TIME, Wall Street Journal, San Francisco Chronicle, The Los Angeles Times, Robb Report, Coastal Living, Palm Springs Life, Estates West, GOLF Magazine, Golf Digest, Travel & Leisure Golf, LINKS, Successful Meetings, Honolulu and many others. He has reported for Reuters, United Press International (UPI), written for Copley News Service and is still a regular on-line travel correspondent for CBS Sports.com.

George Fuller is based in Newport Coast, Calif. He can be contacted directly at: gfuller@earthlink.net; 310/245-9550 (cell).