The Revere at Anthem Continues to Grow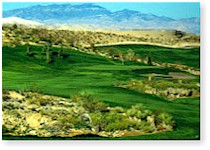 Set to open in late spring 2002, Concord will become The Revere at Anthem's second golf course. Designed by golf course architect Greg Nash and the legendary PGA Tour Hall of Famer, Billy Casper (the team that designed the Revere's first course, Lexington), the 7,100 yard par-72 Concord layout will feature many of the same landscape features the community of the Anthem has grown to love, but will also have a uniqueness all to its own.
More than 1,700 trees have been planted throughout the golf course, and a five-acre lake has been excavated. Like the Lexington course, Concord is expected to provide some of the most scenic and challenging golf holes in southern Nevada. "The golf course is taking shape quite nicely," said Clay Meininger, Director of Golf. "Although the course is not yet complete, you still get a sense that this golf course is going to be something special."
In addition to another 18 holes of golf, The Revere at Anthem offers a unique golf-practice facility. The new practice field, called Battlefield, is lined with cannons. The facility allows golfers to practice shots before rounds in specially designed "firing" stalls. Each stall comes complete with practice balls, an assortment of tees and a personal "arsenal" (club) cleaner.
Slated for completion in late September 2001, the clubhouse at The Revere at Anthem will contain a golf shop, restaurant and bar, and banquet facilities. The 3,000 square-foot golf shop will be fully equipped with golf merchandise and "Revolutionary" themed goods. A distinguishing feature of the clubhouse will be the wall-to-wall glass at the back of the building. This area will offer spectacular views of natural surroundings as well as the Las Vegas Strip. The restaurant and bar will provide casual dining in a comfortable setting for post-round festivities. Banquet rooms will be available for special events.
To schedule a tee time or book a golf event at the ever-expanding Revere at Anthem, call (702) 259-4653 or click on http://www.revereatanthem.com/index.asp.