The Road Hole - A Bucket of Balls with Robert Trent Jones, Jr.
By: Jay Flemma
[Editor's Note: Cybergolf's Jay Flemma recently sat down and had an extensive question-and-answer session with notable golf course architect, Robert Trent Jones Jr. Here's what the two discussed.]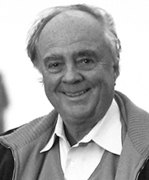 Robert Trent Jones Jr.
Jay Flemma: How disappointed are you that you didn't get the 2016 Olympics Course gig down in Rio?

Robert Trent Jones Jr.: I'm not disappointed - I'm supportive of golf being successful in its re-emergence in the Olympics. However, the sand is running out of the hourglass, and everyone will have to get started soon if they want the proposed new golf course to be a venue for this Olympics.


JF: You mean regarding the land dispute?

RTJ 2: Anything to do with land in South America is going to risk being disputed. They can sort it out, but they are running out of time to complete and test the new venue, which is required by the IOC for all sports in the Olympic games. While it might seem this is all local politics, there's sometimes more politics in sports than there is in politics itself!

JF: Did you utilize any design concepts or ideas from Chambers Bay in the design you submitted for the Olympics?
RTJ 2: Yes and no. Our primary goal was to create a purpose-built golf course to host both men's and women's events sequentially. Thus the St. Andrews Old Course and its open landscape and wide, double-fairways were our model, because it has historically been played in opposite directions: i.e. both clockwise and counterclockwise. It's really two routings over one golf field.

JF: And you gave the Olympics a reversible design?

RTJ 2: Yes. Never in the history of the game have they played two professional tour events on the same course back-to-back. We all know what a golf course looks like after Tour events leave it: divots everywhere and the rough trampled by the gallery. You can only design a course that can survive that on a flattish, open sandy site such as St. Andrews or Pinehurst, and so that's what I designed and submitted to the Olympics. Pinehurst will be the "Beta testing" for the idea of two events held on one course in 2014 for the U.S. Men's and Women's Opens, so we'll see how it can work for 2016.

JF: We hear you may take some of the design concepts from Chambers Bay and the Olympics design and use them for a new course at Dorado Beach in Puerto Rico?

RTJ 2: We think some of these concepts could be implemented well at Dorado Beach as it repositions its total golf experience. Speaking of repositioning, Poppy Hills is being rebuilt by Bruce and I right now.

JF: What are you doing at Poppy Hills?
RTJ 2: We're slightly rerouting it. 10, 11 12 are new holes, all the rest are being updated with water conservation in mind.

JF: What do you mean by updated?

RTJ 2: Water conservation is a primary concern. It's a precious resource, and the California State Golf associations are very good about staying out in front on environmental issues. We're taking out the lake on the fifth hole (with water conservation in mind), and we're creating non-irrigated sandy wastelands everywhere else around the course, recreating an arid rough similar to Pinehurst.

JF: When will it be ready?

RTJ 2: It will be ready in 2014.

JF: Where else have you been designing recently?

RTJ 2: We have a new project in Columbia, South America; the name is Mesa de Yuguas, which means "The Hills of the Wild Horses." It's right in the shadow of the Andes. We're completing a fabulous course outside Rome, Italy, called Tierra di Consuelo. The Roman consuls met 2,000 years ago on this land. It's about 15-20 miles from the center of Rome. The old Roman stone road, the Via Franco (which goes all the way to Germany), weaves through the golf course.

JF: Is the road a hazard?
RTJ 2: No, you cross it and play on either side of it. It's 27 holes: the 18-hole "championship" course and another shorter nine-hole family course. We have a second course in Italy, Gorgia di Bagnia, outside Siena, which opened in 2012.

JF: You also built in Greece as well, didn't you?

RTJ 2: Yes, we recently opened Navarino Bay in Pilos, Greece. It's a shortish course, but beautiful and fun, tucked right on the bay, enclosed in its own little sanctuary. It's got only half the number of bunkers you'd find elsewhere, and it's just 6,100 yards, but it's right on the water in a beautiful Mediterranean climate.

In China we opened 36 holes just north of North Korea, which is called Chan Bai Shan. It's next to a huge mountain which is the border between China and North Korea in a beautiful forested mountain region.

And we're doing some refinements and renovations to my own work, and my father's work elsewhere, to improve the courses of the Robert Trent Jones legacy.

JF: Such as?

RTJ 2: Mission Viejo in Southern California. And Poppy Hills and Dorado Beach, which we already discussed. Also, last year we reopened the East Course at Dorado, which my father designed in the '50s. It was an important job for me, because that's where I first fell in love with golf course architecture and wanted it to become my life's work.
We're also rerouting and renovating SentryWorld in Steven's Point, Wis. SentryWorld was built in 1981, and it was game-changer then.

JF: Why?

RTJ 2: It was a BIG golf course, the first of the modern golf courses to be built on Wisconsin, where as you know, they love their golf. They held a U.S. Amateur Public Links there, and over the years a lot of legendary pros like Gary Player came there. SentryWorld stimulated the golf boom in Wisconsin, and more courses were built, such as Kohler and Erin Hills. It's a low, flat, wooded site, and when it was built a large manmade lagoon was created. For environmental reasons, we couldn't use all the lakeside property for golf, but with a new routing, now we can. Now flora fauna and golfers now coexist . . . just like they do at Sharp Park.
Since launching his first golf writing website in 2004, http://jayflemma.thegolfspace.com, Jay Flemma 's comparative analysis of golf designs and knowledge of golf course architecture and golf travel have garnered wide industry respect. In researching his book on America's great public golf courses (and whether they're worth the money), Jay, an associate editor of Cybergolf, has played over 420 nationally ranked public golf courses in 40 different states, and covered seven U.S. Opens and six PGA Championships, along with one trip to the Masters. A four-time award-winning sportswriter, Jay was called the best sports poet alive by both Sports Illustrated and NBC Sports writers and broadcasters. Jay has played about 3 million yards of golf - or close to 2,000 miles. His pieces on travel and architecture appear in Golf Observer (www.golfobserver.com), Cybergolf, PGA.com, Golf Magazine and other print magazines. When not researching golf courses for design, value and excitement, Jay is an entertainment, copyright, Internet and trademark lawyer and an Entertainment and Internet Law professor in Manhattan. His clients have been nominated for Grammy and Emmy awards, won a Sundance Film Festival Best Director award, performed on stage and screen, and designed pop art for museums and collectors. Jay lives in Forest Hills, N.Y., and is fiercely loyal to his alma maters, Deerfield Academy in Massachusetts and Trinity College in Connecticut.