The Second Coming
By: Tony Dear
Notah Begay has been in the doldrums for five years. Now he's back and playing in Europe.
As anyone who's ever tried it knows, house-hunting in London can be a royal pain. Prices are above and beyond absurd for starters, taking on traffic when traveling between viewings is a total nightmare, and dozens of interested parties no doubt have designs on the same measly square footage as you.
Notah Begay and his wife Apryl have got all that to look forward to. A four-time winner on the PGA Tour who has struggled with his health in recent years, Begay qualified for this year's European Tour after finishing tied for sixth at last November's Q School. He made the cut in the first two events, the Abu Dhabi Golf Championship and Dubai Desert Classic, where he finished T-59 and T-54, respectively. He will be following the Tour around the Middle and Far East until April, when it returns to the continent. He and Apryl will then begin scouring England's capital city for a place they can call home.
"I can't say I'm really looking forward to that bit," says Begay. "Finding a house is always the most tiresome aspect of any move and I suspect it'll be slow going in London. But I'm very excited about living there and playing the European Tour. A lot of people have asked me: 'Why Europe?' I say: 'Why not?' "
Half Navajo, one-quarter San Felipe, one-quarter Isleta, and the only native American to have won on the PGA Tour since Rod Curl beat Jack Nicklaus by a stroke at the Colonial 33 years ago, Begay decided to give Europe a whirl towards the end of last summer after a frustrating year in the States in which he made only three cuts in 12 events on the PGA Tour and less than $20,000 from 11 tournaments on the Nationwide Tour.
Having finished 213th on the money list, he lost his PGA Tour card and figured his options were to enter Q School and try to win it back (he entered but rain delays in Spain made going back to the U.S. in time unrealistic); play full-time on the Nationwide Tour; or quit playing professionally altogether and make use of his economics degree from Stanford University. There was also the somewhat far-fetched notion of leaving the comparative security and luxury of America to join a pro golf tour thousands of miles away and earn considerably less than he might at home.
It didn't take Begay long to decide that last option might actually be his best. "I was exhausted and wanted a fresh start," he says. "And there are so many great things to experience in the world. My wife and I don't have any children yet so now is a great time to see and do those things. I had always wanted to play in Europe, but the opportunity never really presented itself, not until now that is. It took a New York minute to persuade Apryl to go to London."
One man delighted with Begay's decision is George O'Grady, executive director of the European Tour. "I'm very pleased Notah chose to come and play in Europe," O'Grady said. "He's a quality player and can only be an asset to our tour. He's had a rough time of it the last few years, but I understand he's in good health now and we expect him to do very well. Playing in Abu Dhabi, Dubai and the Far East might all seem a bit strange to begin with, but he made the cut in his first two events. He's chosen to be a world player and I think he'll adapt very well."
Having endured persistent pain in his back for five years, a period in which his game inevitably faltered and depression set in, Begay has indeed returned to good physical shape thanks largely to trainer Chris Frankel at the University of New Mexico in Albuquerque. The pair started working together in January 2001 after Begay suffered annular tears in the L4 and L5 discs at the base of the spine - the result, he says, of over-exuberant training in late 2000.

"When I first met Chris, I could barely bend over to tee a ball up," Begay remembers. "Now I'm stronger than ever and have better range of motion than I did when I won those four tournaments back in 1999 and 2000."

His mental state has been put through the wash too, Dr. Gio Valiante providing the motivation, inspiration and confidence triggers that a despondent and irresolute Begay no doubt needed to hear. Sports psychology's man of the moment and the author of "Fearless Golf," published in May 2005, Valiante has worked with Jack Nicklaus, Chris DiMarco, Justin Leonard, Chad Campbell and Davis Love, among others, and is currently helping Begay organize his thoughts better so he can make quicker, firmer, more reliable decisions on the golf course.

"We've made tremendous progress," Valiante says. "Notah certainly had a lot of scar tissue between the ears after years of back pain and bad play, but I am reminding him what a great player he was before his health problems came on. He has made all sorts of compensations, physically and mentally, for a long time and now we have to get him thinking straight and believing he can do it all over again."

Begay admits he's struggled lately with a tendency to overcomplicate the game. "I think too much," he says. "But Gio is helping me become more of a feel player. Tiger has also encouraged me to play more by instinct."

Begay's friendship with Tiger Woods goes back to their college days at Stanford and has been instrumental in his re-emergence. "I've worked out with Tiger quite a bit over the years and we often practice together," says Begay. "Tiger's always checking up on me. He's a great friend."

Frankel, Valiante and Woods have all done their bit to help Begay return to the big time. But the final, and possibly most important, pieces in a puzzle that depicts a two-time DUI offender and depressed, underperforming golfer overcoming his problems and possibly returning to the winner's circle as part of a glorious comeback are the 150 kids who attend Begay's soccer camp half an hour north of Albuquerque.

"Their passion and enthusiasm for soccer helped rekindle my own passion for golf," says Begay, a soccer nut who hopes to find a house in London close to a Premiership ground. "Really, I support Barcelona but I can't wait to go and watch Chelsea and Arsenal. And I love watching Man Utd on TV. Ronaldo is a phenomenal player and I like Saha and Rooney too. Robert Jewell, who caddied for me in Spain, is a big West Ham fan so I'll be looking out for them as well."

Begay, as his soccer camp suggests, is big on giving back to his own community and is committed to doing what he can to improve the lives of American Indian youth. He and his father, Notah II, established the Notah Begay III Foundation in 2005 which, as well as the soccer camp, also offers a golf program. His partnership with the Albuquerque Community Foundation has helped well over 20 young Native Americans attend higher education. He has also partnered with the Boys and Girls Club of America to encourage disadvantaged youth to become members of the non-profit organization and get out of the cycle of unemployment and alcoholism that Begay believes too many adult Native Americans fail to avoid.

He has formed a company, NB3 Consulting, whose objective, though not charitable necessarily, is to provide expert guidance for Native American communities looking to develop golf courses and resorts on tribal land - a huge industry now in the U.S. with courses designed by big name architects appearing on reservations all over the country.

"I founded NB3 to help tribes create a business foundation from which they can invest wisely in their land," said Begay whose education and qualifications make him more than just a name in the company logo. "We just finished a fabulous $15 million development for the Eastern Band of Cherokee Indians called Sequoyah National Golf Club in North Carolina. It was a very exciting project as I was able to help a successful tribe diversify its business portfolio. That will stimulate its economy and create jobs which otherwise would not have been possible."

Having secured his own job for 2007 with a closing 76 at San Roque (for a six-round total of six-under par) after having been part of an eight-man play-off at Costa Ballena in the previous stage, Begay hopes to play somewhere between 22 and 25 tournaments this year and, of course, do well enough to avoid having to go back to Q School.

Like most American pro golfers, his previous experience playing in Europe is somewhat limited" the 1995 Walker Cup at Royal Porthcawl, where he lost both his singles matches (to Gordon Sherry and David Howell); the 1999 Amex Championship at Valderrama and World Matchplay Championship at Wentworth; the 2000 Open Championship at St. Andrews where he tied for 20th; and, of course, last year's Q School. Despite this lack of experience, Begay is looking forward to testing his game on unfamiliar courses and in conditions he's convinced will make him a better player and perhaps one with the touch, flare and instincts of his hero, Seve Ballesteros.

"There was never a shot Seve thought couldn't be played," Begay says. "He was the best at turning 74s and 75s into 69s and 70s. It wasn't about swinging the club perfectly for him, but simply getting the ball in the hole in the fewest number of shots. He was beautiful to watch."

Not so beautiful to watch, for this proud American at least, has been his country's recent failures at the Ryder Cup, a tournament Begay finds utterly compelling. "I'm very interested to see why the Europeans are so successful right now," he says. "I think one reason is that we may have it a bit too easy in America. The Tour follows the sun and there's rarely any wind or rain to worry about. The courses are all preened to perfection and everything is laid on for the players so there is a danger of becoming too comfortable, one-dimensional, less able to adapt to certain situations. I know I'll experience tougher conditions in Europe, and it'll be interesting to see if those conditions produce tougher competitors. That said, I think Europe's success in the Ryder Cup probably has more to do with the fact they get so excited about it. I mean, they circle the date on their calendars at the start of the year. Look at Sergio, he's so pumped up. He lives for it and I don't think the Americans feel the same way, yet."

The Ryder Cup may be a few years off for Begay, but he's determined to make the U.S. team one day. As for more immediate goals, he's playing his cards close to his chest saying he has nothing specific in mind. "Expectations and targets can limit you,' he says. "If I say I want to win twice before February, what happens if I do? Do I take my foot off the accelerator?"

That Begay would talk of winning again will no doubt please mind coach Valiante, who sees this season as crucial for his client's long term prospects. "Notah's not Teflon yet, not bullet-proof," he says. "But after a year of good health and good play I expect he'll be as confident about his game as he was a few years ago. And then who knows how good he could be?"

Odds & Ends

One of Begay's unique approaches to golf is that he putts both right- and left-handed. "I always want to have a hook putt," he says.

As for his ethnicity, he said all tours have in recent years encouraged diversity. The powers-that-be now need to address the high costs of the game. "The PGA and European tours, R&A and USGA are doing a great job of encouraging ethnic participation. The problem is, golf is still a relatively expensive sport compared with a game like soccer, and that prevents many kids from trying it. It will happen though. We will see a few more Native Americans, and indeed African-Americans, come through in the years ahead, but it will be a slow process."

Of his prospective partners on the European Tour: "I have a little experience of playing with Europeans. I played against Padraig Harrington and David Howell at the Walker Cup and Olly (Jose Maria Olazabal) and Monty (Colin Montgomerie) in the Matchplay. Every European player I've played with has been friendly and there isn't one I can think of that I'm not looking forward to playing with."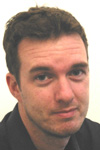 Tony Dear has been writing about golf for 11 years. A former assistant club pro from Sussex, England, Tony started out as a freelancer in 1992 before taking a staff writer's job at Fore!, a magazine based in Peterborough. As the magazine's chief instruction writer, it was Tony's job to compose instructional articles aimed at a youngish readership whose letters to the editor suggested they often got confused by technical jargon and theory. Tony brought his simple approach to teaching golf to the magazine, helping boost sales by 10,000 issues. As a result, he was nominated within the company and nationally for Young Writer of the Year awards.

From there, Tony moved 20 yards across the Emap UK office to join Today's Golfer. There, he was soon promoted to a senior editorial position, focusing on equipment, and became a significant part of a team that saw sales figures double within the magazine's first 12 months.

After three years at Emap UK, Tony was dragged kicking and screaming across the Atlantic by his American wife ("not really, I love it over here") and, after short spells in Phoenix and Denver, wound up in Seattle in May 2003. He recently moved to Bellingham in the far northwest corner of the far Northwest of the U.S. and became a father to a son on whom he has already staked £5 for the 2029 Open Championship. At present, he is freelancing for a number of print and online publications back in England including Today's Golfer, Golf World, Bogey, The Open Championship Magazine and Casino.com. He is also a contributing editor for Denver-based Colorado AvidGolfer.

Recent features include a look at Colorado's self proclaimed 'links' courses, an interview with Suzy Whaley, with whom he played nine holes ("and got soundly thrashed") and a 64-page instruction supplement for Today's Golfer.

Tony has authored three books in the last five years and been nominated for several specialist and young writers awards. "Although I've never actually won one," he admits. He is a member of the Northwest Golf Media Association and the Golf Travel Writers Association based in London.