The Six Continent Club - Globetrotter Bob Jones, Jr.
By: Jay Flemma
In his 50 years as a designer Bob Jones, Jr. could hold the golf course architects' record for frequent-flier miles.
"I can't even calculate how many times I've circumnavigated the globe," he stated, a look of exhaustion crossing his face merely recalling the experiences. "Even back in the '70s and '80s I'd fly to Moscow to work on one course, then fly across Russia to Japan to work on the next, a total of 11 time zones, and then fly all the way back around the world to get home. Happily, it doesn't have much of a negative effect on me. I can sleep easily on a plane."

He'd better - Jones has designed in some of the more forbidding and inhospitable places in the world, even war-torn Kashmir, Ground Zero for the violent border skirmishes between India and Pakistan, Sikhs and Muslims.

"That course will be a tough one for people to go play, Jones admits. "It's hard to get there, and security is an issue, what with the fighting flaring up time and again. But it's a beautiful setting for golf. The course is in an alpine bowl in the Himalayas. It's absolutely amazing."

Amazing - that's a good word to describe the planetary criss-crossing Jones has done for over five decades, surpassing even his famous father for travel. Everyone in America knows Chambers Bay, Bob's original design south of Seattle that will host next year's U.S. Open. But even the most ardent and well-traveled golfers will be hard pressed to have played his work in some of the more exotic locations around the globe.

Africa - The Residence Club

Remember that old jazz standard "Night in Tunisia?" The song with its wonderfully exotic brass instrument solos that guys like Dizzy Gillespie and Charlie Parker made famous? It's a song that recalls the old French North Africa era of swaying palm trees and open-air bazaars with ululating locals hawking everything from carpets to sizzling savory meats. It's tanned leather drying in the sun, men sharing a hookah and a pot of mint tea, and nights perfumed with jasmine and cinnabar. According to Jones, the Residence Club is all that and more.

"It really is like a scene from Laurence of Arabia," he explains. "The course and resort are located in the desert just outside Tunis, the capital, and you play in and around an open salt marsh desert. It's arid and desolate - you can see all the way across the salt marsh to behold the mountains in the distance, and if you look carefully enough, you can almost see the camel caravans winding their way through the sands as they did for a thousand years or more."

The resort also has a Mediterranean flavor as well. It's a Palmyra of sorts standing sentinel at "the gates of antique Carthage." The land links the Mediterranean Sea with the desert beyond, both a primal and forbidding landscape.
Europe - Onyria Palmares

While we're on the topic of Palmyras (Palmyrae?), Jones built himself another one in Portugal - quite literally. Right on the Atlantic Ocean in the breathtaking Algarve region, Jones designed three different nine-hole circuits on three completely different ecosystems.

"Nine holes are in the hills overlooking the Atlantic Ocean with mountain vistas in the distance, nine holes are right in the seaside dunes, playing between and around them on sandy soil with exposed sandy blowouts, while the third nine connects the other two," he surmised. "It's sort of a flat site, like a heathland links," he concluded.

Jones's design associate Mark Voss walked point on the project during construction, but Jones and his team made at least eight extended site visits as well.

"We do a lot of hands-on work in the field with the shapers," Jones asserted. "Architecture isn't on the routing plan, it's on the ground," he affirmed. He practiced what he preached as the 27 holes are a completely varied experience, "a course with different rhythms, but which has its own flavor because of that variation of the terrains and landscapes," added Jones's partner Bruce Charlton. It shows you three different faces, but each one of them is fascinating and an excellent example of that particular craft.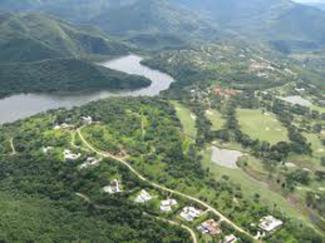 The Many Ecosystems of Mesa de Yeguas
South America - Mesa de Yeguas

"Normally when people think of Colombia, they think of Juan Valdez, coffee-bean picker searching for beans off of his verdant hillsides," began Charlton, "but our site for Mesa de Yeguas is a series of stepped plateaus that make their way to the cliff tops above the Bogota River."

Deep in southern Colombia, just 55 miles from Bogota but two-and-a-half hours along the dusty roads of ancient lands, Jones and Charlton designed 27 holes over an old 18-hole layout. They even routed five holes right along the cliffs overlooking the river. On the two riverside par-3s, the greens jut out over the edge of the cliff. One even features a diagonal carry over the water. On the other holes, the golfer must put his tee ball close to the edge of the cliff to have the best angle into the green - classic strategic design often used to such great effect at oceanside courses like Teeth of the Dog.

"It's incredibly dramatic," added Charlton, "it's like Princeville, but instead of the ocean, you have the river.

"And it's always a perfect climate," Jones offered. "It's always spring on the Equator."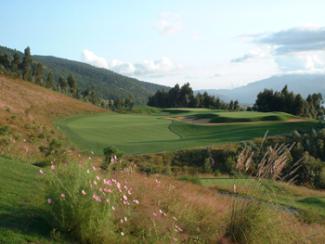 Spring City, China
Asia - Lake Course, Spring City Golf Resort

Jones has a habit of getting perfect climates - (Hawaii anyone?), and his recent work in Asia may equal Mesa de Yeguas for atmosphere and idyllic tranquility. Of his 85 projects in Asia, it may be the most unique.

"There's a huge inland lake at 5,000 feet elevation up in this sort of alpine bowl. It's like China's rejoinder to Mexico City," begins Jones, "but it's also set in an area of these fields full of remarkably variegated flowering plants, like marigolds and bougainvilleas, gorgeous colors year-round."

It also proved difficult to route the golf course. Holes cascade down the hill before step-laddering back up the mountain slopes. Jones frequently employed reverse camber (a la Olympic Club, the famous U.S. Open venue) as a defense to scoring and for smooth transitions across the property. It's a tough climb up, but the view across the lake, with its native fishermen catching their supper, is an image from the pages of the Book of Life itself.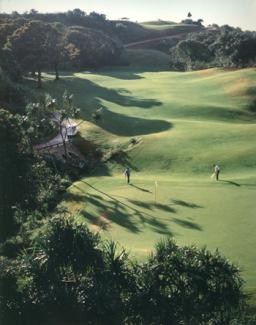 The 2nd Hole at Joondalup near Perth, Australia
Australia - Joondalup

Perth may be most famous for its silver mines, but deep in a sandy quarry Jones built 27 holes that are on nearly everyone's Australian play list.

"Joondalup" means "shining waters" in Aborigine, and it lives up to the name: the course is located near the seas where Australia hosted the America's Cup yachting races in the 1980s, so the winds are strong.

"It's also sandy soil, typically great Perth land for golf," explained Australian golfer Mike Clayton. "The sand base is great for drainage and the indigenous plant life and the undulations make for great golf holes without lots of hill climbing."

Several holes play within the quarry - where the wind can swirl - blow across, or drop suddenly, making proper club selection a nightmare.

"That and you get wayward golf balls ricocheting off the walls of the quarry," added Jones. "But you can also ricochet a ball of the walls of the par-3 12th hole and get a hole-in-one."

Over the course of the 27-hole facility, you'll see the typical kangaroos, ("Watch out, they play to scratch or better . . ." warned Jones puckishly), parrots and several species of indigenous bears, including the continent's signature koala.
Since launching his first golf writing website in 2004, http://jayflemma.thegolfspace.com, Jay Flemma 's comparative analysis of golf designs and knowledge of golf course architecture and golf travel have garnered wide industry respect. In researching his book on America's great public golf courses (and whether they're worth the money), Jay has played over 420 nationally ranked public golf courses in 40 different states, and covered seven U.S. Opens and six PGA Championships, along with one trip to the Masters. A four-time award-winning sportswriter, Jay was called the best sports poet alive by both Sports Illustrated and NBC Sports writers and broadcasters. Jay has played about 3 million yards of golf - or close to 2,000 miles. His pieces on travel and architecture appear in Golf Observer (www.golfobserver.com), Cybergolf, PGA.com, Golf Magazine and other print magazines. When not researching golf courses for design, value and excitement, Jay is an entertainment, copyright, Internet and trademark lawyer and an Entertainment and Internet Law professor in Manhattan. His clients have been nominated for Grammy and Emmy awards, won a Sundance Film Festival Best Director award, performed on stage and screen, and designed pop art for museums and collectors. Jay lives in Forest Hills, N.Y., and is fiercely loyal to his alma maters, Deerfield Academy in Massachusetts and Trinity College in Connecticut.