The Six-Continent Club - With New Course in Ecuador, Smyers Joins One of Golf's Most Select Groups
By: Jay Flemma
He only has Antarctica is left. With a new course opening in Ecuador this fall, golf architect Steve Smyers will have designed on six of Planet Earth's seven continents, joining only a handful of architects to do so.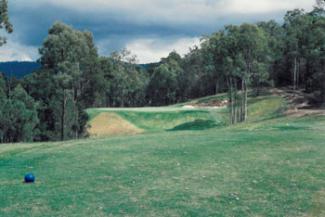 Royal Harare
"It's called Costa Jama, and it has four different ecosystems," explains Smyers energetically, as his eyes light up and he beams a toothy smile and, indeed, he has good reason to be delighted with this site. "It's right on the Equator, where the mountains meet the Pacific Ocean, with three finishing three holes right on the water or playing directly towards it. It also traverses a jungle, a ravine, a riverside, and winds into the foothills of the mountains. We even play along the side of a river! It's an absolutely spectacular natural setting for golf."

Besides the variegated flora and diverse, visually arresting natural setting, it features holes showcasing Smyers' penchant for strategic design. When it comes on line later this year, Costa Jama (pronounced "KOH-stuh YAH-muh") will join a long line of exotic locales and far-flung hot-spots at which Smyers has worked.

Everyone knows about Isleworth, Smyers's Orlando-area, uber-exclusive playground for the rich, famous and fabulous (as well as a dozen or two PGA Tour players). Golf fans are also familiar with his excellent redesign work at the Evian Masters Course in France, home of the first LPGA overseas major championship. His extensive remodel breathed life into what some experts considered a boring, center-line course.
"Now the Evian Masters course is one of the most interesting in continental Europe," added AWITP correspondent Rodney Zilla.

But Smyers has also blazed a trail to some of the more remote - indeed extreme and forbidding - places in the world. Besides seaside Ecuador, he's designed in Zimbabwe, Africa, extensively redesigning an old 1898 course.

"It was originally designed by an army colonel and then (Martin) Hawtree came in during the '50s and extensively remodeled what was there," Smyers reflects. Smyers performed his own extensive remodel, altering the routing, building four new holes, repositioning almost every green and greenside bunker, and repositioning tees to changes angles and playing strategies. Royal Herrare has hosted the Zimbabwe Open on multiple occasions since the tournament began in 1984.

"One of the best hole is the par-5, dogleg right 15th. With several large indigenous specimen trees, guarding the knee of the dogleg, the bold shot is to play a fade off the tee and catch the little speed slot in the fairway, but to do that you have to challenge the trees. If you succeed, that will put you in the ideal position to hit a draw into the green," Smyers notes. "It's like Pete Dye - alternate shot patterns: fade off the tee, but draw into the green."
If that's not remote enough for you, there's Cebu Golf and Polo Resort in the Philippines. Pronounced "Si-BOO," this Smyers original design is set high in the mountains of this small island.

"The topography is steep and severe, but it's a much easier walk that you'd think because we used the terrain either diagonally as a natural hazard, or in a manner where the hole turns in one direction, but the land runs in the other," Smyers explained.

"Reverse camber is an excellent natural defense to scoring, and by using the ridges diagonally on approach shots we can reward good shots by having the ball filter to the pin, while bad shots are punished for being off-line" - a half-shot penalty at least, if your short game is not sharp.

"Golf architecture is all about using the ground," Smyers says with a knowing grin.
Finally, in the Hunter Valley wine districts north of Sydney, Australia, Smyers designed Cypress Lakes Golf and Country Club. Another site with many different ecosystems and terrains in one, the course travels through meadows, forests, mountains and around a large lake.

"One of the most dramatic holes is the par-3 second, which plays over a ravine from hilltop to hilltop. It's only 140 yards, but it's a scary 140 yards," Smyers confided. With the green perched atop a windswept knoll and surrounded by sheer drop-offs on three sides, you can see 60 miles across Hunter Valley.

Could Antarctica be in the works? Why not? It's perhaps the last bit of golf terra incognita left . . . and Smyers likes traveling to exotic locales.

"I like going to some of the more forbidding places on the planet and bringing golf with me," Smyers admits, laughing. "That's part of the beauty of the game."

He's right. When you bring golf, you bring the sun with you wherever you go.
Since launching his first golf writing website in 2004, http://jayflemma.thegolfspace.com, Jay Flemma 's comparative analysis of golf designs and knowledge of golf course architecture and golf travel have garnered wide industry respect. In researching his book on America's great public golf courses (and whether they're worth the money), Jay has played over 420 nationally ranked public golf courses in 40 different states, and covered seven U.S. Opens and six PGA Championships, along with one trip to the Masters. A four-time award-winning sportswriter, Jay was called the best sports poet alive by both Sports Illustrated and NBC Sports writers and broadcasters. Jay has played about 3 million yards of golf - or close to 2,000 miles. His pieces on travel and architecture appear in Golf Observer (www.golfobserver.com), Cybergolf, PGA.com, Golf Magazine and other print magazines. When not researching golf courses for design, value and excitement, Jay is an entertainment, copyright, Internet and trademark lawyer and an Entertainment and Internet Law professor in Manhattan. His clients have been nominated for Grammy and Emmy awards, won a Sundance Film Festival Best Director award, performed on stage and screen, and designed pop art for museums and collectors. Jay lives in Forest Hills, N.Y., and is fiercely loyal to his alma maters, Deerfield Academy in Massachusetts and Trinity College in Connecticut.