The Spa 'Warm-Up' at San Antonio's Hill Country Golf Club
By: David Wood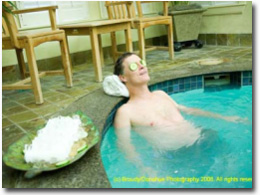 I've seen the golfing light! I just wasn't looking in the right places.

In my lifelong pursuit of hoping to tame this most untamable of games, I've tried everything imaginable in my futile quest to become a proficient golfer. Instructional books and videos? I've read and viewed them all! Harvey Penick, Tommy Armor, Ben Hogan, Jack Nicklaus, Dave Petz, Jim McLean, David Leadbetter, Greg Norman, Tiger Woods – been there so many times my eyes are crossed from all their respective theories.

Dr. Bob Rotella's surplus of ideas on the mental aspects of the game are so jumbled in my over-active mind I can't remember whether I'm supposed to visualize my shots in my mind's eye while whistling a happy tune and simply enjoying my walk. Or am I supposed to just think about one shot at a time while chanting my mantra and gathering chi? Beats me.
My golf scores – which more often than not would be a major day on the Dow – just weren't going down until I visited the Hyatt Regency Resort and Spa in San Antonio. Sometimes desperate measures are found in the most tranquil of settings.

My goal was to play the excellent 27 championship holes of the Arthur Hills-designed Hill Country Golf Club nestled in the scenic Hill Country of Texas. Rather then proceed directly to the range and pound balls for a couple of hours while hopefully working my way into, at least, the same area code as a rhythmic golf swing, I opted instead to visit the resort's wonderful Windflower spa for a totally different kind of warm-up.
I may never hit another range ball again.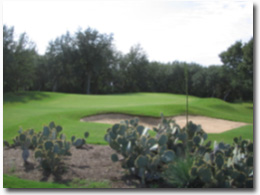 Walking the back grounds of the comfy hotel to the old Texas-style farmhouse that has been turned into a world-class spa, I was as tense as a day-trader with a margin call. My mind was running amok while pondering the hazards the clever Mr. Hills had planned for me and my errant golf shots. Thinking of the other Hills' courses I'd played around the world, surely there would be imposing trees directly in play – he loves trees more than a bevy of beavers. There would undoubtedly be evil water to navigate around and slippery downhill putts quicker than a groomed luge run. My blood pressure was rising by the second. Using Dr. Rotella's imaging technique improperly, I had already visualized my scorecard chockablock with 6's and 7's and my golfing pride in tatters.

Then I entered the spa.
Given a linen bathrobe softer than a brand-new cabretta leather golf glove and a glass of fresh-squeezed mango juice, I was led into a quiet room of two saunas and a giant whirlpool. After a shower and a steam, I decided to give in to the whole experience and, mimicking another fellow – who looked as relaxed as a human being could be, I, too, put a sliced cucumber over each eye and settled into the soothing hot tub. There was indeed a chilled platter of cucumbers poolside and, had I not seen the other dude, I probably would have thought they were there as a healthy snack. Well, I was a spa Philistine.

Within seconds, my golf worries floated away in a sea of swirling hot water and vegetable-eye-patch bliss. I have no clue why cucumbers on your peepers feel so good, but if I could get my prescription eyeglasses made out of them I would in a heartbeat. An attendant informed me it was time for my body-scrub and mud-wrap.

With soothing new-age music softly playing in the background, a smiling young woman used a loofah to exfoliate my skin, which as far as I know had never been exfoliated in all my 50 years. There had to be a ton of epidermis foliage gathered up over the years. Who knew? She then covered me head-to-toe with wonderfully scented and warmed oil, followed by a coating of red clay. She then wrapped me in a heated blanket of foil. I blissfully marinated like a brisket the day before a holiday feast. Golf was the farthest thing from my ever-relaxed mind.

After a shower, I was then led into a massage room where a five-foot tall young woman with hands stronger than Vijay Singh and Tiger Woods put together untied the many knots constituting the twisted roadmap that is my back and neck. It was a glorious hour.

Back in my golf clothes and my tee time at hand, I made my way to the first of my three nines more pliable than Gumby on a morphine drip. Calm as a Tibetan monk, I didn't need my usual 30 faster-than-a-speeding-bullet practice swings. In fact, I didn't even take one. I simply teed it up and hammered it down fairway of the 369-yard 1st hole of the tree-lined Oaks course like Tiger at Augusta. I was a golfer I didn't know – loose as a goose, serenely calm, and quietly confident.

As my ball soared like a rocket down the first fairway, I could feel the gentle, sweet Texas air linger on my newly exfoliated skin. I won't bore you with my golf shots on the first-rate 27 holes on that sunny October day, but they occurred at a far more successful rate than usual. In between shots, I didn't fret over the next play as I usually do. For once I was practicing exactly what Dr. Rotella preaches as I casually strolled down the groomed fairways, enjoying the nooks and crannies and plateaus that Hills used to such great effect in his design.

The leafy gnarled pines of the Hill Country weren't my nemesis – they were my pals as I blissfully golfed among their silent stately gaze. Instead of seizing up near the numerous liquid hazards of the "Creeks" and "Lakes" nines, I marveled at their soothing ripples made by wakes of silently paddling waterfowl and hit my ball over them as if they weren't even there. There wasn't a negative thought in my normally rueful mind. What a wonderful way to play golf!

Here's my advice. Fly down to San Antonio, check in at the Hyatt Regency Hill Country Resort and proceed directly to the spa outback and get the whole shebang – which is probably cheaper and more soothing than a golf lesson. Once fully relaxed and refreshed, go play the resort's three courses and take in all the beauty of the Hill Country as you enjoy the natural splendor of the land and the excellent golf offered – it is a terrific setting. With your newly quiet mind and body, you won't get hung up on whatever you shoot – you might even find yourself whistling a happy tune.

And remember as you soak in the whirlpool before your round, those sliced cucumbers aren't for eating.
David Wood – writer, corporate speaker, and humorist – is the author of the soon-to-be published book "Around the World in Eighty Rounds." With several appearances on "Late Night with David Letterman," Wood combines humor with his love for golf and adventurous travel. For comments or inquiries on having him speak to your group, contact David at David@DavidWoodSpeaking.com. His website address is www.DavidWoodSpeaking.com.