The State of Great Golf in Michigan
By: Joel Zuckerman
The beverage cart girl was relaxing in solitude on a shady curve in the cart path, engrossed in a paperback. We rounded the corner to the tee box, and she brightened when spying some potential new customers. "Where are all the other golfers?" I asked, as she gathered our order. Her succinct answer summed up the state of Michigan resort golf, circa summer of 2008. "Short on cash, I guess," was her matter-of-fact reply, "either that, or unemployed."
A recent foray to northern Michigan was proof positive what had long been my suspicion - the golf is nothing short of tremendous. The variety, conditioning, topography and absolute dearth of play make it a Shangri-La for anyone who likes to chase a dimpled ball with stick in hand. But the rough reality of current economic conditions, particularly in the hard-hit automotive industry, makes these exceptional courses in and around Traverse City and Gaylord a "must-see, must-spend" destination.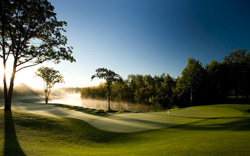 St. Ive's Resort & Tullymore

Kevin O'Brien is both the general manager and director of golf at St. Ive's Resort, a 36-hole complex in the center of the state, about an hour north of Grand Rapids, two hours north of Detroit, halfway to the main resort areas further north. St. Ive's is a Jerry Matthews design, about six miles from sister course Tullymore, a Jim Engh-designed beauty.

"If you haven't been here and experienced the golf, it's hard to explain how wonderful it really is," states O'Brien, a pro with nearly 25 years of experience, and like the vast majority of his in-state colleagues, a native Michigander himself. "Part of the appeal of our facility in particular is the fact that it's that much closer to the urban areas of Detroit and Chicago. The round trip travel time is reduced by as much as four or five hours."

St. Ive's has the more dramatic topography, with tee shots descending to crowned fairways and approach shots that climb back to the original elevation. The on-course views include Lake Mecosta, Blue Lake and Round Lake. Tullymore features Engh's whimsical bunker patterns, funky greens, several drive-and-pitch par-4s, and a tremendous amount of bordering wetlands - nearly half of the 800-acre property. Both courses feature impeccable conditioning that rival any top-tier private club.

"The economic conditions have definitely been challenging," continues O'Brien. "But our marketing has been aggressive, and has paid off. In August we expect that about 60 percent of rounds played will be from out-of-state, places like Illinois and Indiana. We are adding facilities, building a beautiful new clubhouse, and selling housing lots. We are weathering the storm, and the outlook for the future is good." Apparently, the mindset of the second-home buyers in the region mimics that of St. Ive's new ownership group. They all believe that investing in a down economy, as opposed to when thing are booming, makes the most long-term sense.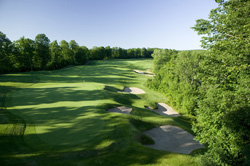 Treetops

During a beautiful late-spring weekend, there was very little play at Tullymore, up at Treetops, and even on some of the courses we passed on the roadways. All 81 holes at Treetops are owned by well-known golf instructor Rick Smith, and the facility is a treat regardless of the ebb and flow of the tee sheet.

Masterpiece, located several miles from the other courses, is a Robert Trent Jones design that opened in 1987. It features dramatic elevation changes with far-reaching views for up to 30 miles. The Premier, created by Tom Fazio, is more user-friendly, with vast, bowl-shaped fairways to corral errant shots. Tradition, a design by Smith, is the newest addition to the resort. It is built on gently rolling land that is partially wooded and it boasts some of the best greens in Michigan. It has the classic look of a course that was built many years ago. Signature, also by Smith, features plenty of natural vegetation and a variety of hardwoods and pines to create a picturesque setting for some of the most demanding holes at Treetops. Finally, Threetops has been called the finest par-3 course in the world, and offers thrilling elevation changes ranging from 90 to 170 feet.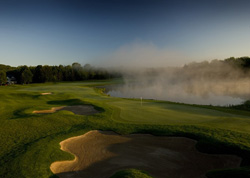 Boyne Highlands Resort

Boyne Mountain Resort's vast golf holdings begin about 20 miles west of Treetops. The Heather Course at Boyne Highlands is the original course at Boyne, a mid-60s, Robert Trent Jones design. It's a pastoral, wooded routing with some natural amphitheaters and several times the host venue for the Michigan Amateur, and is, on tap once again, for the 100th anniversary playing of the tournament a few years hence.

Another of the more notable offerings is the Ross Course, a conversation-starter with 18 separate "tribute" holes that have been designed to mimic, at least in spirit, some of the great designer's most enduring creations. Some of these Donald Ross replicas work better than others, but there's at least a hint, a nuance, of his best-loved or most famous creations such as Pinehurst No. 2, Plainfield, Salem, Scioto, Oakland Hills and Wannamoisett, among others, imbued in the gently rolling terrain.

The Arthur Hills is the newest course at Boyne, with large greens, fairways, and notable elevation changes.

"Getting to all of our great golf isn't easy," admits Heather's head professional Josh Richter. "But once you're here, there are nine excellent courses within 26 miles. Then add in the championship courses at Treetops, and everything else that's in the region, and an avid player can visit a different course every day for practically the entire summer and not play the same course twice."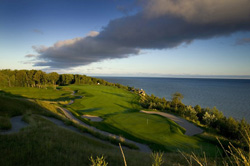 Bay Harbor Golf Club

But you'd want to. The Harbor Club offers 27 holes, the prime 18 a combination of an exhilarating links-like ramble high atop the stately bluffs overlooking Lake Michigan and Little Traverse Bay. But the Quarry nine is totally different, winding through and around an immense shale quarry, complete with 40-foot gorges surrounded by stone cliffs, natural ponds and gentle waterfall. It finishes with dramatic flair down to and along the shore of Lake Michigan.
True North

True North is another stunner, a wooded gem not far from Boyne practically undiscovered among the golf riches of the region, but airlifted and transplanted to one's hometown it would immediately be conferred "must play" status. The rolling terrain and valleys at True North make it a course of exceptional quality.

"The topography and sandy soils are reminiscent of the sites where golf was first played," offers architect Jim Engh. "Add to that the dense Michigan forest, with fairways that are lined with towering strands of hardwoods and pines, more than a half-dozen ponds that mirror the essence of nearby Lake Michigan, and we had the opportunity to create something spectacular."

The surest sign of True North's enduring quality: repeat business. Management reports that more than 90 percent of the golfers who visited True North in 2006 came back in 2007, often with guests who had never before visited in tow.
Challenges off the Courses

Heather's head pro Richter explains the economic realities that make doing business a challenge. "People are planning their trips shorter term. Instead of making reservations six weeks in advance, it's often just two or three." He goes on to explain that instead of stealing away to this golf Eden for five days, it might be whittled to three. But because Boyne is such a well-thought-of name in Michigan golf, business remains steady, albeit slower than in seasons past.

Creative marketing is also part of the new reality, and incentives such as casino vouchers and Nike gift cards, redeemable in the pro shop, help sweeten the pot, luring golfers northward from the big cities. "We are working outside the box to keep revenue flowing," states Richter. "We don't want to cut prices per se, because we know that our service component, conditioning and course quality warrant our green fee."

Prices vary, but as a catch-all Boyne hotel guests will typically pay about $80 per round, while "rack rates" will be between $80 and $135, depending on the time of year or time of day. "We try and package everything, including 36 holes of golf, cart fee, hotel, breakfast, etc., and those deals can be ultra-affordable, as low as $120 per person, per day."

The only possible knock on northern Michigan golf is the shortness of the season - an unavoidable fact of its northern latitude. But for value, topography, conditioning, variety, friendliness and service - not to mention in the current economic climate and a notable dearth of play, it's one of the finest pure golf destinations in North America.
For more information, http://www.michigan.org/Things-to-Do/Golf/Default.aspx
Joel Zuckerman, called "One of the Southeast's most respected and sought-after golf writers" by Golfer's Guide Magazine, is an award-winning travel writer based in Savannah, Ga., and Park City, Utah. He has written five books, and his course reviews, player profiles, essays and features have appeared in more that 100 publications internationally, including Sports Illustrated, GOLF, Continental Magazine, Travel & Leisure Golf, SKY Magazine, Golf Connoisseur, Golfweek, Estates West, Millionaire and Golf International. For more of Joel, visit www.vagabondgolfer.com.