The Story of Anne Quast Sander - Part 2
By: Jeff Shelley
About the only player from the Pacific Northwest - male or female - who can rival the career record of Anne Quast Sander is her long-time rival, JoAnne Gunderson Carner. But while the titles won by the "Great Gundy" took place on amateur and professional stages, all of Sander's came as an amateur during a remarkable four-decade stretch.

With seven USGA championships won, Sander - along with Carol Semple Thompson - ranks behind only Bobby Jones and Tiger Woods (nine), Carner and Jack Nicklaus (eight). Sander and Thompson are also tied for second behind Carner with seven USGA Championship victories. Further proving Sander's longevity, only Marlene Stewart Streit (winner of the 1956 Women's Amateur and 2003 Senior Women's Amateur) went longer between their first and last USGA wins. It was 35 years between Sander's victories in the 1958 Women's Amateur and 1993 Senior Women's Amateur.

Though slight of build, Sander was a dominant force on the golf course. Her 14-and-13 win over Phyllis Preuss in the 1961 U.S. Women's Amateur at Tacoma Country & Golf Club is tied for the largest winning margin ever by a man or woman in a USGA championship match.

So how did this Marysville, Wash., native - now 74 - who grew up at Cedarcrest Golf Course, make the cover of Sports Illustrated and, with Carner, Pat Lesser Harbottle and Ruth Jessen, propel Northwest golf as a national force in the 1960s?

Here's Part 2 of the story of Anne Quast Sander, in her own words.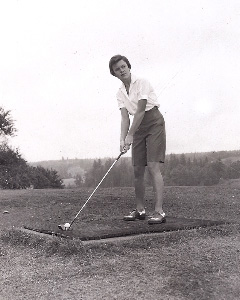 A Teenage Anne Quast Sander
Addressing the Ball
When I was 14, the 1952 USGA Girls Junior was to be held at Monterey Peninsula GC in California. It was fortuitous for two reasons: One, the USGA championships are held in the West only every eight to 10 years, and two, my mother loves Carmel. My brother went as well, and they saw all the sights while I played golf.

I was a total unknown nationally, but that started to change when I scored 76 in the qualifying round, as did 17-year-old Mickey Wright, my heroine. There was a playoff for medalist honors. I parred the first hole, and she bogeyed it. I remember being so surprised.

In the first match, I played one of the pre-tournament favorites, 15-year-old Berridge Long from Huntington, W.V., who had reached the semifinals of the Women's Western in Los Angeles the week before. I won, and in the second round, defeated the defending champion, Arlene Brooks. I lost to Barbara McIntyre in the semifinal (and she lost in the final to Wright).

That same week, another hero, Jack Westland from Everett Golf and Country Club, became the oldest to win the U.S. Amateur at Seattle Golf Club. So, between our two performances, Everett G&CC was suddenly well known on the national scene.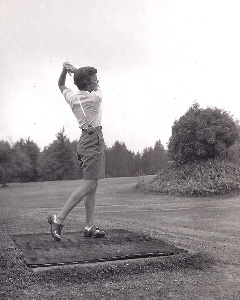 A Follow-Through that Will Help
Make Anne Quast Sander a
National Champion.
The next week the U.S. Women's Amateur was held at Waverly in Portland. In the qualifying round I scored 87; those shooting 88s had to participate in a playoff to gain a spot in match play. In my first match I played the current champion of the Trans-National (then known as Trans-Mississippi). I shot 79, and we had to play another hole. I bogeyed it, but she took two shots to get out of a greenside bunker, so I won. I lost to Pat Lesser in the second round, 5 and 4.

That fall, back in Marysville High School as a junior, I had a very bad experience. I was sitting next to my good friend Janet during the Latin final exam. I dropped my pencil, Janet picked it up for me and I said, "Thank you." The teacher, who was old and ornery, accused me of cheating, took my paper, and gave me an F. She was only one of the negatives or shortcomings I recall about the school. I remember math classes from Mr. Anderton, a farmer who should have stayed on his tractor. He would work out a problem on the blackboard and say, "Well if it don't come out right, it don't make any difference."

My Latin teacher actually did me a big favor in the long run. My mother took me down to Seattle for an appointment with Marjorie Livengood, the headmistress at the Helen Bush School (now Bush School, and coed, but then was a boarding school for girls in the seventh through 12th grades). She said I should come immediately, that given my age - I was a junior at 15 - she might put me back a year to get me caught up on any deficiencies. But at the end of that quarter she determined that I could remain a junior because I was doing so well.

Not only was I now receiving a first-class education, but Mrs. Livengood would do anything she could for a student who also excelled in music, art or sports. In my case, she went to the board at Broadmoor Golf Club and obtained permission for me to practice there. Thus, I got to leave school on the bus with Frank, the driver, when he was taking home those from grades 1-6 (the coed part of the school). He would drop me off at Broadmoor and pick me up two hours or so later on his way back to school. If it rained too hard while I was there I would study, but I can also remember practicing many times with only seagulls as company.
That summer I cannot recall if I played in any local competitions. I did get to go east to Massachusetts for the 1953 U.S. Junior Girls at The Country Club in Brookline, near Boston. It proved to be an eye-opening experience, but devastating at the time. I had not yet learned much about bunker play, and that course has some very deep traps. I had already had some difficulty in ones on two par-3s, with two double-bogeys, but was still well on the way to qualifying when I came to the par-3 16th. I hit into the very deep front bunker. My shots kept hitting the bank and coming back - four times in all. The fifth shot went across the green into another bunker. I finally got on the green in seven and scored a nine. I ended up with an 89, one too many to qualify for championship match play. Nineteen of those strokes came on three pars-3s.

The 1953 U.S. Women's Amateur at Rhode Island CC was a much better experience. Back then there were no qualifying rounds, just a "draw" for match play. (That changed in 1959.) I won three matches before losing to the renowned Polly Riley, who went on to the final before losing to Mary Lena Falk. Shortly thereafter, I started my senior year at Helen Bush. I was in Latin 2 with ninth graders, and it conflicted with my chemistry class, so I met for one hour each week with Mrs. McCall who helped make Latin "come alive" for me. It was a highlight of my week.

In early spring we took the SAT tests. I scored very high on the verbal section but only very mediocre in math (my only math classes had been in Marysville) Actually, it's amazing I passed that section at all because most of the math problems I could work only backward, i.e., I would fill in the blank, multiple choice questions, and if it didn't quite work I would choose the nearest one!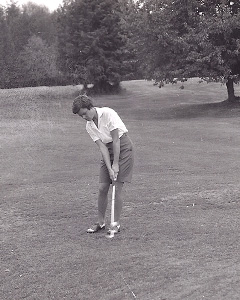 Anne Practicing Her Chipping
at Cedarcrest
Helen Bush was a small school, with only 28 students in my graduating class. When it came time to apply for a university, I probably put Stanford at the top of my list because 10 of the 28 were applying there. Two were accepted to Stanford very quickly. Then, week by week, rejections came. Finally, I was the only one who hadn't received a letter.

I remember I was home for a weekend, and on Saturday, I went down to the mailbox at the foot of the hill. There was a letter from Stanford. When I opened it and read, "We are happy to…" I was so elated I literally ran up the steep hill to our house.

I believe I was probably one of the last of Stanford's acceptances that year. My grades at Bush were all A's, but the first two years at Marysville they were mediocre, plus the math section of my SAT's was low. Probably the deciding factor in the end was my golf. Stanford is known to favor those who do something special apart from academia.

Next Up: Anne's collegiate career and further moves on the national stage.
Jeff Shelley is the editorial director of Cybergolf.
This story originally appeared in Pacific Northwest Golfer magazine. For more information, visit www.thepnga.org.

For Part 1 of this series, visit http://www.cybergolf.com/golf_news/the_story_of_anne_quast_sander_part_1.