The Story of Anne Quast Sander - Part 3
By: Jeff Shelley
About the only player from the Pacific Northwest - male or female - who can rival the career record of Anne Quast Sander is her long-time rival, JoAnne Gunderson Carner. But while the titles won by the "Great Gundy" took place on amateur and professional stages, all of Sander's came as an amateur during a remarkable four-decade stretch.

With seven USGA championships won, Sander - along with Carol Semple Thompson - ranks behind only Bobby Jones and Tiger Woods (nine), Carner and Jack Nicklaus (eight). Sander and Thompson are also tied for second behind Carner with seven USGA Championship victories. Further proving Sander's longevity, only Marlene Stewart Streit (winner of the 1956 Women's Amateur and 2003 Senior Women's Amateur) went longer between their first and last USGA wins. It was 35 years between Sander's victories in the 1958 Women's Amateur and 1993 Senior Women's Amateur.

Though slight of build, Sander was a dominant force on the golf course. Her 14-and-13 win over Phyllis Preuss in the 1961 U.S. Women's Amateur at Tacoma Country & Golf Club is tied for the largest winning margin ever by a man or woman in a USGA championship match.

So how did this Marysville, Wash., native - now 74 - who grew up at Cedarcrest Golf Course, make the cover of Sports Illustrated and, with Carner, Pat Lesser Harbottle and Ruth Jessen, propel Northwest golf as a national force in the 1960s?

Here's Part 3 of the story of Anne Quast Sander, in her own words.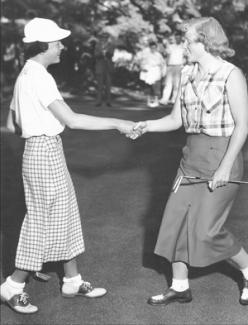 A Youthful Anne Sander (left) & JoAnne Gunderson
Carner at the Wash. State Womens Amateur
I had mixed results that summer in 1955 before heading to Stanford. I played in the PNGA Women's Amateur in Victoria, but lost 5 & 4 to Ruth Jessen. I also went to the Women's Western Junior Amateur in LaGrange, Ill., and had 73 in the qualifying round, a new record for both the tournament and LaGrange CC. I won, which was a big thrill. The president of the Women's Western Golf Association was there and said, "Now next year I want you to come and stay with us after the Juniors so you can play in the Western Women's Championship." (She and her husband became very special in my life, as I shall explain later.)

I also played in the Washington State amateur at Royal Oaks, and lost again to Jessen, this time 1-up in the final. The Washington State Junior was at tough Rainier G&CC. I won with scores of 82 and 73. JoAnne Gunderson, a year younger, had rounds of 88 and 85. Her length didn't yet help her on tight courses, but she soon learned!

That was the end of competition for me that summer. I did not get to go east again for the U.S. Junior Girls or U.S. Women's Amateur.

My birthday is August 31, so I was barely 17 when I headed off to Stanford. I had a small car by then and believe I drove.

Between taking difficult classes, piano lessons Monday through Friday and working on my golf, I was very busy. Practicing golf was my biggest challenge at Stanford. There was no range then. One could sometimes hit balls up the 18th fairway, and I did spend a lot of my time putting on the large practice green. However, my practice mainly took place on the women's athletic field after it was vacated around 4:30. I could hit from the far end (where golf classes were held) and aim at the clock on the gym wall. I can still see that clock in my mind's eye.

Because I was so young, I talked my parents into letting me stay out of school spring quarter, so I could see what I could achieve at golf if I concentrated on it alone.

In early May, I won the Apple Blossom Tournament in Yakima, Wash., with scores of 70 and 75. But soon after, being abnormally tired all the time, I went to the doctor and learned I had hepatitis. So for nearly three months I was unable to practice. I was allowed to play the piano 15 minutes a day, which is about how long it took me to get through Beethoven's "Sonata No. 8 Pathetique," which I had learned by memory at Stanford. One day, after doing this daily for about three weeks, my mother said, "I can't stand hearing that over and over." I soon lost the memory. (Sadly, I have never been able to play be ear; playing the piano is a totally note-driven exercise for me).

I was able to start practicing golf again in July, and played in the Washington State at Everett toward the end of July. JoAnne was becoming very accomplished by then and we had a classic match, my winning 3 & 2 over 36 holes. JoAnne soon after got her "revenge," defeating me later in the finals of the Women's Western Junior Amateur on the 21st hole.

As referred to earlier, the president of the Women's Western invited me to come and stay with them for the week between the Western Junior and Western Women's. I cannot remember how I got there, but there I was at the front door of a gorgeous home at 62 Woodley Road in Winnetka, Ill. A man answered the doorbell, and I asked "Mr. Warner?" Well, it was not Mr. Warner, but Tony, the butler! I soon also met his wife Bertha, who did all the cooking and laundry.
What an amazing experience for a 17-year-old from Kellogg Marsh and Cedarcrest! One distinct memory: sitting at a dining table with finger bowls with a flower floating in them, and being served so elegantly by Tony in his black attire. Yet the Warner's were down to earth and so warm and friendly - I soon felt very much at home. That feeling only increased the next few years while I stayed with them between tournaments on trips to the east.

A further treat was practicing and playing at their Glenview Club. I cannot remember how I did in the Women's Western that year. I think I lost in the quarterfinals. I then flew home - those were long journeys back then in propeller planes!

I did not get to go to my last U.S. Junior Girls at Florence CC in South Carolina. My journey there proved not only long, but frightening. The plane was headed to Washington D.C., and the last hour or so we were tossed about in thunder and lightening, the edge of Hurricane Diane! The pilot announced we were to land in Newark rather than D.C. After we safely got on the ground, a man, a pilot himself, behind me commented, "Wow! That was an absolutely amazing landing."

I did not understand fully until we all started going down the steps (no jets, no jetways!) and everyone had to remove their shoes as there were at least six inches of water on the tarmac. Then we were all bused to D.C., which had been our destination. That in itself was some trip - detours everywhere because of impossible roads.

We finally got to D.C., "Diane" had passed and I finally got to Florence, S.C. I qualified and won two matches before facing "Gundy" in the semifinals. I lost 2 & 1, having missed five three-foot putts. (Yes, I battled the "yips" early in my career.)

It was such a great disappointment to me never to have won the USGA Junior Girls as my heroine, Pat Lesser of Tacoma, had done. Incidentally, JoAnne didn't win it either. She lost in the 1955 final to little Carol Jo Kabler from the little town of Sutherlin, Ore. I then went to Charlotte, N.C., for the U.S. Women's Amateur at Myer's Park. Here are a few memories from that experience.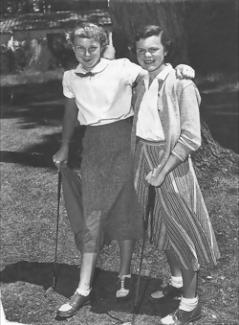 1952 Mickey Wright & Anne Sander
It was beastly hot and humid. I remember the iced tea and cinnamon toast in the ladies locker room, and how wonderful it tasted after coming in from the stifling heat. I had a great young caddie from the club who helped me read the Bermuda greens and my "yips" ended.

I reached the quarterfinals and played Betty Probrasco from Tennessee. Although 2-up with four to play, I lost on the 18th. I can't recall how I lost one hole, but I was still 1-up going down the par-5 17th. As I took a practice swing before my second shot, Richard Tufts, our referee and president of the USGA said, "I'm worried about your practice swing so close to the ball. I fear you will accidentally hit it."

I felt so abashed, being in awe of the president of the USGA, and I was still very shy and unsure of myself. In hindsight, I wonder why he waited until the crucial 17th to say something. I shall never know if my being upset after being chastised by him caused me to lose the 17th and then the 18th. (Coincidentally, Betty was named to the 1956 Curtis Cup and I was the second alternate.)

I was very happy about the ultimate winner at Meyer's Park. Pat Lesser's dream had been to win the U.S. Women's Amateur, and she succeeded in 1955.

Upon returning home, I had a long talk with my parents. They understood my frustration the previous spring with nearly after months of inactivity due to hepatitis, and they answered positively to my staying out of school winter quarter and going on the Florida circuit. It didn't make much sense for me to go back and forth to Stanford for fall and spring quarters, so I entered the University of Washington that fall.

I was happy with both my classes and professors, and with my social life, being a member of a sorority. (Stanford had fraternities, but sororities were banned in 1944 only to return in 1977.) It was also nice to practice at Broadmoor again. They very kindly extended again the privileges I had while attending Helen Bush School. In early January, it was off to Florida, where the tournaments organize host families for the young players.

First was the Doherty Women's Amateur at Coral Ridge Country Club in Fort Lauderdale. I qualified early, but then lost to JoAnne Goodars in the first round on the 27th hole. Next was the Women's Fourball (alternate shots). Ruth Jessen, my adversary previously, was my partner and we won the tournament!

Then I was teamed with a wonderful older gentleman and longtime competitor, Walcott Brown from New Jersey, in the Mixed Foursomes at the Everglades Club in Palm Beach. It was thoroughly delightful playing with him and we won the tournament, going only 1-over par over the 15 holes of the final match.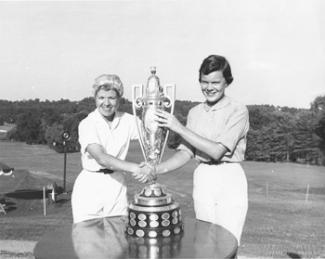 Barbara Romack & Anne Sander
Finally in Florida was the South Atlantic at Ormond Beach, known for its generally windy conditions. All the practicing and playing I'd been doing was beginning to reap rewards. I was medalist after a 70, and won the tournament, defeating Barbara Romack in the final, 4 & 3. Incidentally, amateur golf was more important back then. The newspaper article about the final match said there were well over 1,000 people in the gallery, and Ormond Beach itself wasn't very big.

The great thing about the Florida circuit then was that it concluded with the Women's Titleholder's at Augusta and the North and South Championship at Pinehurst.

Regarding the Titleholder's: Augusta Country Club is a great course next to Augusta National. I finished as only the third low amateur, a disappointment.

The North and South was also a disappointment because I lost in the semifinals to Wanda Sanchez, a very powerful player, on the third extra hole when she sank a 20-foot putt to defeat me. (For those of you familiar with Donald Ross greens, especially those that are "crowned" at Pinehurst's famous No. 2 course, you know how remarkable it is to sink a 20-foot putt.)

That spring back at the University of Washington, there was a little competition. Lesser, Jessen, Idean Ihlanfiedt, Gunderson and I played two nine-hole exhibitions for the American Cancer Society. Amazingly, I was the low score after shooting a 35 at Everett G&CC and a 33 at Broadmoor. I also played a nine-hole exhibition at Everett with Edean and Patty Berg - such a treat!

That summer I played first in the National Collegiate at Ohio State - the UW kindly paying my way. There were not yet women's golf teams in college, but there was a national match-play tournament. I was medalist with a 73, and had 73 in the first round of match play, but lost on the 19th to Berridge Long of Huntington, W.V.

Ironically, the Western Women's Golf Amateur was in Huntington in early July at Guyan G&CC. I was medalist with a 70, the record low score in the Western going back to its inception in 1901. Yet I won only on the 19th in the first round - the vagaries of match play! But then I kept winning, defeating local favorite Long in the semifinals and then Lesser in the final, 4 & 3, for my first major victory.

It was remarkable because the night before I had gone down to the basement to iron something for the next day; Pat was just finishing her ironing. She and her close friend Ginny Dennehy and I were staying together in a beautiful and large Tudor home with a lovely lady, Bernice Long - no relation to Berridge. Anyway, I was in my bare feet and managed stupidly to stub my right little toe on a cement block. I didn't think much of it and went to bed, but a few hours later the pain awakened me, and I learned I could hardly walk.

The final was to begin at 9:00, so at about 5:30 I awakened Mrs. Long, who took me to the emergency room at the local hospital. An X-ray showed it wasn't broken, but the doctor said the sprained ligaments would take a while to heal. At 9:00 I was on the first tee for the 36 -hole final on very hilly Guyan, and I had to walk it.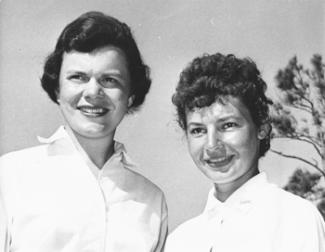 Anne Sander & Joanne Goodwin at 1957 Doherty
A slit was opened in my right golf shoe, but I still needed Novocain after nine holes, and again in the afternoon. Interestingly, Bill Campbell, the great amateur there (and later a USGA president and Royal & Ancient captain), opined that I won perhaps because of the injury rather than in spite of it. He told me he had observed in my previous matches a tendency to get a bit on the outside of my right foot on the backswing. The injury forced me to keep my weight on the inside of my right foot where it was supposed to be.

Whatever . . . that victory for me at age 18 was so special partly because Pat had been my heroine when I was growing up.

From West Virginia, I was supposed to go to the U.S. Women's Open but instead flew home with a slipper on my right foot. (That was the Open where amateur Barbara McIntire lost in a playoff to Kathy Cornelius.)

My toe did heal, and I played in the Washington State Women's Amateur at Sand Point CC in Seattle. I was medalist by eight shots after a 70, and was 3-under par in winning the final, 12 & 11, over Connie Oldershon Jones. I never played in the Washington State Championship again.

Later that summer of my 18th year was the Women's Amateur at Meridian Hills CC in Indianapolis. There was still no qualifying round, just a blind draw with a seeding. I was 1-under par each of the first two days, defeating Romack on the 19th, and then Mary Ann Downey. In the third round I was thrilled to beat the renowned Polly Riley, 2 & 1.

Disappointment followed though. I lost in the semifinals to the great little Canadian, Marlene Streit, 4 & 3, who then defeated Gunderson in the final.

After another fall quarter at the UW, I headed off to Florida for the second and final time. In the first tournament, the important Doherty, I was playing much better than I had hoped after a cold, rainy December in Seattle. I defeated my nemesis and Amateur champion, Streit, 2 & 1 in the semifinals, then in the final beat defending champion Joanne Goodwin on the 38th hole. I had been 3-down with six to play, and birdied the 18th to extend the match. The newspaper account said there was a gallery of 3,000 - imagine that today in amateur golf!

I did not repeat in either the Women's Fourball or the National Mixed Foursomes. With different partners, we lost in the finals in both, the latter on the 37th hole.
I also did not repeat in the South Atlantic, though I was medalist with a 76 in 25-30 mph winds. Yet some exciting days were ahead in the Titleholders in Augusta. There had been a lot of rain prior to the tournament so the course was playing long.

1st round: My 72 leads! Mickey Wright had 73 and Patty Berg 78
2nd round: I had a 78, Patty a 71 and Mickey 75
3rd round: I had 75 and Patty and Mickey both 78s.

So . . . of all things, I found myself leading the field by a stroke going into the final round. I was paired with Patty, a great thrill in itself, and in her last hurrah I watched here shoot an amazing 69. I had 74, and because Mickey Wright had another uncharacteristic 78, I finished second.

It was one of my most memorable experiences in golf because it was against the best pros at the time. Sadly, the great Titleholders tournament became defunct not many years later. I returned for spring quarter the UW and was taking 20 hours to catch up. After mid-terms I was practicing one day at Broadmoor and felt very tired. A woman found me asleep on a locker room bench. So . . . going home for a weekend, I stopped at my doctor's for a blood test. He called later to tell me that the hepatitis returned.

I talked to the dean of the College of Arts & Sciences about studying at home and going back for finals. His pleas on my behalf fell on deaf ears and I got no credit for that quarter, even though I had written essays and completed mid-terms.

During my forced inactivity, once again, I made the decision that I would return to Stanford full-time. The school has a policy that as long as you leave in good standing academically, you are always welcomed back. I received a very nice letter in response to my request for reentry, and was given my room assignment in Florence Moore Hall. (I graduated from Stanford in 1959 at the age of 21.)
Bud Ward

When I returned to Stanford, I sought out a pro. I had known some success, but knew I had to become better if I was to achieve my dream of winning the U.S. Women's Amateur. I debated between the renowned Art Bell at California Golf Club or Bud Ward at Peninsula G&CC in San Mateo.

I opted for Bud, not only because he was closer to Stanford but had grown up in Spokane. As Marvin "Bud" Ward, he won the U.S. Amateur in 1939-40. He might have won more, but USGA championship points were suspended during World War II. His reputation as a player and pro was that he was tough and ornery and that no women took lessons from him.

I went to see him early that fall. I was nervous as I hit quite a few shots with an 8-iron without Bud saying anything. At last, he said, "Well, that's a nice lady-like swing, but if you hit with the pros you couldn't break 80!" He explained that was the case because I hit everything with a slight draw. He showed me what I needed to work on, which I practiced, going up once a month for a "check."

Either the second or third time, he said gruffly, "Why are you wasting your money? You care about school, boys, etc."

I became determined to prove to him I really did care about succeeding at golf. At the five-and-a-half or six-month mark, I went up for a lesson one afternoon and as Bud watched me, he said, "That's not bad." His goading had succeeded.

After that, Bud never changed me again. And when I visited he would often go out on the course with me. He would set arbitrary pins, such as back-right out over bunkers, and say, "Now how are you going to get that ball there?" These were invaluable lessons in thinking and understanding how to play the game.

He also worked a lot with me on my short game. His expertise was amazing; he could stop the ball off a bare lie to a downhill green. I never reached his level, but became much more adept around the greens.

That summer I do not remember playing in anything local - I think I just practiced diligently all that Bud Ward had taught me. I did go to the Women's Western in Chicago in July. I know I didn't win, but can't remember who defeated me.

I am guessing that memory is dim because the remainder of the summer was so special. I stayed briefly at the Warners, and after they left for Grand Rapids, I spent two weeks with the family of my very serious boyfriend at their summer home on a lake just north of Grand Rapids. He would be gone all day driving the Coca-Cola truck. His father went in every day for a few hours in the furniture business and would leave me at the Grand Rapids CC to practice for a couple of hours before we returned to the lake, where I did a lot of reading and relaxing on the dock.

I left in early August to go to my first Curtis Cup match at Braeburn CC in Boston. In 1958, there were not four matches as now, just a 36-hole alternate-shot match and singles matches of 36 holes.

In the practice rounds, I had been playing alternate-shot with my good friend Anne Richardson. She never shanked a shot with me, but the captain, Mrs. Dennehy, became concerned about her propensity to do so. Thus on the day of practice before the match, she "benched" Anne and put JoAnne Gunderson and me together, which proved quite disastrous! Never a long hitter, I was very straight back then and JoAnne was strong but wild. I can still hear her as she would hit a shot into trouble and say in her inimitable way: "Okay Anne, let's see you get out of that," knowing full well I hadn't a clue! We lost 5 & 4.

I did win my singles match, but the overall match was halved. I distinctly remember the last and deciding match coming up the 18th. The "old warriors," Polly Riley and Bunty Smith, both with unusual swings, famously halved their matches.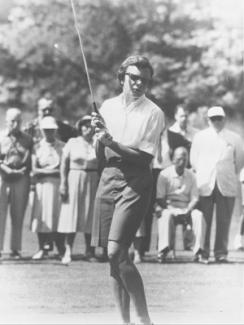 Sander in Action at 1958 U.S. Womens Amateur
The teams subsequently went to famed Kittanset for an "outing" before the Women's Amateur. However, I didn't go and instead traveled to Wee Burn in Connecticut to play and practice (as usual, I had a host family with whom to stay). I remember how hot and humid it was. I would practice early and play nine holes, either the front or back side. Members were commenting that I couldn't make it 18 holes in the tournament. This was the last U.S. Women's Amateur where there was no on-site qualifying. As I recall, there were nearly 200 players at the start of match play.

In the very first round I was playing Pat O'Sullivan, whom I did not find out until later was a reinstated amateur. I remember being 3-under par after the first six holes - yet still all-square! I guessed I was so nonplussed that I lost the next three. It was the first of three matches in that championship where I was 3-down after nine, and yet won.

Because so many started at match play, there were double rounds both Wednesday and Thursday - and much to the members' amazement, because I never played more than nine holes in practice, I survived. On Friday in the semifinal, JoAnne and I fought it out. It was again one of our classic matches. I had 71 to her 71. And for my 71 and victory, I had to sink a 3-foot downhill putt on the 18th (if you recall I had missed five putts of the same length in losing to her in the U.S. Junior in '55).

I remember not only making that putt but her wrapping her arms around me saying, "I knew you'd make it." Though we were archrivals over many years, we were also great friends who respected greatly each other's abilities. The 36-hole on Saturday was anything but anticlimactic. Barbara Romack was another arch-adversary, and I knew I was determined to avenge some previous defeats to her.

But, halfway through the match, with a 3-up lead and 18 holes to play, it seemed Romack was on her way to another victory. If it were not for famed golf writer Herbert Warren Wind's diagram of each of the final seven holes, my memory would fail me. I believe I birdied four of those seven - like a miracle!

So my long-held dream came true - I won the U.S. Women's Amateur! Incidentally, the status of amateur golf was so different then. Not only was there a big article in Sports Illustrated but headlines in the New York Times sports page. And more than 3,000 spectators watched the final.

My 21st birthday was about a week later. For it, Joe Dey, the executive director of the USGA (about who I will say more later), gave me two tickets to "My Fair Lady" and a leather-bound inscribed Bible.

When I returned home, there was some "frosting on the cake" - a gala dinner at Everett G&CC where they gave me a life membership card, and then a "This is Your Life" celebration at Broadmoor, in which they also gave me a life membership. Broadmoor's doing this was particularly special as I had never been a member yet they had so generously given me practice privileges beginning when I was a junior at Helen Bush School.

I can remember how overcome I was by it all. I felt so humbled by the generosity of the members at both Everett and Broadmoor.
Back to Bud Ward

Returning to Stanford for my senior year, I looked forward to seeing Bud again, thinking how pleased he would be. When I went up to see him, his comment was, "Well, that was nice, but anyone can win it once." So . . . his goading continued.

It was not until I won my third Amateur title that he was finally happy, and from then on he called me his NAC (National Amateur Champion). Sadly, he died a few years later of cancer at age 46. He had become a special friend and I missed him a lot.

My Senior Year at Stanford

When I returned, Bud Finger, the men's golf coach said he thought how ridiculous it was that a USGA champion still had to pay to play the Stanford Golf Course. He thought I should qualify for the men's "free list" - the low 16 - but said we should clear it with the athletic director, Al Masters.

At my appointment with Masters I had to leave quickly before I burst into tears as he said very gruffly, "The woman's place is in the classroom and the kitchen! The next thing you know you know we'll have them on the football field." He's probably started shaking his fist in heaven with the advent of Title IX.

When Bud Finger heard this, he went to President Sterling, who granted permission for me to play for free. I played quite a bit with members of the men's golf team and John Brodie, who was an excellent and serious golfer as well as Stanford's great quarterback.

Sometime that fall quarter, I also had to go for an hour to sit for a portrait for a Sports Illustrated cover.

Joe Dey

I first met Dey - who became "Uncle Joe" to me - in Portland during the Woman's Amateur at Waverly. He had such commanding presence, a serious man of very erect posture.

In the ensuing years, he became almost like a father to me. He had only one child, a son, and I believe I became for him the daughter he never had. And he was a big part of my desire to become a champion. He always mentioned that memorable day at Wee Burn.

What he wrote both to me and for publication in the USGA Journal made it all the more meaningful! Incidentally, the USGA office was very small in those days. I can still remember the address: 40 East 38th Street, in New York City. Joe Dey was one of the most important special friends in my life.

For Part 1 of this series, visit http://www.cybergolf.com/golf_news/the_story_of_anne_quast_sander_part_1. For Part 2, visit http://www.cybergolf.com/golf_news/the_story_of_anne_quast_sander_part_2.

Jeff Shelley is the editorial director of Cybergolf.

This story originally appeared in Pacific Northwest Golfer magazine. For more information, visit www.thepnga.org.