The Story of Vancouver Island's Bear Mountain Resort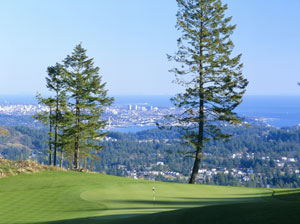 Situated on 1,100 acres of mountainside property, Bear Mountain Resort features the first and only 36-hole Nicklaus-designed golf offering in Canada. It also boasts the Santé Spa, three restaurants and the Mountainside Athletic Club, all within minutes from Victoria, B.C.
The only master-planned resort community on Vancouver Island, Bear Mountain Resort is the vision of President and CEO Len Barrie, a former National Hockey League (NHL) player who found himself battling with his Victoria-based Royal Colwood Golf Club over a few trees he chose to cut down to create a better view from his backyard. Forced to pay a fine and resign his membership, Barrie opted to build his own golf course. In 2001, he purchased the property that later became Bear Mountain Resort.
Although his initial plans were modest – one golf course with a few homes around it, Barrie approached some of his NHL colleagues to join the project. Momentum soon began to build. Attracted to Victoria as a popular year-round vacation destination and the first Nicklaus co-designed course on Vancouver Island, Barrie's NHL friends signed on as investors. No one, not even Barrie, could have predicted that Bear Mountain would soon become the largest development in Western Canada.
The cornerstone of the community is the Jack and Steve Nicklaus co-designed Mountain Course, which opened in 2003. A second Nicklaus-designed Valley Course is currently under construction. Together, the two courses will comprise the only 36-hole Nicklaus-designed golf at one resort in Canada.
"I traveled a lot during my time in the NHL and the best of my travel experiences were the primary influence in creating the vision of Bear Mountain Resort," said Barrie. "I wanted Bear Mountain Resort to be a place where everyday life feels like a vacation and resort-style living combines with a true sense of community. When people come here, they realize they have discovered a resort that is truly unique."
From its elevated locale, Bear Mountain Resort overlooks Victoria, the Olympic Mountain Range in Washington State, the Strait of Georgia and Strait of Juan de Fuca, offering breathtaking views from nearly every corner of the property. Only 25 minutes away is Victoria, called "The Garden City" as its temperate climate keeps the area lush year-round.
Often ranked one of the top cities in the Americas by Condé Nast Traveler, Victoria offers many outdoor activities, including golfing, hiking, biking, sailing, whale-watching, fishing, shopping and fine dining. In addition, Vancouver Island has been voted the Top North American Island for five years in a row by Condé Nast Traveler.
The resort's new clubhouse building will be the centerpiece of the community and serve as the main building of The Westin Bear Mountain Victoria Golf Resort & Spa. It will be ready for business on May 1, 2006, with a grand opening planned for June 8. Available for residents and guests is the Mountainside Athletic Club. Long-term plans for the resort also include The Village, a retail core that will offer coffee houses, specialty shops, boutiques, bistros, natural open space, landscaped parks and an outdoor amphitheatre as well as year-round activities, music, art and exhibits.
The response to Bear Mountain Resort's real estate offerings has been excellent; the first 10 phases of lot sales quickly sold out. Sales of condos, town homes and quarter-share offerings have resulted in pre-sales of more than $342.4 million ($400 million Canadian). In addition, Bear Mountain Resort set the record for most real estate sales in one day on Vancouver Island, selling $114.7 million USD ($134 million Canadian) during the selection day for St. Andrews Walk and Finlayson Reach condominiums. Over the next 10 to 12 years, Bear Mountain will have 1,112 single family lots, 1,997 condominiums and 220 town homes – totaling 3,329 residences, with a total build out value of $2.1 billion USD ($2.5 billion CAD).
"Our real estate options fit every lifestyle, whether the goal is to raise children, visit twice a year to play golf or eventually retire here," said Dale Sproule, director of real estate for Bear Mountain Resort. "In addition, we have made it a priority not to spare any expense in developing our real estate product – every detail offers top-of-the-line quality and craftsmanship. This attention to detail coupled with the immediate availability of every imaginable urban amenity is what makes Bear Mountain Resort a one-of-a-kind community."
Bear Mountain Golf & Country Club

Open since 2003, the first Nicklaus-designed layout – known as the Mountain Course – features considerable natural beauty. A par-71 track that plays 7,083 yards from the tips, the course is perched atop a 1,100-foot-high mountain. Other tee options include the Grizzly tees, where the course measures 6,641 yards; the Black tees play 6,257 yards; the Spirit tees measure 5,783 yards; and the Cinnamon tees stretch 5,014 yards. One Mountain hole not to be missed is the bonus 19th, a betting hole built to capture a 360-degree vista that is sure to take one's breath away – even if some cash is lost.

The new Bear Mountain Resort's Valley Course will play at a lower elevation than Mountain. The par-70, 6,890-yard course is slated to open in 2008.

"From the outset, my vision of Bear Mountain Resort centered around the golf experience and that meant having the very best course designers available," said Barrie. "While Bear Mountain Resort offers the best in resort accommodations and residential living, our goal was always to create the West's most renowned golf destination."

For more information about British Columbia's Bear Mountain Resort, call 888/533-BEAR or visit www.bearmountain.ca.