The Sweet Side of Florida
By: George Fuller
Landry was vacillating between the Forbidden Broadway Sundae - a tempting concoction of chocolate blackout cake, ice cream, hot fudge and whipped cream - and the peanut butter Frrrozen Hot Chocolate. I had already decided on the classic Rueben and a side of crispy onion rings. Serendipity, a whimsical ice cream parlor inside the Boca Raton Resort & Club, had us firmly hooked.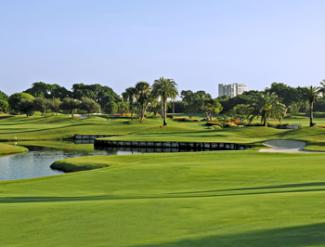 2nd Hole at Boca Raton's Beach Course
Each winter we pick a Florida destination to visit. Not that we need to escape winter's chill, as do many of our colder-clime friends, but we're big fans of the historic hotels, the bathtub-warm South Florida ocean water, and a totally different style of golf course than we find at home in Southern California.

This year, we decided on the Boca Raton Resort & Club on the Atlantic side of the state just north of the Ft. Lauderdale airport. Designed by legendary architect Addison Mizner and first opened in 1926, today the resort is part of the Waldorf-Astoria Collection. Although the original pink buildings are still in full use, the resort has expanded considerably since the early days when Mizner - known for his eccentricities as much as for his architectural prowess - strolled the grounds in silk pajamas with a pet monkey atop one shoulder and a macaw on the other.

The resort has expanded so much, in fact, that it's a little disconcerting when you first surf the website and discover five different lodging choices on the property's 356 acres. You can dock your yacht in a hotel-guest slip and stay in the water-facing the Yacht Club wing; bring the clan for a longer stay in the Boca Bungalows, complete with full-size kitchens; opt for one of the 100 rooms in the original Cloister building, close to the shopping, golf and restaurants; select a high floor room in the Tower building, which offers stupendous views; or-as my wife and I did - decide on a room at the elegant Beach Club.
True to its name, you can walk out of the Beach Club lobby and onto the white sands of the Atlantic Ocean right in front of the hotel. It's a shuttle ride away from the main resort and golf course, but the unobstructed ocean views from the Beach Club rooms are priceless.

Reopened in February 2009 after an 18-month, $120 million renovation, the Beach Club is a thoroughly contemporary alternative to the classic architecture of the pink palace. The guestrooms sport a color palette to complement the beach, water and spectacular sunsets outside. Bathrooms feature overhead rain showers, opaque glass wall tiles and cool marble flooring, particularly alluring during the summer months.
Boca Raton Beach Club
In the Beach Club lobby, an ocean view bar is a good spot to enjoy a late afternoon cocktail before heading to the adjoining Seagrille restaurant, where the enticing menu focuses on seafood from local waters and seasonal cuisine.

There are two golf courses available to guests: the Resort Course that fronts the Cloister building, and the Country Club course, a 20-minute shuttle ride away. We found the Resort Course to be very scenic and enjoyable. Colorful plantings adorn the sides of fairways, lakes and streams are found throughout, mature banyan trees overhang several holes and palm trees and tropical shrubs are ubiquitous.
The Resort Course plays a short 6,253 yards from the back tees and a friendly 4,577 yards from the forward set, all to a par of 71. A number of short par-4 holes tempt players to go long, but with water in play on 15 of the 18 holes, smart shots tend to pay off with lower scores. Such a hole is the memorable par-4 18th, which stretches 380 yards to an island green.

The Country Club Course also challenges players with water on 14 of 18 holes, but this course stretches out to 6,714 yards and has a menacing 73/138 rating. On the other hand, a full-service Dave Pelz Short Game School is based here, so if all goes wrong during your round, help is near at hand.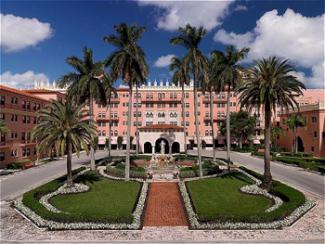 Boca Raton Resort
Though golf, the spa - with its 44 treatment rooms - and water sports are certainly the main reasons to visit Boca Raton Resort & Club, the cuisine is equally delightful. There are 11 separate dining outlets scattered throughout the property, each one providing a unique experience.

Inside the golf clubhouse is the Old Homestead steakhouse, where meat lovers (and what golfer isn't?) can order monster steaks - a 46-ounce Porterhouse anyone? - for dinner or an equally filling 20-ounce Kobe beef burgers for lunch.
We can personally recommend Serendipity, where we started our experience with sweets and ended up more than once; Beaches Bar, where we sat late one afternoon sipping a frothy pina colada and watching the sunset; and Lucca, where we oohed and aahed one evening over the rich Tuscan flavors of veal osso buco, cheesy polenta and roasted lamb. Though we didn't try it, Morimoto, a high-tech sushi bar, looked like a good pick too.
Anyone visiting this historic resort should definitely reserve an hour to wander the hallways of the original Cloister building that thankfully is so meticulously cared for and preserved. The detailed craftsmanship is a wonderful example of a gilded age in America's history, and the inspired architecture - with its soaring ceilings, commanding columns and graceful archways - is an example of Mizner at his very best.

And the ice cream's not bad either.

For more information, visit www.bocaresort.com.
Award-winning publisher, editor, writer and photographer George Fuller has been covering golf travel and lifestyle for more than 30 years. His book and magazine assignments and projects have taken him throughout the United States, Canada, Europe, Asia, Polynesia and Mexico.

From 1992 to 1997 he was editor of LINKS-The Best of Golf, based in Hilton Head, S.C. In 2005, after having spent several years in the Pacific starting two magazines for Continental Micronesia Airlines and writing two books, Fuller launched GOLF LIVING Magazine for the Los Angeles Times, a "super-regional" magazine of travel, real estate and the lifestyle surrounding the game of golf. After a successful year of publication, he purchased GOLF LIVING from the newspaper and sold it to Media That Deelivers of Scottsdale, Ariz., with a contract to operate it for them.

In 2007, he launched TEE IT UP Magazine in partnership with the nationally syndicated radio show of the same name; and in 2009 he gained the contract to redesign and re-launch TEXAS GOLFER, a magazine with 25 years of history in the Lone Star State.

He has nine published books to his credit, the most recent being I Golf, Therefore I Am...Nuts! (2008, Human Kinetics Publishing). Others include Discover Hawaii's Best Golf (2001, Island Heritage Publishing) and California Golf: The Complete Guide, (11th edition, 2005, Avalon Books). He has contributed to many guidebooks, notably the Berlitz Travelers Guide, Birnbaum Guide, Citibank's Great Resorts of the World and several city editions of Guest Informant.

Fuller's newspapers and magazines credits include TIME, Wall Street Journal, San Francisco Chronicle, The Los Angeles Times, Robb Report, Coastal Living, Palm Springs Life, Estates West, GOLF Magazine, Golf Digest, Travel & Leisure Golf, LINKS, Successful Meetings, Honolulu and many others. He has reported for Reuters, United Press International (UPI), written for Copley News Service and is still a regular on-line travel correspondent for CBS Sports.com.

George Fuller is based in Newport Coast, Calif. He can be contacted directly at: gfuller@earthlink.net; 310/245-9550 (cell).