The Time is Now - The Future of Golf at Golf 20/20
By: Nancy Berkley
Next Tuesday, May 10th, over 100 participants from many different segments of the golf industry will come together at the World Golf Village in St. Augustine, Fla., for the annual Golf 20/20 Vision for the Future strategy forum. The 2011 agenda forum is entitled "The Time Is Now," and suggests an appropriate sense of urgency.
Golf 20/20 is an industry initiative organized by the World Golf Foundation along with other industry sponsors. The first Golf 20/20 gathering took place in 2000. Except for 2010, there has been an annual conference since then. For more information, visit www.golf2020.org and www.worldgolffoundation.org.

Attendance to the conference is by invitation-only. Historically, the heads of all the major golf associations, golf-equipment manufacturers, golf course owners, magazine publishers, consultants and writers and, in general, organizations and people that are stakeholders in the golf industry, are there. The evening prior to the forum is the World Golf Hall of Fame (www.worldgolfhalloffame.org) induction ceremony. Among the new inductees are golfer, Ernie Els and President George H. W. Bush, who will receive a Lifetime Achievement Award.

I have attended every annual Golf 20/20 conference. In fact, at the 2002 forum I chaired a panel on growing the game for women. As the author of a book I wrote for the National Golf Foundation in 1999 and reprinted in 2003 entitled "Women Welcome Here: A Guide for Growing Women's Golf," I laid out statistics and best practices for increasing the number of women golfers.

This year the issues facing the industry are more complex than ever. The question for me is: Will this conference be business as usual? Or, will the tough questions be up for discussion?
History of Golf 20/20

To set the framework, let me give you a little background - my view - on how Golf 20/20 came to be and what it has accomplished.

In the late '90s, golf participation in the U.S. was booming in part due to what is dubbed "The Tiger Effect." That's the good news. At the same time, however, the number of golf courses and residential golf communities was growing even more rapidly. Supply threatened to outpace demand. In 1998, the National Golf Foundation (NGF), which is funded by the golf industry and charged with gathering data and thinking strategically, decided that it was timely to ask a highly respected management consultant firm, McKinsey & Company, to join with the NGF and take a look at the future of golf in the U.S.

In 1999, the NGF and McKinsey produced their landmark study: "A Strategic Perspective on the Future of Golf." (The report is available at www.ngf.org  publications.) At the annual PGA Merchandise Show at the end of January 1999, I attended a special press conference where the contents of the study were made public. Reaction was mixed.

The report painted a potentially serious situation for the U.S. golf industry. Unless the number of golfers grew significantly - about 2% annually - and golfers played more rounds, the supply of courses would outpace golfers. You don't have to be an economics major to understand that if more golf courses were competing for fewer golfers, green fees would decline as well as would purchases of golf equipment. And there would be fewer employment opportunities for golf professionals graduating from the PGA of America and the LPGA teaching programs.

The McKinsey Report outlined many different methods that golf facilities could use to increase the number of golfers. I periodically go back and read the McKinsey report and am amazed at how good and relevant the suggestions made a decade ago remain today.

The NGF-McKinsey study caught the attention of everyone in the industry, including Tim Finchem, commissioner of the PGA Tour. A decline in the number of golfers could also cause a decline in the number of fans of televised PGA Tour events. That in turn could seriously affect the PGA Tour's ability to negotiate TV contracts, sponsors and advertisers.
Commissioner Finchem saw the problem. With the help of the World Golf Foundation, Finchem established the first Golf 20/20 conference in November 2000. At the keynote address at the first conference, he set forth what had to be accomplished by the year 2020 (that's the source of the conference name).

First, golf needed to reach 55 million participants. That was about 30 million more participants than in 2000. (A golf "participant" is an industry-defined term and includes not only golfers who play on regulation courses but those who only use golf ranges or par-3 courses.)

The commissioner proposed the tactics. We would add 1 million golfers each year for the next 20 years by just finding a half-million new golfers and retaining another half-million that might otherwise leave the game. Second, in addition to the number of golfers, the commissioner also challenged the industry to increase rounds played. The goal was to reach 1 BILLION rounds by 2020. At the time of that first 20/20 conference there were about half that many rounds played.

The third industry challenge was for golf to achieve the same level of interest that U.S. professional football enjoyed. Today's FedEx Cup is as close as the industry has come to a "Super Bowl" of golf.

The Golf 20/20 goals set forth at that first 20/20 conference were lofty and unrealistic as I look back 10 years. However, I have to say that when I left that first conference, I was energized and optimistic.

The goals set forth in 2000 at that first Golf 20/20 conference have not been met. That is not to diminish, however, the good that has come out of Golf 20/20. Here are just a few of the accomplishments: The launch of the First Tee, the establishment of the PGA's Play Golf America, and the First Tee School Golf Program.

The most recent effort of Golf 20/20 is the Get Golf Ready program, which offers a series of well priced lessons that include actual time on the golf course.
Changes in Society Create More Problems for Golf

Stepping back, it's important to realize that the problems that faced the golf industry were not just the supply-and-demand crisis of overbuilding golf course. There were fundamental changes taking place in society.

One of the most significant presentations at Golf 20/20 was the 2003 report by Madelyn Hochstein, president and founder of DYG, Inc., a company that studies trends and advises clients how to keep up with them. Madelyn made a presentation that I will never forget about: what she called the "Time Crunch" and its effect on golf. You know: We are all too busy! How can we fit in a five-hour round?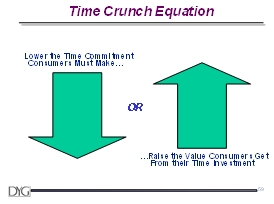 She concluded with this challenge to the industry: Golf must either take less time or offer more value. Here is a copy of the slide she presented (archived on the Golf20/20 website). I will come back to this "Time Crunch Equation" at the end of this article.

So with all that as background and with the Golf 20/20 conference coming up next week, let me offer you my predictions. The agenda for the meeting has been released and it pretty much follows the pattern of previous conferences.
This Year's Agenda - Business as Usual

THE NUMBERS: There is always a "state of the industry" report about the numbers of golfers and rounds: I predict it will be reported that junior golf is a sweet spot in the industry. I like to remind people: imagine how many bicycles would be sold if no one learned to ride a bike until they were 20 years old? Well, apply the bicycle analogy to the golf industry and a strong case could be made that all golf equipment manufacturers should get together and donate junior clubs to every public teaching facility in the country, especially the municipal facilities.

There are probably more juniors (total boys and girls) now than even a few years ago. It will probably also be reported that there is an increase in young female juniors. And we probably will also hear that junior girl golfers tend to drop out of the sport in their teen years.

Everyone should read the current April 29, 2011, issue of Golfweek and the story "Time for the Program?" by Beth Ann Baldry and Gene Yasudo in which they propose a funding and support organization for our young elite players. Please see my article http://www.cybergolf.com/golf_news/olympics_in_rio_2016_the_girl_from_ipanema in which I predict that one of the outcomes of women's golf in the 2016 Olympics will be a push to develop our young, gifted golfers.

Re adult golfers: It will probably be reported that the total number of adult (over age 18) golfers is slightly down over last year. But I am hoping that the news I heard from Jim Koppenhaver from Pellucid Corp in January, that there is finally an uptick in the number of women golfers, is confirmed by the Golf 20/20 stats.

TEACHING METHODS: I am hoping there will be some discussion of how teaching methods are changing. For the past decade, high-tech teaching has prevailed. But aside from a few golfers who like to see their wired muscles move in great detail on video screens, my hunch is that golf professionals are more focused on how to communicate more simply with their students.

GOLF EQUIPMENT: It's never been better!! I hope that a few manufacturers will report on the reaction of recreational golfers to this year's lighter clubs and new designs. We know from past NGF studies that being able to hit the ball easier in early lessons is a great inducement to sticking with the game.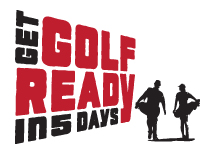 GET GOLF READY: This newest program of Golf 20/20 was launched two years ago. I expect we will hear that about two-thirds of the participants are women. Whenever the industry focuses on a special program that involves good teaching methods where golfers can meet other golfers, women are the largest participants. What does that tell you?

And we will also probably hear from Cathy Harbin, the director of Get Golf Ready, that over half of the program participants stay with the game and are playing on the course. It will be interesting to hear if any courses have shortened holes or made three-hole loops for the new golfers in the Get Golf Ready program.

MORE IMPORTANTLY, HERE'S WHAT I DO NOT THINK WILL BE DISCUSSED THIS YEAR: They are like gorillas in the room that no one wants to acknowledge or be quoted on. Courses need to be shorter - not longer. This is a touchy subject because the courses that were built a decade ago were built to be long, long, long and hard, hard, hard. Take a look at the Arthur D. Little and his wife Jan Lemming's study on www.golfwithwomen.com about the increase in rounds they experienced when they shortened their Vermont course. Consider their 65% rule (women's tee length should be 65% of the men's long tees) at http://www.golfwithwomen.com/?p=200.

Of course, all experienced golfers know that length is not the whole story. I spent last summer playing over a dozen public courses in Colorado and Utah from the forward tees. I know first-hand that a 200-yard hole with a 150-yard carry is much harder than 200-yard hole that plays downhill and has no carry. But hard courses with high slope ratingss are simply not fun for most female golfers. And given the "Time Crunch" issue, who wants to spend all that time not having fun?

MORE NINE-HOLE ROUNDS: For years, the industry has not actively encouraged nine-hole tee times. I have heard numerous explanations as to why. But at PGA National, Jane Broderick, the director of golf and the first woman to be both a PGA and LPGA Master golf professional, has figured it out. It's not that hard!

CHILDCARE WHILE PARENTS PLAY GOLF OR TAKE LESSONS. I guarantee this will NOT come up. But I would like to remind readers that the ski industry offers childcare. Think about how hard it would be to find a parent on a mountain if a child was having a problem. And the tennis industry does it. I am tired of hearing why it can't be done at golf courses, especially during lessons and nine-hole rounds.

GOLF'S GLOBAL IMPACT: I don't think there will be a discussion of the pros and cons of U.S. golf becoming more global, but it may. The LPGA's commitment to play all over the globe is now an established mission and BY its Commissioner Mike Whan.

In the March 20, 2011, issue of Golf World, executive editor Ron Sirak went so far as to speculate that maybe the PGA Tour, which is increasingly faced with global golf conflicts, should consider a merger with the LPGA Tour. I guarantee that will not be openly discussed at this conference, but I'm thinking about it. What if during a televised tournament, there were some women's foursomes and some men's foursomes? What if, together, the two tours could find synergy to make the whole pie even bigger?

More links between women's and men's golf will help. I believe that the back-to-back men's and women's U.S. Opens at Pinehurst in 2014 will be an opportunity to talk about the similarities and differences in men's and women's golf and actually be the subject of interesting videos and discussions. I am very excited about the 2016 Olympic Games in Rio. For the first time in a century, the Games will include golf competitions for both men and women from over 100 countries. See my article about the Olympics at http://www.cybergolf.com/golf_news/olympics_in_rio_2016_the_girl_from_ipanema.  

WE MUST HAVE MORE WOMEN ON MORE GOLF ASSOCIATION BOARDS, COMMITTEES AND GOLF CLUBS. For me this is the critical issue for the growth of women's golf. The April 11, 2011, issue of the Wall Street Journal ran a special section titled "A Blueprint for Change." The report summarized a conference of very senior and high-powered corporate women trying to figure out why more women were not making it to the CEO positions. Many comments centered on not enough women on the boards of companies.

There are only two women on the 20-person Board of Directors of the PGA of America. That's simply not enough! There are too few women on the boards of most golf associations.

Over my years as a lawyer and corporate executive and on the board of directors of two private golf clubs, I was often the only woman at the table. But I began to notice how the dynamics changed - for the better -when one or two more women joined. My advice to all organizations: Put more women on your boards. Aim to have at least three women, whether it's a committee of five or 50. "Three" is a magic number. And if you want something done, ask a woman to do it.

The Value Proposition

In closing, I want to get back to that statement by Madelyn Hochstein I quoted earlier: "Golf must either take lees time or offer more value." There are probably more nine-hole rounds available to reduce the time element. But the real opportunity to promote golf lies in promoting its "value."

One of the reasons that junior golf has taken off is because it feeds into family values and, thanks to the First Tee program, offers young people the opportunity to understand how positive values will enhance their lives. But what "value" does golf offer an adult? That is the issue that I would like to tee up at this Golf 20/20 conference.

I am not talking about how physical training improves your golf score. I'm thinking in the opposite direction. I am suggesting that playing golf - just as a recreational golfer -improves your physical health and sense of well-being. There's been a lot of talk about the benefits of walking a course. But, I have tried unsuccessfully to fund a study on how swinging a golf club (even if playing from an electric cart) promotes flexibility, stability and balance. (I'm thinking about how many times I swing a club during a round - including those practice swings.)

It would provide such convincing evidence if a scientific study were undertaken by the industry to document the relationship between golf, improved health and living longer. Golf is not an aerobic sport. But its mind-body component in executing the swing is unique because it is thoughtful rather than simply responsive. Most doctors will confirm the benefits of mind-body exercising. And there is a relaxation component to golf (excluding the golf-club throwers) that is important also.

Be Healthy, Live Longer & Play Golf

I would like to see an ad campaign that says, "Be Healthy, Live Longer, Play Golf." Nothing relaxes me more than a round of golf - even when my golf is not at its best.

I read with interest that on that Sunday morning as President Obama was waiting for the helicopter mission to take place in Pakistan that he played nine holes of golf. Let's grow the game by advertising its value. That's something I would like Golf 20/20 to consider.
Nancy Berkley, President of Berkley Golf Consulting, is an expert on women's golf and junior-girls golf. She is a frequent contributor to www.cybergolf.com/womensgolf. Her book, "Women Welcome Here! A Guide to Growing Women's Golf," published by the National Golf Foundation, is an industry reference on marketing golf to women and spotting trends within the industry. She offers information and advice about the golf industry on www.berkleygolfconsulting.com and is often quoted in national publications. She was a contributing editor of "Golf for Women" magazine and a founding advisor of "Golfer Girl Magazine." Her interviews with women in the golf industry now appear on www.golfergirlcareers.com. Nancy lives in Palm Beach Gardens, Fla., and is a graduate of the University of Minnesota, Harvard University and Rutgers Law School. After a business and legal career, she decided to write about the game she learned and loved as a teenager. She describes herself as a good bogey golfer with permanent potential.