The Tour Returns to Harbour Town this Week
By: David Wood
"Harbour Town made my career," says Pete Dye of the course design for which he's probably best known.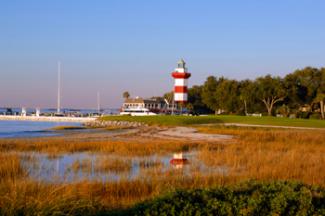 The Famed 18th at Harbour Town Golf Links
Forty years ago Harbour Town Golf Links at the Sea Pines Resort opened to much fanfare while hosting a nascent PGA Tour tournament - the Heritage Classic. Swashbuckling Arnold Palmer staged one of his patented final-round charges for the inaugural victory and the Lowcountry 18 quickly became a "must play."

When the Tour makes its annual stop at Hilton Head this week for the RBC Heritage, players will find the iconic layout ever so slightly modified. During an onsite evaluation in early 2011, Dye charted a series of enhancements, ensuring the course would retain its lofty status and continued critical acclaim.

And by slight, we mean really slight. After all, a masterpiece is a masterpiece. The layout was lengthened 150 yards, a handful of trees were removed to improve sightlines and a select number of bunkers were reshaped or extended to bring hazards back into play. The work was kind of like polishing the frame of the "Mona Lisa."
Plus, the world's best love playing Harbour Town, which was ranked No. 2 in Golf World's recent survey of Tour players naming their "Top 10 PGA Tour Courses," placing just behind Augusta National.

Player comments included: "My favorite Pete Dye course," "The best course we play," ". . . . don't need length for a great golf course," "It's a 10 because of great greens," and "You have to shape the ball on almost every hole."

Dye was quite appreciative of the acclaim noting, "To be included in a list of world-renowned PGA Tour venues as represented, and then to be chosen as the second-best is truly a great honor. We are grateful to all the players for this recognition."
Sea Pines also has two other championship layouts. Heron Point by Pete Dye is a shot-makers' delight that demands the same level of precision and strategy as Harbour Town. The venerable Ocean Course - the island's first - is routed through wetlands, meanders through thick strands of Live Oaks, and boasts an oceanfront hole set against a dune ridge.

While golf is the focal point, the resort features many amenities. The Racquet Club boasts 23 clay courts and is ranked as one of the best in the U.S. Five miles of sweeping Atlantic beaches offer everything from sea-kayaking to fishing to surfing.
The 605-acre Forest Preserve is ideal for horseback riding and hiking. Its array of accommodations includes the Inn at Harbour Town - an award-winning, 60-room boutique hotel - as well as 300 villas and 100 rental homes.

For more information, visit www.seapinesgolf.com.
In addition to writing on golf and travel, author and noted speaker David Wood has made several appearances on "Late Night with David Letterman" as well as dozens of other television shows. His book - "Around the World in 80 Rounds" - was just released in paperback on www.Amazon.com. Currently he works in public relations with Buffalo Communications in Vienna, Va. His website is www.DavidWoodSpeaking.com.