The Travis Invitational: The Grand Old Amateur Returns
By: Jay Flemma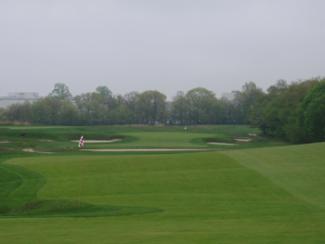 Though all New York City is overjoyed with the excitement of the imminent U.S. Open at Bethpage Black, another of golf's richest traditions takes place locally this weekend as Garden City Golf Club celebrates the 99th anniversary of its venerable amateur tournament, the Travis Invitational.
The "Grand Old Amateur," as the tournament is sometimes affectionately known, is not just a three-day competition of the finest amateur golfers over one of the nation's oldest and most historic courses. The Travis also celebrates the colorful life and century-long legacy of Walter J. Travis - the illustrious amateur player, golf course designer, writer and most famous member of the club, a throwback to the golden age of the game, when amateur tournaments were revered by the golf world as greatly as PGA Tour events are today.
"The whole concept of the tournament is born from the culture of golf," explains Pat Mucci, a golf course design expert and member of Garden City. "For 99 years, we have had a field with local, regional, national and international players. One of the reasons why we attract such a great field is because, each year, the members celebrate not just that year's tournament, but the cumulative history that has been built over time since the first event in 1902, and the players like to feel a part of both that history and the celebration."
Indeed, both the Grand Old Club and the Grand Old Amateur have some of the richest history in American golf. No less a personage than pre-eminent author and literary lion John Updike hinted that it was Walter Travis's 1904 British Amateur victory that put America on the world golf map almost a decade before Francis Ouimet's miracle victory in the 1913 U.S. Open. Updike made that observation at the centennial anniversary celebrations of the USGA. Travis's win was a mere two years after Garden City hosted its only U.S. Open, won by Laurie Auchterlonie, the first winner to break 80 all four rounds and the first winner to use the rubber-core Haskell ball.
After returning home from his victory, Travis recommended minor changes to the club's par-73 Devereux Emmet-designed golf course in an article in his publication, "The American Golfer." The club listened to his suggestions and, after deepening many bunkers and adding some internal contour to the greens, the club again hosted a major championship, the 1908 U.S. Amateur. Travis, the home-club favorite, was eliminated in a storied semifinal match where he left two shots in the greenside bunker on the home hole to lose to eventual winner J.D. Travers. It's said he "dug his own grave" after failing to escape the bunker he made much deeper than Emmet had originally built.
Nevertheless, Travis went on to win nine Spring Invitational tournaments, as the Travis Invitational was formerly called, and now the event bears his name. Since his time generations of the greatest American amateur golfers have convened to take part in the event now named in the Grand Old Man's honor. "Garden City is one of the most special places in all of golf," said a beaming Michael Kelley, after he won the championship flight in last year's event. "Between the history here, the quality of the course and the membership, it's clearly one of the top events in the country, and to win a world-class event on a world-class golf course is why I play golf."
The tournament is a rugged test of a contestant's skill in both match and medal play over the three days of competition. "Friday is a single qualifying day where the top 72 players out of the field of 121 will advance to the match play rounds conducted over the weekend," explained tournament chairman Pat Fogerty, who is also a contestant. The match-play portion has five competition flights: a championship flight of the top 16 players after Friday's medal play; a second flight of the next 16 players; and then three more flights of eight players each. Additionally, 16 more players will qualify for the "senior legends flight."
"One of the nice things about the tournament is that, with 72 qualifiers, a player has a good chance to advance to weekend play," Fogarty added.
They need that many flights as the quality of player the tournament attracts is staggering: well-decorated state amateur champions lock horns with former USGA championship winners in any bracket, 1 through 5. One year, Jeff Thomas, a seven-time New Jersey state amateur champion, met Jerry Corville, a U.S. Mid-Amateur champion, in the fifth flight. Last year, David Segot and Kevin Hammer were the two semifinalists who lost to Kelley and co-finalist Joe Saladino. Yet Segot and Hammer battled each other in the fifth flight the previous year. "The field is so strong that the difference in ability between a top seed and a bottom seed in any flight can be negligible," Garden City golf pro emeritus Gil McNally explained during last year's event. "Moreover, the stroke-play portion of the competition is only one round, where anything can and will happen."

But while the field can be jumbled by the casual slings and arrows of the capricious bounces of a single round, the match-play portion is an equalizer, giving the more skilled player a chance to overcome a high seeding and work through the brackets. "In a tournament like this, being the top seed is not anywhere near as much of an advantage as it is in other sports like basketball," McNally stated with a knowing smile. Last year alone saw a startling bloodletting at the top of almost every bracket as five No. 1 seeds out of the six flights were eliminated in the first round of match play.

The surprises began at the top. Alan Specht of Wheatly Hills Country Club, five minutes away from Garden City, won medalist honors with a sparkling 4-under 69, but then was dispatched by 16th seeded Segot 3 and 2. Segot played fairways-and-greens golf and outlasted Specht, despite both players making mistakes throughout the day.

"The rough is thick," explained Segot. "I started the day getting in it, but then steadied. You have to hit the greens in regulation. When you hit fairways and greens, good things can happen."

Four other top seeds also lost in the first round of match play. Interestingly, since 1980 only two men have claimed medalist honors in the stroke-play round and captured the overall title as well. In 2007, Greg Kennedy was the low medalist and then marched through the championship bracket to victory. Legendary amateur David Eger turned the trick an astounding three consecutive times, from 1999-2001. Eger won a total of four Travis Invitationals.

"That's one of the reasons Garden City is such a great tournament venue," declared golf course architecture pundit Jon Kulok, a lifelong New Yorker who recently transplanted to Washington, D.C. "In a stroke-play event, the deep rough and the intricate greens shave a half-stroke or stroke at a time, and before you know it, you're bleeding from 1,000 cuts, looking at a round in the 80s."

Pat Fogarty was one such victim last year. Fogarty, who holds the competitive course record with a 67 in the club championship one year, missed qualifying for any of the match-play flights, showing exactly how demanding the 109-year-old course is to this day, despite technological advances that have brought lesser designs to their knees. "Additionally, the course is just as tough during match play," continued Kulok. "It's relentless, you can't let up, because a mistake on any hole can hurt you."

"It makes you think constantly," added Pat Mucci. "Cross-hazards, such as at the long par-4 15th hole or the par-5 seventh, limit the longer hitter. Then there are also great diagonal cross-hazards like the bunker off the tee at the par-5 13th hole." As a result, no lead is safe. In last year's 18-hole final match, both Kelley and Saladino lost 2-up leads over the course of play.

Weather can be a factor as well. British satire author Douglas Adams once wrote he could think of 4,000 other places to spend spring than New York City and that was just on the same latitude. It's wise to prepare for at least one cold, windy spring day. Just like at the Masters where it's "one day cold, one day wind, one day rain, one nice day," during the weekend players at Garden City must survive at least some inclement conditions, and when the cold winds blow hot water runs deep. Rugged weather on the day of the qualifier can be a ruthless equalizer. Last year, only two players - Specht and Hammer - broke par 73 in the stroke-play portion.

As such, both McNally and Fogarty said that the course will start with a more forgiving set-up and increase in difficulty each round until the finale. "With a large number of players, we want people to move around quickly and this course holds up to scoring without making it tricky," said McNally after the 2008 stroke-play qualifier. "The weather was the big factor why the scores were high. It made the course four shots harder today."

As the tournament progresses, the pins will get gradually harder, but still accessible. "We don't need to try to kill them" McNally says wisely. "We'll make them a little tougher test tomorrow and again early on Sunday."

"That's right," adds Fogarty, "but then we'll make them a little easier on the final round, so the players can go for it and so the spectators can see some exciting golf."

Some other competitive enhancements are planned for the course as well. With everyone toasting Mike Davis and his "kinder, gentler" U.S. Open setups - with flexible teeing grounds and intermediate rough - tournament chairs everywhere are following suit. Davis's ideas have swept in like a galleon in full sail, winning the praise of players and pundits alike. "We are going to do some of the same things," said Fogarty excitedly. "We'll be varying teeing grounds to allow players strategic choices like whether to go for 13 in two or to drive the green on nine. We might also try it on the par-5 fourth hole to bring the cross-hazard into play on the drive."

So once again, whether by promoting strategic elements of golf in competition, or opening one of the greatest classic courses in golf to amateurs from around the world, Garden City is still a leader in stewarding the history and virtues of the game. As recognizable symbols of American golf, Walter Travis, the Travis Invitational, and Garden City Golf Club need to be preserved, promoted and celebrated in a manner that befits their stately renown. Happily, the members, always putting the club before themselves, realize they are curators of a living museum and protectors of an illustrious legacy and do everything they can to preserve the glory of Travis's name, the club and the tournament for future generations of golf fans and amateur players everywhere.

Thankfully, for this week, the competitive golf world measures up its worth and not its wealth. While we lament the culture of entitlement, pandering and enabling the 21st century athlete he demands from fans, golfers at the Travis are genuinely grateful to be here and they bring a first-class, blue-collar work ethic to the way they play the game and conduct themselves. Next week, most of them will go back to being Merrill Lynch executives, lawyers or businessmen. But for one week, they walk in the footsteps of golf's ancient champions, founding fathers and grand history. You want to see sportsmanship? Last year the two finalists, Kelley and Saladino, actually ate lunch with each other before the final match. They even ordered the same meal. (That was so cool they should make it a yearly tradition.)

But that's Garden City and the Travis Invitational: The Grand Old Club, The Grand Old Man, The Grand Old Amateur. For this week, we celebrate a golf course not because of what it cost to build, but because of its value to the game. For this week, we don't judge golf by waterfalls, stained-glass windows, magic gates, celebrity members or television exposure.

Instead, we take a walk back in time to the days of old, a living golf time capsule as relevant today as ever it was. If you longed for a retreat to steal away from the tribulations of city life, there is none more promising than Garden City Golf Club, Emmet and Travis's place of restful repose, a bewitching, restorative elixir: solace amidst the traffic of the world. That's the true greatness of Garden City. Here, they know it's not what you do for a living that makes you great, but what you do for others.


Since launching his first golf writing website in 2004, http://www.jayflemma.thegolfspace.com, Jay Flemma's comparative analysis of golf designs and knowledge of golf course architecture and golf travel have garnered wide industry respect. In researching his book on America's great public golf courses (and whether they're worth the money), Jay, an associate editor of Cybergolf, has played over 220 nationally ranked public golf courses in 37 different states. Jay has played about 1,649,000 yards of golf - or roughly 938 miles. His pieces on travel and architecture appear in Golf Observer (www.golfobserver.com), Cybergolf and other print magazines. When not researching golf courses for design, value and excitement, Jay is an entertainment, copyright, Internet and trademark lawyer and an Entertainment and Internet Law professor in Manhattan. His clients have been nominated for Grammy and Emmy awards, won a Sundance Film Festival Best Director award, performed on stage and screen, and designed pop art for museums and collectors. Jay lives in Forest Hills, N.Y., and is fiercely loyal to his alma maters, Deerfield Academy in Massachusetts and Trinity College in Connecticut.