The Travis Invitational Turns 100 Years Young
By: Jay Flemma
100 years of rousing cheers,
Of frothy beers and smiling peers,
Of hearts sincere and friendships dear,
Our green and gothic home

From "Our Green and Gothic Home": a poem commemorating the Travis Invitational's centennial
The "Grand Old Amateur," the Walter J. Travis Invitational at Garden City Golf Club in Garden City, N.Y. - one of golf's most graceful traditions and a throwback to the golden age of the game - turns 100 years old this weekend.

Originating as the "Spring Invitational" for the Metropolitan Golf Association, and now a mid-amateur tournament, the event has been conducted since 1902 (taking a few years off during wartime). The event harkens back to when amateur golfers and amateur tournaments were revered by the golf world as greatly as PGA Tour events are today.

"The Travis embodies the preservation of all the great traditions and virtues in golf," explained an eager Pat Mucci, a Garden City member and one of the 130 contestants hopeful of advancing to the weekend's six flights of match play. "Camaraderie and altruism: that's what the game and the Travis are all about. We want everyone to feel like they've stepped back in time 100 years."

Indeed, though Garden City is in the middle of a densely populated area, when you're playing you see nothing but the golf course and it feels like the U.K. It's a time and space warp that takes you from metro NYC to the ancient golf links and to a more reserved, stately age. The old wood-paneled clubhouse is filled with pictures, articles and artifacts from the dawn of American golf. The members even abide the honorable tradition of wearing a jacket in the clubhouse. The club duly merits its position as one of the greatest and most important courses in the world.

"It's a work of art," beamed golf architecture expert Jon Kulok. "If you love art, you have to visit the Met and the Louvre. If you love golf, you have to visit Garden City.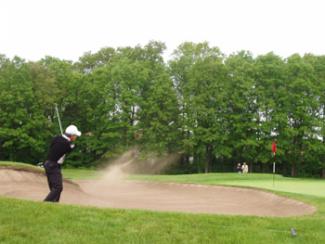 Champion Chris Lange Plays out of a Bunker on No. 12
But for one week each year, the club becomes the epicenter of a historic golf revival unlike any other amateur tradition, a tradition stewarded by the unswerving devotion of the members to keep the tournament the gold standard by which other amateur events in the country are judged. The golf world reopens this cherished time capsule to marvel at the grace of days gone by. That's the Walter J. Travis Invitational: the Grand Old Man, the Grand Old Club, the Grand Old Amateur.

"The members treat us with incredible grace, opening up their course to amateurs for an entire week and welcoming us as though we are members," declared Ken Bakst after his opening round 71 made the Championship flight last year. "Their love of the tournament sets an incredible mood, and then this great old strategic course - an old course that makes you think - is just so much fun to play because, like National, the wind makes it play different every day."

Indeed, the atmosphere is warm and inviting. The members don't just open their club, they open their hearts as well. The players are welcomed handsomely as members for a week and their camaraderie and stories are eagerly traded with the reminiscences of the members.

This year's 100th anniversary will be a celebration of special magnificence. It's a once-in-a-lifetime chance to mark the centennial by honoring the legacy of Walter Travis, Garden City Golf Club's great amateur golfer and, later, the architect who made important changes to the course's bunkers and greens.

Fresh off his victory at the 1904 British Amateur, Travis became a member of then five year-old Garden City. There was so much to like about the young Devereux Emmet-designed course: the open routes to greens; out-and-back routing; sandy soil that encouraged the ground game; golden fescue rough and the windswept Hempstead plain with its treeless expanse; and fickle winds that reminded people of the great heathland courses of England and the links of Scotland.
Travis was not only an accomplished player, but a student of golf course architecture and a prolific writer. In 1906, he politely, but intelligently, suggesting competitive enhancements to Garden City Golf Club. While he loved Emmet's cunning cross hazards, which created strategic risk-reward decisions, and the brilliant way Emmet routed the holes - out-and-back, like the great U.K. links - Travis recommended deeper bunkers and more interior contouring to the greens.

The club listened and - much like when Old Tom Morris went digging at St. Andrews after he heard someone reached the green with a wooden club out of what is now Hell Bunker. Travis was off and running, adding 50 bunkers and renovating all 18 greens. The result is the bewitching yet beguiling par-73 layout that still resists scoring remarkably.

"That's one of the reasons Garden City is such a great tournament venue. In a stroke-play event, the deep rough and the intricate greens shave a half-stroke or stroke at a time and, before you know it, you're bleeding from 1,000 cuts, looking at a round in the 80s," explained Kulok. "Additionally, the course is just as tough during match play. It's relentless, you can't let up, because a mistake on any hole can hurt you. It makes you think constantly."

Indeed, the winner of the Travis will have to master both disciplines in order to take home the replica Schenectady Putter and Waterford Crystal trophy presented to the winner.
"There will be three days of play," explains tournament chairman Pat Fogarty. "Friday is a single qualifying day where the top 72 players out of the field of 130 will advance to the match-play rounds conducted over the weekend."

The field is then divided into five flights: a championship flight of 16 players, a second flight of the next 16 players, and then three more flights of eight players each. Additionally, 16 more players will qualify for the "senior legends flight."

"One of the nice things about the tournament is that, with 72 qualifiers, a player has a good chance to advance," Fogarty said.

While the field can be jumbled by the casual slings and arrows of the capricious bounces of a single round, the match-play portion is an equalizer, giving the more skilled player a chance to overcome a high seeding and work through the brackets. Interestingly, since 1980 only two men have claimed medalist honors in the stroke-play round and captured the overall title as well. In 2007, Greg Kennedy was the low medalist and then marched through the bracket to victory.

Legendary amateur David Eger turned the trick an astounding three consecutive times from 1999-2001. Eger, who recently notched his third Champions Tour victory in the Mississippi Gulf Resort Classic after turning pro, won a total of four Walter J. Travis Invitationals.
The quality of player the tournament attracts is staggering: well-decorated state amateur champions can lock horns with former USGA championship winners in any flight, one through five. One year Jeff Thomas, a seven-time New Jersey State Amateur champion met Jerry Corville, a U.S. Mid-Amateur champion in the fifth flight. "We've even had a few Walker Cup team members" said Fogarty, an accomplished amateur himself and a competitor in this year's event. Recently, Gene Eliot and Pat Talent competed in the Travis after their Walker Cup duties.

This year, Chris Lange of Bryn Mawr, Pa., defends his title. Lange defeated Brooklyn attorney Joel Lulla 2&0 in last year's final, winning the tournament on his wedding anniversary. Both survived two match-play rounds the day previously against difficult draws just to get into the semifinals. Lulla had to defeat two former Travis champions, and Lange had to beat pre-tournament favorite Kevin Hammer in the morning and play extra holes to win his afternoon match. Then both played long Sunday morning matches before the final. Lange outlasted Roger Hoit 2&1, while Lulla defeated Hunter Semels 1 up.

"This was surprising to say the least," a grateful Lange reflected during his acceptance speech. "I went from a plus-3 to a scratch in the last few months, and I haven't won anything in match play in a long time. But I love coming here - more so because the tournament is always around my anniversary, on the 19th - so I bring my wife." The couple spent one night in the famous Garden City Hotel which overlooks the golf course, and two nights at the SoHo Grand in Manahattan.

In a world where greed corrupts almost everything in its path, golf still has something pure. As recognizable symbols of American golf, Walter Travis, the Travis Invitational, and Garden City Golf Club need to be preserved, promoted and celebrated in a manner that befits their stately renown. Happily, the members, always putting the club before themselves, realize they are curators of a living museum and protectors of an illustrious legacy, and do everything they can to preserve the glory of Travis's name, the club and the tournament for future generations of golf fans and amateur players everywhere.
Thankfully, for this week, the competitive golf world measures up its worth and not its wealth. While we lament the culture of entitlement, pandering and enabling the 21st Century athlete has come to demand from fans, the golfers at the Travis are genuinely grateful to be here and bring a first-class, blue-collar work ethic to the way they play the game and conduct themselves.

Next week, most of them will go back to being Merrill Lynch executives, lawyers or businessmen, but for one week, they walk in the footsteps of golf's ancient champions, founding fathers, and grandest history.
News, Notes & Quotes

* Amateurs who have won the Travis and went on to have professional careers include Gary Koch, George Burns III, and Eger. This year's field will include golfers from 18 states as well as Canada and Ireland.

* Billy Edwards, last to win as an active member in 1970, won four times overall.

* This year, former club president John Betz Jr., a member since 1950 who has seen 60 Travis Invitationals, will hit the ceremonial first shot Friday.

* The flag at each hole will have a logo marking the 100th year. There will be a Former Champions dinner as well to honor the centennial.

* Walter J. Travis won three U.S. Amateur titles, (1900, '01 and '03) and was a semifinalist five other times.

* Garden City hosted a U.S. Open (1902), four U.S. Amateurs (1900, '08, '13, '36) and a Walker Cup (1924).


Since launching his first golf writing website in 2004, http://www.jayflemma.thegolfspace.com, Jay Flemma's comparative analysis of golf designs and knowledge of golf course architecture and golf travel have garnered wide industry respect. In researching his book on America's great public golf courses (and whether they're worth the money), Jay, an associate editor of Cybergolf, has played over 220 nationally ranked public golf courses in 37 different states. Jay has played about 1,649,000 yards of golf - or roughly 938 miles. His pieces on travel and architecture appear in Golf Observer (www.golfobserver.com), Cybergolf and other print magazines. When not researching golf courses for design, value and excitement, Jay is an entertainment, copyright, Internet and trademark lawyer and an Entertainment and Internet Law professor in Manhattan. His clients have been nominated for Grammy and Emmy awards, won a Sundance Film Festival Best Director award, performed on stage and screen, and designed pop art for museums and collectors. Jay lives in Forest Hills, N.Y., and is fiercely loyal to his alma maters, Deerfield Academy in Massachusetts and Trinity College in Connecticut.